Philippe Coutinho has been warned against leaving Liverpool for Barcelona, with Frank Lampard urging the "world-class" Brazilian to stay at Anfield.
The Reds' No. 10 produced a star turn from the substitutes' bench to secure a 2-1 victory over Stoke City on Saturday, scoring the equaliser on a balmy afternoon at the Britannia Stadium.
Coutinho has now scored 10 goals in all competitions this season, the second time he has hit double digits since joining from Inter Milan in 2013.
With the 24-year-old growing in importance on Merseyside, interest has mounted from across the continent, with Barcelona eyeing up a deal to sign Coutinho in the future.
And Lampard, who lined up against Coutinho on four occasions during his time with Chelsea and Man City, believes this interest is warranted.
"He's a top player and you could see that from the moment he came to the Premier League," he explained.
"He had good feet but you wondered whether he would be a bit lightweight, that was the only question mark.
"But from then on he's gone from strength to strength. He creates goals and he's gone into that top bracket now, and some big, big clubs in Europe wanted him."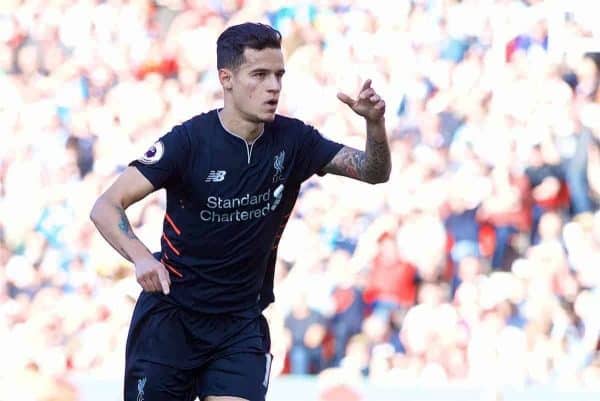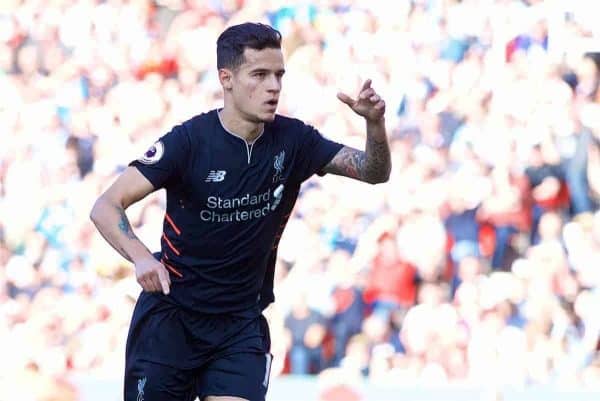 However, continuing to assess Coutinho's options, Lampard insisted that the playmaker would be best placed to remain with Liverpool.
Coutinho signed a new five-year deal with the Reds in January, and his former adversary expects this to be an indicator of his long-term commitment.
"It was very important he did that because he's a big player for them," he added.
"I think with players like him, dangling the carrot [of Barcelona] is probably quite tempting.
"But he might think why would he go there and be one of many and behind the likes of Messi and whoever might be there.
"Or does he think he'll stay at Liverpool and be their main man and help them up to the next level?
"Hopefully he does that because he's a top, world-class player."
It is warming to see Coutinho receive such praise from one of the Premier League's all-time greatest players, with Lampard acknowledging one of the stars of the new breed.
And the former Blues midfielder is right, as Coutinho's influential cameo at Stoke underlined his top-bracket status.