The watching media criticised Liverpool for falling foul to the same problems and returning to a weak mentality in the costly 2-1 loss to Crystal Palace.
Liverpool's top-four hopes suffered a huge blow as Christian Benteke marked his Anfield return with a brace to condemn the Reds to a damaging defeat.
Philippe Coutinho's sensational free-kick after 24 minutes handed Jurgen Klopp's side a lead their dominance deserved, and seemingly on the way to another crucial three points.
But Liverpool failed to see out a dominant first-half as Benteke blasted home on the stroke of half-time while unmarked, before typically poor set-piece defending then allowed the Belgian to nod in a second-half winner.
This was an extremely deflating defeat for Liverpool, one which now leaves the Reds worryingly exposed in the top-four race, and is how the media assessed the defeat.
Reporters felt the Reds deserved the "stereotypical" loss, with certain journalists even questioning whether Klopp's side deserve a place Champions League.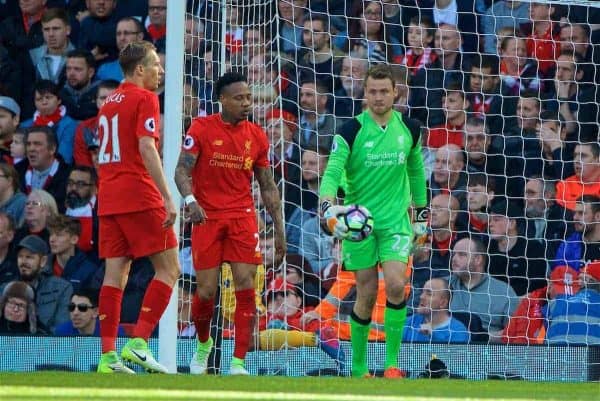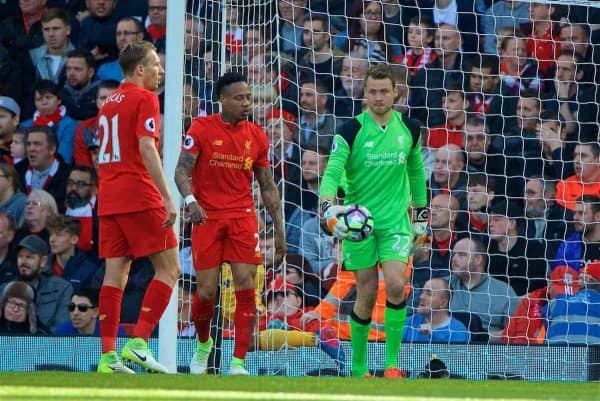 The Mail's Dominic King felt Liverpool "got what they deserved":
Bar a moment of brilliance from Philippe Coutinho, Jurgen Klopp's side got what they deserved from this contest. Nothing.
The Mirror's David Maddock assessed the loss as a "stereotype" defeat:
Had it not been so serious for Liverpool's top four hopes, this defeat would be laughable for how closely they stuck to their stereotype. Defenders out of position and turned. Check. Sleeping at corners. Check.
James Pearce of the Liverpool Echo noted a "revert to type" performance from the Reds:
If the triumphs of recent weeks pointed to a more resilient, more streetwise Liverpool, they reverted to type on a demoralising afternoon.
The Guardian's Andy Hunter believes Liverpool's top-four chasing rivals will now be buoyed for the run-in:
Defiance is only a fleeting virtue in his Liverpool defence, however, and their top-four rivals will draw encouragement from how Sam Allardyce exposed weaknesses in recording his first league win at Anfield in 14 visits as manager.
The Independent's Simon Hughes raised a damning but worthy point:
Is this a team that really deserves to play in the Champions League next season?
Reporters were critical of Liverpool for yet again coming unstuck by the same on-going issues, with the Reds' inability to defend set-pieces and return to a weak mentality criticised.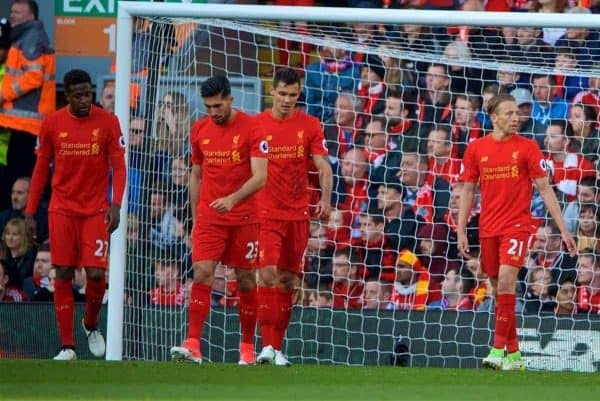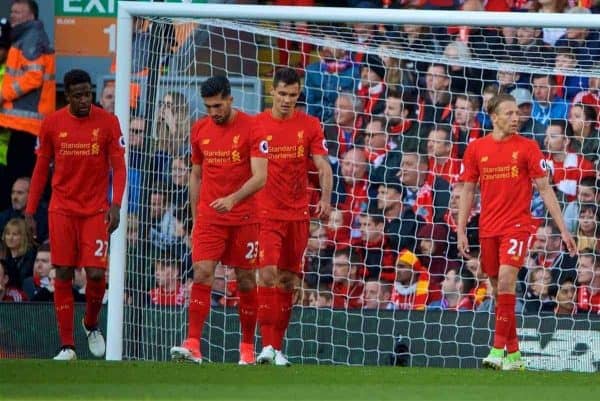 Writing for ESPN, Iain MacIntosh noted Klopp's side's infuriating "carelessness" against weaker teams:
This is hardly the first time that Liverpool have been so careless. They pick up, on average, 1.68 points a game against teams outside the top seven.

When pitted against the division's best, they score 2.16.
Maddock rightly bemoaned Liverpool's weak mentality as Klopp's men "gave up" on trying to muster a response:
This time though, he can have few complaints despite a similar exodus because it seemed it was his own side who gave up on a result, as they so lamely capitulated even after dominating the first half and taking both the lead and almost total control.

[…]

The winner came after 74 minutes, plenty of time to respond, but there seemed no response in his side at all…and the disappointed crowd knew it.
Writing for Goal.com, Melissa Reddy criticised Klopp's side for failing to show the same fight as displayed at Stoke and West Brom:
The "adult football" that was present in the club's previous testing two fixtures deserted them in front of their own fans. When Palace started to twist, Klopp's men folded instead of displaying the kind of fight needed to fortify their Champions League ambitions.
Certain journalists offered views on alternative contributing factors to a poor performance and result, with ponderous build-up play and a lack of game-changing quality among Klopp's substitutes noted.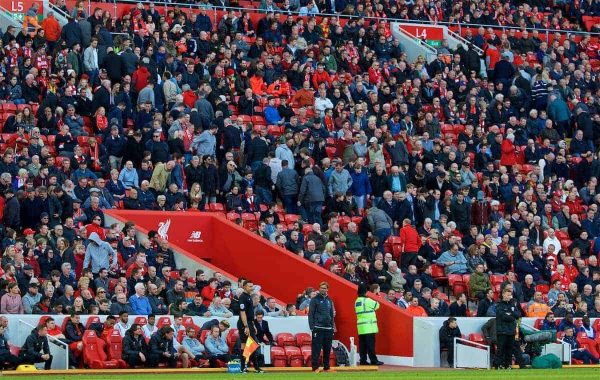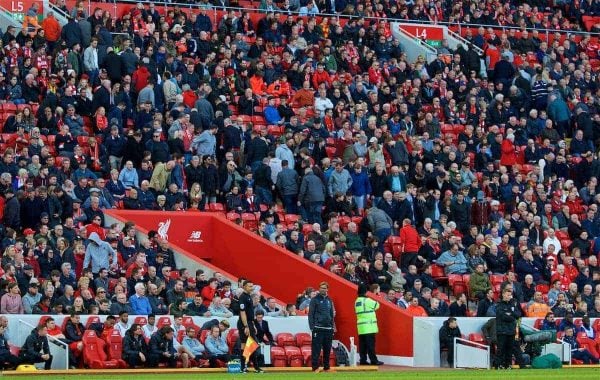 Pearce felt the Reds were too slow and negative in possession:
Too often the ball went sideways rather than forwards with the Reds' build-up play lacking the tempo required to really stretch Sam Allardyce's side.
The BBC's Jamie Stickland criticised the Reds' lack of productivity:
Klopp's side racked up 72% possession, but just one shot on target in more than 90 minutes of play was scant return on that perceived dominance.
Meanwhile, Maddock felt Klopp's team showed quality, but must find the balance between nice football and digging deep for victory:
Again, there were mistakes, but it mustn't mask completely the qualities they have. Even without going full gas, they showed some sublime movement and it is not just Coutinho and Firmino with outrageous skill. The whole front six have incredible qualities… it is just about finding a balance to win games like this.
Hughes feels Liverpool are paying the price for a wafer thin squad:
Ultimately, when a squad is as thin as Liverpool's, you are hoping for luck with injuries otherwise it will catch up with you eventually.

[…]

Klopp needed to try something else but he did not have the options.
Hughes also assessed how even Crystal Palace's bench was stronger than the Reds', with Klopp having become too reliant on the starting XI to produce:
The concern for Liverpool was, Palace's bench was stronger than theirs. If it was Klopp's substitutions who won the game at Stoke, here it would probably need to be the starting eleven.
This Is Anfield's Matt Ladson questioned Klopp's decision to overlook in-form U23s forward Harry Wilson as a genuine attacking option for the bench:
Some may question why Harry Wilson, who has over 20 goals for the Reds' under-23s this season, wasn't an option on the bench as somebody who could come on who had an eye for goal.
Reporters were unimpressed by Liverpool's collective performance, but singled out numerous Reds for disappointing displays while also questioning some of Klopp's decisions.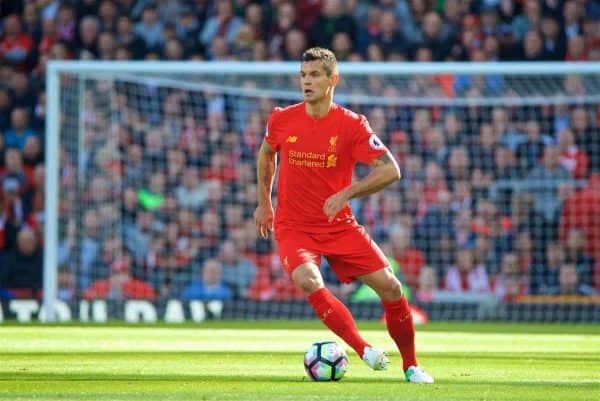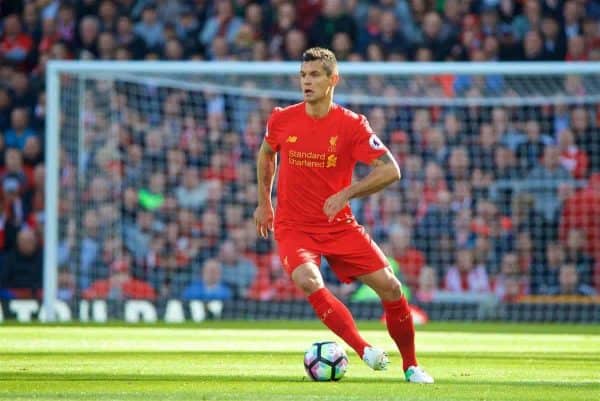 Reddy felt too many players underperformed, which is unacceptable given the prize at stake:
In truth, there were far too many below-par performances from a team that have designs on mixing it with Europe's elite.
King felt Joel Matip and Dejan Lovren were bullied by Benteke:
It showed. Dejan Lovren and Joel Matip, Liverpool's central defenders, couldn't get to grips with his physicality and his presence. He unsettled them to the point that Klopp's back four malfunctioned at the most inopportune point, leaving the manager bewildered with the goals his side shipped.
Ladson feels the left side combination of Lovren and James Milner continues to be the Reds' biggest "weak point":
It's no surprise that almost every goal LFC concede is from the left side of their defence, with opponents regularly targeting the Lovren-Milner combination. It's by far the weak point in Liverpool's side.
Pearce was particularly critical of Lovren's performance:
Sakho's decision making on the day was about as clever as Dejan Lovren's. The Croatian centre-back was a glary weak link as Palace preyed on the hosts weaknesses.

[…]

Rash and poor positionally, Lovren was found wanting in the build up to both of Benteke's goals.
ESPN's David Usher felt Divock Origi disappointed as the Belgian failed to provide the physical focal point needed:
Was never able to get into the game and Liverpool need much more from the centre forward position in games like this. The Palace defenders had absolutely no trouble dealing with Origi, and although the service to the young Belgian wasn't great, he simply has to do more.
And finally, Usher attributed the Reds' non-existent response to falling behind down to Klopp's moves, which proved more of a hindrance than help:
The starting lineup virtually picked itself, but when things went wrong Jurgen Klopp's moves smacked of panic.

Trent Alexander-Arnold looked to have no idea where he was playing initially, and most of his teammates also seemed confused as Klopp moved half the team into different positions, before reshuffling them again a few minutes later when he introduced Marko Grujic. It was utterly shambolic.