Liverpool opened the voting for the club's Player of the Year award this month, so we've selected the five we think should be in the running.
The 2016/17 campaign has been a largely positive one for the Reds, although the January meltdown that took place clouds that slightly.
As has been the case in many seasons, a number of Liverpool players have caught the eye, from new signings to experienced heads.
Selecting the Reds' star man since August is not as simple as it has been in previous years, however, when the likes of Steven Gerrard, Luis Suarez and Philippe Coutinho have stood out.
Coutinho has won the award for the last two years, but is the Brazilian in the mix to make it three on the bounce? Here are our five contenders this season.
Sadio Mane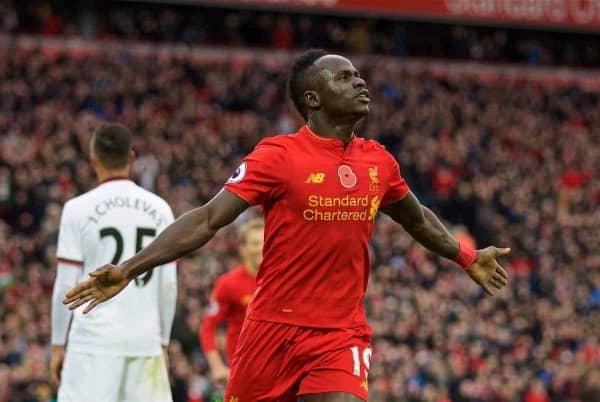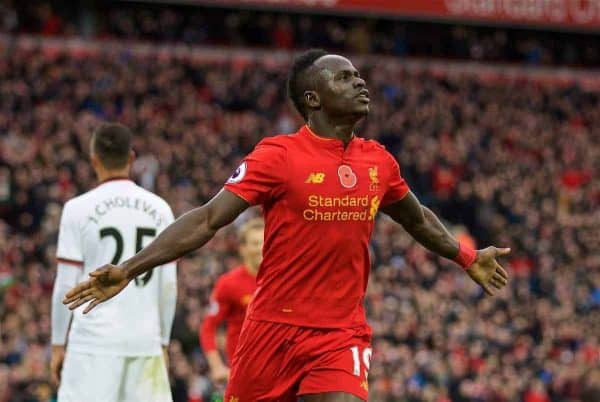 It is so easy to forget about the relatively lukewarm reception the signing of Sadio Mane received last summer at Liverpool.
The majority wanted the more fashionable Mario Gotze to be Jurgen Klopp's high-profile purchase, with Mane generally deemed "yet another Southampton player."
The 24-year-old has enjoyed a magnificent first season at Anfield, however, surpassing expectations and becoming arguably Liverpool's most important player.
The Senegalese's outrageous solo effort at Arsenal on the opening weekend was the perfect start, and he has never looked back.
His breathtaking pace has added a huge amount to the attack, while his end product in the final third has set him apart from so many players of his type.
Thirteen goals from out wide, in just 29 appearances, is a superb return, with Tottenham, Arsenal and Everton all on the receiving end of his brilliance.
You only have to see how toothless the Reds look without Mane to see how good he is, and the £30 million the club paid for him is now looking like a bargain.
He will be a huge miss through injury between now and the end of the season.
Adam Lallana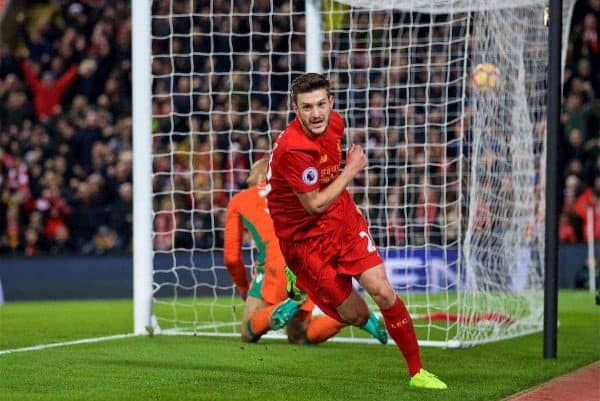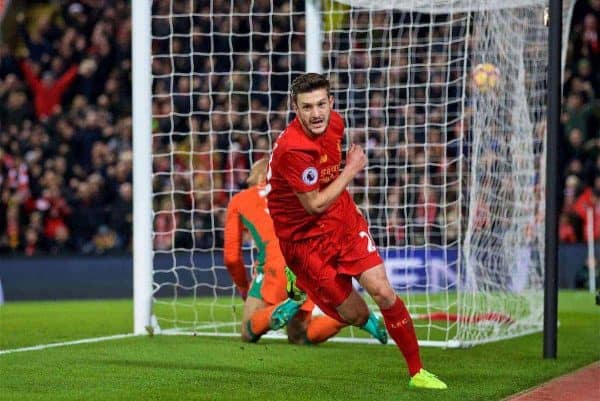 Cast your minds back to the summer, if you can, and you will remember Adam Lallana generally being viewed as a squad player this season.
With Mane arriving, and Coutinho, Roberto Firmino and Daniel Sturridge seen as key men, it seemed hard to see how the Englishman would fit into the starting lineup.
Klopp has been a huge admirer of Lallana from day one, though, and his decision to use him in an central midfield role has been a masterstroke.
The 28-year-old has been a revelation in a deeper position, with the goals (seven) and assists (seven) that previously eluded him coming thick and fast.
On top of that, Lallana's astonishing work rate has been integral to Liverpool's style of play, and the way in which he often leads the Reds' pressing game is testament to his intelligence.
The England international has become his country's best player over the last 12 months, and he is now not far off Liverpool's, too. His current injury absence is a curse.
Philippe Coutinho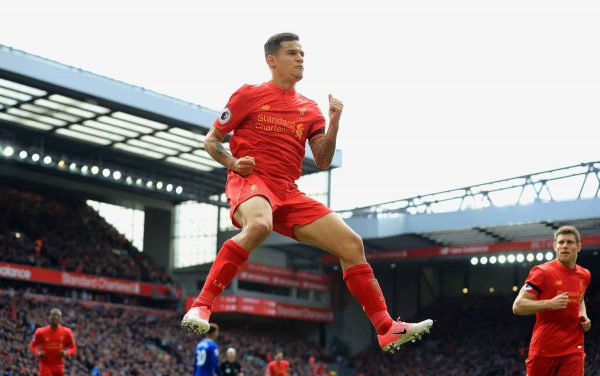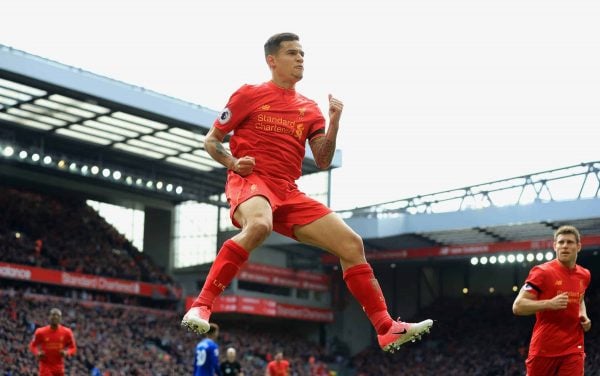 It is sometimes easy to take Coutinho for granted, with the Brazilian enjoying four very impressive years as a Liverpool player.
He has such a high ceiling that only brilliant performances will suffice every week, which is unfair, and he is the man we look to most for inspiration at key times.
This season has been an up-and-down one for the 24-year-old, but while he hasn't always delivered, he has to be in the running for a third successive Player of the Year gong.
In the early months of the season, Coutinho was sensational, scoring and assisting in typically magical style, and threatening to reach that truly world-class level.
In the late summer and early autumn, there was no better player in the Premier League, with great strikes against Arsenal, Hull City and Watford all catching the eye.
An injury against Sunderland in November was a cruel moment, both for Coutinho and Liverpool, and he has not quite been the same player since returning in early 2017.
That hasn't stopped him from producing a man-of-the-match performance against Everton, however, and firing home against Bournemouth and Stoke City to register his ninth and 10th goals of the campaign.
A special footballer, and one we should appreciate fully before he eventually moves on.
Roberto Firmino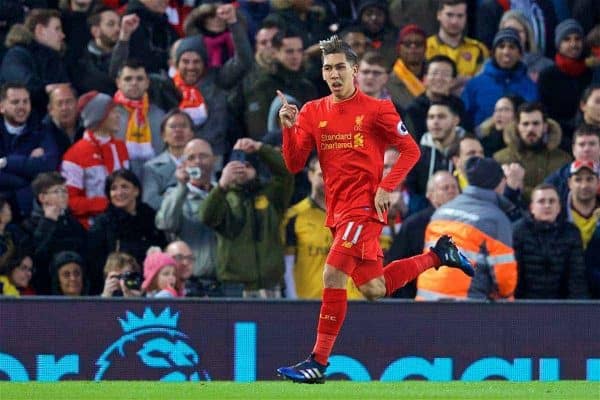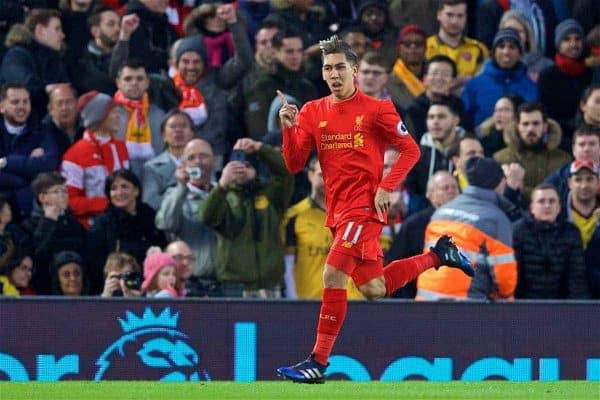 In a lot of ways, Firmino is a strange talent.
If you don't watch him closely enough, he can come across as a slightly languid, luxury player—one who doesn't score enough from his central striker's berth.
This is a complete myth, however, and Firmino has been largely excellent in 2016/17. He is a player Klopp has endless time for.
No striker in the league works as hard as the South American, and there is an intelligence and purpose about the way he does it. His ability to nick the ball off opponents in dangerous areas is unrivalled.
On top of that, Firmino possesses a wonderful touch, clever movement and an eye for both inch-perfect assists and spectacular finishes.
Eleven goals for the season is nothing to write home about—his finishing could do with going up a notch—but the 25-year-old sacrifices his own individual glory for the good of the team.
Firmino feels like a player who will forever be divisive, but you will only truly appreciate him if you don't just watch the obvious things.
He had cut a leggy figure as the end of the season approaches, but a stellar showing from the substitutes' bench against Stoke hinted at a recent to top form.
Jordan Henderson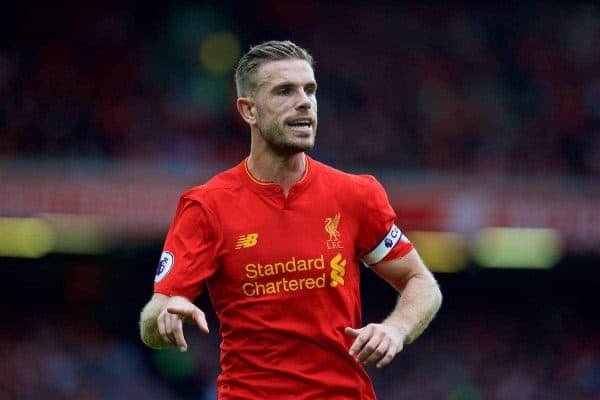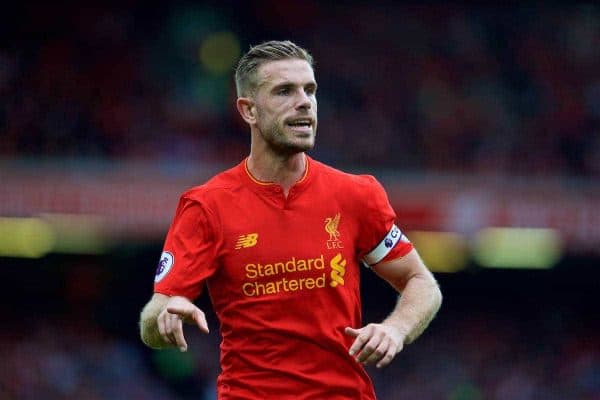 Like Mane and Lallana, there was plenty of talk surrounding Jordan Henderson's worth to the team prior to the start of this season.
Marko Grujic's good pre-season form left plenty tipping him to start, while Emre Can's strong end to 2015/16 saw him as a likely starter.
Klopp stood by his captain, though, and his decision to make him his designated defensive midfielder has paid off handsomely.
After a woeful showing away to Burnley in the role, Henderson has been fantastic in front of the defence—using the ball quickly, snapping into tackles and outrunning those who stand before him.
The 26-year-old was pivotal to the Reds' table-topping pre-Christmas form, and he also now looks like a proper Liverpool skipper.
Henderson's influence has been outlined by how much the team have missed him of late, with his foot problems showing no real sign of passing.
This sudden lack of game time works slightly against him when selecting Player of the Year contenders, but for his impact in a new role, he has to make the cut.
Honourable Mentions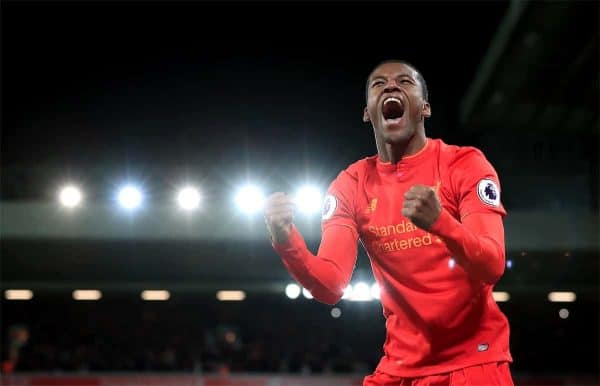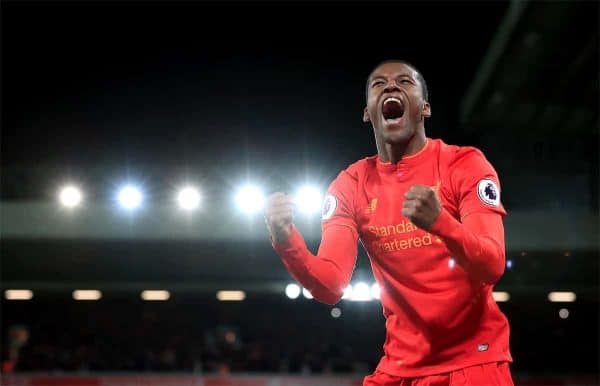 The Dutchman was close to being among the five contenders, and he has got better and better in his first season on Merseyside.
One of the most tactically astute footballers you could wish to see.
Klopp has controversially used Milner as a left-back all season, but the good has easily outweighed the bad from the 31-year-old, despite a dip in January and Febraury.
Not perfect, but has shown endless endeavour, a winning mentality and scored seven nerveless penalties.