Sadio Mane was deservedly named Liverpool's Player of the Season on Tuesday night, after a fantastic first campaign in a Reds shirt.
Despite many predicting Philippe Coutinho to seal his third successive crown, it was Mane who took home the prestigious award from Anfield, following 13 goals this season from out wide.
Having received a relatively lukewarm reception upon arriving for £30 million from Southampton last summer, the 25-year-old has been a revelation.
His blistering pace, intelligent movement and ruthless end product have ripped many teams to shreds, and whenever he hasn't played, his absence has been felt more than any other player.
Here are five moments that helped earn Mane his richly deserved accolade.
Opening Day Stunner at Arsenal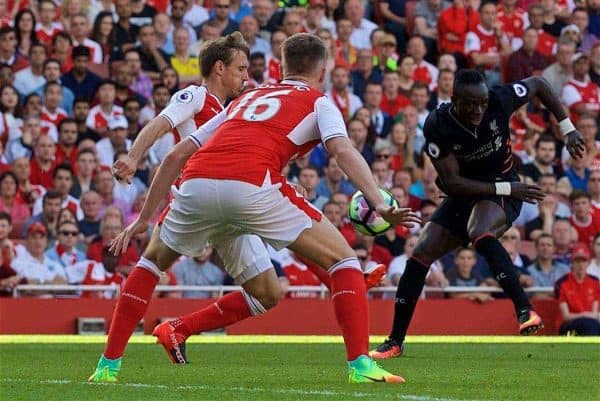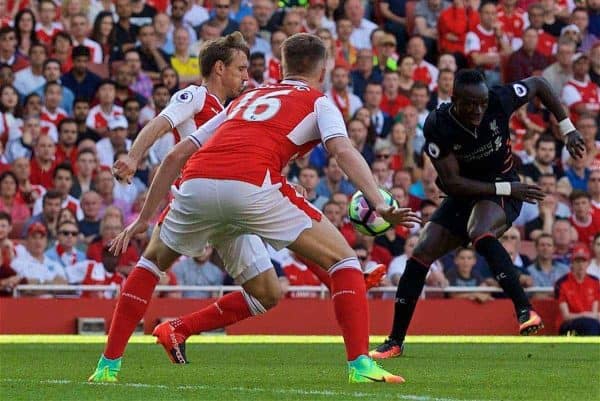 Mane had done enough in pre-season to get the fans excited, with some eye-catching performances in some albeit low-key fixtures.
The trip to Arsenal on the opening weekend was the real deal, however, and the Senegalese stepped up in memorable fashion.
With Liverpool 3-1 up and playing some magnificent football, Mane scored an early Goal of the Season contender with a ridiculous solo effort.
The close control, speed of thought and devastating finish with his weaker left foot all stood out, as did his piggyback celebration with Jurgen Klopp.
It was a moment that made us realise the Reds had a special player in their ranks.
Last-Gasp Derby Winner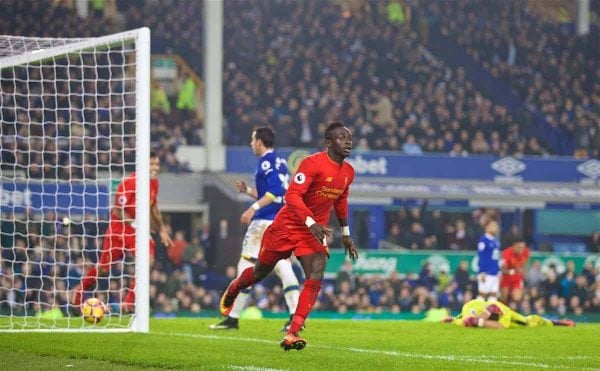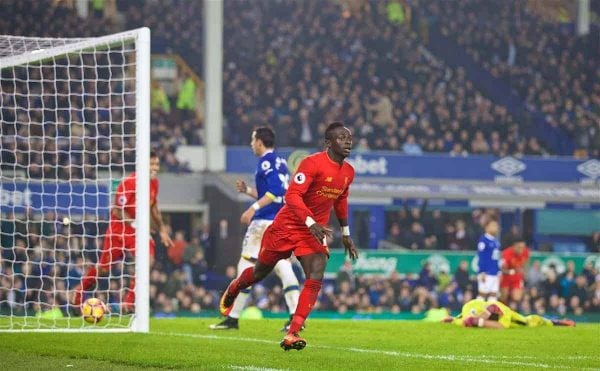 Sometimes, you cannot beat a scrappy last-minute goal that earns you three precious points, when it looks as though two are slipping away.
Liverpool appeared to be heading towards a frustrating 0-0 draw at Everton in December, despite dominating the match throughout.
In the dying seconds, however, Daniel Sturridge's effort came back off the post, and Mane was on hand to fire home the rebound in front of the ecstatic away supporters.
It may have looked lucky and easy, but Mane was so quick to react, and his dramatic winner etched his name into Merseyside derby folklore.
One-Man Destruction of Spurs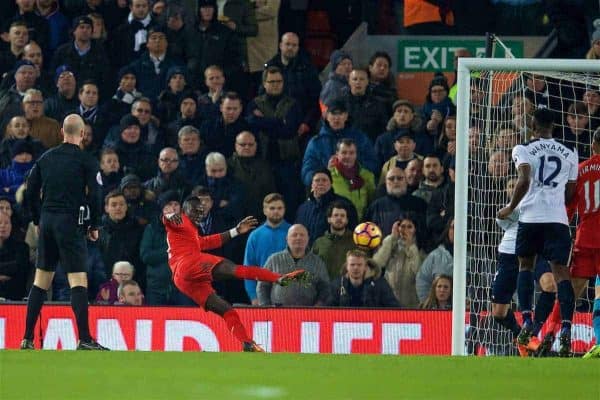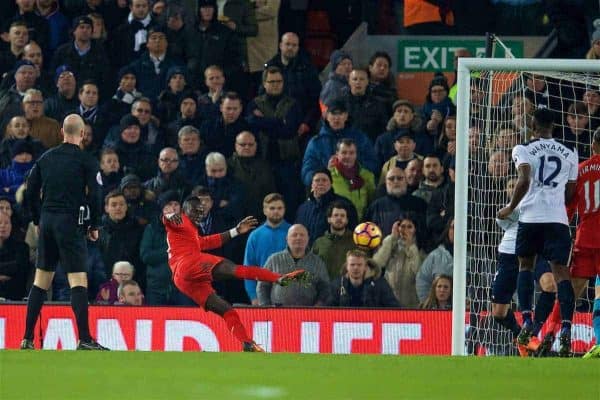 When Tottenham came to Anfield in February, Klopp's men were under real pressure, having suffered a woeful January and been beaten by Hull City the week before.
Not for the first time, or indeed the last, it was Mane who proved to be the difference, with the No. 19 scoring both goals in a 2-0 victory.
His perfectly timed run and unstoppable pace got him clean through for the first, before lofting a clever finish over Hugo Lloris, and his second saw him rifle home from close range, outlining his predatory instinct.
There were excellent individual displays across the board, but without Mane, Liverpool probably wouldn't have prevailed.
Gunners Once Again Destroyed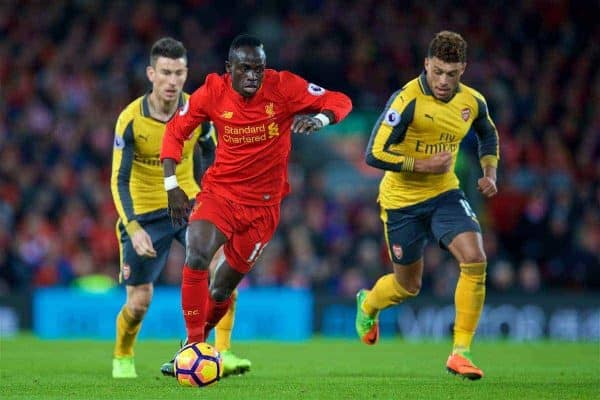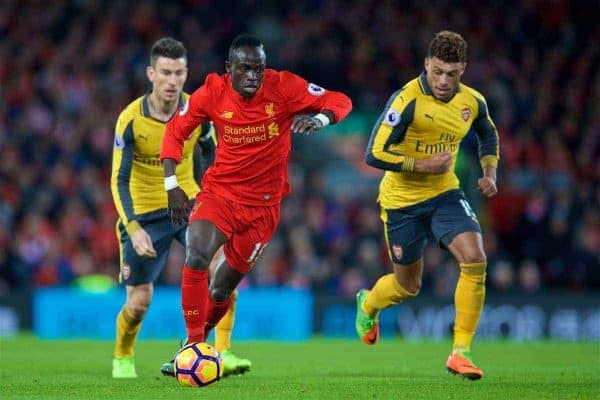 Arsenal must be sick of the sight of Mane, as he repeated his early season feat by giving them the run around at Anfield in March.
The flying forward was far and away Liverpool's best player on a night when many around him also shone, and he gave Nacho Monreal a night to forget.
He assisted Roberto Firmino for the opener, lashed a clinical finish past Petr Cech to make it 2-0 and looked incredibly dangerous every time he had the ball at his feet.
One outrageous piece of second-half skill perfectly summed up how unpredictable and entertaining Mane is.
Liverpool Suffer Without Their Star Man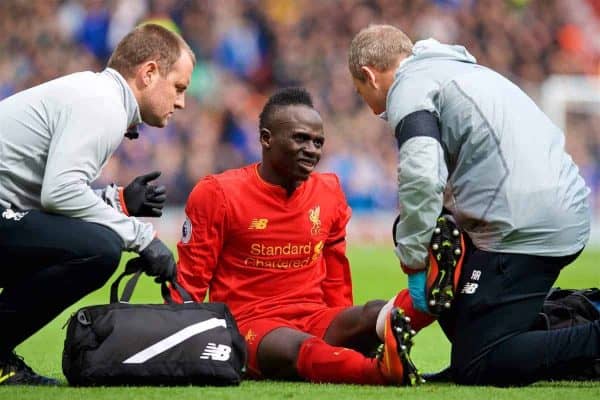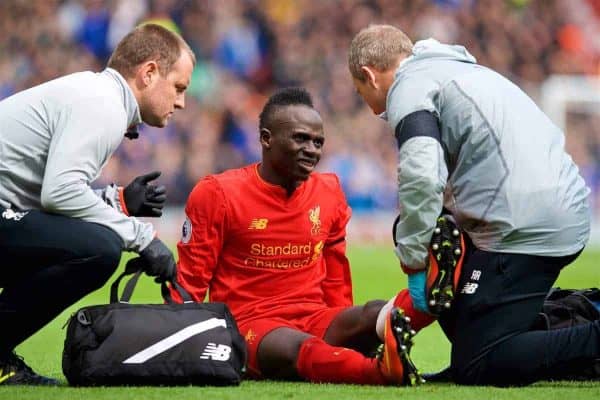 There is a strong argument to say that Mane has partly won Player of the Season because of how much the team have missed him when he's not there.
It has become abundantly clear that he is Liverpool's most influential player, with so many examples to back up this argument.
The Reds have averaged 2.3 goals per game in the Premier League with Mane in the team, in comparison to just 1.2 when he hasn't been available.
Liverpool have also failed to win at home to Swansea City, Bournemouth, Crystal Palace and Southampton without him, and his Africa Cup of Nations commitments crippled Liverpool throughout January.
Equally, his season-ending injury against Everton on April 1 has made the Reds look so one-dimensional, as they limp towards Champions League football.
Mane is a worthy winner of the award, and he has exceeded expectations during a wonderful first year on Merseyside.