Lucas' Anfield career may come to an end this summer, but a strong finish to the season showed why the Reds should keep the long-serving Brazilian.
After surviving two more transfer windows in which he seemed set to leave, Lucas completed his ninth full season to move into an historic 10th year as a Red.
The Brazilian's role was predictably bit-part, but as the campaign unfolded, he handed a reminder of the important part he can still play in a strong end to the season.
As summer arrives the annual debate on Lucas' future will resume once again, and the experienced midfielder certainly has one if he decides to stay.
Lucas Leiva
Started: 19
On as sub: 12
Unused sub: 12
Goal: 1
Assists: 3
Average TIA Rating: 6.02 (Rank = 20th)
Centre-back struggles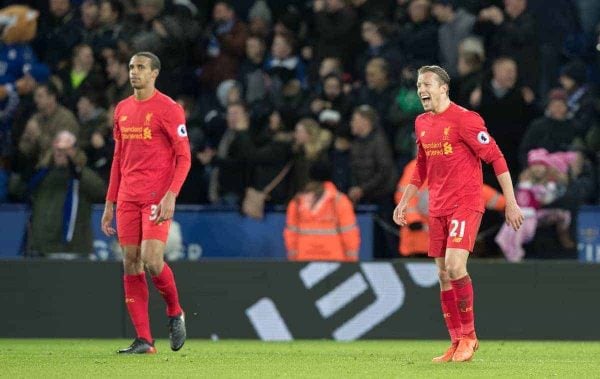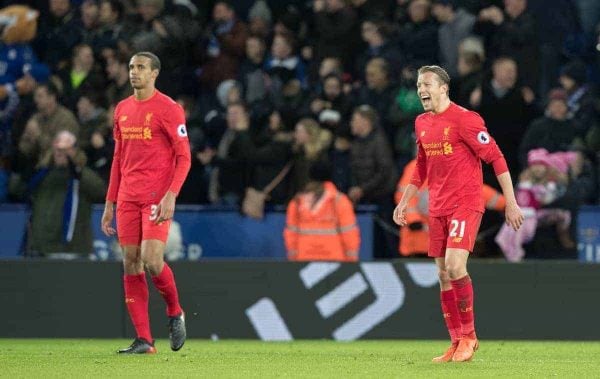 Eyebrows were raised as it became apparent that Klopp would utilise Lucas as a back-up centre-back for the season.
Though he played there at times last season, it seemed a dangerous move given the Reds' defensive struggles and lack of reliable quality at the heart of back four.
And so it proved, as Lucas predictably struggled when deputising in the unnatural role.
The Brazilian marked his first start with an unimpressive 5/10 performance in a 4-1 victory over Leicester, in which he gifted the Foxes a goal with a terrible error.
And though he improved in the 6-1 thrashing of Watford next time out, it was again thanks to the Reds' firepower that his presence didn't prove too problematic.
When the lethal threat disappeared though, Lucas' back-line presence became the issue many feared even though he surpassed Ragnar Klavan in the centre-back order.
He struggled in defeat at Bournemouth when chosen over Klavan, and after netting a memorable first goal for seven years to seal FA Cup victory at Plymouth, he was abysmal in losses at Hull and Leicester with 4/10 and 3/10 displays.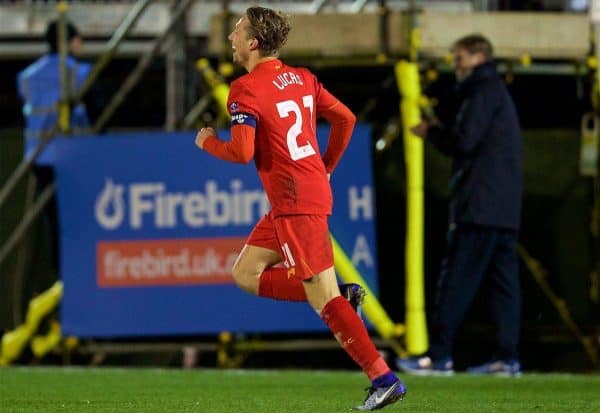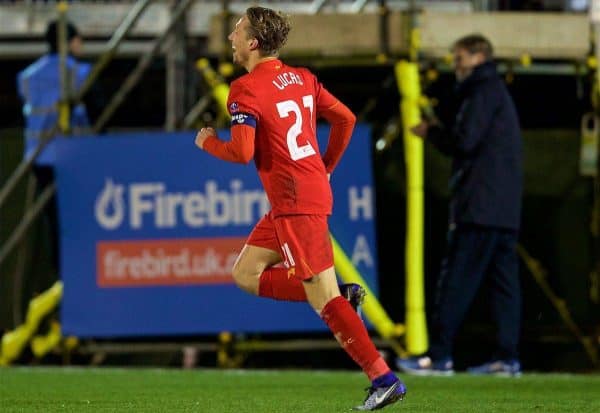 Despite sandwiching his performance of the season against Tottenham in between those latter woeful games, Klopp thankfully ended his centre-back run following defeat at Leicester—after which Jamie Carragher assessed Lucas "should never be playing there."
Lucas featured only in his natural position thereafter, and it proved a good move as he handed a reminder of what he can offer with a midfield revival.
Value shown in midfield revival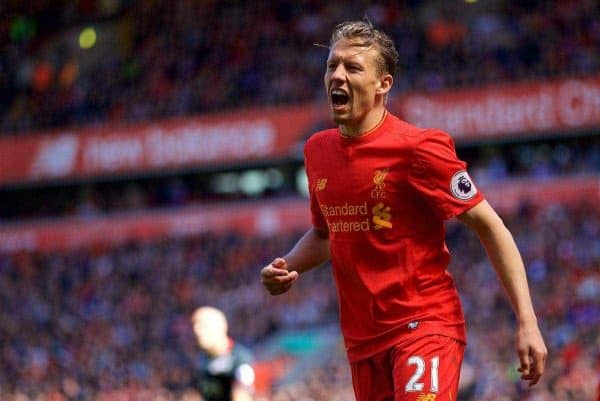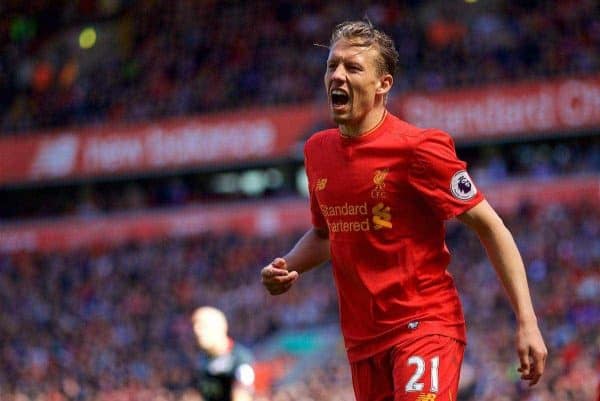 Back in midfield for the business end of the season, Lucas improved and, as expected, he produced far better form in familiar surroundings with reliable stand-in displays.
Most impressive, however, was how he added a new dimension upon his holding-midfield return—showing a creative side which proved vital to securing crucial wins in pursuit of a top-four spot.
Though as combative as ever, Lucas' improved forward productivity stood out.
He claimed three assists in six outings, teeing up Philippe Coutinho, Roberto Firmino and Emre Can against Everton, West Brom and Watford respectively—a tally he previously took a staggering 163 games to produce.
This work helped claim some vital victories, and Lucas' impact was extremely impressive as his training ground work to improve play-making paid off.
His desire to still improve alongside his outstanding professionalism, selfless attitude and reliability illustrated why he is such a valued and respected squad member, as Jordan Henderson attested.
"In simple terms he sets the standard of professionalism and attitude of what it is to be a Liverpool player.

"In the dressing room there is no-one who is respected or admired more."
A key man off the pitch and reliable performer on it—when not at centre-back at least—shows why Lucas should remain at Anfield.
A role to play in 2017/18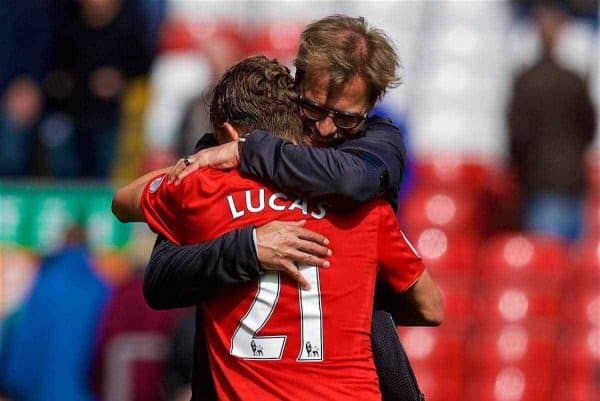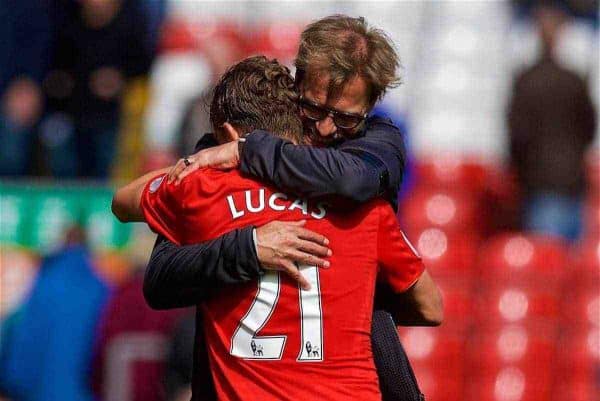 With the role an experienced figure like Lucas can play, the Brazilian should be kept to see out the final year of his contract at the place he now calls "home".
It could yet transpire Lucas wants to move on, having expressed his desire for a key playing role he's unlikely to receive: "I wouldn't like to just be around. I feel I have many years that I can still play at the top level."
But having also acknowledged, "I am getting to the stage of my career where I think I can help a lot, off the pitch of course", he may yet be persuaded to stay at the club he loves in a back-up role.
With the valuable leadership and experience he can bring to the squad, Klopp should aim to keep the loyal Brazilian in this capacity when the pair sit down to discuss the next step.
A lack of squad depth proved Liverpool's major downfall this season, and with more bodies needed as the Reds prepare to compete on four fronts, a dependable, respected player like Lucas should be kept.
As Henderson alluded to, Lucas sets the tone within the dressing room, with his team-first mentality epitomising what it means to play for the Reds.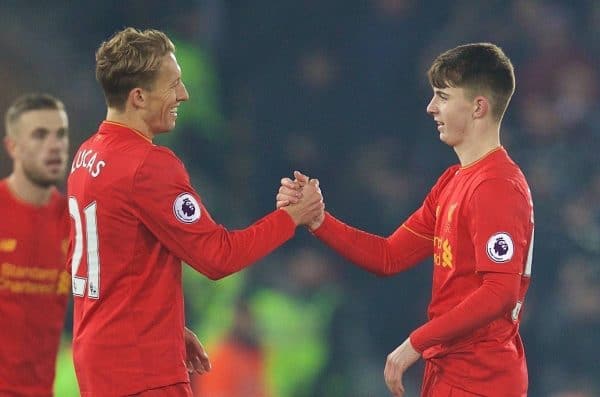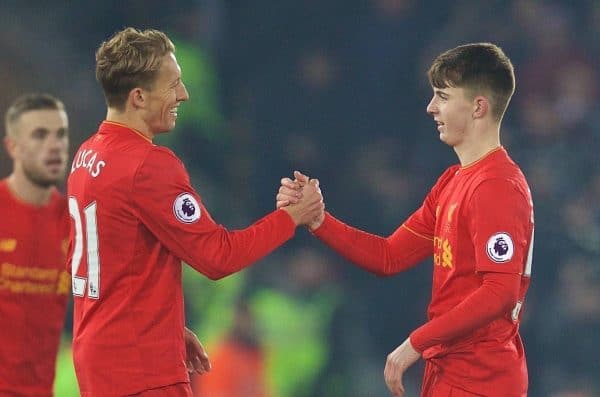 A presence like this can be invaluable—especially to a young, developing team like Klopp's current side.
Combined with his reliability to deputise in defensive midfield—where natural options are lacking—his value within the squad would far outweigh the likely nominal fee recouped for a player in his 30s with just 12 months left on his deal.
Klopp also needs his transfer budget to significantly strengthen the team rather than spend on adding back-up players, which would then be required if Lucas left.
All of these factors show why retaining Lucas, if he wishes to stay, should be in Liverpool's interests.
It seemed Lucas' Middlesbrough cameo and post-match speech signalled the end of his Reds career, but hopefully he will stick around as he still has a role to play.
Best moment: First goal for seven years at Plymouth and an outstanding display dominating Harry Kane at Anfield
Worst moment: Totally abysmal performance being rinsed by Jamie Vardy at Leicester
Role next season: Valuable squad member