It's something many Liverpool fans have long wondered why it's not already happened, but Jurgen Klopp says he could move Philippe Coutinho into the midfield three next season.
Coutinho played within the Reds' midfield three, alongside Steven Gerrard and Jordan Henderson during the latter stages of the 2013/14 season, with Daniel Sturridge, Luis Suarez and Raheem Sterling making up the front three in Brendan Rodgers title-chasing side.
Since then, though, Coutinho has been used predominantly in a left-sided role, with every appearance for Liverpool this season being on the left of the front three.
The only time he's been used differently was away to Swansea when he moved centrally after Jordan Henderson went off injured.
With a lack of options in midfield and a dearth of creativity from the trio of Lucas, Gini Wijnaldum and Emre Can in recent weeks, many fans have wondered why Coutinho hasn't been used in the 'No.8' role.
With Liverpool linked with numerous wide players this summer, such as Julian Brandt and Mohamed Salah, Klopp says he could look to move Coutinho into the midfield three.
"Can we work on different things with Phil? Yes of course," Klopp said.
"He plays at the moment kind of wing '10' but he can also play as a No 8. That is possible and maybe he will have more influence and we can involve another player on the wing.
"That would make us stronger for sure, having his creativity in the middle of the park. He would have to adapt to that."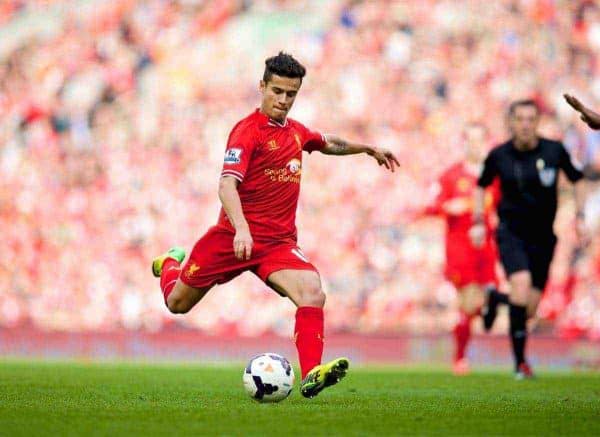 Perhaps then we can expect Coutinho to feature in the 'new' role in pre-season, with Sadio Mane back and hopefully a new wide player who adds more pace on the left side.
The role is, of course, the role perfected by Andres Iniesta at Barcelona – the player Coutinho is often linked with replacing at the Nou Camp.
Speaking of the Brazilian's future, Klopp said: "He is young, full of talent and I'm pretty sure he thinks he is in the right place.
"He really likes being here, it's not like someone has to force him. His family really likes it too."
Coutinho signed a new five-year deal in January.