One of the darkest days in Liverpool FC's history, the Heysel Stadium disaster in 1985.
When I think of Heysel, I see images of a crumbling stadium barely fit to host an amateur football match, let alone the champions of Europe. Scenes of carnage and destruction and of chaos and insanity come to mind. I can visualise it still, being played out on a grainy television set in my parents home, a commentator's sombre tones providing the soundtrack.
It was meant to be a pageant, a celebration of football and our lads were supposed to be holding the silverware aloft by the end of the night. The Juventus fans would have thought the same. But now that all seems so pointless.
I remember how the people on TV were saying that people had died. How could that even be true, I was thinking. It's a f**king game of footy. People don't die watching a game of footy. That's bollocks.
But it wasn't was it.
Then I could see the police hitting supporters with batons. There's a guy holding what looks like a gun and a banner screams 'Reds Animals'. I'm thinking the lads holding that banner must have brought it with them. Why would they do that? Then I see a lad in a Liverpool shirt getting battered by uniformed men.
This was horror, it was unbearable and I couldn't bear to watch it. But I did. I was transfixed. I remember Phil Neal on the speaker system, appealing for calm. It had clearly gone way beyond that, by then. Calm had left the building an hour earlier. In its place was shock and pain and, as we now know only too well, death, so much death.
This is still where I go, in my head, when I hear the word Heysel. To my mother and father's living room, to that old colour telly and to the horrified expressions we all wore as the madness unfolded. I also remember the shame, the gnawing, sickening shame.
There are many accounts of the events of the 29th May 1985. Some say they started it, others argue our supporters did. I've been through all of that over the years, in my head. No doubt the facilities were shocking, the stadium dreadful and the policing totally inadequate.
It's clear both sets of supporters were involved in a confrontation. Missiles were thrown in either direction and at one point a group of Reds fans charged. This caused a crush down at the front of the stand where many people were suffocated before the wall finally gave way.
The courts in Belgium agreed with all of the above. They brought charges against several officials, including the police captain responsible for security that night. They also sentenced 14 Liverpool supporters for their involvement in events that led to the deaths of 39 people, mostly Italian and saw 600 supporters injured.
They only went to a football match, that's all. They should have been having the time of their lives, eating, drinking, laughing and joking – like we all do on away days and at cup finals. They were supporters, just like us. They loved their team, just like us. Now they'll never see them again.
That's Heysel, senseless, avoidable death. Mothers, fathers, sons and daughters, brothers and sisters, taken from their loved ones far too soon. For what? For nothing.
So, it's not about me or us, or you and yours. It's about those 39 families and the countless others still scarred by what they saw and felt that night. Quite simply no one should send their loved ones to a game of footy and never see them return. Nobody should meet their end in a grubby decaying concrete stadium while following their team.
Finally, no game of football is worth the loss of so much humanity. So, this moment is dedicated to all of them, nella memoria e nell'amicizia.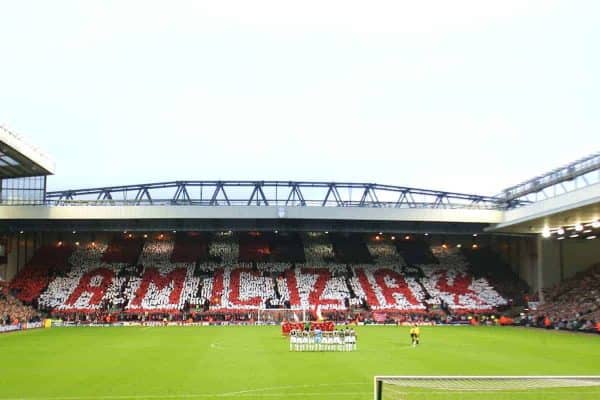 Rocco Acerra, Bruno Balli, Alfons Bos, Giancarlo Bruschera, Andrea Casula, Giovanni Casula, Nino Cerullo, Willy Chielens, Giuseppina Conti, Dirk Daenecky, Dionisio Fabbro, Jacques François, Eugenio Gagliano, Francesco Galli, Giancarlo Gonnelli, Alberto Guarini, Giovacchino Landini, Roberto Lorentini, Barbara Lusci, Franco Martelli, Loris Messore, Gianni Mastrolaco, Sergio Bastino Mazzino, Luciano Rocco Papaluca, Luigi Pidone, Bento Pistolato, Patrick Radcliffe, Domenico Ragazzi, Antonio Ragnanese, Claude Robert, Mario Ronchi, Domenico Russo, Tarcisio Salvi, Gianfranco Sarto, Giuseppe Spalaore, Mario Spanu, Tarcisio Venturin, Jean Michel Walla, Claudio Zavaroni
Possono riposare in pace.