Liverpool will play eight friendlies in preparation for the 2017/18 season, and some spectacular stadiums are set to host Jurgen Klopp's side.
Another intense pre-season awaits the Reds, who travel domestically and around the globe for vital match practice ahead of the new season.
Klopp's side will play at six different stadiums, with some impressive venues hosting the Reds who will make a first-ever appearance at one spectacular ground.
You can bet most of those venues will be packed in support of Klopp's team, and here are the six stadiums Liverpool play at this summer.
Prenton Park, Birkenhead – Tranmere Rovers, July 12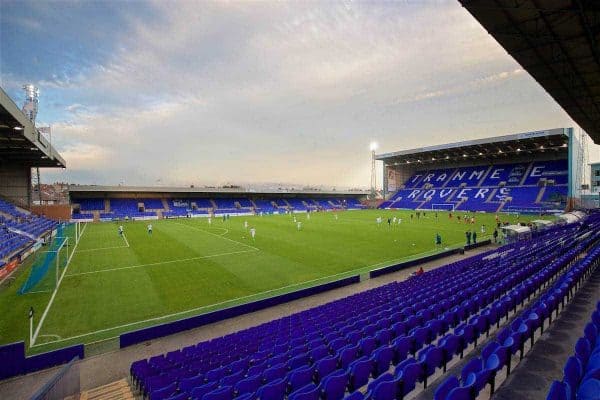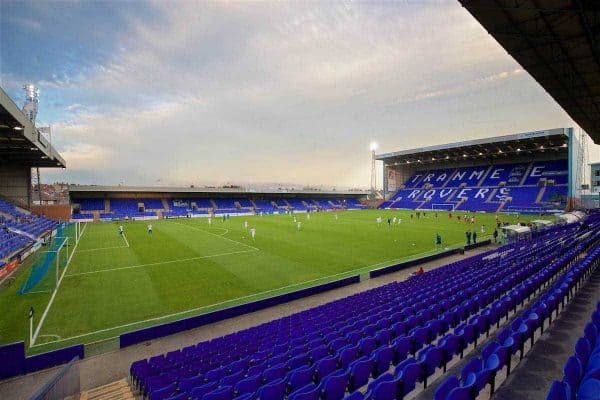 For the second year running pre-season starts with a trip to Prenton Park, home of local neighbours Tranmere Rovers.
Rovers' long-standing home since its opening in 1912, Prenton Park is an impressive venue for a current fifth-tier club, with the neat 16,500-capacity stadium worthy of a much higher level.
It's a ground Klopp and his team know well, with Prenton Park having hosted most of Liverpool U23s games in 2016/17, and with the Reds having kicked off last year's pre-season there with a 1-0 win courtesy Danny Ings.
The boss will hope for a similarly productive fixture on return to a comfortable stadium which provides the perfect stage for an opening friendly as shown last year.
Another big attendance is likely for the game, with this fixture one of just two for home-based fans to see the Reds this summer.
DW Stadium, Wigan – Wigan Athletic, July 14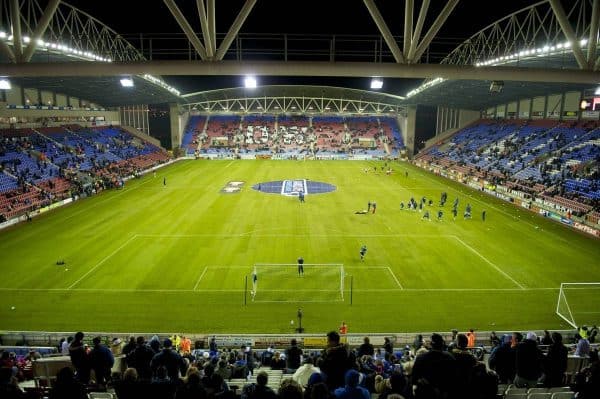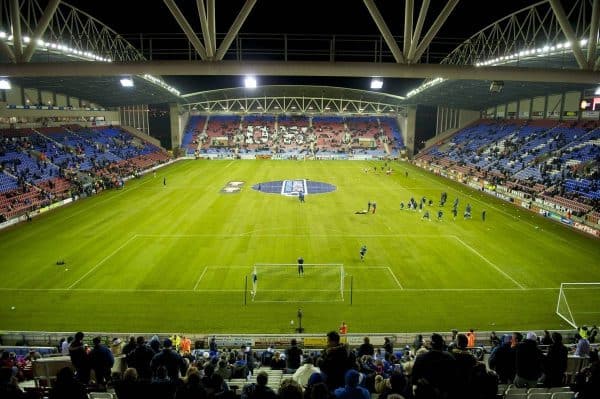 That other opportunity for home-based Reds comes at another ground Liverpool visit for the second year running.
The Reds' second friendly of the summer sees Klopp's men return to the DW Stadium, the 18-year home of Wigan Athletic, who are preparing for life in League One after suffering relegation from the Championship.
The modern venue is named in association with DW Sports Fitness, founded by former chairman Dave Whelan, and also houses Rugby League side Wigan Warriors.
A neat, symmetrical ground which boasts an impressive 25,138 capacity, the DW Stadium has hosted international rugby as well as top-flight football.
It is the biggest domestic venue the Reds play at, and is likely to be full for Liverpool's second visit in as many years.
That will include around 5,000 travelling Kopites, who will hope to see as useful a runout as last summer's 2-0 win courtesy of Ings and Ben Woodburn.
Hong Kong Stadium, Hong Kong – Asia Trophy, July 19 & 22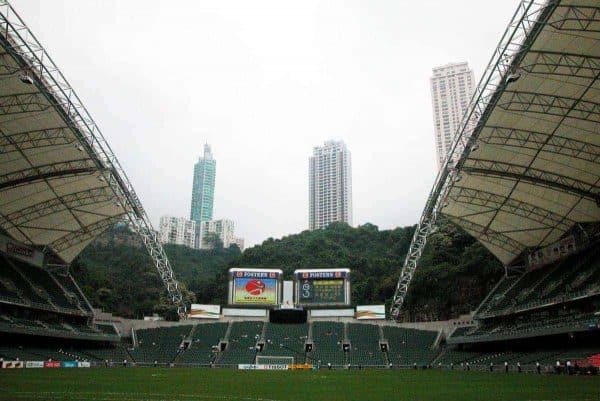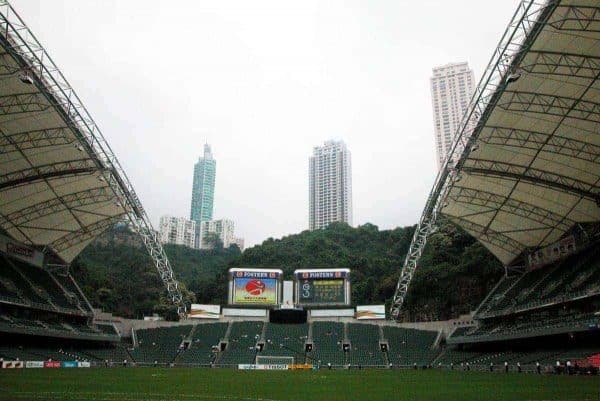 After the two home friendlies, Liverpool head to Hong Kong for the first time in 10 years to take part in the Premier League Asia Trophy.
Featuring alongside top-flight rivals Crystal Palace, West Brom and Leicester City, the Reds will play two games at the impressive Hong Kong Stadium.
It's a relatively new ground having opened in 1994 to replace the 28,000 capacity Government Stadium, and is the biggest sporting venue Hong Kong has to offer.
Complete with corporate boxes, the impressive arena holds 40,000 fans and boasts a modernised look—with steep three-tier stands either side of the pitch particularly eye-catching.
Hong Kong Pegasus FC and the Hong Kong national team are current occupants of the stadium, which has hosted the Rugby Sevens World Cup twice.
It will be Liverpool's second trip to the ground, having first played there in pre-season in 2007.
Rafa Benitez's Reds suffered penalty shootout defeat to Portsmouth in the Asia Trophy final that occasion, and Klopp's side will want to go one better in front of the passionate Far East support.
Olympiastadion, Berlin – Hertha Berlin, July 29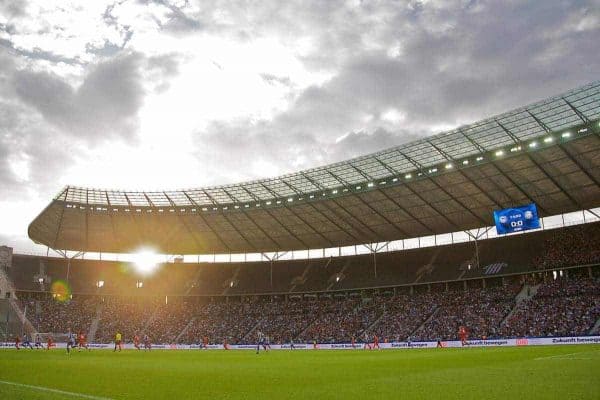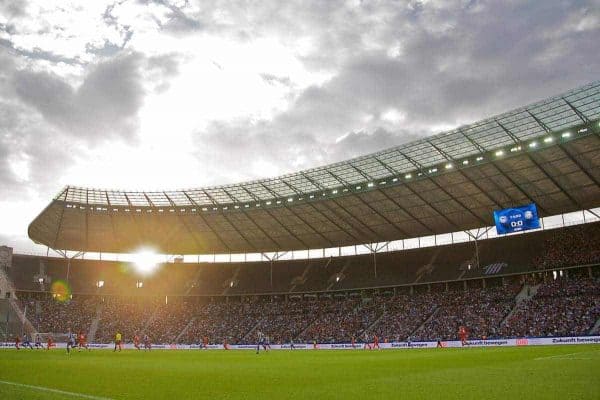 The Reds then return to Europe and the first stop comes in Germany's capital city of Berlin.
Here Klopp's men play a special game—'Celebrating football since 1892'—against Hertha Berlin to mark both clubs' 125-year anniversaries at the historic Olympiastadion.
First opened for the 1936 Olympic Games—when USA's Jesse Owens historically won four gold medals—it's been Hertha's home since 1963, but may not be for much longer with the club hoping to build a new ground.
Boasting a huge 74,475 capacity, the two-tier, bowl-shaped arena is the second-largest venue Liverpool visit this summer.
The stadium has a rich history hosting football's biggest games; with the 2006 World Cup final, 2011 Women's World Cup games, 2015 Champions League final and the German Cup final (each year) all held there.
It's also viewed an elite arena outside football having held the 2009 World Athletics Championships—the scene of Usain Bolt's record-breaking 100 and 200-metre gold-medal double—and concerts for the likes of the Rolling Stones, Madonna and Coldplay.
This will be Liverpool's first trip since a goalless friendly in 2008, and will be the fourth non-competitive game between the sides.
The spectacular stadium will provide a stunning setting for a special occasion, which will hopefully provide a more entertaining affair.
Allianz Arena, Munich – Audi Cup, August 1 & 2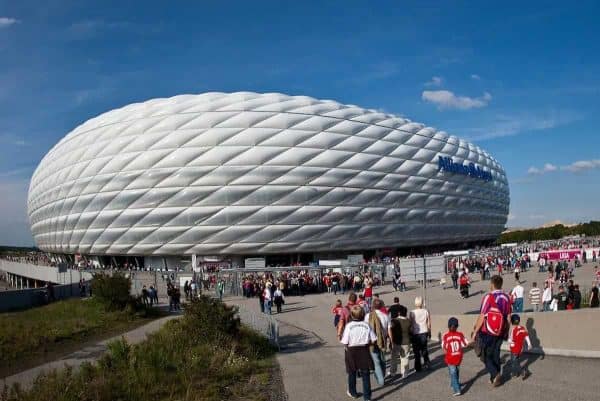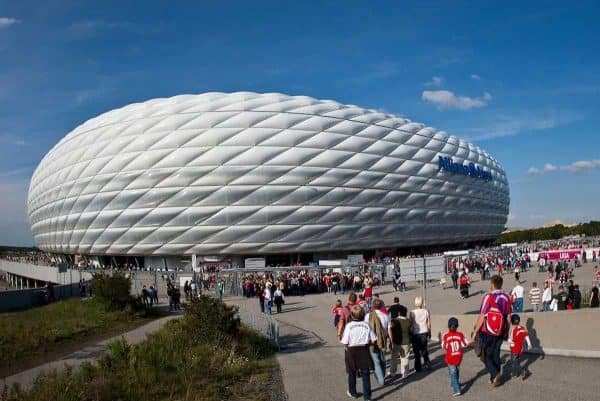 A trip to Munich for an Audi Cup debut and first-ever appearance at the Allianz Arena then follows.
The famous home of Bayern Munich and 1860 Munich, the stunning three-tier arena is now one of European football's most iconic grounds.
With a huge 75,000 capacity it's the second largest stadium in Germany—behind Borussia Dortmund's Westfalenstadion—and is the biggest venue Liverpool play this summer.
The stadium can hold 13,500 standing fans and is practically new having opened just 12 years ago in time for the 2006 World Cup—at which time it held 9,000 fewer spectators.
The Allianz has hosted plenty of big occasions in its short lifespan however—confirming its status as a top-class venue.
It held six matches in that World Cup, the 2012 Champions League final, and has also been selected as a venue for the Euro 2020 roadshow tournament.
Liverpool will play two games here, facing hosts Bayern and one of Napoli or Atletico Madrid.
It will be great to see the Reds on such a stage, perfectly whetting the appetite for the Champions League return.
Aviva Stadium, Dublin – Athletic Bilbao, August 5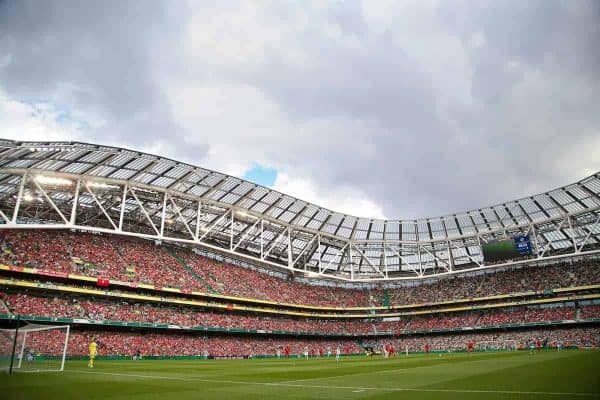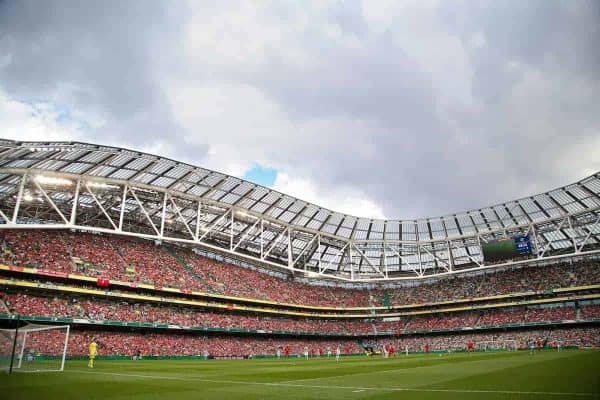 Liverpool round off pre-season in Dublin and at the spectacular Aviva Stadium where the Reds meet Athletic Club Bilbao for the first time since 1984.
The new ground—which sees three connected four-tier sides dwarf a small stand behind one goal—opened only seven years ago after construction on the site of the old Lansdowne Road ground.
The Aviva Stadium houses the Republic of Ireland's national football and rugby teams and holds 51,700 fans, but capacity can extend to 65,000 for concerts.
It's very much an emerging venue in football, and having successfully held the 2011 Europa League final and numerous international games, it's been selected to host four games in Euro 2020.
It's an arena Liverpool know well having played two friendlies here in recent years.
The first came ahead of 2013/14 against Celtic—who beat the Reds 1-0—before a post-season game in May 2015 against Irish top-flight side Shamrock Rovers, which Liverpool won 4-0.
It's always a great occasion when the Reds play in Ireland, and this will be a perfect final game before the real stuff begins.
---
Liverpool 2017/18 Pre-Season Fixtures
July 12: Friendly: vs. Tranmere Rovers (A)
July 14: Friendly: vs. Wigan Athletic (A)
July 19: Asia Trophy: vs. Crystal Palace (Hong Kong)
July 29: Friendly: vs. Hertha Berlin (Berlin)
August 1: Audi Cup: vs. Bayern Munich (Munich)
August 2: Audi Cup: vs. Atletico or Napoli (TBC) (Munich)
August 5: Friendly: vs. Athletic Bilbao (Dublin)