September was a month to remember as the fans' choices really started to pay off, and the goals began to flow.
Welcome to #TIAonFM, our Football Manager series where the fans are in control. We play the game, but you, the supporters, get to vote on every major issue, from team selection to transfers.
Updates are published every week and a new run of votes will be available afterward to participate in; follow @thisisanfield and @karlmatchett to take part and lead the club to glory!
Part 1: Pre-season and a new record signing
September
Deadline day done, and thank god for that. Had to charge my phone about four times, and most of that was just from Jose Enrique phoning me up to see if we wanted him back—he'd heard we were selling Alberto Moreno.
I just texted him a screenshot of the club website once we got our replacement over the line, then blocked his number.
Q8: #LFC fans, choose from the following left-backs to sign ahead of deadline day! Approx fee noted. #TIAonFM #FM17

— Karl Matchett (@karlmatchett) June 22, 2017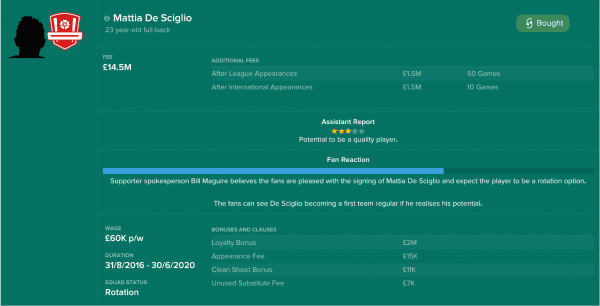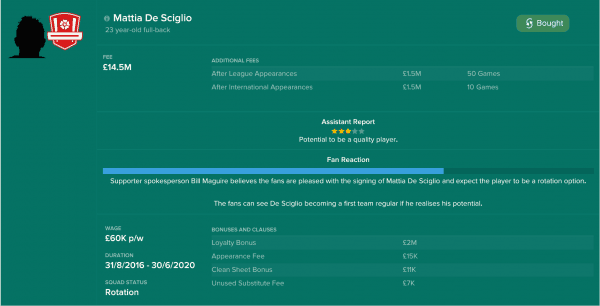 Business done, it was back to the matches, home against the Cherries first.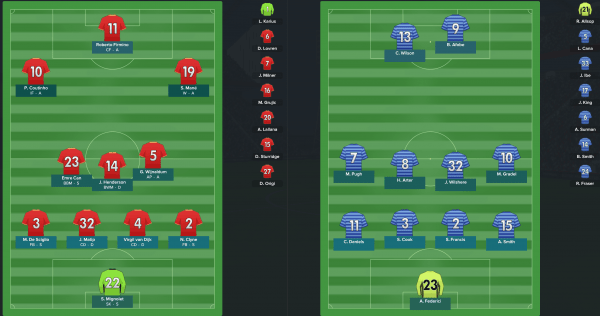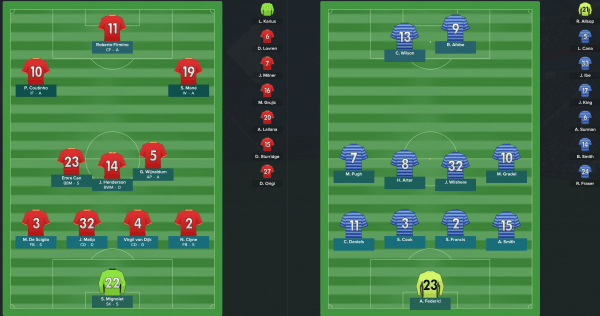 It was almost poetic: a few days earlier, fans had voted for de Sciglio over Charlie Daniels, yet here was the Bournemouth man scoring against us 10 minutes in. Thankfully the ref ruled it out, though not because I was furiously making a box sign with my fingers, asking him to go to the VAR.
Apparently we don't have that in the Premier League, yet.
Coutinho took over after that; he set up Bobby Firmino—clearly no post-Spurs-bid hangover, there—for the opener, then rattled one in himself.
Bournemouth got one back after the break but Gini Wijnaldum (obviously, we were at home) settled matters, with Emre Can's all-round dominance stealing the headlines.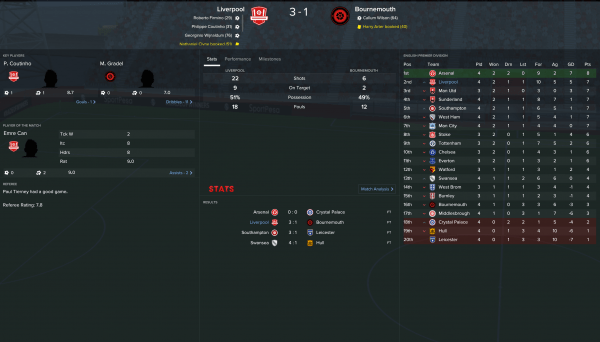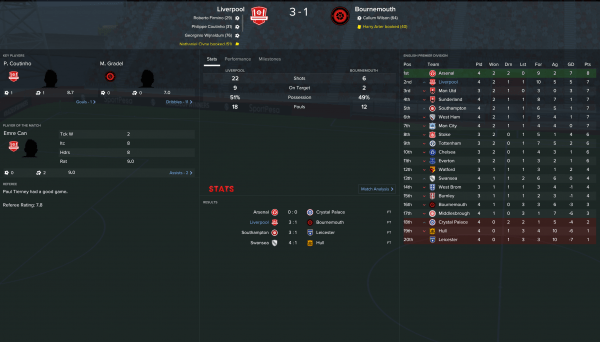 In truth, the following week didn't start so well; Trent Alexander-Arnold and Lucas both got injured, just over a week before a cup game they'd both likely feature in, and what's worse, Boss Matchett scratched his car on the gate on the way into training. Fuming.
West Ham next, unchanged team.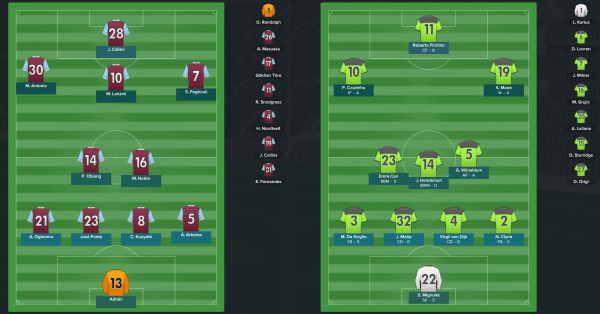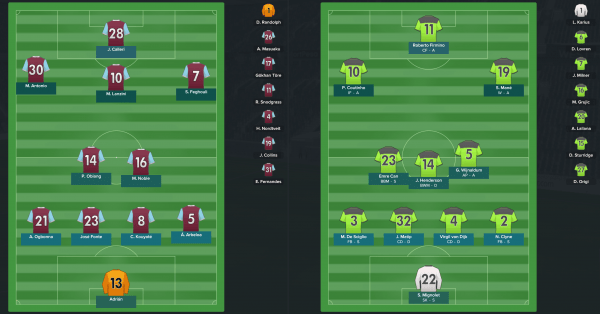 Five minutes in and big Simon made me wish I'd changed someone, at least, spilling the simplest of crosses into his own bloody net.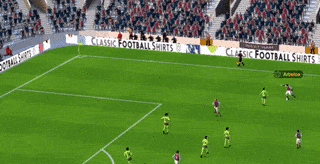 Thank god for those Brazilians; Coutinho scored twice before the break and Firmino hit one after—another three points were on their way. I made a joke with Slaven Bilic about the Hammers' defence being as bad as when he used to play for them, but he didn't really find it funny.
With the League Cup in mind we got Grujic and Sturridge on for a good half-hour run out and the latter was practically frothing at the mouth to get on the pitch.
He set Mane up within minutes for his first goal for the Reds, then nearly teed up Grujic for a belter—good save Adrian—and finally laid another on a plate for Mane, who notched our fifth.
Boss Matchett did, admittedly, start to feel a bit bad for Bilic at that point—managers' union and all that—so we sent James Milner on to even things up a bit. Still, 5-1 is a pretty good comeback. London Stadium? It's ours, now.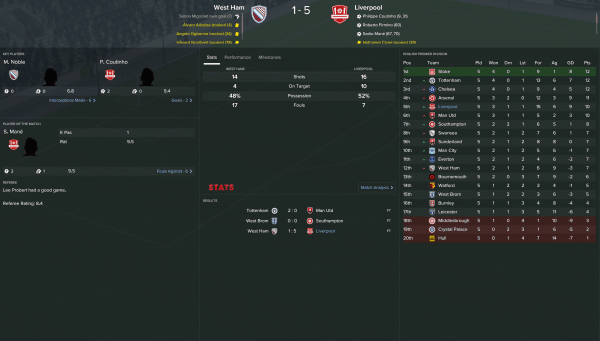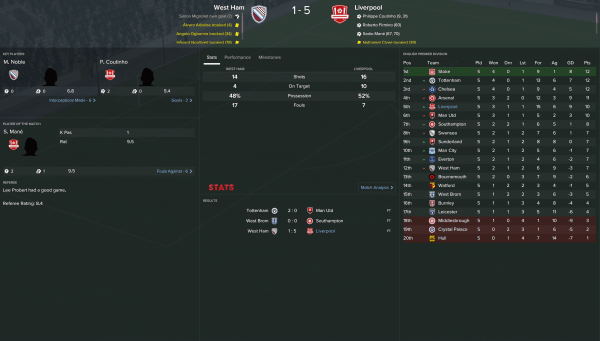 A few of the younger lads came banging on my door in the week asking to play in the cup. "Lads," I told them. "It's out of my hands. The fans pay their money, they want to see a big team out—and that's not you."
Q5: League Cup, chance for trophy or distraction? Beat Crawley in 2nd round, vs Sunderland away in 3rd. Who should be in the team? #TIAonFM

— Karl Matchett (@karlmatchett) June 21, 2017
I started to usher them all out the door together, only realising halfway through that one was my fitness coach, Jordan Milsom. He's really short actually; no wonder I thought he was one of the kids. I should probably send him down to the under-18s, to be with his own kind.
Anyway, he wanted to let me know Lucas was fit for the cup game, but could probably only play a half. I stood in silence for a moment wondering if this was any help at all, then realised if I played Lucas, Klavan would want to play too.
That settled it—the bench for them.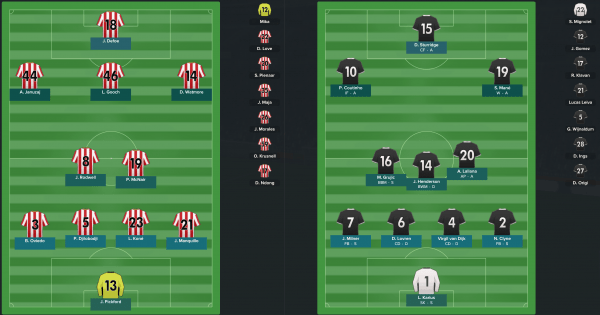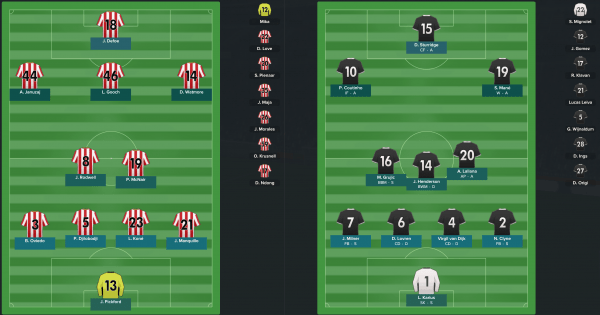 It took four minutes for the Sturridge-Mane love affair to be rekindled, and the striker had a brace by seven minutes in.
In celebration he reached into his socks and pulled out his shin-pads with the numbers "3" and "5" on each one, holding them up to the fans. No idea what all that was about.
Q5: What should Daniel Sturridge's role be for the season? #TIAonFM

— Karl Matchett (@karlmatchett) June 13, 2017
To be honest, as good as we were, it became apparent that Moyesie's boysies were a load of tosh. Ever the opportunist, Boss Matchett seized the moment to get a few games of Clash Royale in, pretending to do some tactical stuff on one of the ipads.
I'm reliably informed that a) we battered them and b) Sturridge hit a hat-trick. We've also drawn Newcastle at home in the fourth round, which means a reunion with Rafa Benitez and a guaranteed 4-3 scoreline to look forward to.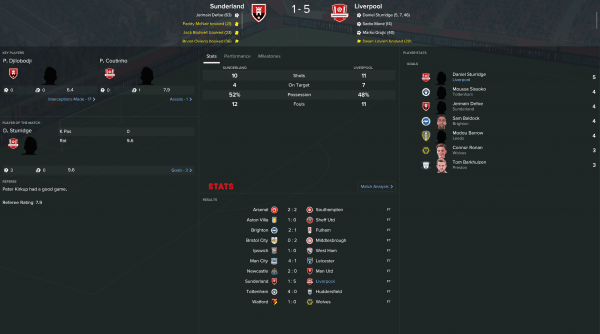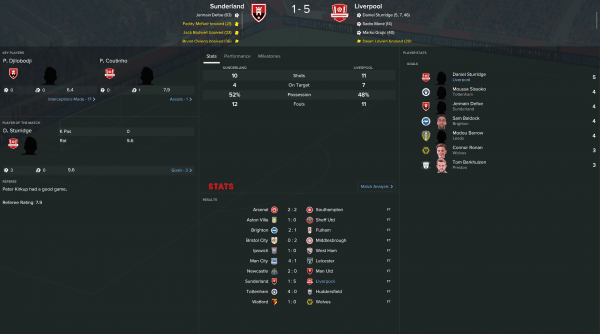 The one downside: a five-week layoff for the vice-skipper. Good job we bought a left-back, hey? I'll take credit for that.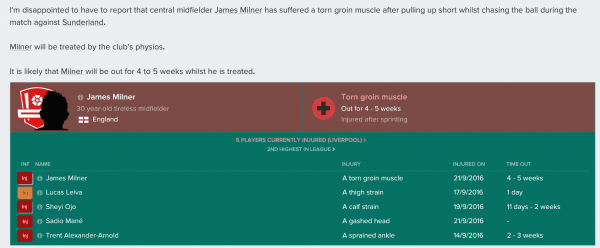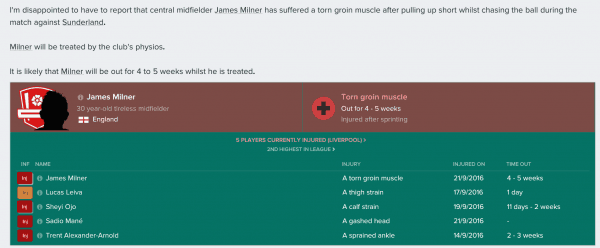 One final game for the month saw us take on bottom club and all-round fodder Hull City.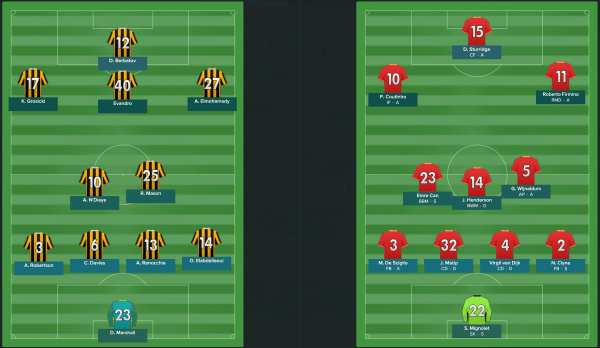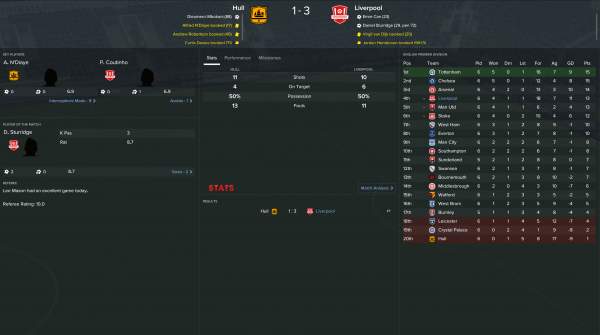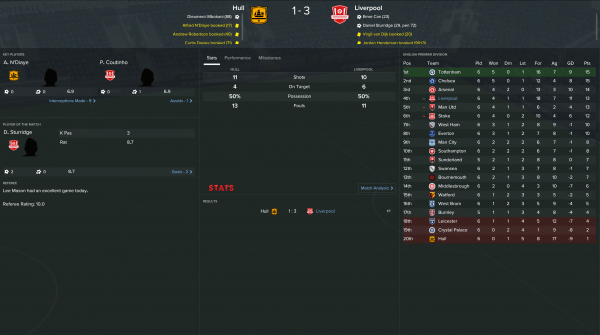 A fourth win of the month was particularly pleasing, but there's a much tougher month ahead in October and we lost Coutinho to injury.
That's one for the fans to decide: risk him against City and possibly lose him for the rest? Or leave him out for the biggest game of the season so far?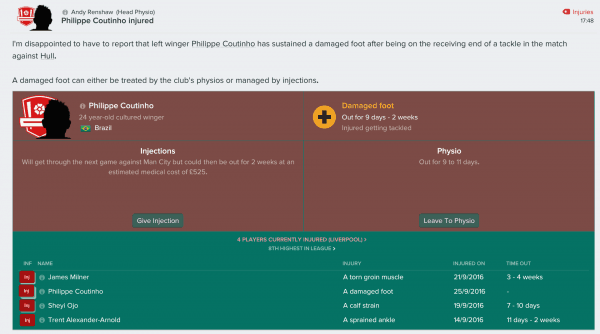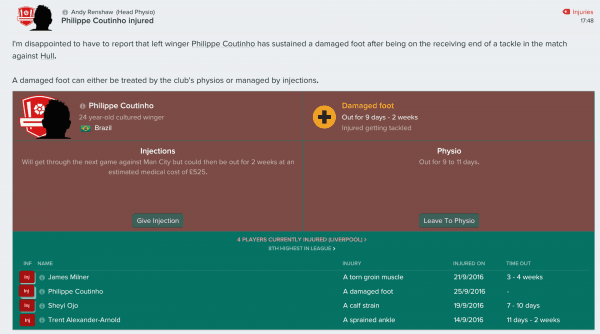 With Mane struggling after a head injury, Firmino was pushed out wide. Impressing him with my best German, my pre-match chat with him was "Bobby, du bist eine ramdeuter!"
It sort of worked as he assisted Sturridge, who did that shin-pad celebration to the fans again. He's definitely trying to tell them something….
October polls will run from @karlmatchett on Wednesday morning, covering Coutinho's injury, whether Sturridge stays in the team and more—follow and vote to get involved!