Liverpool got their trip to Germany off to a great start by beating Hertha Berlin 3-0 in a pre-season game which provided plenty of talking points.
Hertha Berlin 0-3 Liverpool
Pre-Season Friendly, Olympiastadion
July 29, 2017
Goals: Solanke 15′, Wijnaldum 38′, Salah 60′
---
Dominic Solanke got the Reds off to a good start with a close-range, looping header, before Gini Wijnaldum struck a low effort to double the lead.
Mohamed Salah's lob was a deserved third in a game Liverpool largely dominated.
It will give Jurgen Klopp plenty of reason to think the summer is panning out as he hoped, both in terms of the fitness of his players and the style being implemented on the pitch, while a few started to get more game time than just 45 minutes.
Result aside, there were far more positives than negatives from the 90-minute outing which give hints as to what's in store for the season ahead.
Emre Can's Return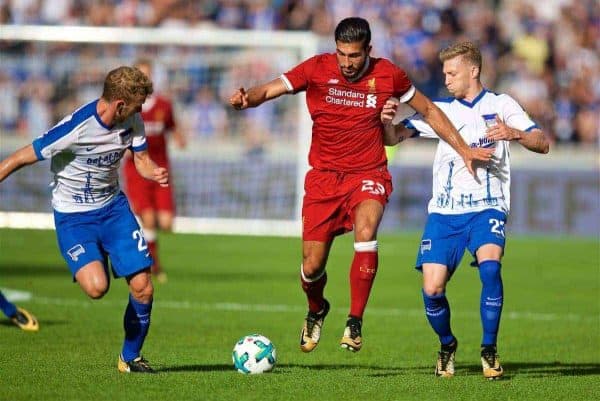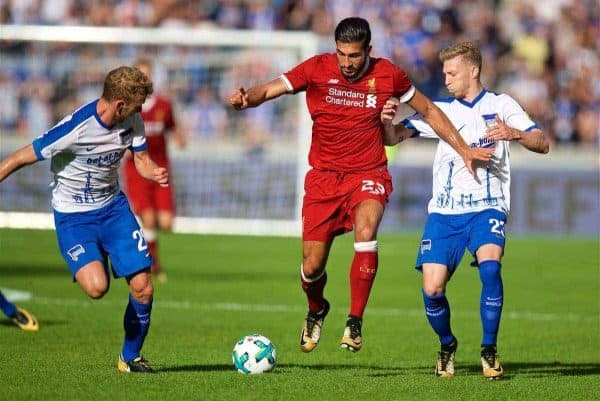 Back with the team after his extended summer break, Emre Can lasted almost an hour and was impressive in both midfield roles.
The German international held fort at the base of the Reds' midfield trio in the first 45 minutes, but wasn't afraid to push forward to press out of possession or surge in the dribble.
Indeed, one bombarding run where he left four defenders trailing in his wake was a highlight of the first half.
After the interval it was notable that Can pushed forward, with club captain Jordan Henderson taking up the deepest berth in the centre of the park, perhaps a sign that when both play in 2017/18, it's the Englishman who will be given responsibility to protect the defence.
Solanke Takes His Chance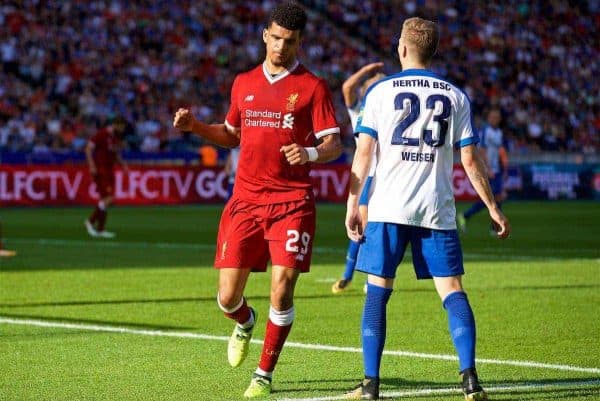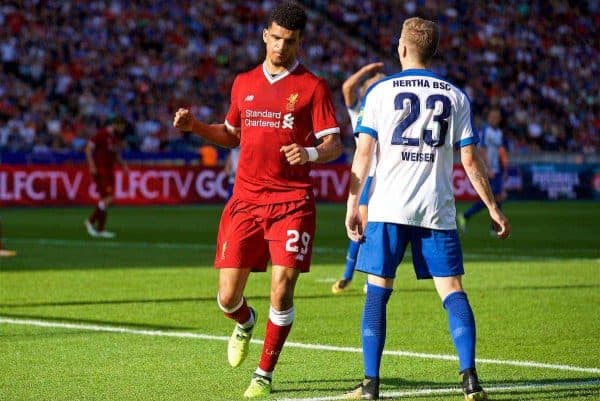 The official Liverpool lineup had Divock Origi listed as striker, but the Belgian pulled out shortly before kickoff due to a slight muscle issue.
Solanke was instead given a chance to show what he was capable of—and the new signing certainly took the opportunity.
He had already shown good movement to twice get himself free before Adam Lallana's cross found him unmarked in the six-yard box, and a looping header embarrassed the Hertha goalkeeper to set the Reds ahead.
With two goals to his name in pre-season Solanke should be feeling confident, and Klopp and Co. cannot help but have been impressed with the striker's contribution so far.
For the Reds' second goal, scored by Wijnaldum, Solanke again had a large hand in matters after his work rate saw him win possession high upfield and play a smart pass infield.
In 45 minutes on the pitch, at short notice, he couldn't have hoped for better.
Andrew Robertson's Debut & Full-Back Questions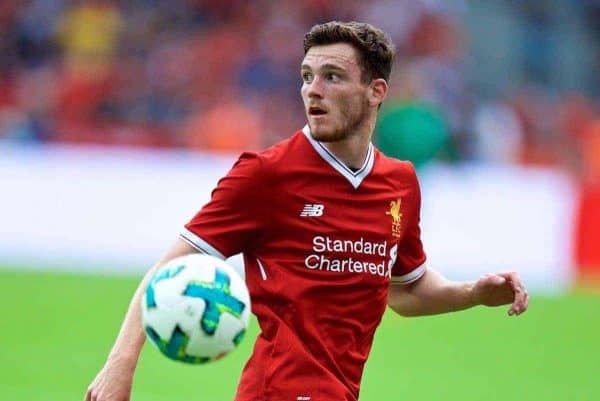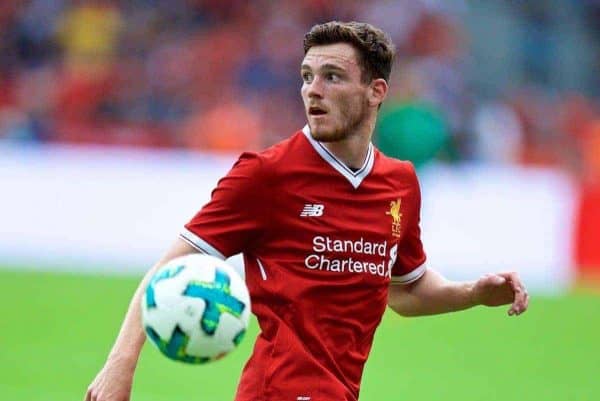 It took one minute for the club's latest signing to get in his first shot, and about six minutes for a first overlapping run.
Both were nice, but not the real importance of his addition: instead it was the first-time, low, left-footed cross he sent over on the run, inviting a tap-in which Salah just failed to convert on the stretch.
That ability to cross on the run, without checking back and slowing the game down to use the right foot, is something Liverpool have really lacked in the final third.
It's not just from left-back James Milner where that happens, but also from the left-sided midfielders and forwards: Can, Wijnaldum, Origi, Philippe Coutinho—whoever is out there.
On the opposite side, Joe Gomez was excellent in possession and supporting going forward in the first half. With Trent Alexander-Arnold also impressing at right-back, the Reds suddenly look stacked with depth in those areas.
Two questions still remain: depth is one issue solved, but is the quality and consistency good enough to challenge England's elite? And, just what will Jon Flanagan offer the squad this term, at best third choice on both sides and maybe fourth if Gomez stays on Merseyside?
Mignolet Doing Mignolet Things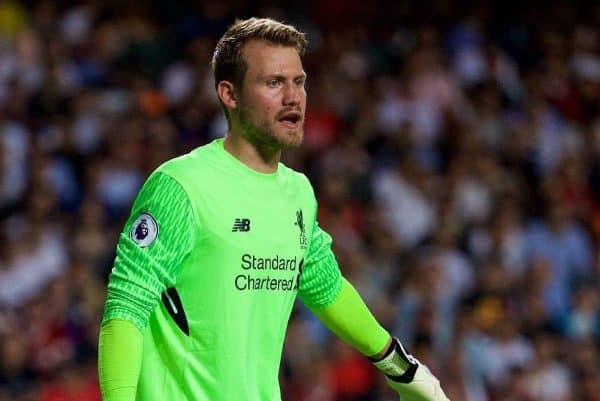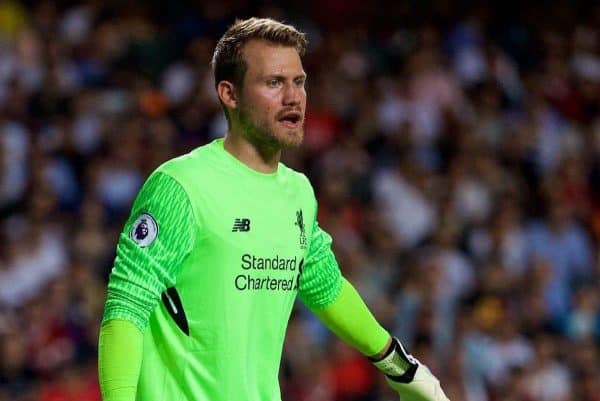 The match in Berlin was largely about Liverpool's attack, but it would be remiss to ignore entirely the aptitude with which Simon Mignolet performed.
Hertha's attacks were sporadic, but everything the Belgian needed to do, he did in an assured manner, with conviction and success—punches clear, one good block, a fine aerial take under pressure in the first half.
There's big competition for the No. 1 jersey this season and there are those who feel Loris Karius will quickly be given another chance just because he's Klopp's own signing.
But right now Mignolet isn't doing a single thing wrong to be taken out of the team for, and that's precisely why competition for places is important.
Coutinho to Salah: Something to Look Forward To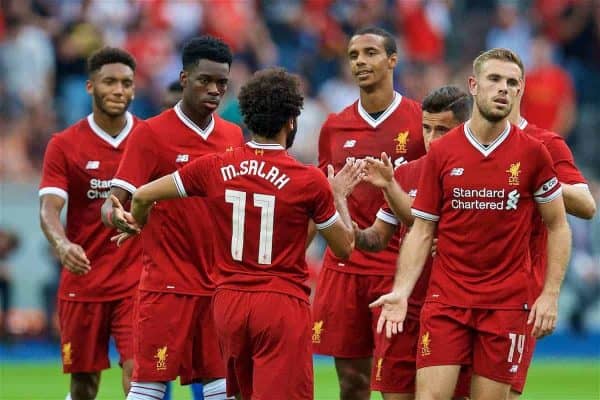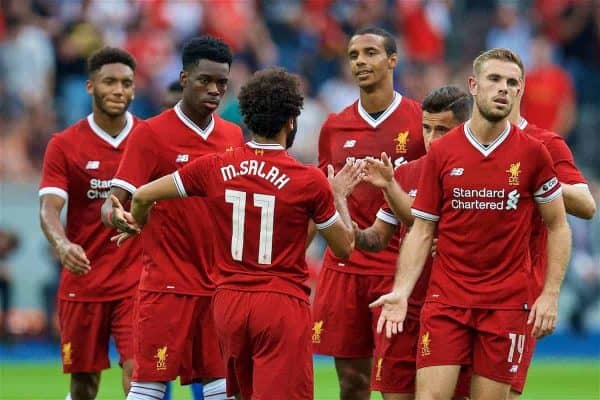 How many times are fans going to enjoy new signing Salah racing onto an inch-perfect through-pass from the Brazilian maestro?
The Reds' third goal was majestic; Salah's finish was cool in the extreme but Coutinho's control, turn, acceleration and nonchalant pass were all exquisite.
And that nonchalance just happened to involve casually dropping a 40-yard ball over the defence, on the bounce, with plenty of back-spin.
Coutinho was simply fantastic as a No. 8 after the break, causing all kinds of excitement among fans with his ability to take the ball into space and link with those ahead.
It has always been the case that Coutinho has needed movement ahead of him to get the very best out of his range of skills.
With Salah's pace and running now added to Roberto Firmino's appreciation of space, Sadio Mane's in-from-out runs and the all-round ability of Daniel Sturridge, there's an extra element to the Reds' buildup play.