Liverpool have rejected a £72 million bid for playmaker Philippe Coutinho, and Jurgen Klopp is set to tell the Brazilian he cannot leave this summer.
The Reds are steadfast in their approach to interest in Coutinho, who signed a new five-year deal with the club in January—crucially, with no release clause.
Coutinho is settled on Merseyside, but the lure of playing for Barcelona is a major one for many South American players, as Luis Suarez proved on his departure in 2014.
However, Liverpool expect the 25-year-old to remain at Anfield for at least two more seasons, as Klopp builds his side around him.
According to the Telegraph, Klopp will hold talks with Coutinho in Hong Kong this week, where the Reds are currently based for pre-season.
It may not take much convincing at this stage, but Klopp will reiterate the stance that the No. 10 won't be sold.
This comes with Liverpool set to return to the Champions League for the first time since 2014, as well as continuing their push for the Premier League title.
Coutinho, who is likely to take a focal role in Klopp's midfield this season, is integral to Klopp's hopes of success both in Europe and on the domestic stage.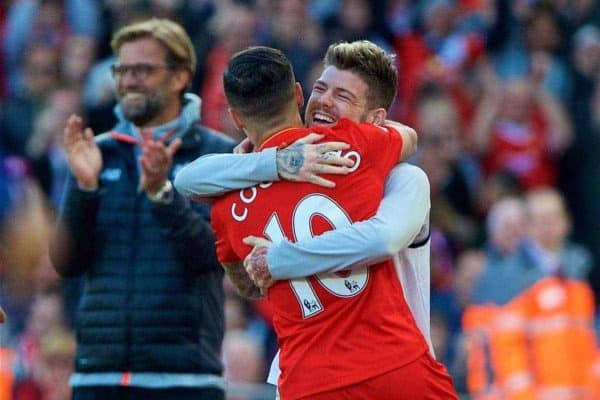 An interesting theory from the Independent's Simon Hughes on Friday, however, suggests that Coutinho's future could be bound to that of out-of-favour Reds left-back Alberto Moreno.
Hughes posits that given the close relationship Coutinho shares with the Spaniard, if Moreno leaves Liverpool this summer as expected, he could be more open to a move himself.
Coutinho, Moreno, Lucas Leiva and Roberto Firmino had formed a strong bond in recent years, but Lucas has since left for Lazio and Firmino is said to be moving to a new house 20 miles from his compatriot.
While it would be remiss to suggest that dissolution of his core friendship group would prompt Coutinho to agitate for a move for certain, there is rationale behind this hypothesis.
Moreno has attracted interest from La Liga, Serie A and the Premier League this summer, with Liverpool valuing the 25-year-old at £15 million.
They have already rejected an £11 million bid from Napoli, who have since gone on to sign Mario Rui on loan from AS Roma, ruling out one destination.