Jurgen Klopp has made it clear just how highly he rates his backroom team, admitting he would have very little success without them by his side.
Klopp has made a huge difference at Liverpool since taking over as manager in 2015, but he has a number of trusty deputies beside him.
In Zeljko Buvac, Peter Krawietz, Pep Lijnders, John Achterberg, Mona Nemmer and Andreas Kornmayer, the 50-year-old has assembled one of the finest arrays of backroom talent in the Premier League.
Klopp is fully aware just how important they all are in terms of the success of the team, admitting his reputation would not be as great without them involved.
"I am nothing without them," Klopp told LiverpoolFC.com.
"I think the biggest strength of strong people is to put people around you who are stronger in specific cases than yourself.
"Only if you are insecure you wouldn't do that and think, 'Oh my god, maybe somebody sees he is better at this than I am…' and all that stuff.
"I have absolutely no problem with this and that makes them so important for me. I like them all but we are only together because they have so many qualities.
"Without them, I didn't want to do the job—and I couldn't do the job anymore. That's how it is.
"When I started I was alone, but that was years ago and the world has changed—especially the football world.
"So it's really important we have this quality around. I am absolutely happy about this."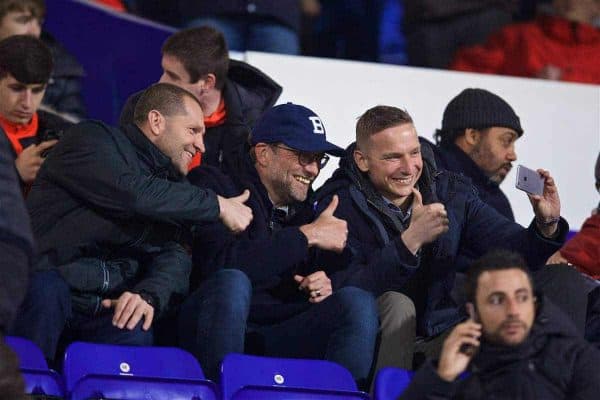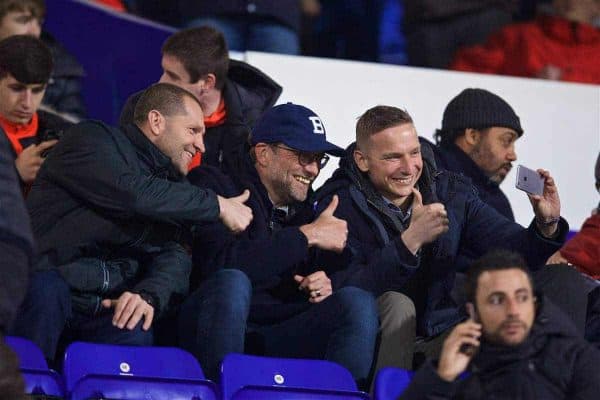 Klopp went on to go into interesting depth about each individual and what they bring to the table, from the intelligence of Buvac to the hard work of Achterberg.
"Zeljko is the brain, Pete is the eye. Pep has become unbelievably important in a short time because he writes everything down," he added.
"He is also part of 'the brain' because he is our mind to remember the things what we did in previous sessions.
"He brings us the next coaching generation; we are not old but we are already that long in the business, so it's normal that you have routines, you use them and they are good.
We try to stay open all the time, but with Pep he is our connecting point to the present and the future, so that's really, really important.
"What can I say about John? I've never met a guy like him! He is a goalkeeper coach 24 hours a day!
"That's not always nice, actually, because if you want to talk to him about anything else, he can lead every conversation in a goalkeeping direction.
"That's a skill, I think! In the end you think 'Did we speak for five minutes about goalkeepers when we started with politics?'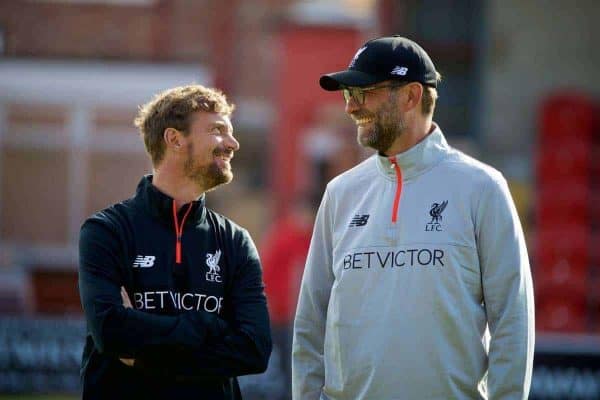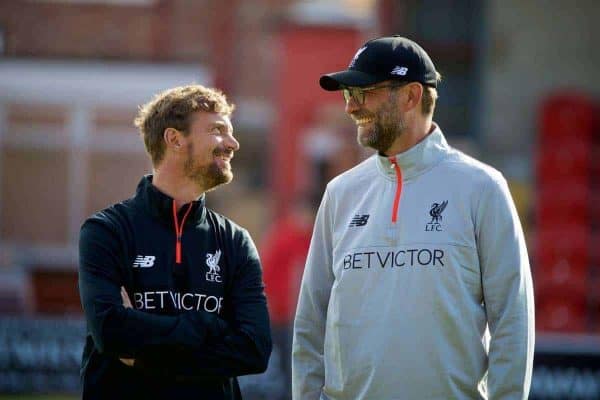 "Mona is heart and soul, she is everything. She is so smart. Not one player is in doubt about her—that's outstanding.
"Nobody likes it when someone tells you what you're eating is not good, but Mona is really strong in this.
"In this department we have changed pretty much everything and the players like it because they know Mona is just there to help them and make their lives easier, at Melwood and at home because she works with their better halves.
"Korny is kind of the drill sergeant here. He needs to be. We make the decisions what he has to do and he gives the advice of which specific areas we can improve.
"He needs to be the 'bad boy' from time to time because players don't like running—'That's Korny's idea, if you ask me you can have a day off but Korny said you have to!'
"It's all good otherwise we could not be fourth last season and we would not be this good of a team. Always we can improve, we can improve still, but as a basis to improve I am quite happy."