After Mohamed Salah's debut goal away to Watford, Liverpool legend Jamie Carragher has backed the Egyptian to hit double figures this season.
Salah scored the Reds' third in an ultimately disappointing 3-3 draw at Vicarage Road, as well as winning the penalty that saw Roberto Firmino equalise at 2-2.
This saw Liverpool's new club-record signing build on an impressive pre-season that saw him score four times in six games, at an average of 79.3 minutes per goal.
For AS Roma last season, the 25-year-old notched 19 goals in 41 outings in all competitions, and it is clear he is a regular goal threat.
And speaking on Sky Sports' Monday Night Football, Carragher explained why he feels Salah's brand of wide play will ensure he hits the target consistently in 2017/18.
"He's a wide man who looks obsessed with scoring goals in terms of making that run to put himself through," he said.
"And the big thing about wide players, if you want to be successful you've got to be getting double figures. Certainly at a top club.
"There's too many wide players who will go a season scoring one or two goals, and the reason is because they hug the touchline, but never come away from the touchline.
"At times I've said I'd like him maybe to come a little bit wider, just to create that space.
"People may work him out if he plays so narrow, [then] there's no space to run.
"But there's no doubt with him and Mane on the other side, not classic wingers getting down the line and getting crosses in, those two players will score goals as we saw at the weekend."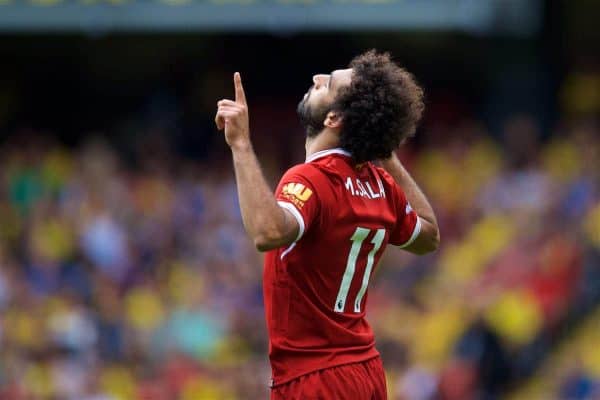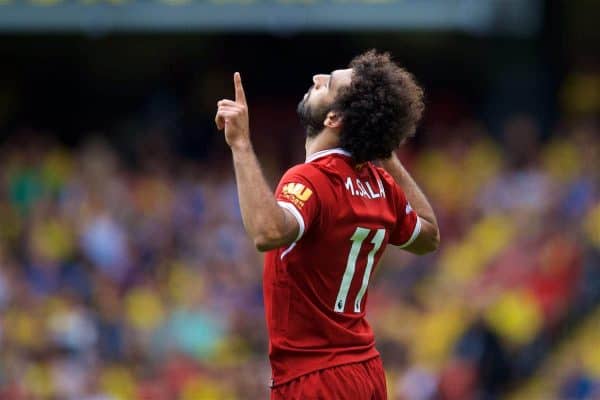 Last season, Philippe Coutinho ended the campaign at the Reds' top scorer, with 14, and the hope will be that the Brazilian remains on Merseyside this season.
Mane hit 13 goals, while Firmino scored 12, but both can be expected to improve this campaign, particularly given the Reds will compete in Europe again.
Firmino has taken up duties as Liverpool's penalty taker with James Milner demoted from his role as first-choice left-back, and that could see the No. 9 finally break the 20-goal mark.
Adding Salah's goal threat to this formidable unit will be invaluable, and as Carragher explains, his determination to break the lines will give the Reds a key threat in the final third.
Starting how he intends to go on against the Hornets, Salah looks likely to score at least 10 goals this season—and potentially a lot more.