This was quite possibly the most un-Arsenal version of Arsenal, that Steven Scragg thinks we've ever faced at Anfield.
Liverpool 4-0 Arsenal
Premier League, Anfield
August 27, 2017
Goals: Firmino 17′, Mané 40′, Salah 57′, Sturridge 77′
With what at times appeared to be an effortless ease, for significant periods, it looked like Liverpool were playing the ball around road cones.
When in full-flow, going forward, this Liverpool is as good as any of the great Liverpool teams of the past. There. I've said it.
We scored four, and it could easily have been double that amount. I genuinely believe that opposing defences have no idea how to cope with Sadio Mane. They stand off him, they double, even triple-up on him, yet all to no avail. He is proving to be a horizon-changer for Liverpool FC. This is beginning to feel like a football club which can achieve something special.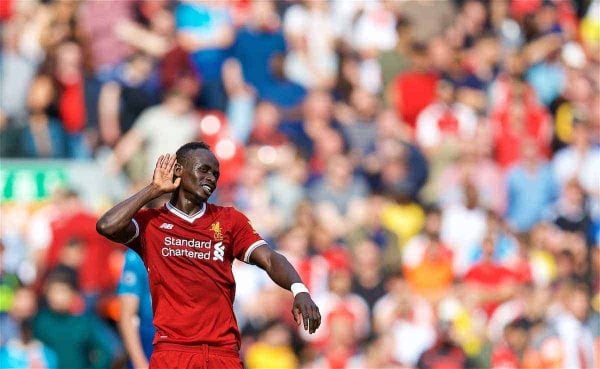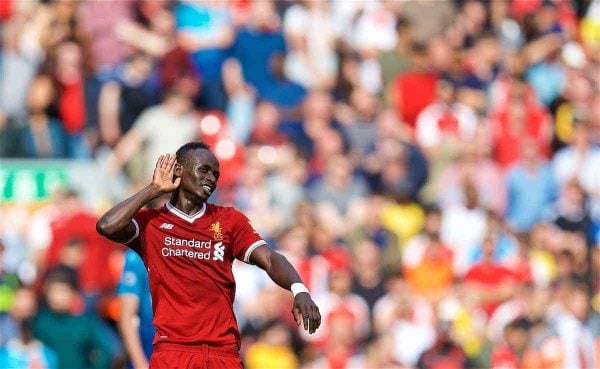 Roberto Firmino continues to float, he continues to sting. He opened the scoring from a cross by Joe Gomez. When you have a football team operating with Joe Gomez, as an attacking right-back, you should feel safe in the knowledge, that we are fast approaching the world of the parallel universe.
All the more-so, when Alberto Moreno is looking like a player reborn for the second time in four days. Joyously unexpected things are happening. Imagine being a squad member who doesn't want to be a part of that?
Mohamed Salah is a hypnotic complexity. All incisive runs, balanced passing, and off the ball intelligence. He took his goal with bravery in the initial interception and composure in carrying the ball toward an expectant Kop. Goal calmly taken. He produced a beautifully precise cross for Daniel Sturridge to head home the fourth goal.
Conversely, Salah should have had two goals to his name, before he did eventually find the net. He needs to work on his occasional profligacy.
MIDFIELD RENAISSANCE
And so, it continues. From the insipid looking unit that struggled through the Watford and Crystal Palace games, we now have verve and vibrancy. Jordan Henderson dispossessing opponents and setting fast moving attacks in progress. He is stealing the ball, rather than winning the ball.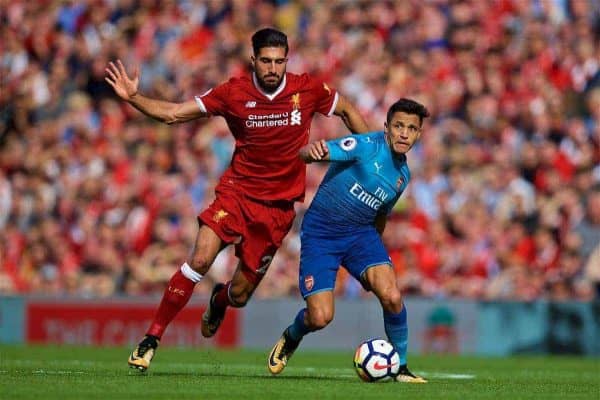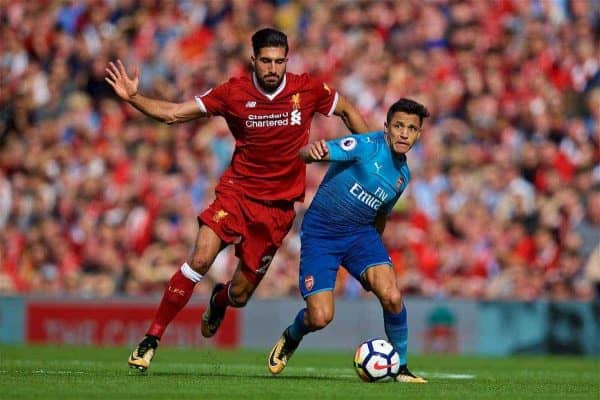 I love it when we have midfielders who steal the ball. There is a degree of sleight of hand to it all. The victim of the process is left there, looking at the turf where the ball once was, like a shopper in a supermarket, who stares too long at an empty shelf, believing that if they stare for long enough, that sold-out item they need will magically appear before their very eyes.
Georginio Wijnaldum arguably produced his finest performance yet in a Liverpool shirt. His game was one of pure insistence. Whatever he wanted, he was going to get it.
Having taken the lead role against Hoffenheim on Wednesday evening, Emre Can was the support act upon this occasion. He was no-less vital to this victory, as he was to the last one, but he was allowed a more laid-back outing. His opponents simply weren't up to it.
That's not just my take on it, these were words uttered by a brow-beaten Arsene Wenger. That theory I have, about how we don't need three stereotypical central midfielders in the team, has taken a bit of a battering over the course of the last two games.
DEFENSIVE COHESION
Joel Matip and Dejan Lovren hardly put a foot wrong. One of the most startling aspects of this win, was the calm manner in which we played our way out of tight defensive situations. Combined to the effective performances of both Gomez and Moreno, it all made for as easy a day for our backline as we are likely to gifted all season. Games against Arsenal aren't meant to be as accommodating as this.
JEEPERS KEEPERS
According to Jurgen Klopp, Simon Mignolet was rested for this game. According to the rumours circulating in the Main Stand Upper, Napoli have put in a bid for him. Wherever the truth lies, his removal from the side came completely from left-field.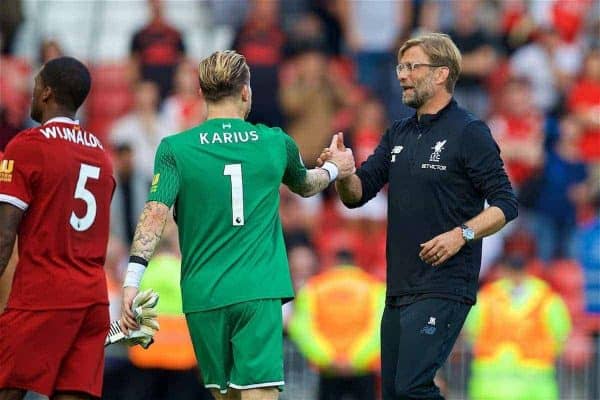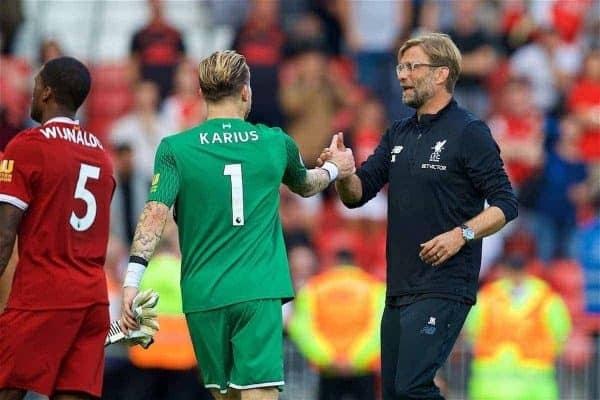 No keeper needs a rest just five games into a new season. When have keepers needed a rest at any point of the season?
So, Mignolet sat and watched the game from a seat in the stands. Facial expression set to bemused. On the pitch, or off the pitch, regardless of the various situations he finds himself in, Mignolet never looks anything other than bemused.
When Loris Karius was twice, almost three times caught in possession of the ball, it's anyone's guess if Mignolet was bemused by it all, or not. He looked bemused though.
Karius was happily underemployed throughout most of this game. There wasn't one serious save of substance for him to make, while he was effective when coming for crosses, punching most instances well clear of the penalty area.
I stand by the concept that neither Mignolet or Karius will come out as the winner in this battle in the long-term. Two rivals for one goalkeeping position seldom has a happy ending for either contender. Rancour and uncertainty will prevail.
The audible, and prolonged hum around Anfield in the wake of Karius narrowly avoiding being disposed of the ball in his own penalty area spoke of a lack of confidence from the support, more-so than it did of the keeper himself.
Does Danny Ward get a go next?
LET'S FACE THE MUSIC AND DANCE
No football for a fortnight now. Just as things we're beginning to get interesting, we are delivered the first international break of the season. Transfer deadline day is on Thursday. Two pronounced glitches to the early composition of any new season.
How can you be morally allowed to get into the swing of club football for such a short blast, only to be halted by the international game three games into the new campaign? How can you be allowed to delve three games deep, into the new football season, before the transfer window is closed?
None of it makes sense. The system is broken.
By the time we reconvene at Manchester City, we could well have been shorn of the services of Philippe Coutinho. We might have a spate of stereotypical international provoked injuries. There is a degree of Russian Roulette to the last few days of August and the first week of September.
Savour this win, but hold on tight. It might be a bumpy ride ahead.