Ahead of Liverpool's Premier League opener at Watford, Jurgen Klopp's decision over his first-choice goalkeeper can only land on Simon Mignolet.
In this summer of cranked-up transfer talk, when a day has not passed without the words "Van Dijk", "Keita" or "fume" being used by Liverpool fans on social media, radio phone-ins or sat around good old-fashioned pub tables, one or two interesting aspects regarding Jurgen Klopp's squad ahead of the 2017/18 season have been somewhat overshadowed.
Among them has been the situation regarding who will be the first-choice goalkeeper when the Reds take on Watford this weekend.
Different people have different preferred choices, with Loris Karius and Danny Ward's decent showings in pre-season making them legitimate contenders.
But ahead of the trip to Vicarage Road, Simon Mignolet appears to be the man in possession of the figurative, if not actual, No. 1 jersey—particularly after he played the entirety of Liverpool's 3-1 victory over Athletic Bilbao in Dublin on Saturday.
And I cannot be the only one who thinks that is reason to pause and reflect on a noteworthy Anfield career.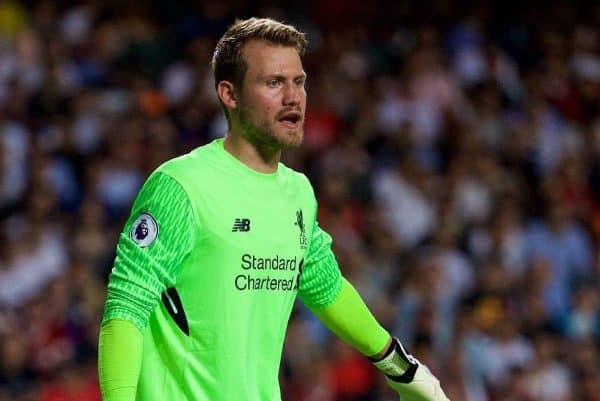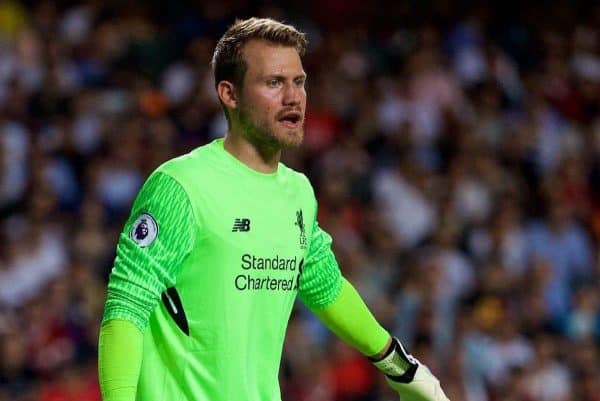 By common standards, Mignolet should be nowhere near the first team right now. This is a man who a little over four years after arriving at Liverpool has still not firmly established himself at the club and, lest we forget, has been dropped on two occasions by two different managers.
Brendan Rodgers dumped him for Brad Jones in December 2014 while Klopp ousted the Belgian from the side last season by signing and then selecting Karius.
Mignolet did feature at the start of the 2016/17 campaign due to Karius being out with an injury he collected in pre-season, but once the German was fit he became first choice and Mignolet was relegated to the bench, as far as most of us were concerned, never to be seen again.
But once more he rose from the ashes, returning to the side for the 3-0 victory at Middlesbrough in December 2016 after Karius's early season struggles, and he has not looked back since.
More than that, he reached a level during Liverpool's ultimately successful pursuit of a top-four finish that left even his most strident of critics, myself included, thinking that, you know what, maybe this fella isn't so shit after all.
It really is a remarkable state of affairs because goalkeepers are not meant to recover once they have been dropped.
These are figures who are required to be commanding and self-confident in equal measure in order to carry out arguably the craziest job in sport, one whereby a single mistake can cancel out a dozen great moments because it can be the direct difference between success and failure.
You need thick skin to put up with that level of scrutiny and pressure and once that skin cracks, well…you're done.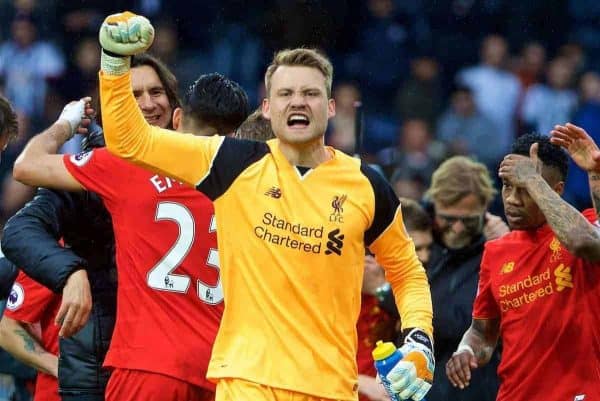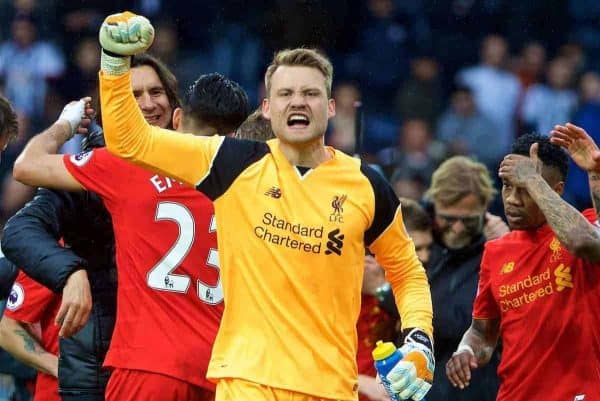 But Mignolet has returned—twice. Football historians may prove me wrong but I cannot think of many other goalkeepers who have done the same, and such powers of survival serve as testament not only to the 29-year-old's mental strength but also to his desire to make it at the very highest level.
Post-Jones and Karius, Mignolet could easily have decided his time at the club was up and looked towards an Aston Villa, Crystal Palace or Newcastle. But he did not. Instead he fought for his place and, on each occasion, beat the count.
Mignolet speaks five languages and has a degree in political science. In other words, he's an intelligent man, and that has undeniably played a part in the continuation of his Liverpool career.
For this is someone who ponders over his failures and has the wit and will to figure out solutions, as he made clear after his first return to the side—the 1-0 victory at Burnley on Boxing Day in 2014, when he came on as a 16th-minute substitute for the injured Jones.
Thrown suddenly into the fray, he looked less than assured, seen most starkly in the moment he allowed a simple back pass to run out for a corner.
"My family were over and my missus and everyone were having dinner when she said: 'Simon, are you sometimes over-thinking stuff?'" Mignolet said soon after the trip to Turf Moor.
"The next day I went into training and as we were analysing the game, the coaching staff gave me the same words. That was the trigger in my mind that we had to say, 'Look, we have to sort this out'."
And he did, recapturing his place until a hamstring injury forced him to miss Liverpool's visit to Watford on December 20, 2015.
Adam Bogdan came in and given his decent showings in the League Cup and Mignolet's ongoing uncertainties, there was legitimate debate at the time surrounding the possibility of the Hungarian with the red hair becoming the Reds' long-term No. 1.
But given his chance to impress, Bogdan was awful in an awful 3-0 defeat and Mignolet returned.
However, there followed more poor showings and more result-changing errors, such as in the 2-2 draw with Sunderland in February 2016, and so despite Mignolet having signed a five-year contract, it did not come as a shock when Karius arrived from Mainz that June and eventually replaced him in the team.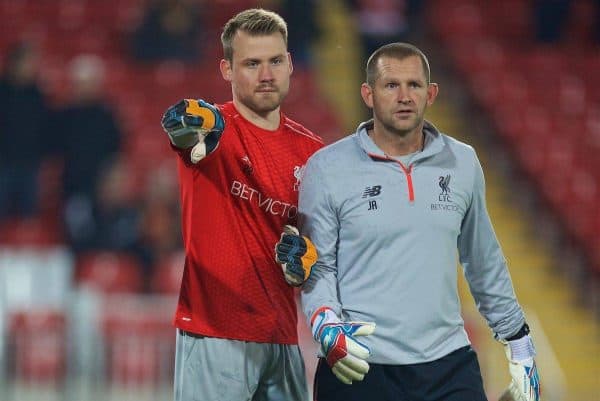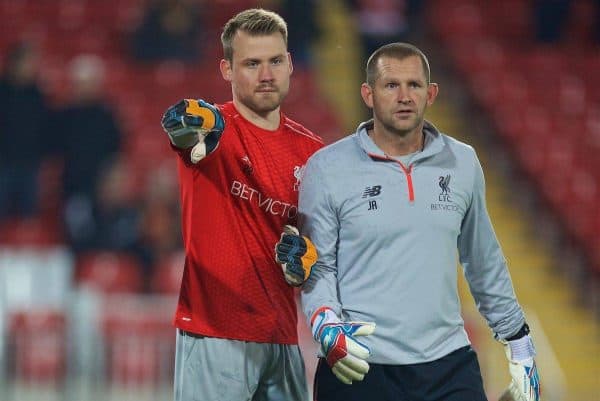 But here is Mignolet again and once more self-examination and a willingness to work on his faults lay at the heart of the recovery, as outlined by Liverpool's goalkeeping coach, John Achterberg, in May.
"We talk about how we can implement aggressive situations in training," he said.
"There are so many goalkeeping tactics: your body language, dealing with physical presence, being dominant and how you present on the pitch with good aggression in the game—but it is also about making the right decisions.
"Now he is really aggressive to the point where he is not afraid to put his knee in my back. That's what I want because it is about creating aggression."
Mignolet undoubtedly appeared more aggressive and decisive in the final weeks of last season, dealing with crosses with minimum fuss—seen in the 1-0 win at West Bromwich Albion on April 16—and making crucial saves—like that which kept out Saido Berahino's close-range effort in the 2-1 victory against Stoke earlier in the month.
With regards to Mignolet's new-found aggression and decisiveness, the statistics are, well, not so decisive. In the campaign just gone he made 0.78 successful punches per game, compared to 0.5 in 2015/16, as well as 1.07 successful high claims per game, compared to 0.94 in 2015-16. But he also made fewer sweeper clearances—0.71 per game compared to 0.94 the season previously.
It should also be noted that Mignolet's distribution, a stick that has regularly been used to beat him with, has, if anything, got worse: he delivered 5.25 accurate long passes per game in 2016/17, compared to 5.64 a year earlier.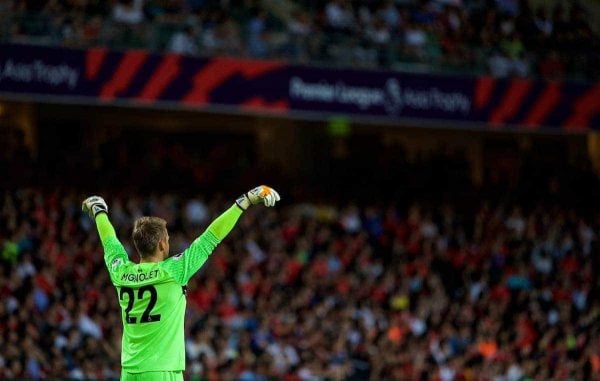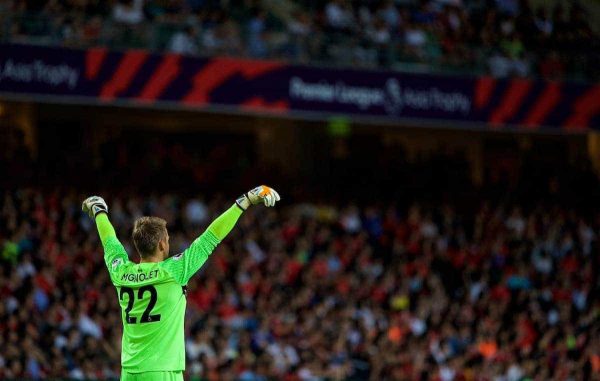 In general the differences are marginal and as is often the case with statistics, they require deeper context to be properly understood.
What is clear for anyone to see is that Mignolet had a strong end to the season just gone and, at the very least, deserves to be in the conversation when it comes to discussing Liverpool's No. 1 keeper, in the short and long term.
As fellow This Is Anfield writer Henry Jackson points out, it's possible that at 29, the Belgian's "peak years are about to start."
What would undeniably help Mignolet is playing behind a settled and competent defence.
He has rarely had that since arriving from Sunderland in June 2013, with centre-backs changing on a regular basis and Liverpool's search for a high-class, can-stay-fit-for-longer-than-two-seconds left-back now close to entering its fourth decade (please Andrew Robertson, save us).
In that regard, the pursuit of Virgil van Dijk is one the club should stick with until the very end of this transfer window—the Dutchman is an outstanding talent and in this most bonkers of times, worth the £70 million-or-so it will take to prise him away from St Mary's.
For his part, Mignolet must maintain his upward trajectory should he get the nod from Klopp.
Mistakes will be made—even the very best keepers spill the ball or recklessly rush off their line from time to time—but there can no longer be a sustained periods of shite by the man from Sint-Truiden.
For all his mental strength and professional desire, it's hard to see him surviving a third dropping.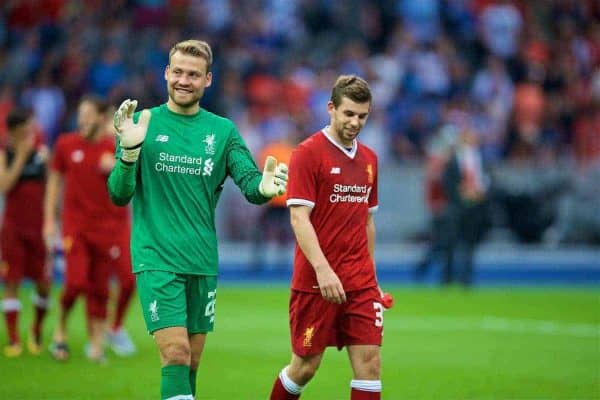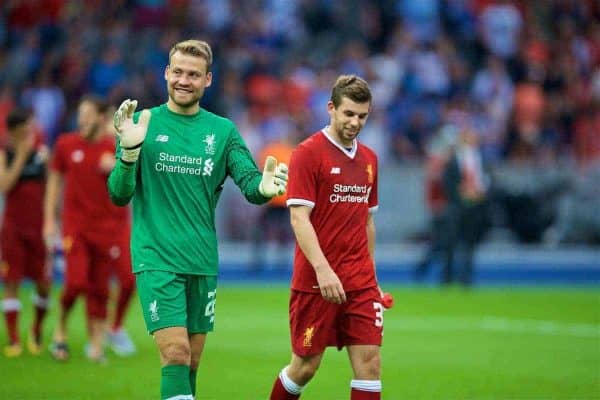 The good news is that Mignolet appears aware of that. He spoke recently of how the presence of Karius and Ward is pushing him to improve his standards, in training as well as on the pitch, and the hope must be that all three are in decent shape, mentally, physically and technically, come the start of the new season.
It will be intriguing to see who Klopp picks for the trip to Vicarage Road and there is scope to legitimately suggest that ahead of his second full season in charge of Liverpool, the manager should have signed yet another new goalkeeper.
But of the principal three at his disposal currently I would, without hesitation, go with Mignolet, that supposed fragile failure who appears unbreakable.