Steven Gerrard has revealed his emotions leading the Liverpool U18s in his first competitive game as manager, saying he "kicked every ball."
The 37-year-old took up his new role in July, having been appointed Neil Critchley's successor after joining the academy staff five months earlier.
After overseeing a pre-season schedule that saw the young Reds turn out in Hungary, Switzerland and back in England, Gerrard took charge of his first U18 Premier League game last week.
And the Liverpool legend has reflected on the 1-1 draw away to Derby County, telling LiverpoolFC.com "you can't help getting involved."
"I loved it! I was shattered at the end of it because I kicked every ball and it felt like I had played in it, but that's the way I'm going to be," he said.
"I love the game and I love getting involved—and when you put so much time and effort in all week with your coaching staff you want those results really badly.
"Of course the important thing is to develop these players but you've got that winning mentality inside you and you can't help getting involved.
"So I was probably slightly emotional but I was just desperate for the boys to do well and get the three points."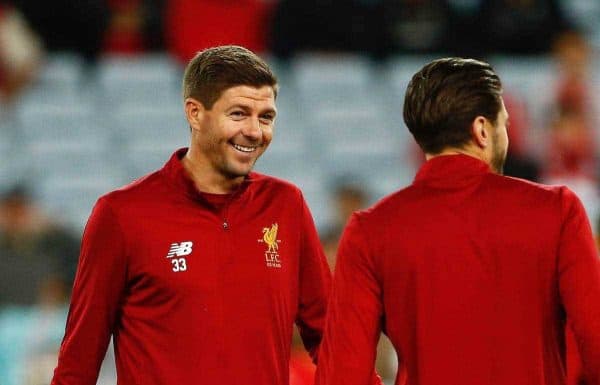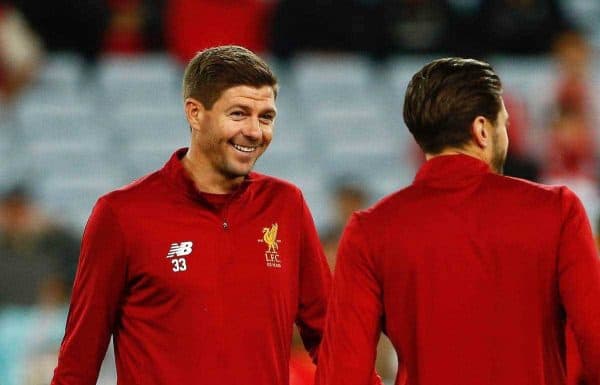 It was clear when Gerrard called Curtis Jones over for detailed instructions after the Reds won a late free-kick in Derby that the legendary midfielder will be heavily involved from the touchline.
Gerrard's presence is an invaluable one for the U18s, as one of Liverpool's greatest ever players who worked his way through the ranks to the role of first-team captain.
Looking ahead to Saturday's home clash with Leicester City, live on LFCTV at 11am (BST), Gerrard refuted the notion that the TV cameras added pressure, insisting his players should "thrive" on it.
"You can see it as pressure and go into your shell, you can try too hard and not do yourself justice," he explained.
"Or you can say, 'This is my chance to shine as maybe Jurgen and his staff are watching or they've got the match on record'.
"We know Pep Lijnders always covers these games, and if [I was one] of these players then I'd be thinking, 'Liverpool's academy are playing Blackburn, I know my job, I've worked hard on the formation all week and now the stage is set and I want to go and shine and do myself justice'.
"This is what we are trying to help the players with. This is not pressure and it should be something you are trying to grab and thrive on."