As Anfield prepares to host its first Premier League game of the season, we look back at how Liverpool fared on that occasion in the last decade.
The Reds are at home to Crystal Palace on Saturday afternoon, with a freshly laid pitch all ready for another year of action.
It should be a good occasion, as it always is when football returns to Anfield for the first after the summer, but Liverpool have had a mixture of fortunes on that day in the previous 10 years.
Here's a look back at the last decade of opening Premier League matches at the Reds' world-famous ground.
2016/17 – Liverpool 4-1 Leicester City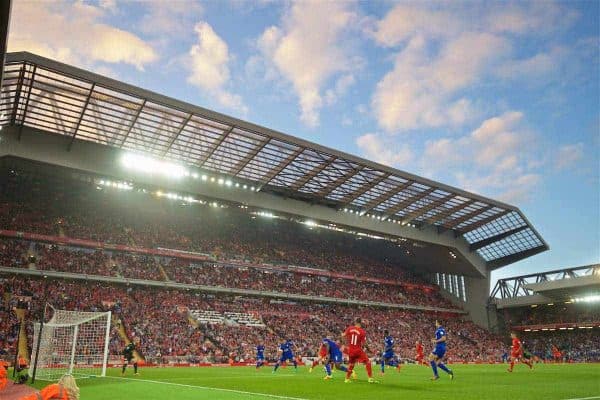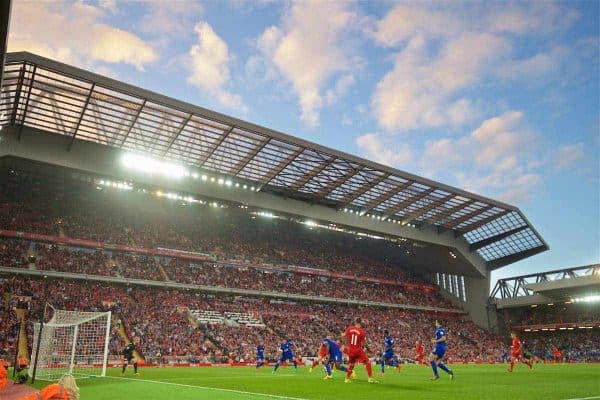 It took until September 10 for Anfield to host a game last season, due to the work being done on the new Main Stand.
Liverpool tore reigning Premier League champions Leicester City to shreds, though, on a memorable afternoon that started nervously after a desperate defeat at Burnley the previous weekend.
Roberto Firmino, Sadio Mane and Adam Lallana all found the back of the net, and not even Lucas Leiva's gift to Jamie Vardy dampened spirits inside the ground.
It was the perfect first game in front of a stunning new piece of architecture.
2015/16 – Liverpool 1-0 Bournemouth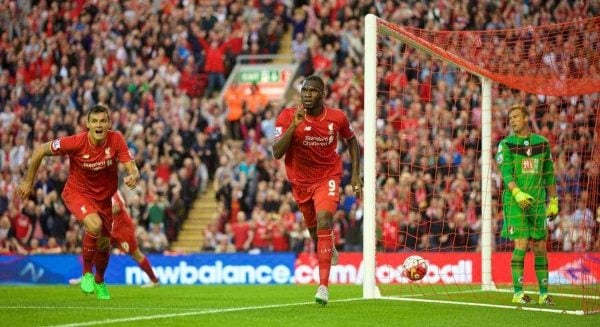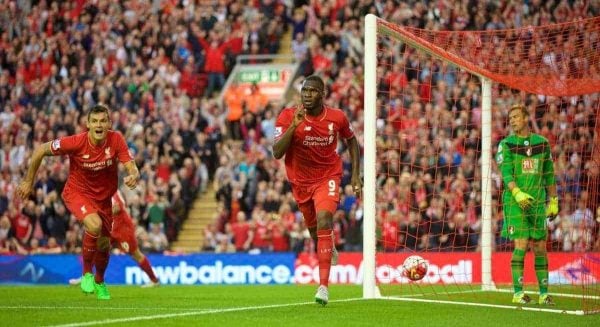 By the time the start of 2015/16 rolled around, the pressure on Brendan Rodgers was arguably at its most intense.
This 1-0 win at home to Bournemouth was as unconvincing as the narrow victory at Stoke City on the opening weekend, with Christian Benteke's close-range strike on his home debut the difference against Eddie Howe's newcomers.
Rodgers would only last another 48 days, before Jurgen Klopp replaced him.
2014/15 – Liverpool 2-1 Southampton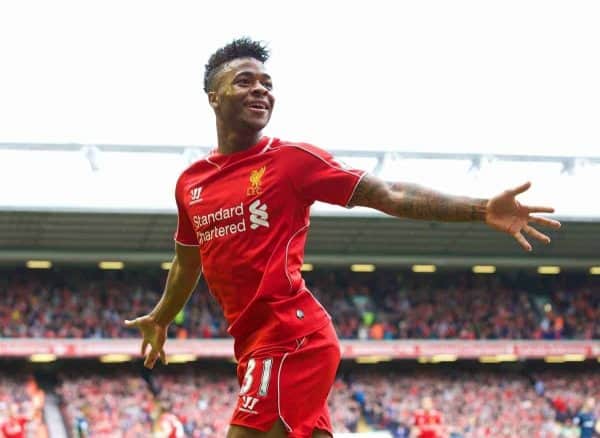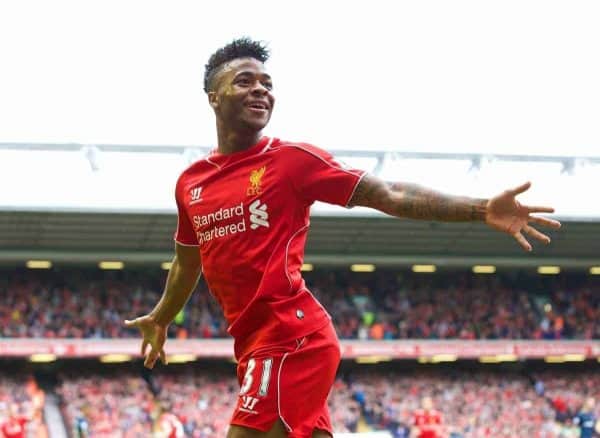 Having narrowly missed out on the title in 2013/14, expectations were high at Anfield on the opening weekend of 2014/15, despite the exit of Luis Suarez.
A Raheem Sterling opener set Rodgers' Reds on their way, but Nathaniel Clyne did something he is still yet to do for Liverpool—score in front of the Kop.
Daniel Sturridge won it for Liverpool later in the second half, but unfortunately, a very disappointing season awaited.
2013/14 – Liverpool 1-0 Stoke City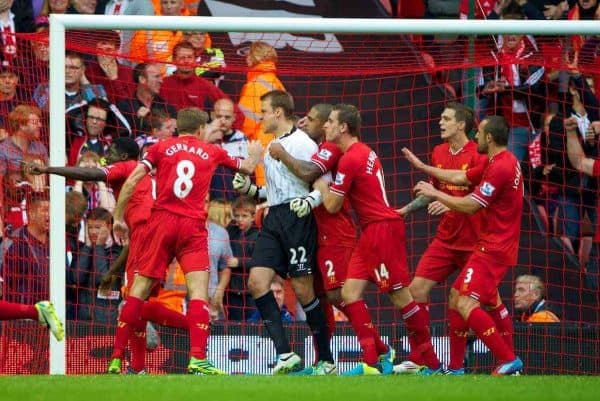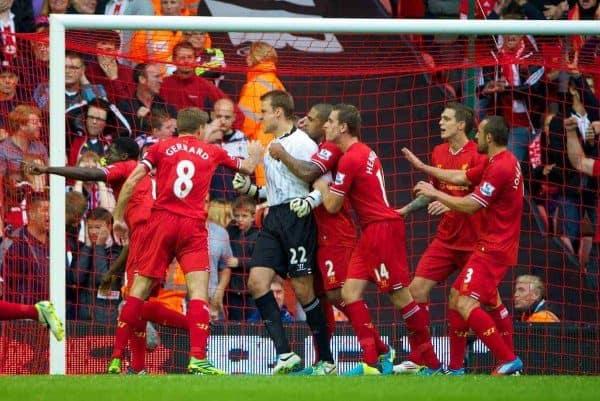 Ah, Simon Mignolet, your popularity levels peaked on your Liverpool debut.
The Belgian was the hero back at the start of 2013/14, when his late penalty save from Evertonian Jon Walters earned the Reds a priceless 1-0 win.
It gave Liverpool so much momentum from that point on, with their most exciting season in the Premier League era seeing them come agonisingly close to winning the title.
It may sound ludicrous, but without that Mignolet moment, the season may have panned out very differently.
2012/13 – Liverpool 2-2 Manchester City
With Rodgers taking charge in the summer of 2012, there was a feel-good factor in the air for the visit of champions Man City, despite a 3-0 loss at West Brom prior to it.
What followed was a very entertaining contest—one that showed how attacking but ultimately flawed Liverpool would be with Rodgers at the helm.
Martin Skrtel made a howler and scored a bullet header, in a trademark Skrtel performance, and a wonderful Luis Suarez free-kick was the standout moment of the afternoon.
2011/12 – Liverpool 1-1 Sunderland
Liverpool have made hard work of seeing off weaker opposition at Anfield for a frustratingly long time, and this opening day draw with Sunderland epitomised those struggles.
Suarez, still in his infancy as a Reds player, missed a penalty but made up for it with a header, as he shone in front of manager and former No. 7, Kenny Dalglish.
Sebastian Larsson earned the Black Cats a share of the spoils with a fine finish, as sloppy points were once again dropped at the beginning of a season.
Players of Larsson's ilk—limited but pesky—just love scoring against Liverpool at Anfield.
2010/11 – Liverpool 1-1 Arsenal
It seems fitting that the end of Roy Hodgson's first home league game as Liverpool manager ended in disaster.
His Reds side did produce a spirited performance against Arsenal, playing the entire second half a man down thanks to debutant Joe Cole's rash sending off.
David N'Gog—remember him?—had fired Liverpool in front just after half-time, but a calamitous stoppage-time own goal from Pepe Reina gifted the Gunners a point.
It was downhill from that point on for Hodgson.
2009/10 – Liverpool 4-0 Stoke City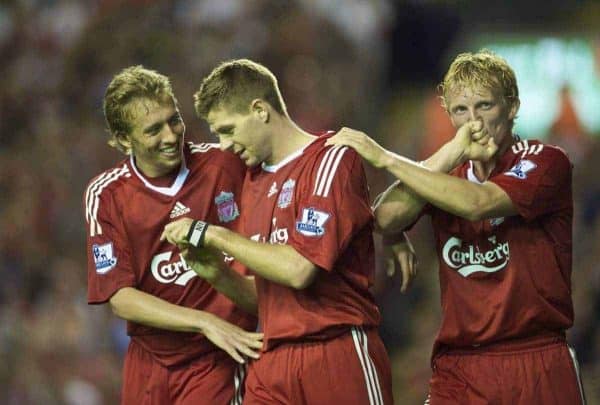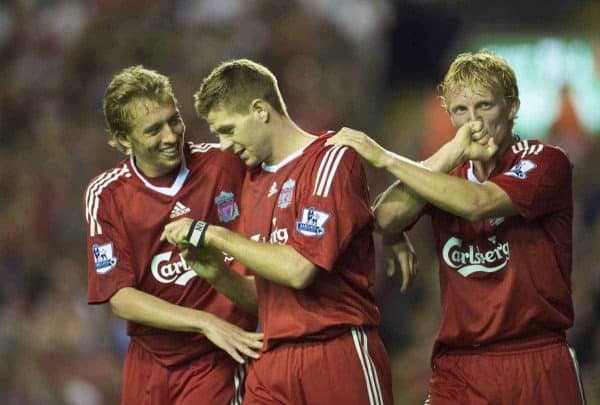 2009/10 was another false dawn for Liverpool, with the previous campaign so impressive but a dreadful summer ruining Rafa Benitez's hard work.
This was a rare good game, however, on a night when Glen Johnson was outstanding on his first home game as a Red. It is easy to forget that he was very effective for a time.
The right-back's acrobatic strike was the pick of the bunch in a 4-0 drubbing of Stoke, with Fernando Torres, Dirk Kuyt and N'Gog also getting on the scoresheet.
2008/09 – Liverpool 2-1 Middlesbrough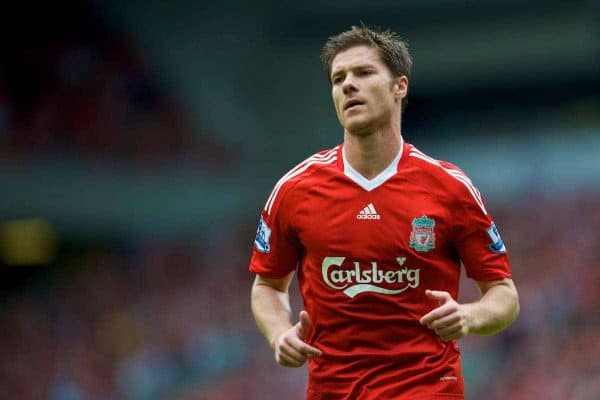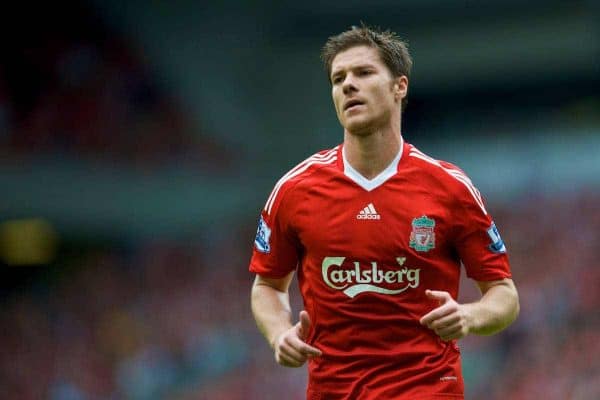 This was the second game of 2008/09—Liverpool started with a 1-0 win at Sunderland—and much like 2013/14, it acted as a huge momentum boost for the season that lay ahead.
That familiar sinking feeling had fully kicked in when Mido fired Middlesbrough in front after the break, only for two local legends to come to the rescue.
Jamie Carragher's deflected strike levelled things up with time running out, before Steven Gerrard did what he loved: scoring a beauty late on in front on the Kop.
The belief that the victory gave Benitez's men was clear, and they would eventually finish second in the league and lose just twice in the league all season. One of those losses came in the reverse fixture.
2007/08 – Liverpool 1-1 Chelsea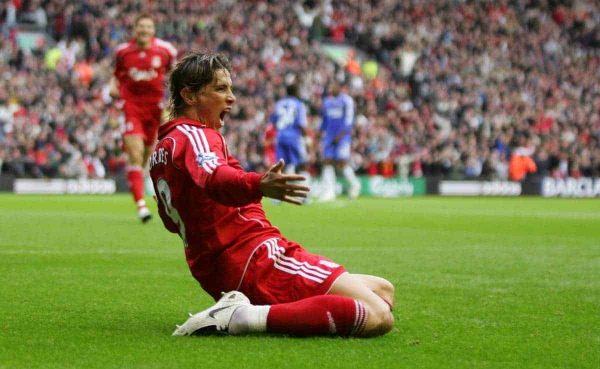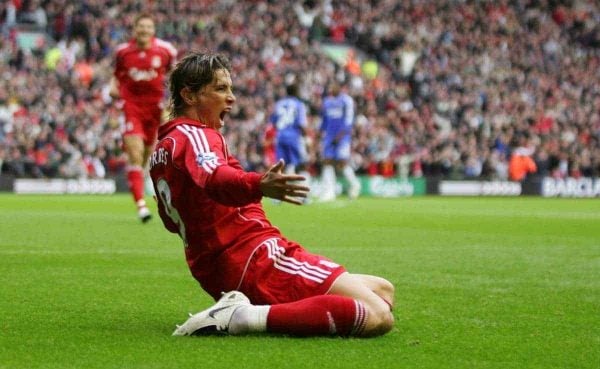 In one of the most hotly anticipated home debuts in Liverpool history, Torres delivered in stunning fashion.
Jose Mourinho's champions Chelsea strutted into town, but it took El Nino just 16 minutes to open his account, following a powerful run and ruthless finish.
Unfortunately, Rob Styles decided to prove to the world that he was one of the worst referees in history by inexplicably awarding Chelsea a penalty, which Frank Lampard converted.
Liverpool had been robbed, and they would lose to the Blues in the Champions League semi-final later on in the season.