Burnley manager Sean Dyche admitted that a key element of his game plan for Saturday's 1-1 draw with Liverpool focused on attacking from set-pieces.
The Clarets held firm as Jurgen Klopp's side fired 35 attempts on Nick Pope's goal at Anfield, with Mohamed Salah cancelling out Scott Arfield's opening goal for a share of the points.
For Liverpool, it was a familiar, and unwelcome, story, as Klopp's charges were unable to break a low block, and undone at the back.
Arfield's strike came via a long ball into the box, and this was Burnley's clearest route towards goal, with set-pieces particularly key.
"I'm really pleased with the game plan, because it's difficult to come here," Dyche told reporters after the game.
"So therefore we thought: 'we're going to have to be resolute with our shape, cover a lot of ground and we're going to have to make it uncomfortable for them'.
"And the best way in these parts, everyone tells you, is they're having a tough time with set-pieces.
"Everyone here would say that, as regards fans and the like.
"We felt that would be important and, as it happens, we had two cleared off the line from set-pieces, so our game planning was right.
"You're not going to out-football them, you have to make it uncomfortable.
"People can decide about brands and long balls and short balls all they want, but my actual job is to allow this team the best opportunity to go and be successful."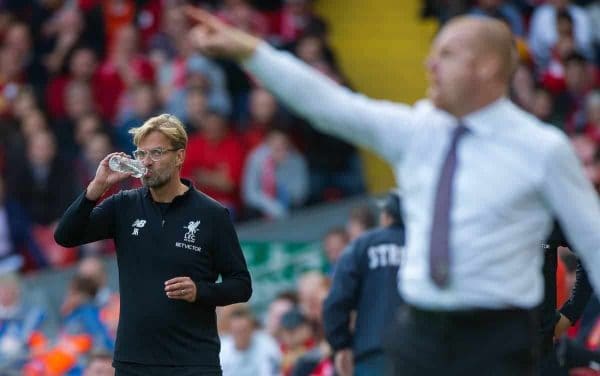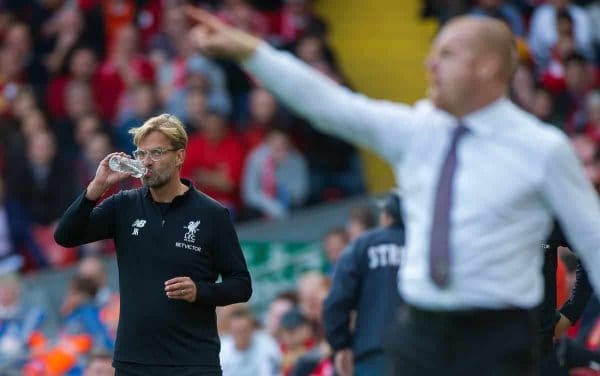 And addressing Liverpool's defensive errors in the buildup to Burnley's goal, Klopp stressed that his back line "could have defended it much better."
"Could Trent have won the first headed challenge? Yes," he explained.
"Then the block on Joel, it's difficult to do better because the defender cannot do it exactly the same because then it's a foul.
"I'm not sure if it was already in the box but for sure around the box. He did it in 500 other situations really well.
"Raggy was there to protect the situation but the ball bounced in the wrong direction, it's difficult to judge.
"Robbo knows he could have seen Arfield earlier. That's how it is. He goes in between; it was a bouncing ball.
"They are quicker and they are more used to these situations, they do it more often. That's what they are working for.
"He hit the ball perfect, it was not even that he needed a few touches. It was a good goal, absolutely, but we could have defended it much better."