Jurgen Klopp has revealed that Philippe Coutinho will miss Liverpool's clash with Man City on Saturday as he works his way back to full fitness.
The midfielder missed the first five games of the season with a back injury, while Barcelona pursued a big-money deal to bring him to the Nou Camp.
With the Reds holding firm, however, Coutinho remained on the books at Anfield, despite his best efforts to force through a switch to Catalonia.
After making his return to the field for Brazil in the international break, Coutinho made his way back to Melwood to prepare for the trip to the Etihad Stadium.
But speaking at his pre-match press conference on Friday, Klopp confirmed that his No. 10 would not be considered for selection.
Instead, the 25-year-old will continue training ahead of Wednesday night's Champions League clash with Sevilla.
"Phil came back the day before yesterday, but like Roberto [Firmino] we sent him immediately home to get some sleep," Klopp told reporters.
"We had a very good talk, he was in a very good mood and training was even better.
"I decided to leave him out [vs. City]. We can use this four, five days for proper training.
"He could have played 15, 20 minutes but I think it makes sense—and he agreed completely. It was a good conversation!"
"He accepted the decision 100%"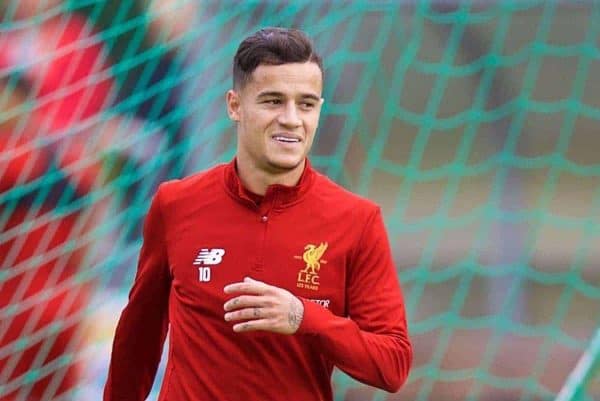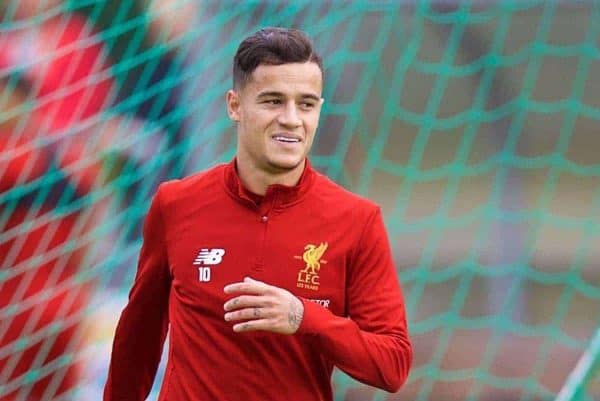 While Coutinho was away with the Brazil squad, fellow forward Neymar claimed his compatriot was "filled with great sadness," having failed to secure a switch to Barcelona.
But after a face-to-face meeting at Melwood, Klopp dismissed this suggestion, saying "he accepted the decision 100 percent."
"It was not the most easy time, but that's the transfer window, the only moment when players can make transfers," he conceded.
"I really think we handled it really well. There's no secret about what happened, but not all the things in newspapers were 100 percent right.
"Nothing that I'm aware of was unforgivable. He came in yesterday and accepted the decision 100 percent.
"It's absolutely no problem, and I'm completely fine with this situation.
"[In the dressing room on Thursday] I said 'welcome to two new players: Ox and Phil'. He loves football, he still loves this club. No problem.
"Before he had the back problems he was in outstanding shape and played outstanding football in Hong Kong."