Rehabilitation was in fashion on Saturday at Leicester. Steven Scragg looks at the good, the bad, and the uplifting of what was a first Liverpool win in almost a month.
That was wild, nothing but wild.
If Liverpool could offer another 90-minute microcosm of all that is good and bad about Jurgen Klopp's concept of football, when run in conjunction with the players at his disposal, it would have its work cut out to come any more accurate than this one.
The Good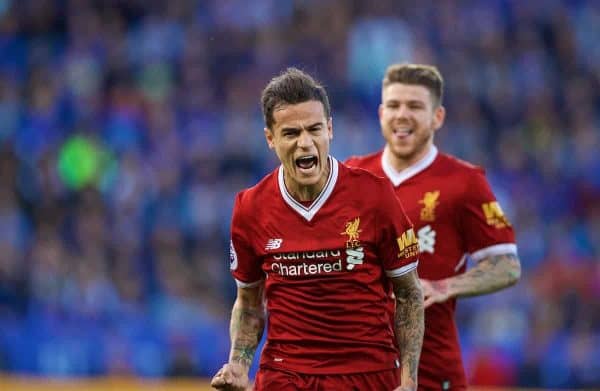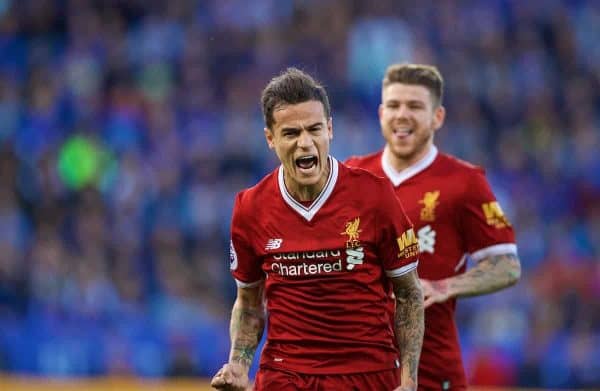 Rehabilitation is good.
Philippe Coutinho embraced this game in a manner which should dispel any lingering fears about his focus, and desire for footballing joy in a Liverpool shirt, in the wake of his attempts to leave for Barcelona.
This was Coutinho at his very best. At times, he was mesmerising, as the clear conduit of everything incisive which Liverpool did, on an eventful afternoon that stumbled through one flash-point to another with an unerring regularity.
Coutinho owned this game.
Daniel Sturridge is an example of understated rehabilitation.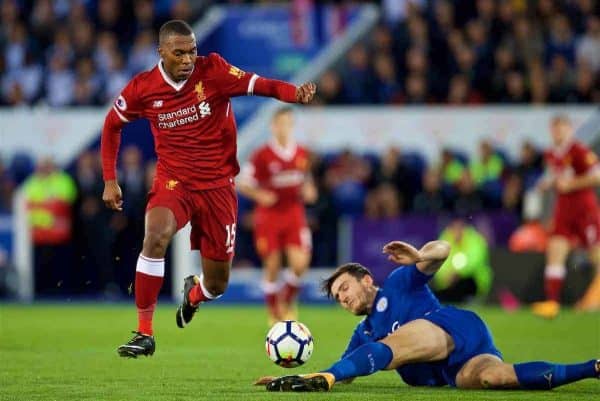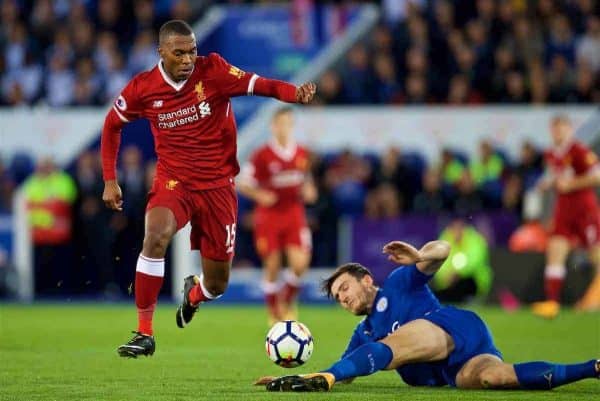 He probably will never be the 2013/14 version of himself ever again, but he is beginning to offer glimpses of the calming and intelligent, experienced influence he could become.
Within this, Liverpool's support needs to embrace a new image, of a player they perhaps still want to see in its previous visage.
Sturridge can be one of the most important elements of this season's endeavours. Reborn? Maybe not, but a metamorphosis of sorts can certainly happen.
Did we see signs of rehabilitation in Jordan Henderson? Rehabilitation doesn't always come over the course of weeks, or months. Rehabilitation can be achieved within the span of one game.
Simon Mignolet, rashly giving away a penalty, only to save it, also ticks this box, as does Mohamed Salah—missing a sitter, before heading home from an acute angle.
The Bad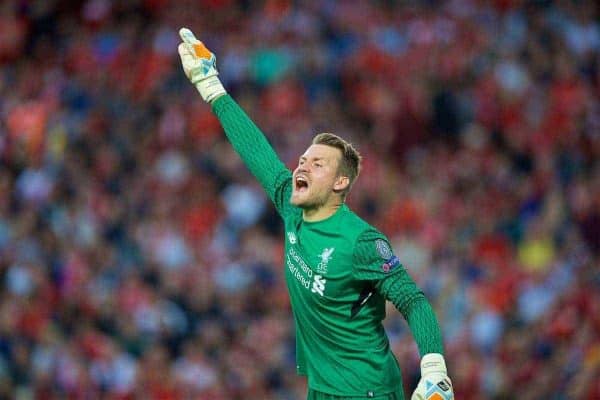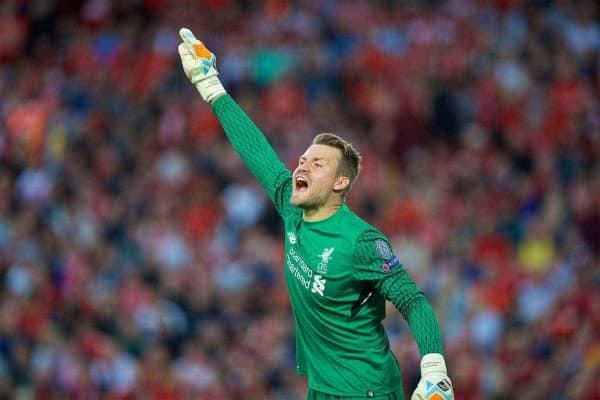 On a day when we played so well at times, on a day when we were clearly the more dominant side in the first half, before a more even-handed second half, it was again frustrating to see us sail all-too-close to throwing the three-points away.
From 3-1 up, to just a short few minutes later starring down the barrel of a penalty for a potential 3-3 scoreline, it made little sense.
Careless in the immediacy of having scored our third goal, and reckless in the conceding of the penalty.
No matter what Klopp insisted, it was a penalty in my opinion. Mignolet skimmed across the top of the ball, but he mistimed the challenge, and totalled the onrushing player.
We'd want a penalty for that, wouldn't we?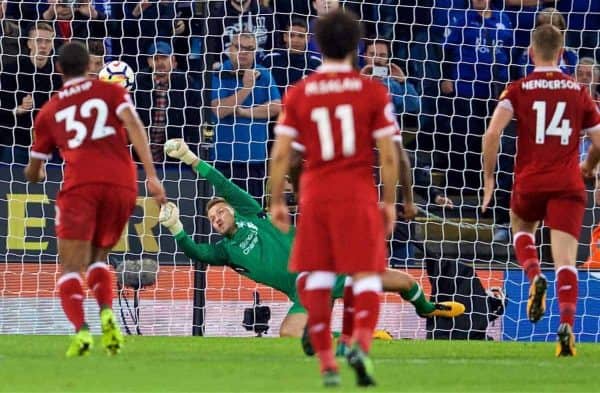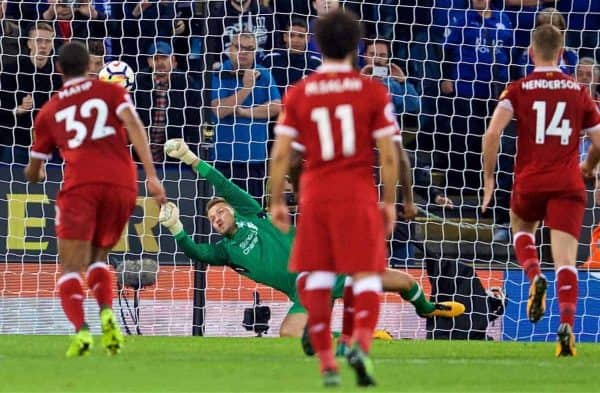 The Emre Can shout held less substance however. Leicester weren't hard-done-by here, and when you factor in that Leicester's first shouldn't have stood, a Liverpool win was the correct outcome.
Our main cause for discontent was purely based on us making the eventual result harder to come by than it should have been.
Craig Shakespeare's view, that his team deserved a point, was largely churlish. They were fortunate to have been offered any way into the match.
While Mignolet was undeniably fouled within the process of Leicester being given some unnecessary hope, just before the half time break, he still struck the demeanour of a goalkeeper who lacks the confidence to command in such circumstances.
Mignolet was hindered, rather than anchored by Shinji Okazaki, when he went for that corner.
The Uplifting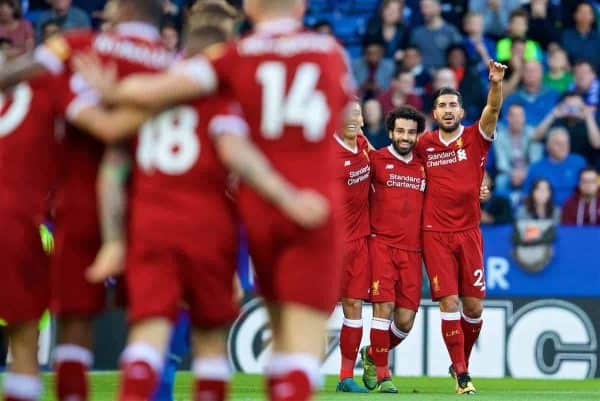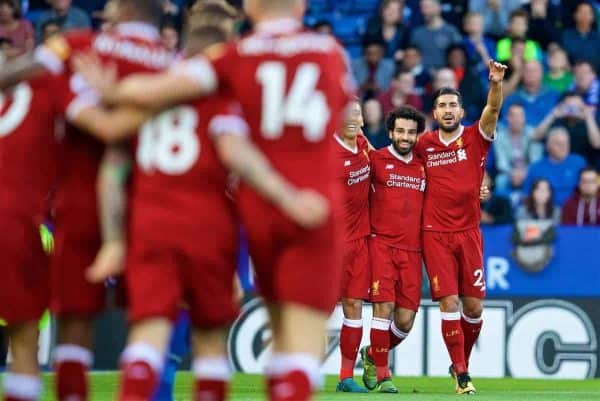 Coutinho was key to everything, from his role in the chance Salah squandered—a rebound off the post from Can's initial effort—to his cross for the opening goal and his beautifully taken free-kick.
The signs were there during pre-season of a potential telepathic style understanding with Salah, and these were the first signs of that on a competitive platform.
Noises of bravado which many made, that we didn't need Coutinho anymore—noises that were all too easy to make in the slipstream of dismantling Arsenal—were always foolish ones, which would come back to bite us.
In a Premier League populated by a Pep Guardiola-led, free-scoring Manchester City, Antonio Conte's driven and focused, defending champions at Chelsea, and the ever-growing stubborn arrogance of Jose Mourinho and Manchester United, we need every edge we can conjure.
Nobody conjures for Liverpool quite like Coutinho.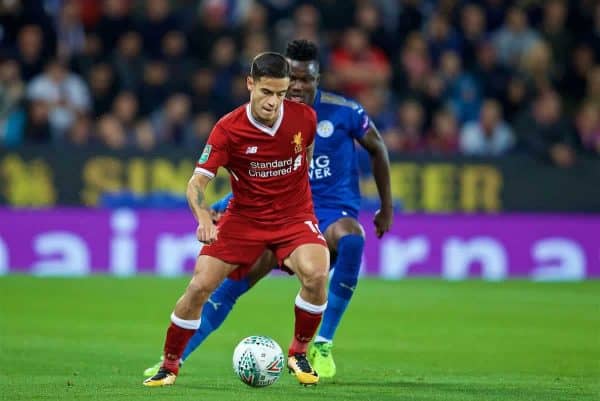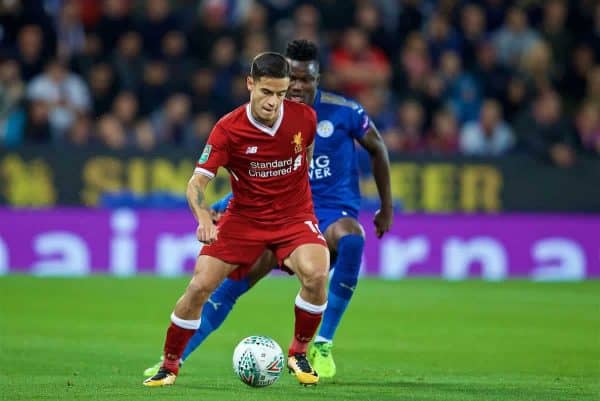 We have more bows to our attacking string now than we have had at any point of the last two or three decades, but Coutinho is still the master of our destiny this season.
Sadio Mane is available once more, Salah is cultivating that special understanding with Coutinho, Roberto Firmino offers the whimsical, Sturridge is coming good again with some valuable cameo appearances.
Then there's the promise of Dominic Solanke and Ben Woodburn.
How good was it to see Henderson win, and then convert the ball, for what proved to be the decisive third goal?
How good was it to see him haranguing the referee off the pitch at half time, when arguing the toss over Leicester's first goal? This is the Henderson we need.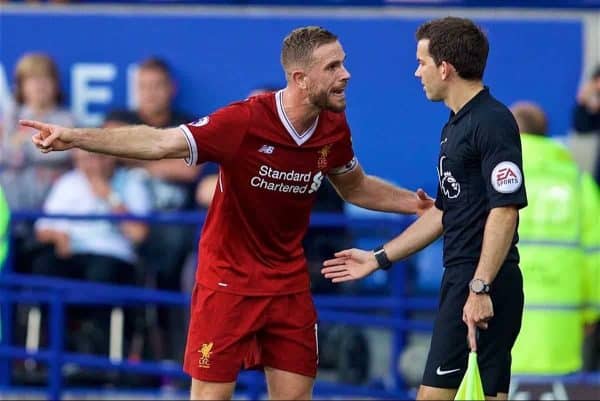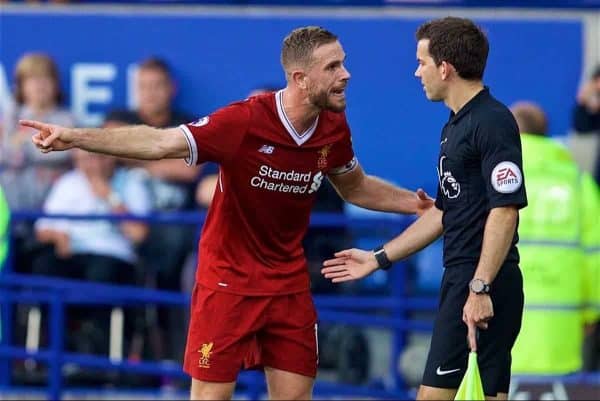 Mignolet's rehabilitation, from giving away a penalty, to saving it. All of this is uplifting.
As ever, it's all in Liverpool striking the right balance. We need to find the right balance.
Man City, Chelsea, and Man United all appear disconcertingly balanced. Once again, the question marks rest on Merseyside, and in North London.
This week, the last before another international break, presents us with two tasks where the balance needs to be perfect. We couldn't ask for a more pertinent set of assignments: A trip to Moscow, and then to Newcastle United, for a visit of Rafa Benitez.
To come away with two positive results, we'll need to be disciplined, but also expansive. These are footballing chemistry tests, where balance is everything.