Another mixed day at the office, as more points are dropped. Steven Scragg thinks it's time to take a deep breath, and to count to 10.
BREATH IN THROUGH THE NOSE, AND OUT THROUGH THE MOUTH
Repeat the process, and count to 10.
That's a terrible goal to concede. No two ways about it, that's a terrible goal to concede. A long – and meticulously planned – ball hit diagonally toward Trent Alexander-Arnold, an aerial challenge lost, and a total lack of understanding and decisiveness from Joel Matip and Ragnar Klavan. Same old, same old.
A weakness in Alexander-Arnold has been identified. He is eminently beatable in the air. Opposing teams are sold on the concept. This is worrying.
Alexander-Arnold was left wide open to this for far too long during the first half. Adjustments were eventually made, but we contrived to make our own afternoon a more difficult one than it needed to be. Self-inflicted damage. Yet, again.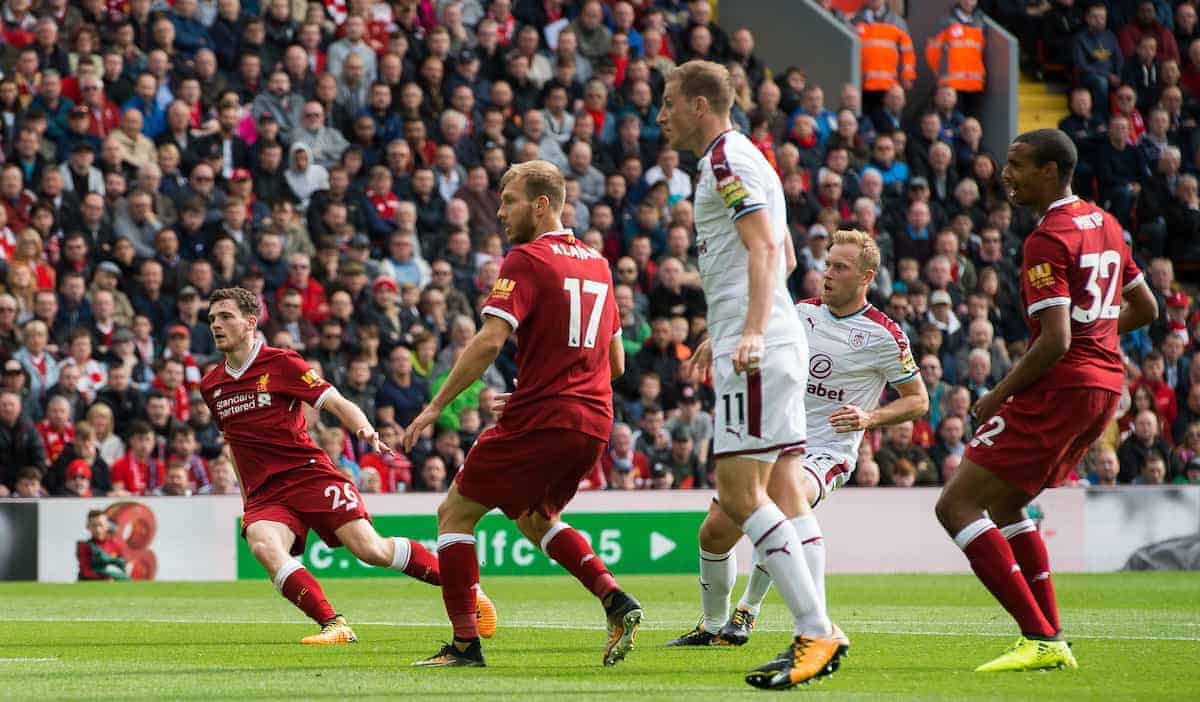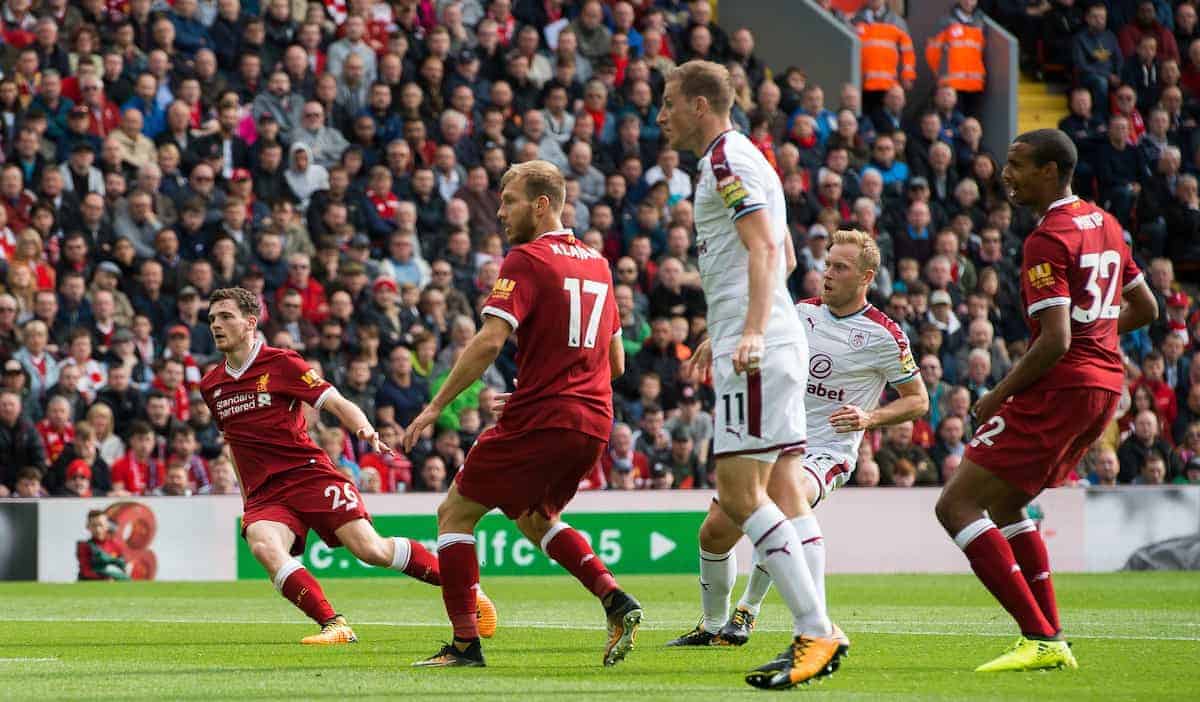 As soon as Emre Can dropped deeper to assist with the second ball, as soon as our midfield got wise to closing down Burnley's midfielders as soon as they received the ball, then the afternoon improved greatly.
STUBBORN RESISTANCE
Burnley are growing in confidence and stature. A win at Chelsea, a draw at Wembley against Tottenham. Why fear a trip to Anfield?
We needed a show of strength against Burnley. I suggested that we needed to use this game as a scene-setter for the autumn to come. I wanted a show of controlled anger from Liverpool in the wake of our capitulation at Manchester City.
Positive anger can be a good thing. Instead, we have continued to stumble. Two home draws, in games we should have won. We know we're good, but we feel sorry for ourselves. We believe in ourselves, but just not enough.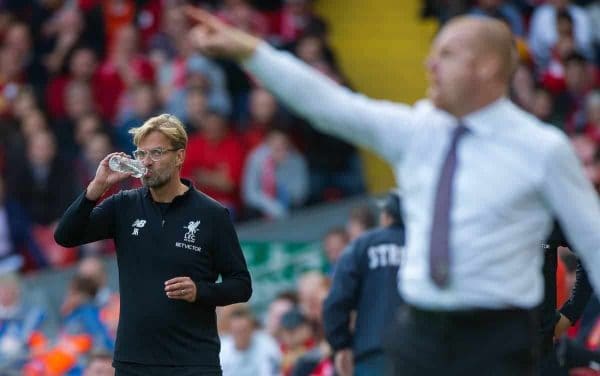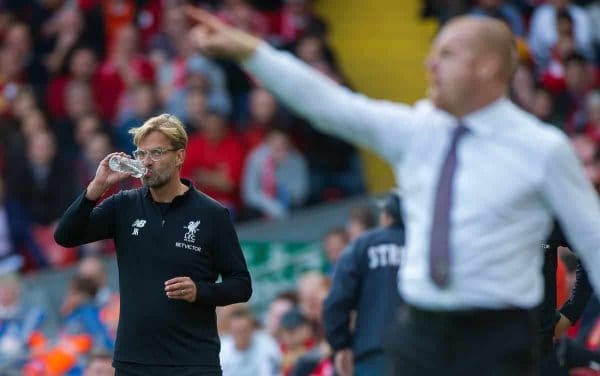 We sent out a message to the rest of the Premier League, that our confidence can be easily knocked. Have we learned nothing from the travails of the bruised ego, that we sustained back in January and February?
The periodic rises and falls of Liverpool FC are set to repeat. Nothing we do is particularly new. Rinse, and repeat.
IT'S NOT ALL BAD NEWS
On the front foot, we again moved the ball around very well at times. There were only flashes of it here and there, but Philippe Coutinho won't take too long to locate his mojo. His deeper lying creativity was a welcome return, and James Milner did well enough to suggest more regular appearances in midfield wouldn't go amiss. If Jordan Henderson is given extra food-for-thought, then all-good.
Andrew Robertson did the basics right once again. He needs a run of games now.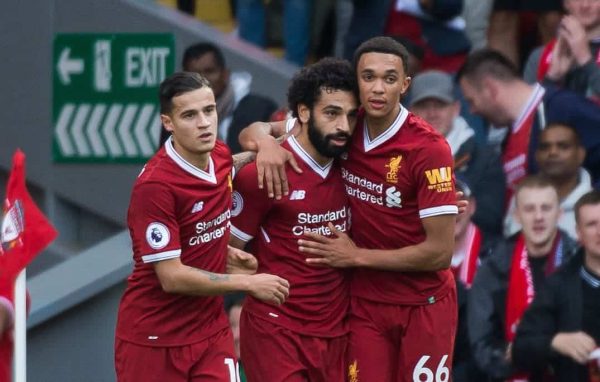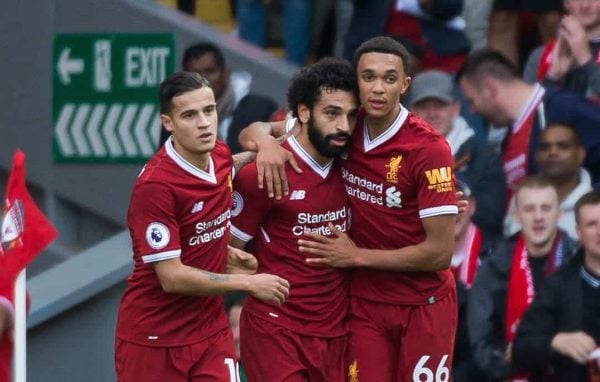 Mohamed Salah had his best game for us yet. He took his goal well, and was a constant threat. He linked well with Daniel Sturridge, to the extent that Sturridge was afforded an unusual full 90-minute run-out. Nobody saw that coming.
From the unsettling sight of Coutinho and Roberto Firmino being withdrawn, at a time of the match when we were chasing a winning goal, to the positivity and endeavour that was brought by the introduction of Alex Oxlade-Chamberlain, and Dominic Solanke, it should be taken as a plus-point that it was the perceived lesser-lights then almost forced the much sought-after winning goal.
FRUSTRATION
Three games on from the dismantling of Arsenal, and you'd never guess that we were currently the same set of players. In fact, we are supposed to be a stronger proposition now, thanks to the return of Coutinho, and the addition of Oxlade-Chamberlain. Alarmingly, despite being far from a one-man-team, we do not respond well to the absence of Sadio Mane. We must get our heads around this, and quickly.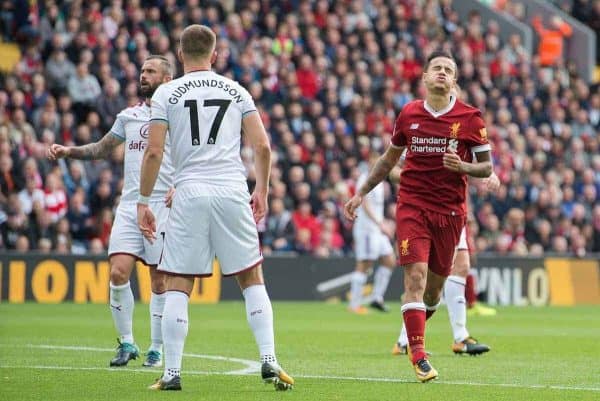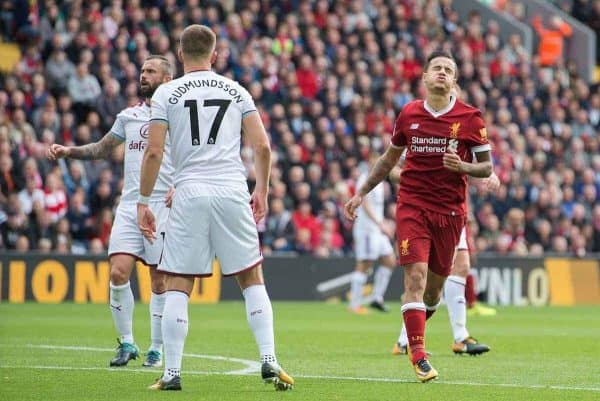 Walking away from Anfield on Saturday, there was the heavy sound of silence amongst the Liverpool fans, which was punctuated only by the interjection of occasional frustrated outbursts, and the high-spirits of Burnley fans in possession of a hard-earned point.
Nick Pope was pivotal to everything in the end. Part pantomime villain, for being painfully slow at taking goal-kicks, and part goalkeeper extraordinaire, with some fine saves and blocks.
It was all a bit too reminiscent of some of those games from the early days of the Brendan Rodgers era, when opposing goalkeepers would come to Anfield, and fling themselves at everything. We could do without a new spate of inspired goalkeepers tipping up at Anfield, especially at a time when we arguably don't have an inspired goalkeeper to call our own.
MOVING FORWARD
On our travels we go, and no bad thing that might be. Two trips to Leicester City in four days will kick-start that odyssey, with the second of those being the priority. That doesn't mean there aren't valuable experiments to be carried-out for the first of those two games however. Does Danny Ward get a game? Does Joe Gomez get a run-out at centre-back? Do we get a first start for Oxlade-Chamberlain?
Beyond the King Power Stadium, comes Moscow and then small matter of facing Rafa Benitez, and his newly exuberance-infused Newcastle United side. It's never right being up against Rafa, and he will be in possession of the knowledge of how to take advantage of all our current flaws and weaknesses.
One game at a time is a myth. Football is played out in clusters of games, and between now and the next international break comes a cluster of four away days which truly will define how we head toward the darkening nights of winter.
Nothing is lost, yet, and not everything about the draw with Burnley was a negative. Take the positives, and aim to eliminate the negatives. Learn, take a deep breath, count to 10, and move forward.