After a Liverpool exit looked inevitable rather than probable this summer, Alberto Moreno has been one of the Reds' most consistent players this season.
Jurgen Klopp's side did their best to ignite a dour contest against Man United on Saturday afternoon, but Jose Mourinho had other ideas, boring his way to a 0-0 draw at Anfield.
The United manager approached the game in exactly the manner we all expected, and neutrals were again left asking themselves why this fixture received such hype all week.
Although a point wasn't ideal for Liverpool, with the gap between themselves and Premier League leaders Man City now nine points, the performance was good and not a single player was below-par.
They huffed and puffed in the search for an elusive goal, and nobody could be accused of going missing or failing to do their job.
Moreno was again one of his side's most prominent performers, as his surprise Reds revival continues.
Another good display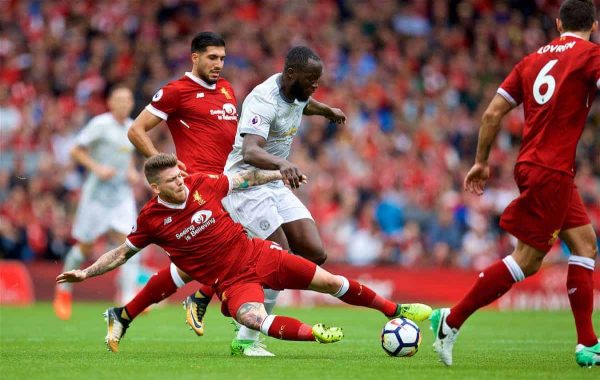 Liverpool were always going to have more of the ball against their bitter rivals, but the fear was being stung on the counter-attack by the likes of Romelu Lukaku, Anthony Martial and Ashley Young.
The Reds' leaky defence always felt like it would be the weak-link against a side famed for taking their chances and pouncing on mistakes, but the entire back-line merited praise after the game.
It was Moreno who was tasked with stopping the spiky, irritable Young, with the Englishman switched from left-back to right wing in 4-2-3-1 formation.
Liverpool's left-back did his job expertly for much of proceedings, pleasingly, displaying more focus than we have seen in the past, and getting the better of his opponent.
He won three aerial battles, despite his diminutive 5ft 7in frame, prevailed in 75 percent of his duels and made six defensive actions.
An attacking thrust was also on show, with his pace and timing of runs allowing him to find good positions and bring the natural width James Milner failed to at times last season.
Most disappointing thing about the game so far is the apparent positional awareness Alberto Moreno is displaying. Come on mate, go wild.

— Paddy Power (@paddypower) October 14, 2017
Moreno has created nine chances in his six league appearances in 2017/18, which is already a more healthy ratio than last season, when he managed five in 12, albeit often as a substitute.
There may have been the occasional lapse here and there – Young got away from him in the early exchanges – as well one of those risky, trademark Moreno two-footed tackles from behind, but he deserves credit for an effective showing in a huge game.
In the past, hearts would have been in mouths every time the ball was near him, but as each game passes, the more he earns new admirers.
A maturity is on show that we are yet to see in his three years on Merseyside, and at 25, you would hope that he is approaching his best years.
Saturday's display against United is not a red herring – Moreno is having a good season.
Reborn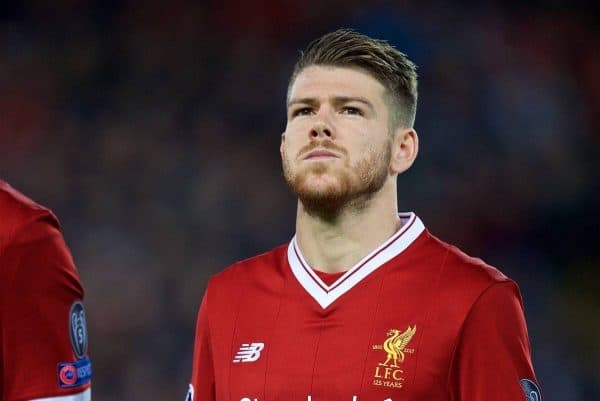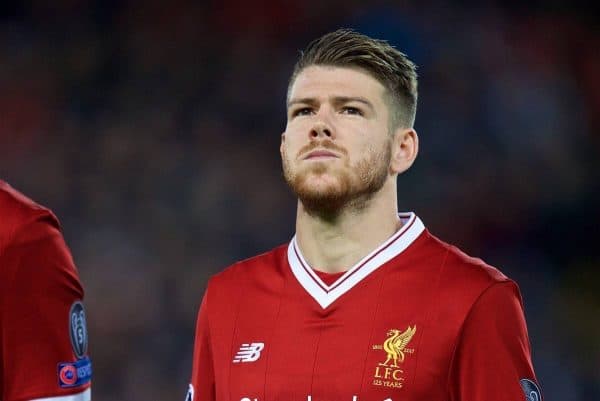 Not enough has been made of just how dramatically Moreno's Liverpool career has changed in the space of a few months, without that sounding hyperbolic.
Many weren't even entertaining the thought of him staying beyond the summer, with too many poor performances deeming him surplus to requirements.
With Milner still seen as an option at left-back and Andrew Robertson brought in from Hull City, Moreno's days looked numbered. Nobody was complaining.
Back in August, however, Klopp was full of praise for the Spaniard, saying, "Alberto Moreno is 100 percent back, which is very nice after a really difficult year."
He had won his manager over in pre-season, and that form has continued into the new season.
This Alberto Moreno thing is getting weird now. If we'd signed him in the summer we'd think left back was sorted for years to come.

— Phil Blundell (@PhilBlundell) October 15, 2017
Moreno himself was bullish about his future last month, in a reputation-enhancing interview with the Telegraph's Chris Bascombe.
"In life and in football I am a fighter. I never give up and when you are down you have to use that motivation to work harder," he said, showing a side to him to some may not think existed, given some of his social media activity.
Liverpool's defence has been deservedly slaughtered for some inept showings, but Moreno has been the least blameless – something that would have seemed inconceivable this time last year.
While Joel Matip, Dejan Lovren and Ragnar Klavan have produced moments of madness, and Joe Gomez and Trent Alexander-Arnold's lack of experience has been exposed occasionally, Moreno has generally gone about his duties efficiently.
In the Premier League, he has won 62 percent of his duels, compared to 55 percent last season and just 46 percent in 2014/15, highlighting his improved defensive work.
It appears as though Moreno realised in the nick of time that he had to up his game or be cast aside, and he has opted for the former. It was always clear he had talent, but he has now added substance to his game.
No resting on laurels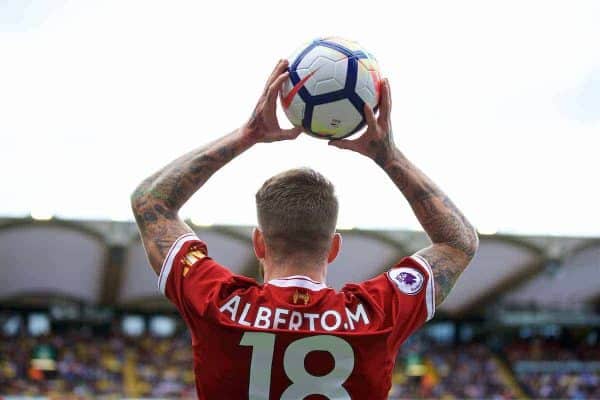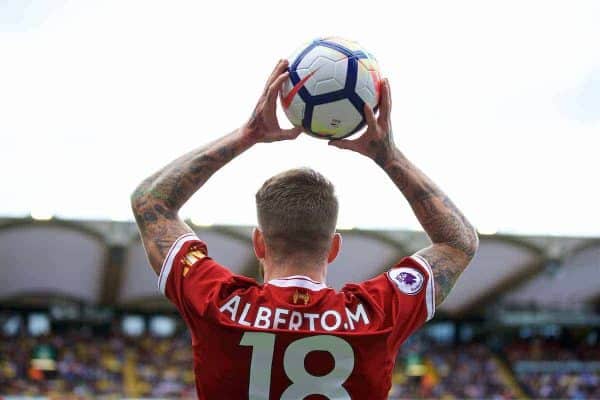 Despite significant improvements this term, Moreno is still far from perfect, and must continue to kick on if he is to be a long-term option for Klopp.
It is important that his performances don't now become overrated, simply because he isn't making glaring error game after game. There is a middle ground.
There is still that nagging feeling that something disastrous may be around the corner – not as much as in the past, in fairness – and it would be nice to see a little more end product in the attacking third.
Robertson has shown-up his left-back rival in the crossing department, and while he has only managed three appearances for the Reds, due in part to Moreno's form, he may well become first-choice once he settles fully.
What cannot be denied is that the lively former Sevilla man has made undoubted strides in 2017/18, and has been one of Liverpool's most consistent players.
His Reds career has come back to life after being on its dying breath, and hopefully, he goes from strength to strength from this point on.