Despite Jurgen Klopp's position as Liverpool manager being questioned after a poor run of form, Joe Gomez insists the squad are behind him.
The Reds have won just once in their last seven games, that being a hard-fought 3-2 victory away to Leicester City, having previously lost to the Foxes in the League Cup.
Over that stretch Klopp's side also suffered a 5-0 defeat to Man City, and were held to draws by Sevilla, Burnley, Spartak Moscow and Newcastle United.
Their last convincing win came at home to Arsenal at the end of August, and heading into the October international break, Klopp's security on Merseyside has come under threat.
But Gomez, speaking to Liverpool FC Magazine, has stressed the "emotional connection" he shares with the squad.
"With him I think it's about the individual connection—it's more than just about speaking to you as manager-to-player," he explained.
"There's an emotional connection there and it makes you want to play for him and for the club.
"He takes time out for you and I think he's aware of everyone's feelings.
"He's able to assess how people are feeling and is able to speak to them like normal people.
"Of course when you get players who are not playing in the team, they are not going to be happy.
"But he is able to take that side out of it and just speak to you in a straightforward way. As I say, it makes you want to play for him.
"If you spoke to all of the lads in the dressing room, everyone has such a desire and passion to play for him and that only works best for the players and the team."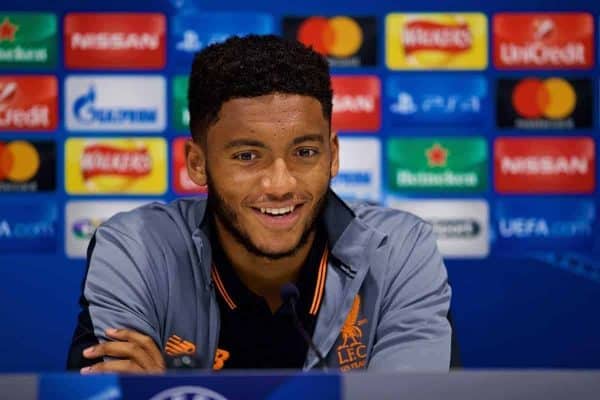 Gomez is currently away with the England U21s, having taken over as captain for Aidy Boothroyd's side when James Ward-Prowse became ineligible in the summer.
Speaking after handing Gomez the armband, Boothroyd suggested it was his response to suffering a long-term ACL injury—picked up while on U21 duty in 2015—that proved his quality as a leader.
And Gomez paid tribute to Klopp for his influence on his recovery, saying "he has been great for someone like me going through an injury like that and then coming back."
"I want to play for him and for the club and try to put [the injuries] behind me," he added.
"I'm thankful for the opportunities that he has been giving me.
"When I was out, he was someone I was always dreaming of playing for, but the timing was difficult and I didn't get the chance.
"Now I'm just thankful and want to keep taking it in my stride."
Gomez has already made eight appearances for the Reds this season, alternating with fellow U21s international Trent Alexander-Arnold as Klopp's right-back.
And having impressed so far, the 20-year-old can hope to continue his run and aim to help improve Liverpool's form under Klopp after the break.