Former Liverpool defender Jamie Carragher would only be tempted to quit television for coaching if his old club came calling with a first-team opportunity.
The 39-year-old suggested if his friend and ex-team-mate Steven Gerrard, currently managing the U18s side, one day succeeded Jurgen Klopp and wanted his assistance he would seriously consider the offer.
Bootle-born Carragher, who made 737 appearances for the Reds before hanging up his boots in May 2013, was initially tipped as one of the players most likely to go into management.
But instead he carved a successful career as an analyst for Sky Sports and said he would find it difficult to give that up.
"It would have to be a very special role: I think there has to be only one with Liverpool Football club and the first team," he told the Telegraph's Total Football podcast after joining the newspaper as a columnist.
"I don't mean managing in terms of when I say 'one', that wouldn't be realistic at all, but maybe being asked to be involved in the first team at Liverpool.
"Helping a foreign manager, helping Steven Gerrard. Who knows?
"That is not a guarantee I would do it because I value the role I have at the moment—but it would only be one club."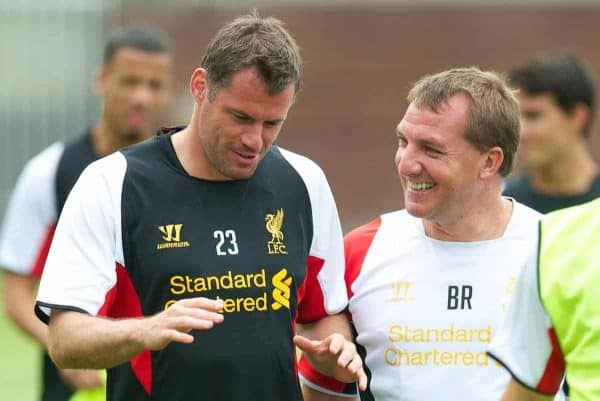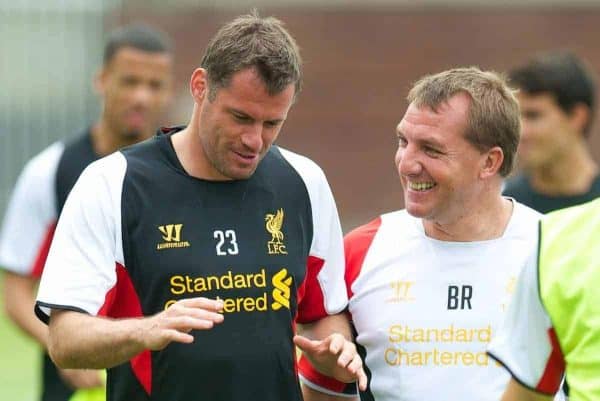 Carragher said he weighed up the options of pursuing a role in coaching against one in television while he was still a player.
"In my 20s I was 100 percent going to be a manager. I started to do my coaching badges at 31, 32, and I can't say I loved it when I started off," he added.
"Brendan Rodgers asked me to be his assistant when he first arrived at the club but that never sort of progressed and other people came in, which was fine as I still had 12 months playing.
"Then I realised if you want to stay in the game there is coaching and the media side so I dipped my toe into both before I finished.
"I did the European Championships in 2012 with ITV and did some coaching and I really enjoyed the TV.
"I had a great opportunity at Sky and there wasn't that opportunity in coaching."