Liverpool claimed all three points against a well organised defensive side at Anfield, but they also showed new defensive traits of their own.
It was a game in which the Reds might normally struggle to break the opposition down, and Huddersfield manager David Wagner spoke of how pleased he was with his side's defensive organisation, despite the loss:
"Until the first goal we played defensively very well, we neutralised them. I haven't seen Anfield so quiet until the first goal.
"We learned we are able to defend and not give a lot of opportunities away even against the top guns, but you have to make it from the first to the final whistle."
Even though they faced a very defensive opposition, Jurgen Klopp's side weren't exactly gung-ho with their attacking play, and one particular change was noticeable when it came to providing more insurance at the back.
Liverpool's lack of a defensive midfielder has often left the back line exposed, but they added an extra number to their rearguard by making sure that right full-back Joe Gomez remained part of the defensive line rather than looking to join the attack.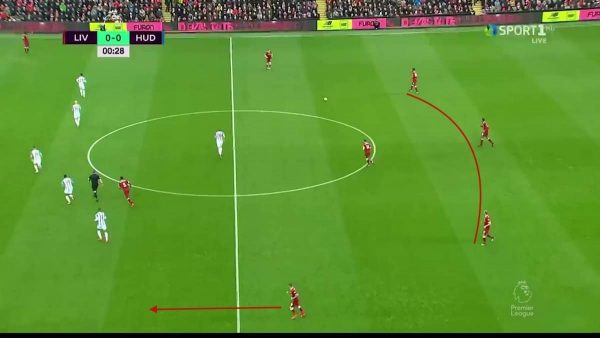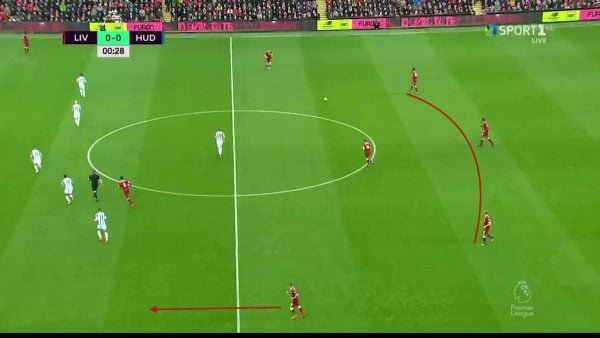 Klopp commented that during the first half his team were too wary of the counter-attacking threat posed by the opposition, which was probably because they still had the error-strewn performance against Spurs on their minds.
"We were a little bit stiff," assessed Klopp. "It was not fluent, we had too many players behind the ball it was clear we wanted to give them no opportunity to counter-attack but we don't need seven players behind the ball to protect the counter-attack, and that's how it looked first half."
"We worked in the week already on positioning where we have to be where it's more difficult for any opponent, and in the second half we had more players between the decisive lines."
But even in the second-half Gomez's role remained much the same. He would support the attack by acting as a wide, right sided defensive midfielder, rather than an overlapping full-back. It wasn't too dissimilar to Brendan Rodgers' occasional use of Emre Can on the right of a back three during the 2014/15 season.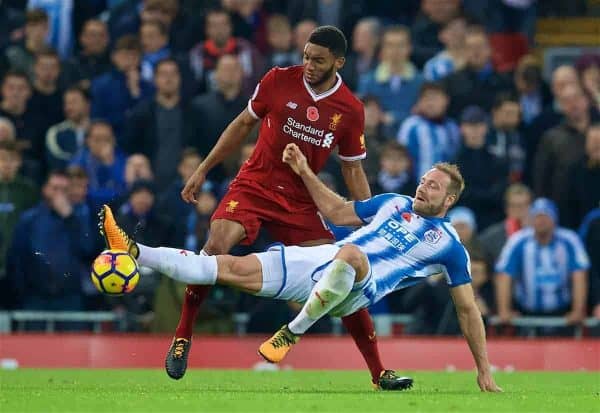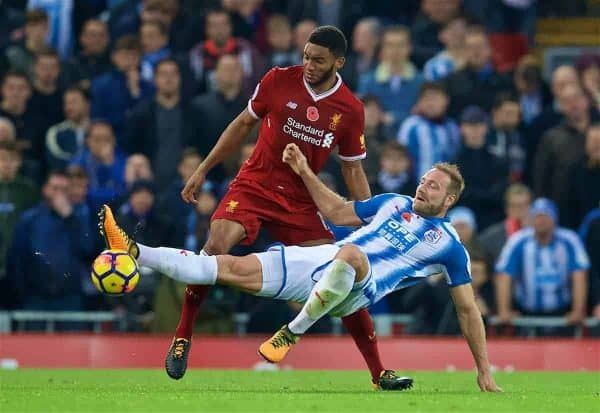 Gomez had the second most touches of the ball (123) of any player on the pitch after Jordan Henderson, and his touch map very much reflects that of a defensive midfielder.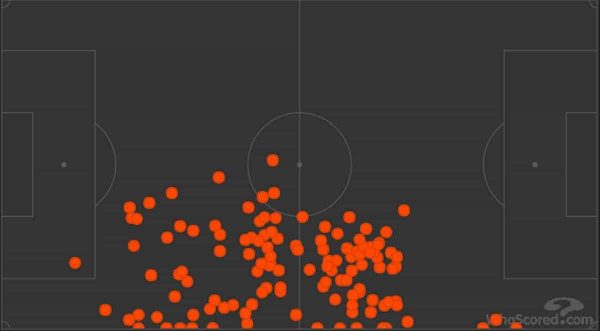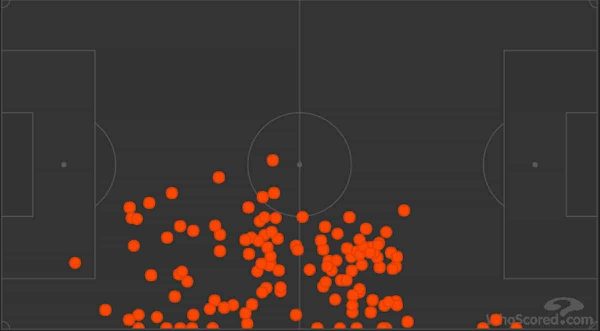 He won two aerial duels in central areas of the defence, but two interceptions further up the pitch where a midfielder might be expected to press. It was almost as if he was playing as the right-sided defender in a back three, which then caused Joel Matip to drift more central while Ragnar Klavan supported Alberto Moreno down the left.
Though Moreno was more attacking than Gomez, he was still conservative when compared to his usual carefree running down the left wing. Left-footed centre-back Klavan supported him well, having entered the starting lineup as a late replacement for Dejan Lovren who injured himself during the pre-match warm-up.
The image below is a good example of the back four's positioning after a turnover in possession. Huddersfield had just won the ball back and were trying to launch a counter-attack.
Moreno is further up the pitch on the left, but Gomez is still level with the centre backs on the other side, as was the case in the first image. Georginio Wijnaldum is recovering from a reasonably deep midfield position, though there is still no holding midfielder as such.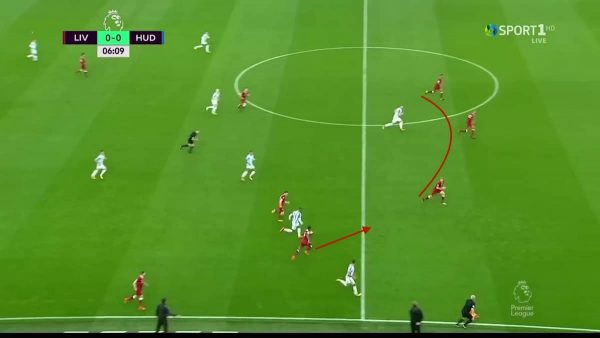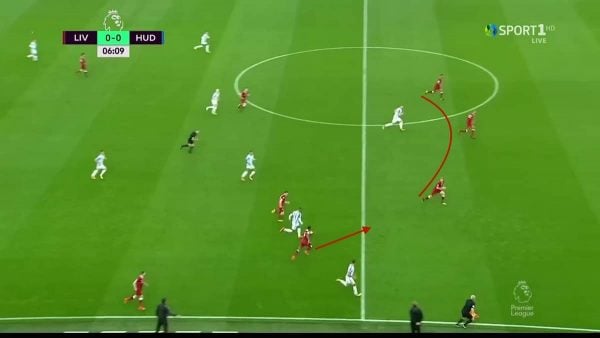 These tactics limited the opposition to just one shot on goal in the entire game, and this came from a Tom Ince free kick taken from almost 30-yards out. Liverpool enjoyed 74 per cent possession, but despite this dominance they were patient, disciplined, and resisted the temptation to throw players upfield.
Going forward it will be interesting to see whether this shape remains for upcoming games, and it may depend on the personnel involved. If Trent Alexander-Arnold returns to the side then he would naturally provide a more attacking option down the right, and this could be the case in the Champions League game in midweek especially with Maribor likely to be less well organised and possibly more open than Huddersfield.
Klavan is ideal for the left-sided role in a back three shape, but it was only by chance he appeared in the side on Saturday and a change in this area could also affect the overall balance.
While many thought Gomez would slot in at centre-back after an error-strewn display by Lovren against Spurs, Klopp retained his poor performers but worked out a way to make the team a more solid and more reliable unit.
It will never be known what would have happened had Lovren started as planned, but the deployment of Gomez in this wide defensive midfield role looked promising, and is a useful option to have in the tactical toolbox.