The media praised Liverpool's character after the Reds bounced back from defeat at Tottenham with a much-needed win against Huddersfield.
The Reds produced the response Jurgen Klopp demanded by claiming all three points against David Wagner's side at Anfield.
Mohamed Salah's first-half penalty miss thankfully didn't prove costly as a strong second-half featuring goals from Daniel Sturridge – the 100th of his club career – Roberto Firmino and Gini Wijnaldum sealed victory.
It was an important win for Liverpool and will provide Klopp's men with a welcome confidence boost to take into two more big games this week against Maribor and West Ham.
Here's how the watching journalists assessed a winning afternoon at Anfield.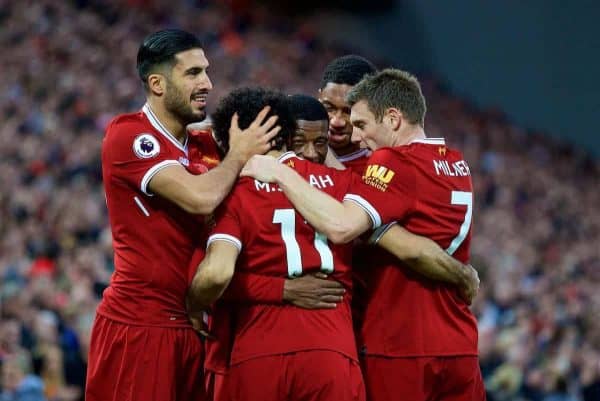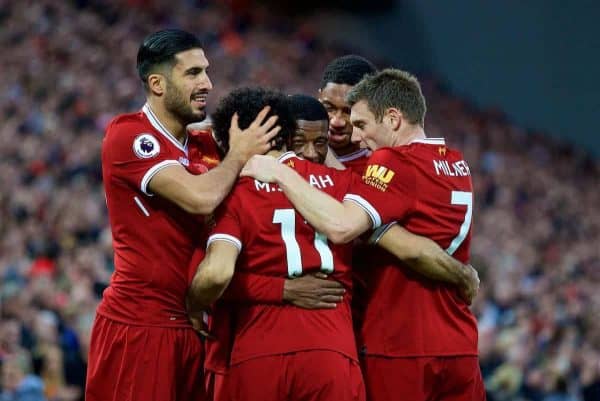 Reporters reflected on a much-needed victory, assessing that even though problems remain, the win was vital to give Klopp some respite from mounting pressure and the Reds a platform to progress.
Melissa Reddy, writing for Goal.com, feels the win can provide Liverpool with the spring-board to move forward again:
It would be naive for Liverpool to think their problems, especially at the back, are solved. But they showed the desired reaction at Anfield, which is a decent place to start steering things in the right direction.
The Mirror's David Maddock felt victory put to bed any doubts over Klopp future and assessed the German as "doing better than expected":
In fact, he is doing better than can be expected, given Liverpool spend less on players and wages than at least four opponents in the Premier League…but then facts never are allowed to get in the way of a good crisis.

[…]

They are a young work in progress, and Klopp needs two or three more years to deliver the trophies expectation demands…and patience would be a good thing from the fans.
The Telegraph's Chris Bascombe assessed all not being quite as bad as has been made out recently:
The doubts, the lingering frustrations and the search for consistency endures, but just as this served as a reminder things are not as perfect as they seem when Liverpool hit peak form, the future is not as bleak as last weekend's Wembley debacle suggested.
Maddock also believes Liverpool remain on course for a productive season:
They are probably a potential third or fourth placed side in the league this season, and you wouldn't put it past Klopp to have a decent Champions' League run, which at this stage in their development, is actually a really decent season.
Some watching journalists were not too impressed by the Reds' performance though, and discussed both negatives and positives of the display.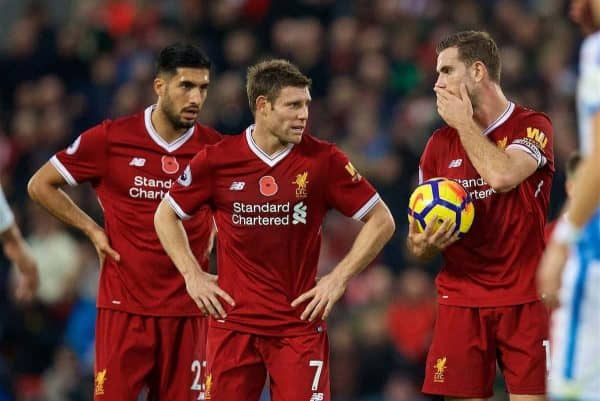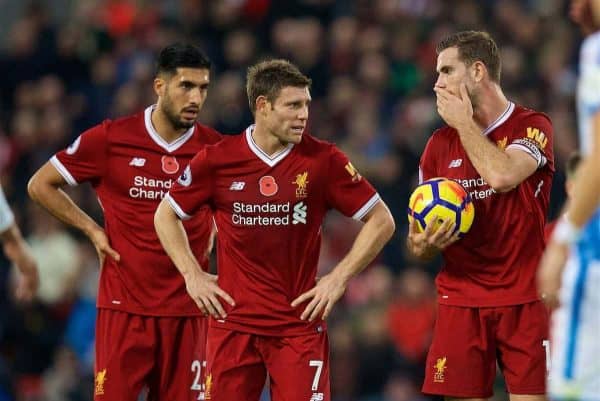 Starting with the negative, James Pearce of the Liverpool Echo felt that, until the Reds scored, the initial reaction was poor with Klopp's men lacking urgency:
… the final scoreline shouldn't mask just how poor Liverpool were until they got a slice of luck and Sturridge cashed in.

This certainly wasn't a stirring response to the humiliation at Wembley. Rather than the expected bang, they came out the traps with a whimper.
However, the Guardian's Andy Hunter thought the Reds' lack of creativity and disjointed attacking display was understandable given the talent missing:
An initially disjointed Liverpool display was perhaps to be expected. Philippe Coutinho joined Sadio Mané on the sidelines with an adductor problem, denying Klopp much-needed invention against a Huddersfield team content to have 10 men behind the ball.
The Mail's Jack Gaughan noted a positive with the ability to bounce back positively:
Yet it does offer indication of an ability to bounce back. For the moment, that will have to do.
Our man James Nalton assessed willingness to vary play and improved work-rate in midfield as key factors behind the match-winning second-half:
They dominated the midfield, but much of the danger came from an uncharacteristic willingness to play balls over the top when necessary and, perhaps even more surprisingly, from set pieces.

There was also more desire to close down in midfield and force mistakes. The team were on a high after the goal rather than tentatively looking to protect a lead, which saw confidence surge throughout the team.
Meanwhile, the BBC's Neil Johnston explored the interesting contrast in the Reds' defensive strength at Anfield compared to on the road:
For all the criticism Liverpool have received for their defensive performances, this was their fourth clean sheet in five top-flight games at Anfield.
The Reds have entertained, amongst others, Arsenal and Manchester United yet Burnley remain the only team to scored at the venue in the league.

[…]

It's an entirely different story on the road for Liverpool and their defence. They have conceded 15 in five games on opposition soil in the league.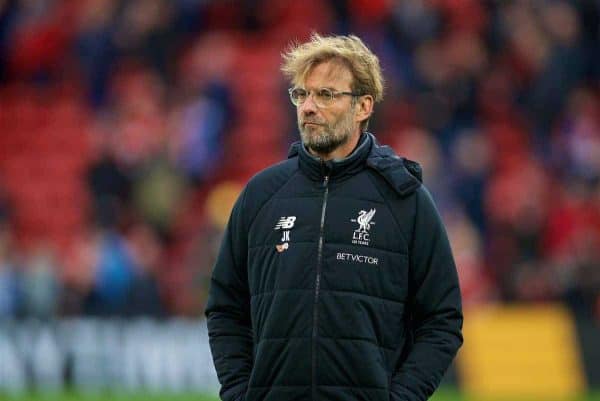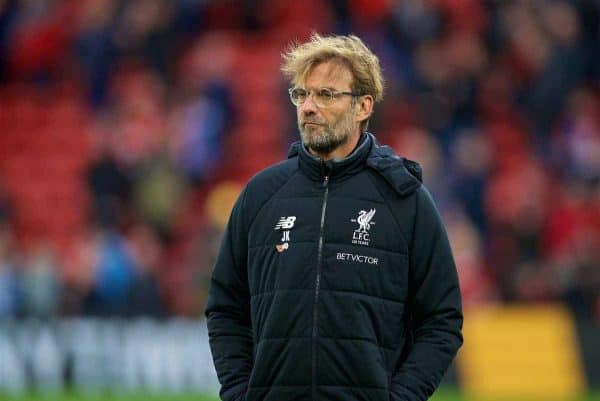 Certain reporters discussed Klopp's bold decision to show faith in those who let him down against Tottenham, with some assessing the German's faith as being repaid following the result.
Reddy praised Klopp for giving the underperformers the chance to make amends, and felt the German's loyalty was rewarded:
There were only two changes to the line-up, one enforced due to Philippe Coutinho's injury, as Klopp opted to trust his men to right their wrongs.

It was not the popular choice ahead of kick-off, nor the easy one, but perhaps was the correct one in terms of promoting confidence and unity.
Our own Jack Lusby thought Klopp enjoyed a good afternoon, citing positives with the German's half-time impact and wise use of substitutes:
With the Reds going in 0-0 at half-time, Klopp clearly had an influence in the dressing room, inspiring his side to produce a much-improved display in the second half.

And encouragingly, Klopp also utilised his substitutes' bench well, particularly with the introduction of Emre Can to provide further stability.
Nalton felt Ragnar Klavan did well in difficult circumstances – having replaced Dejan Lovren moments before kick-off – and thinks his solid display gives Klopp a big decision to make:
The Estonian stand-in had a difficult start to the game, as might be expected from a player who hasn't seen much game time this season, and who was called in to start at the last minute.

But once he did he looked solid, and now gives his manager a choice to make for the next game, regardless of whether Lovren is fit or not.
Finally, the media offered verdicts on individual performances at Anfield, with mixed reviews coming for Liverpool's midfield.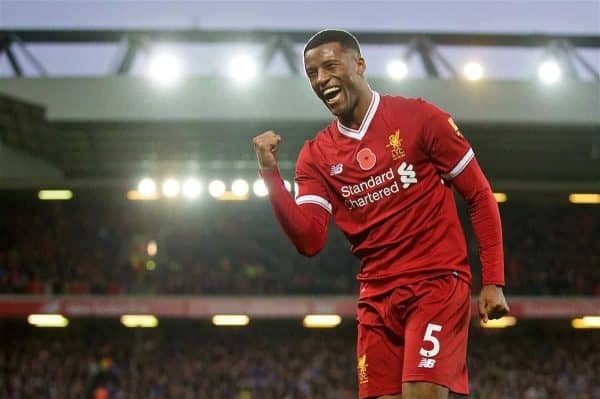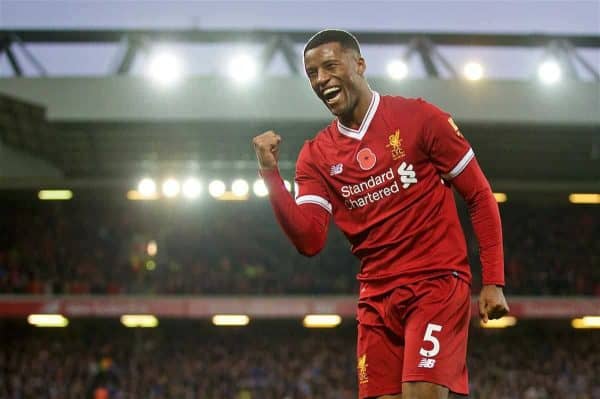 Lusby assessed Wijnaldum as Man-of-the-Match for an "industrious and intelligent" performance:
The Dutchman was full of energy throughout, as he battled with half-brother Rajiv van La Parra, showing industry and intelligent movement in the midfield.
Dave Usher, writing for ESPN, reserved praise for James Milner:
Energetic, intelligent performance from the experienced Yorkshireman. He's waited patiently for the opportunity to play in midfield and he's making it difficult for Klopp to leave him out. His corners were good too, believe it or not.
Usher also assessed a "much-improved" display from Jordan Henderson:
Not the easiest game to play in as there were very few passing lanes open for him, but still managed to play a couple of fine long passes that led to chances. Only the post denied him a goal, and in the second half he set the tone with relentless pressing and energy. A much improved showing from the skipper.
However, Simon Hughes, for the Independent, saw Henderson in poor form, and assessed the captain's struggles as a key factor to the Reds' general defensive failure:
The defence aside, one of Liverpool's problems is Jordan Henderson's form.

[…]

When your confidence is as low as his appears to be, though, and basic passes are failing to meet their destination, is it any wonder that structurally this Liverpool team seems flawed?
Bascombe assessed Joe Gomez as the "most accomplished performer" at Anfield:
Their most accomplished performer in both halves here was also in their back four, Joe Gomez improving every week.