Anfield and away day regular Rahul Tanna provides his matchday diary from Saturday's 3-0 win against Huddersfield.
4am, just got in from clubbing at Royal Holloway, 8am coach from Stanmore Station to Anfield on the supporters club coach. Will this sleepless journey be worth it or will our defence send me home depressed again?
At Anfield, I'm always standing on the stairs of Kop 305 with the regulars – Andrew, Oliver, Roopa, James, Adeel and a few other people I know. Most of the time it's always us starting the chants and getting the atmosphere going – but recently the atmosphere hasn't been the best. It's games like these – against Huddersfield – where it's our job as fans to play the important twelfth man role chanting the lads on to glory.
As I was saying, I went clubbing at my best mate's university, and then had an early morning coach to Anfield for our 3pm kick-off. I could have taken a train, and got some sleep – but nothing beats travelling with the same lads week in week out on our coach – the laughs, the jokes, the football debates, and obviously our arguments over how good (or bad) Dejan Lovren actually is!
7:45am, I've just jumped on the coach and gone to the very back row as usual with Nitesh and Nilesh. Tried getting some sleep, but the lads wouldn't let me. Kept taking photos and messing around as they usually do. In the end I decided it just was not worth it, and waited to stop at the service station for some breakfast.
10:30am, we finally arrived at the service station and we all rushed to Mc Donald's desperately for some food. Full English breakfast wrap? Hash browns? Sounds like a plan!
At 1pm we finally arrived at Liverpool and the coach parked up in its usual position – And I quickly rushed to the Esso petrol station as I had to sort out some tickets for the game. The most stressful part of every home game journey for me.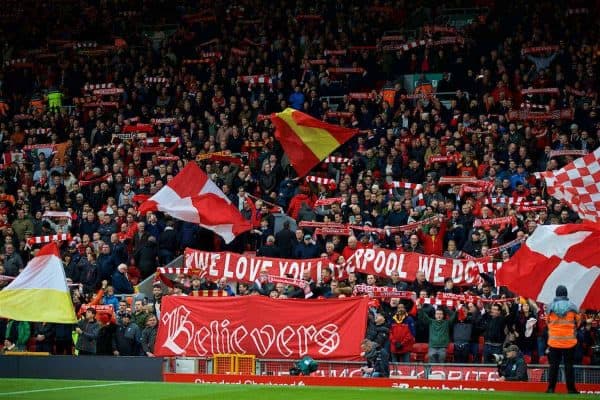 I usually don't get inside the ground until 30 minutes before kick off, but today I decided to go inside an hour before and try to get the atmosphere going in the Kop. 15 minutes before kick off the atmosphere got better.
As soon as the first half started, the atmosphere was absolutely incredible which doesn't usually happen.
Editor's note: It's interesting that Rahul's perspective from within the noisiest part of the Kop on the atmosphere is that it was good, when from everywhere else in the stadium it seemed very quiet. Even David Wagner commented on it post-match.
Towards the end of the first half, Salah's missed penalty caused a bit of a meltdown and many fans were fuming about it. Plenty questioned why Milner wasn't taking it.
Second half, Liverpool came out stronger and as a result, the fans were up for it and started chanting louder. It wasn't long before Sturridge broke the deadlock and the Kop went mental – probably more relief than anything.
Full time, 3-0. A solid performance – and Liverpool kept a clean sheet! And scored from a corner!
The atmosphere today was really good, and it definitely helped the players fight for the three points in the second half. Overall, a really good trip and a massive win.
Can't wait to go home now and get some sleep! Up the Reds!