Man United supporter John Ashton is in bullish mood ahead of his side's trip to Merseyside this weekend, but he isn't expecting a classic.
Liverpool and their rivals from down the old East Lancs Road meet at Anfield on Saturday lunchtime, in the latest chapter in their world-renowned rivalry.
Only the Merseyside derby feels worse to lose and better to win than this one, and Saturday's eagerly-anticipated meeting is sure to be full of the usual drama that inevitably occurs in this fixture.
United have dropped just two points this season, and three more for them at Anfield would be a major statement of intent, and a huge blow to Liverpool.
Ahead of the game, we spoke to John (@thedoveman1982) from United We Stand magazine and podcast (@UWSmag) to hear his thoughts on United, Liverpool and how Saturday's clash may pan out.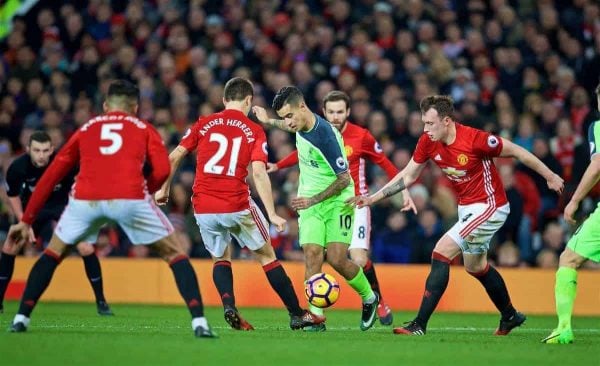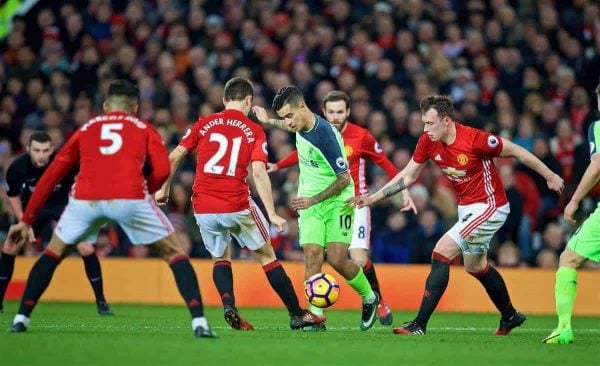 How happy are you with United's start to the season? Too early to tell or are you the real deal?
I'd be lying if I said we haven't been delighted with the start we've made this season, but I'm not sure anyone is getting too carried away just yet. We've been lucky with fixtures in that we've mostly played against piss poor teams – including your neighbours.
But to our credit we've won the games and we've won them well too without really feeling that we have played our best stuff yet. That must be ominous for other sides but Man City have been equally impressive from tougher fixtures so I'm not sure anyone is making any rash predictions about us making it 21 just yet.
But we've dropped plenty of points in these 'easy' fixtures in recent years. Alex Ferguson's teams used to be brilliant at making sure we beat the bottom-half home and away. Do that, and suddenly the big games aren't quite as significant.
Anfield is the start of a real tough run of fixtures with Chelsea away and Tottenham at home to come shortly after. It's not inconceivable that we could be seven or eight points off the top after those games. Equally, it's a great chance for us to prove we are what we all hope we are and games against sides that come and attack should suit our playing style, too.
It's certainly the best United team since Ferguson retired, not that the bar was set too high. There's probably just a nagging feeling that we're a left-back and a winger short of being a really top side but there's a buzz about the place at the minute and a feeling that we might be on the verge of a decent side again.
Who have been the three standout players so far, and why?
If you had asked me this question in October over the last four seasons, I'd have struggled to name three. This year, I'm struggling to limit it to three.
David De Gea is the best goalkeeper in the world, Paul Pogba was brilliant before he got injured and Marcus Rashford and Anthony Martial have been key to us scoring so many goals. There's an added maturity to both of their games this season and their potential is now turning into end product every game.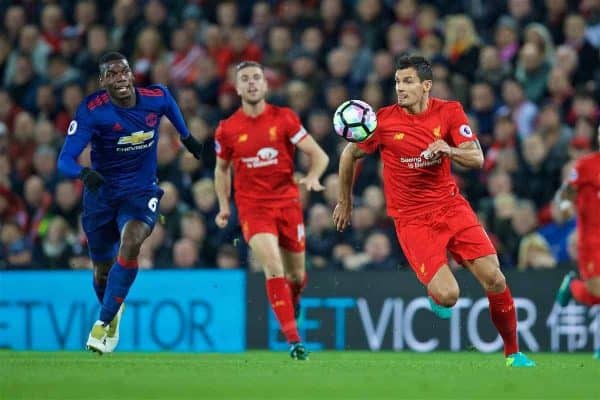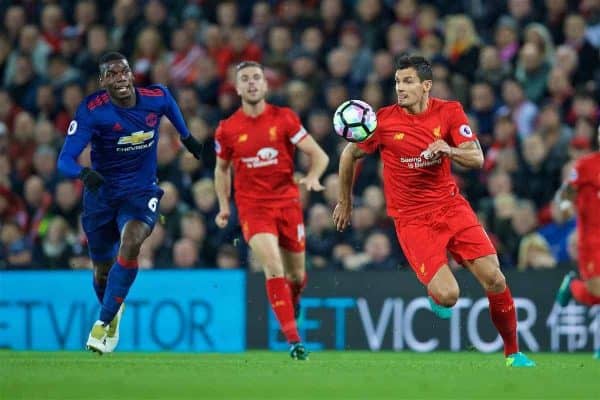 For me, the biggest reason for the improvement in us is because we finally have that solid spine of a team again.
Phil Jones still divides opinion even among United fans, but barring one mistake at Stoke City he's been nigh on flawless this season and ever-present in the Premier League which is the key to his good form.
He's always been a very good defender, but never been able to get a run of games together due to injury – most of which seem to have been self-inflicted. His gormless faces that make him look like he's had a pre-match meal of MDMA don't help either, but he's another player who seems to have grown up a little this year, and thinking a little more before jumping straight into rash tackles.
In the midst of all the goals we have scored nobody seems to have noticed that we have kept six cleansheets in seven league games. Jones was absolutely brilliant at Southampton in the one game we probably didn't deserve to win this season.
Since he's been here, Jose Mourinho has been terrific in the transfer market and Nemanja Matic looks an absolute masterstroke. With every passing game, I'm more and more stunned that Chelsea have allowed him to join Man United.
They got a decent fee for him but surely you can't put a price on strengthening a rival like that? He's a player I never really noticed much at Chelsea but he has absolutely everything you could want from a midfield player. His calmness, passing range and his brute strength are exactly what we have been missing.
He almost does the job of two players, and it has enabled us to get more out of Pogba or Marouane Fellaini further up the pitch. He's the closest thing we have had to Roy Keane in that sense.
Another of Mourinho's new signings completes the trio. It speaks volumes for how well he's done that Romelu Lukaku has replaced our best player from last season and took us to another level.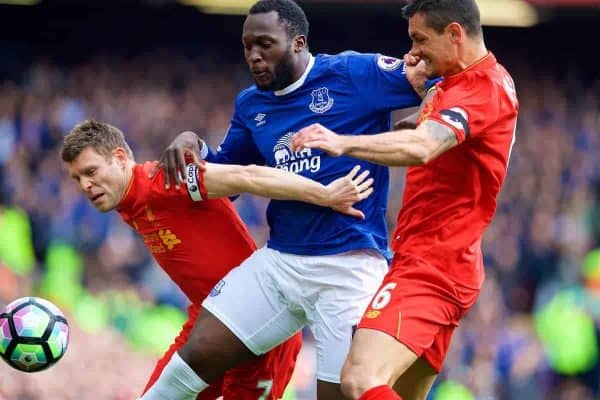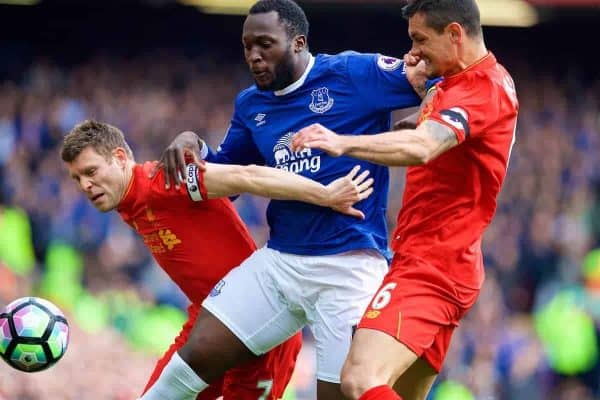 The transfer fee and expectation hasn't fazed him one bit and he's banging in goals in for fun – and he should have had half-a-dozen more. He is just an absolute nightmare to defend against. You look at the improvement in us and the shambles that Everton have become and there's one common denominator.
Zlatan Ibrahimovic was brilliant last year, but Lukaku brings everything he did and more, which is the biggest compliment I could possibly pay him without mentioning 'you know what'.
What have you made of Liverpool's start? Do you believe Jurgen Klopp is the right man for the job?
Obviously it's been a less than ideal start to the season for Liverpool and I'm not sure anyone is too surprised. It's glaringly obvious where your team is short and again it wasn't addressed properly in the summer.
It's going to be tough for you to challenge without a 30-goal striker and a back-five who have all got a stinker in them every game.
Your attacking midfielders are terrific and would be up there with any in European football, but you can't keep relying on Mo Salah, Sadio Mane and Philippe Coutinho to have to keep outscoring the opposition. You have to be able to win when you don't play well if you want to win trophies, and I don't think Liverpool have that.
There always seems to be a lot of knee-jerk reactions with Liverpool supporters after good and bad results with Jurgen Klopp. The jury is definitely still out but who is going to do a better job?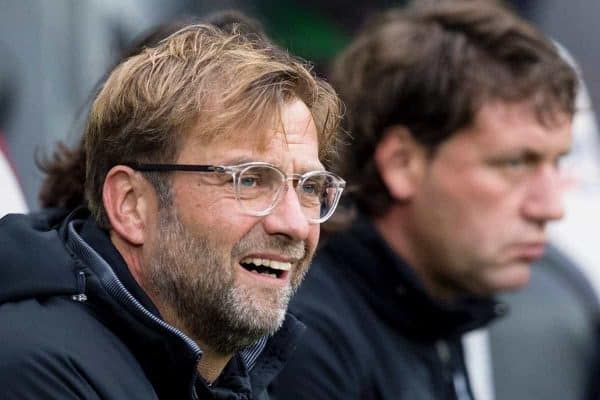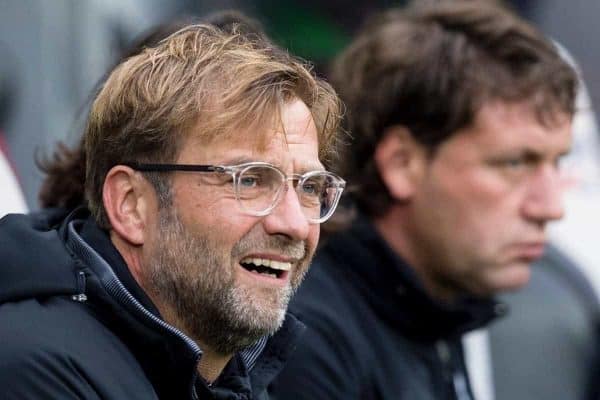 I think he missed a trick in the League Cup this year. He needs a trophy and two of the four available are probably out of reach for you. You dominated the first-half at Leicester City and he went and took your best player off and you fell apart.
People may scoff at the prestige of it but when you've won one trophy in ten years, beggars can't be choosers. We weren't good enough for the big pots last year. Jose knew it, so he went and concentrated on a couple of the lesser ones instead, and there's no question that the confidence gained from winning them has had a massive impact on the start of our season.
There's going to be good sides that finish fifth and sixth every season for a while and I don't know if Liverpool quite have the resources to be able to challenge United, City and Chelsea in that respect. When was the last time they went out and bought a player that the rest of the European elite wanted?
I'm quite sure there's got to be better centre-backs available than what you currently have – I think you're going to continue to entertain under Klopp, but fall short when it comes to silverware.
Before we discuss Saturday's game, what's your favourite and worst memory of watching United at Anfield down the years?
The best without question for me was John O'Shea's last-minute winner in front of the Kop in 2007. We hadn't played well, but we'd nicked a win just like we had done at Fulham the weekend before.
Everyone came away from the game believing that it was going to be our year and we were on the verge of something special. A year later, we'd be European Champions again.
There have been plenty of shit memories too, though. I'm too young to properly remember 1992 so we won't talk about that one.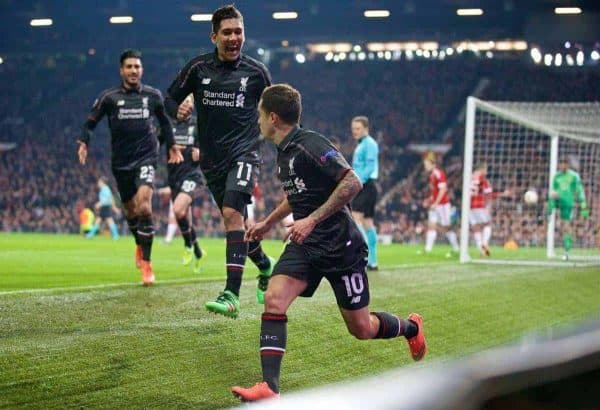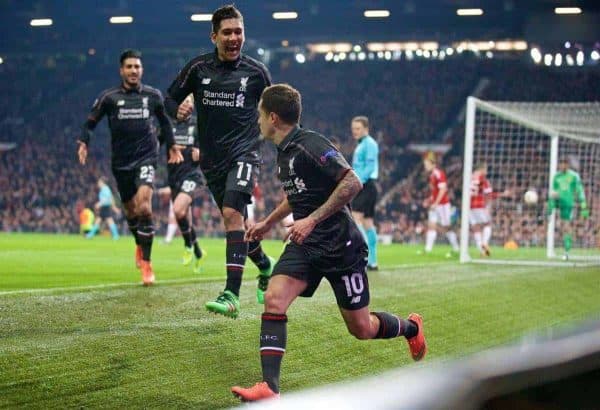 I'll go for a more recent one and say the Europa League game a couple of years ago. You absolutely battered us and I felt like we had fallen miles behind you. It looked like Klopp was on the verge of something special whilst we were watching a Louis van Gaal team pass the ball from side to side every week in what was easily the worst season I've ever had watching United.
Luckily, we seem to have pushed on a bit since then, and things have stalled a bit for your lot. At the time, though, it didn't feel like two years on we would be in this position again.
If you could take one Liverpool player and have him in the United team every week, who would it be?
Coutinho would be the obvious player, and although I think he can drift in and out of games, he is capable of absolutely magical things on a football pitch.
Mane is the one that I think scares me the most and I'm delighted he isn't available on Saturday. United were linked with him a lot before he went to Liverpool and the general consensus from our support was one of under-whelm.
I always thought in the right team, he could be a great player, though. With that special relationship you seem to have with Southampton, it was inevitable he was going to end up at Anfield, wasn't it?
I like Salah and Emre Can, too, but I'm not sure you have too many more players there that I would consider good enough for our current team.
Switching our attention to the match itself, are there any specific battles you see as being particularly key?
The first big battle will be to shut the crowd up. Although Anfield and Old Trafford can be like morgues when Crystal Palace come to town, we know that isn't the case whenever our clubs meet.
We did it perfectly last season – I don't think I've ever been to Anfield and heard it as quiet as it was for a Liverpool-United clash. The fixture just seems to have lost its edge a little in the last couple of seasons, which I'm not a fan of.
With Mane being out, the biggest threat from you is without doubt Coutinho. Pogba and Fellaini being out will probably mean Ander Herrera starting, and these are the games he usually does well in at keeping the opposition's best player quiet.
Whoever we have at left-back against Salah is probably where I'm most worried from a United point of view.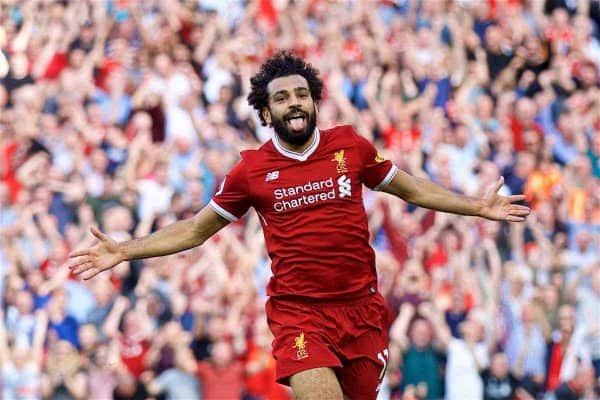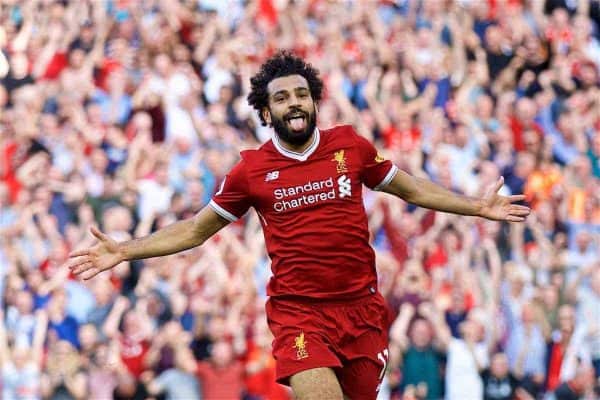 At the other end of the pitch, the start of the season would suggest a bit of a mismatch but it never works out like that and we know chances are going to be hard to come by.
We will look to get the ball out wide – I've lost count of the amount of our goals that have come from crosses this season. You're going to have to stop the supply from Rashford and/or Martial if you want to keep us quiet, which is easier said than done.
United are favourites to win with the bookies, which isn't often the case at Anfield – do you think Mourinho will play with more freedom and go for the kill?
In a word, no. Mourinho has a blueprint for these sort of games and there's no reason to suggest Saturday will be any different.
He will be criticised for 'parking the bus' but how many sides do go to Anfield in that sort of atmosphere and play open expansive football against a side that for all your faults still has lots of goals in them?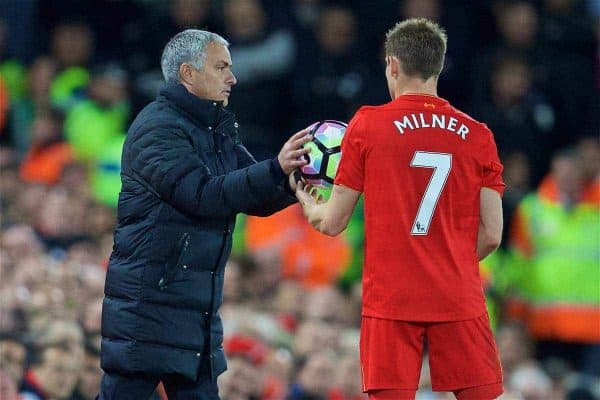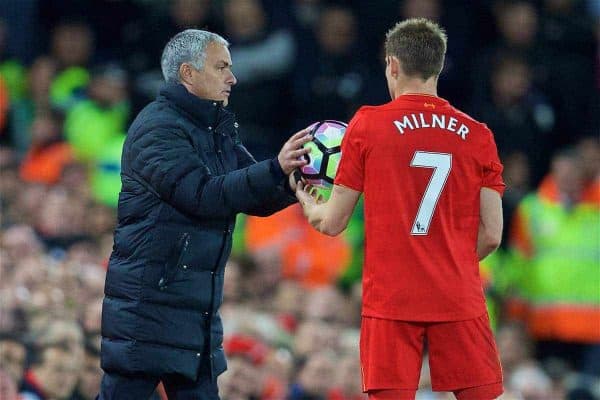 He was given stick for how we set up there last year but he limited you to the odd long-range effort, and with a little more composure ourselves, we could have nicked it.
If the game pans out like season, we will win it. We're much more composed and ruthless on the counter-attack than we were this time a year ago. Why change from that set-up?
Plenty of Ferguson teams went to Anfield and shut up shop but because it's Mourinho, his style of play receives much more attention.
If we nick boring draws at Anfield and the Etihad this season, whilst thumping the lesser sides with great football like we have been doing, I think most United fans will be more than happy and we won't be far away come the end of the season.
Finally, hit me with a prediction and how you think the game will pan out…
A cagey and underwhelming game that ends up one apiece. A Rashford goal cancelled out by a Coutinho screamer. I don't think either side would be too unhappy with that result right now.