Ex-Liverpool centre-back Jamie Carragher was critical of Daniel Sturridge's display on a rare outing in Sunday's 1-1 draw away to Newcastle United.
Sturridge made his third appearance in Klopp's starting lineup this season when the Reds took to St James' Park for their first clash of October.
Preferred to the out-of-form Roberto Firmino, Sturridge joined Mohamed Salah and Sadio Mane in a three-man forward line, with Philippe Coutinho providing the ammunition.
But the England international squandered a host of chances, and with Joselu cancelling out Coutinho's opener, Liverpool were left to rue their misfortune.
For Carragher, the decision to include Sturridge would have paid off—if he had scored following an error from Ciaran Clark in the second half.
"He should [have scored], that's what he's in the team for," he explained on Sky Sports.
"He's not in the team to press, because he doesn't press, he's not in the team to penetrate in behind because he's not that player anymore.
"I think the amount of injuries has taken their toll, so we don't see him getting behind people.
"He doesn't really get involved a lot, so the reason he is in the team is to finish that chance. He has to score.
"Sometimes with strikers we say 'well you're getting the chances, start worrying when the chances don't come'.
"And then when the chances don't come you say 'well I'm not getting any creativity' and you let strikers get away with a lot really when they're missing chances.
"That is a massive chance: if that's Harry Kane, that's a goal, [Alvaro] Morata it's a goal, [Romelu] Lukaku it's a goal and they're coming away with a 2-1 win."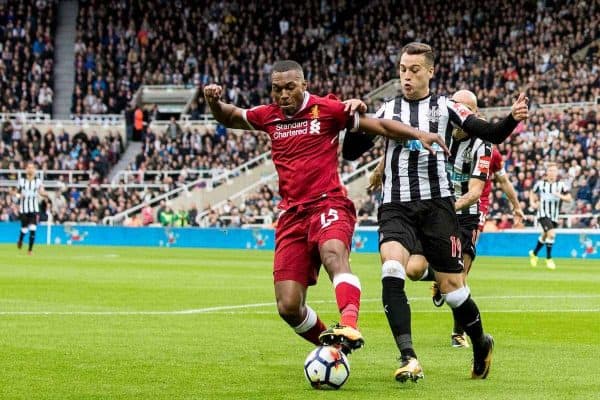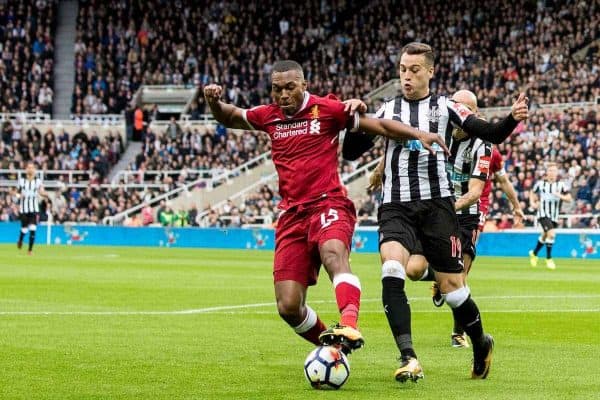 Graeme Souness, joining Carragher in the studio on Tyneside, was equally disappointed with Sturridge's input.
The former Reds captain described his display as "laboured," and proffered that the striker's long-term injury problems have detracted from his game.
"He was laboured, a yard off the pace. I don't think he can train properly, and that's why he gets injury after injury," Souness said.
"I was watching him last year, and his warm up was like 30 percent. Then he is expected to sprint when the game starts.
"It might be another month, six weeks before Klopp plays him again.
"If everything is right, he would be one of the first names on the team-sheet. But looking at him today, he is miles off it.
"Klopp sacrificed the work rate of Firmino for a bit of magic from Sturridge, but he didn't have it, he laboured today."
Few argued with Klopp's decision before kickoff on Sunday, but Sturridge's inclusion certainly proved a mistake, with the No. 15 withdrawn on 72 minutes.
Given the opportunity to fire Liverpool back into form after a lengthy profligate run, instead he simply sparked nostalgia for the Reds' attacking ranks of old.