For a manager considered by some to be stubborn, Jurgen Klopp is perpetually tweaking the Liverpool system in an attempt to keep things fresh, writes Sam McGuire.
The Reds lined up in a 4-4-2 shape during the win 4-1 over West Ham, ditching the 4-3-3 fans have been accustomed to since the start of the 2016/17 season.
Though a formation is just a rough template for where players will line up when a team is defending, and the real identity is shown during offensive phases of play, it helps paint a picture of what the manager wants from his players.
The switch-up with the system being deployed certainly got tongues wagging and it's been the topic of debate ever since. On paper it's a dramatic move on Klopp's part.
Liverpool went from playing a possession-based style with the deepest midfielder dropping back between the centre-backs to form a three.
The width arrived from the full-backs who could push on to join the attack and the wide forwards would tuck inside.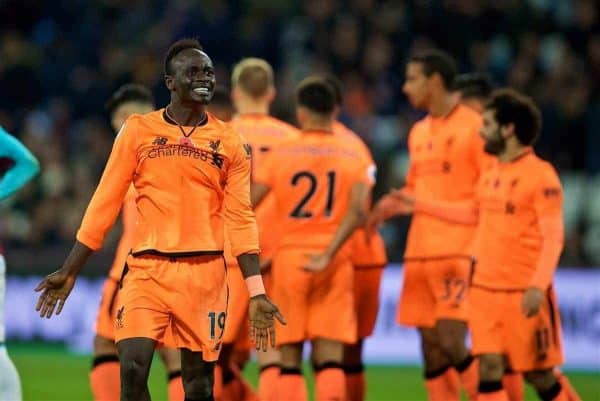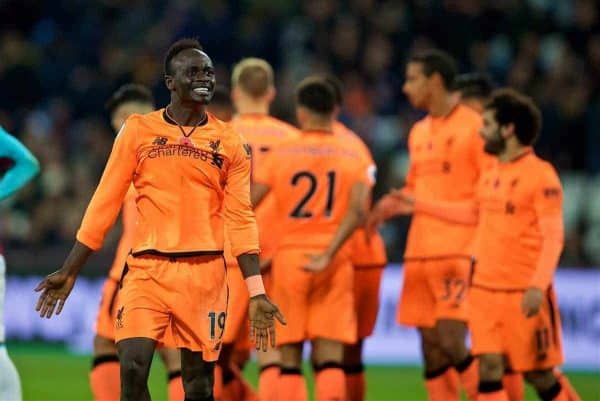 Against West Ham it was different: Liverpool looked to play a counter-attacking system.
Joe Gomez, the right-back on the day, drifted inside to form a back three alongside Ragnar Klavan and Joel Matip.
Emre Can and Gini Wijnaldum made up a midfield two with Alberto Moreno operating as a left-sided midfielder when Liverpool were in possession.
It was the front four of Mohamed Salah, Roberto Firmino, Alex Oxlade-Chamberlain and the returning Sadio Mane.
James Nalton does a good job making sense of the shape against the Hammers here.
Klopp wasn't shy about revealing the idea behind the change during his post-match press conference: "Changing the system without proper training; yesterday was the first time we did it, the 4-4-2, which looked maybe from the beginning like a very offensive lineup.
"We actually had a different idea. We wanted to defend deeper, more compact, using the space which we have then for the counter-attacks.
"We will never know how it would have been if we don't score the first goal, but it was kind of an open game until then. We have to get used to it. It's difficult for the boys to wait a bit more for the challenge than always jumping in."
However, should Klopp's word be taken with a pinch of salt? The 50-year-old is a meticulous planner. Changing the system without proper training isn't something he would leave to chance.
On the Friday before the match he claimed Mane might be fit enough to play 20 minutes yet he started the match and finished with two assists.
Klopp has a superb poker face.
There are a few examples as to why his post-match words shouldn't be taken on face value, and why there have been signs over a number of weeks that the shape was evolving, it's just never been as blatant as it was against Slaven Bilic's charges.
The Liverpool Shape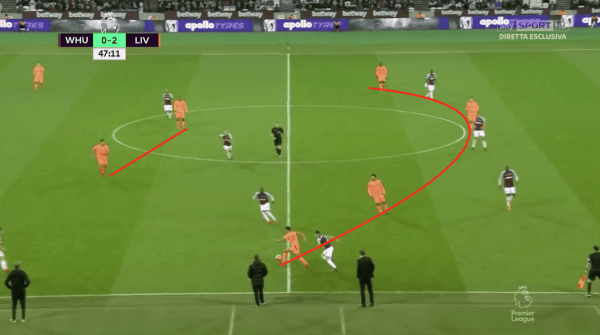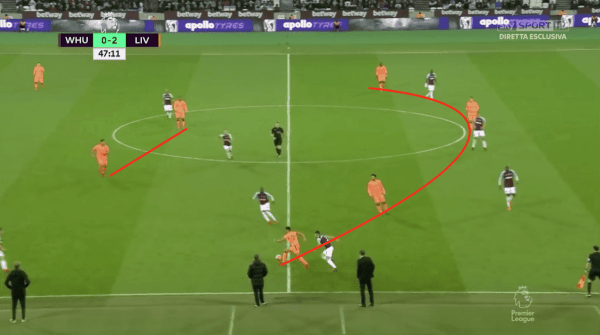 To help visualise the Liverpool shape there is a screenshot from the match above.
It shows Can and Wijnaldum sitting as a two in midfield with Oxlade-Chamberlain (in possession of the ball) and Mane ahead of them to almost make a four alongside Salah and Firmino. It can also be viewed as three lines of two.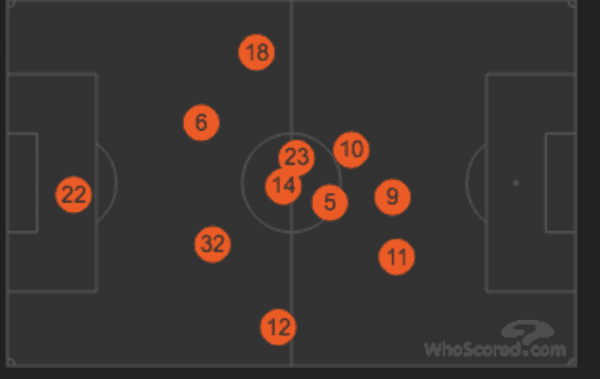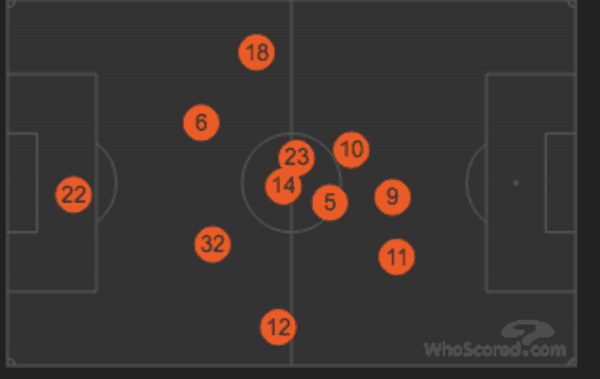 The graphic above, via WhoScored, shows the average position of the players from the 0-0 draw with Man United. This match was played during the second week of October.
A quick caveat before going into detail: the average position is worked out using the touches of players, a lot of Liverpool's good work goes on off the ball meaning you shouldn't hang your hat on these graphics and instead use them to help you form details of what is a bigger picture.
However, there's no mistaking the asymmetrical 4-2-2-2 shape in the graphic with three lines of two ahead of the defensive four.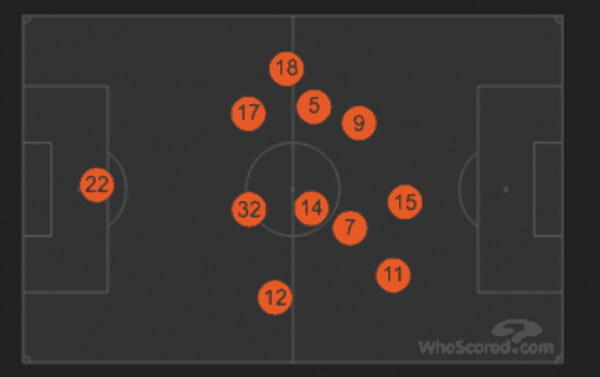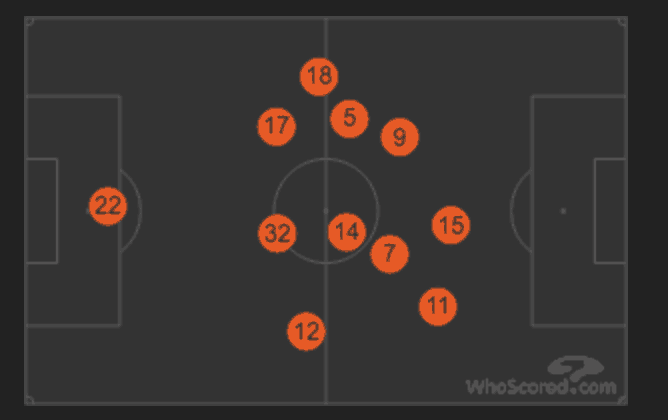 This average position map is from the 3-0 win over Huddersfield Town.
It's different personnel, with Daniel Sturridge and James Milner starting, but a same sort of shape when looking at touches by players. There are three lines of two ahead of the defence.
However, when compared to the one from United you can see there's a better balance to the shape.
Neither full-back is as isolated and Gomez isn't as wide as he was against Jose Mourinho's men. Instead there are signs of the similar shape fans witnessed at the London Stadium.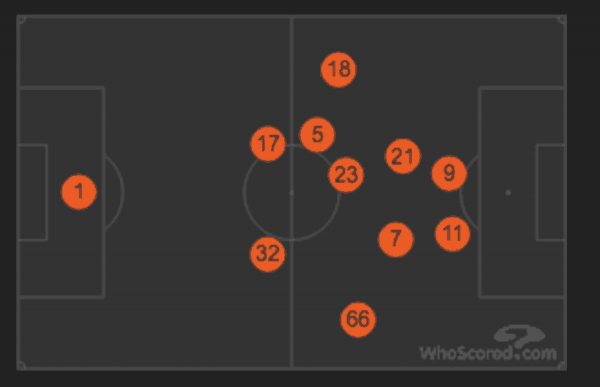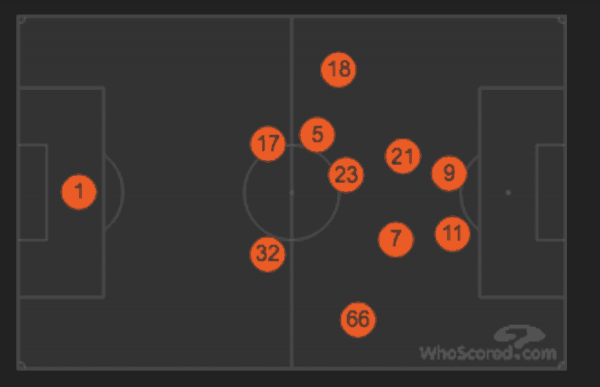 Liverpool deployed a similar system against Maribor in the Champions League match at Anfield.
It's not identical, with Trent Alexander-Arnold playing in place of Gomez; the 19-year-old is similar to Moreno in the way he's on the front foot so is much more advanced.
It also helped that Liverpool were utterly dominant in that match and Maribor looked to frustrate by standing off Liverpool and sitting deeper.
What is clear though is that there are three banks of two in the centre of the pitch in the opposition's half.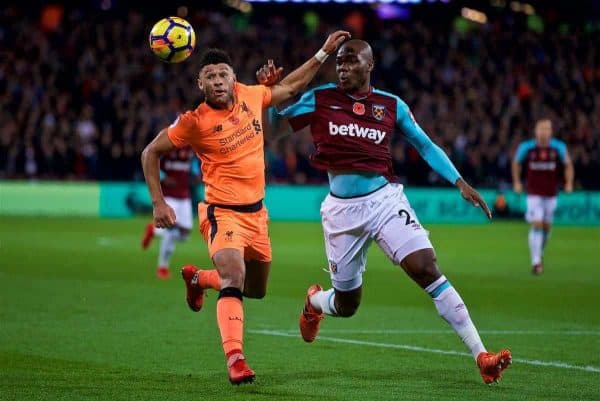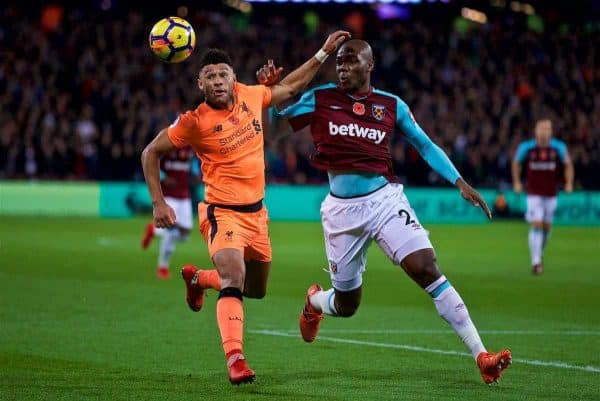 Against West Ham, there was a slight variation with Mane and Oxlade-Chamberlain taking up central areas on a more regular basis.
But the point still stands that the 2-2-2 shape in attack has been something Liverpool have used over recent weeks and isn't as dramatic of a change as it first appeared to be.
Klopp wasn't lying, he was just getting a little creative with the truth. The team might not have trained with the 4-4-2 but the shape in possession is one they've worked on for at least a month now.
The Liverpool Press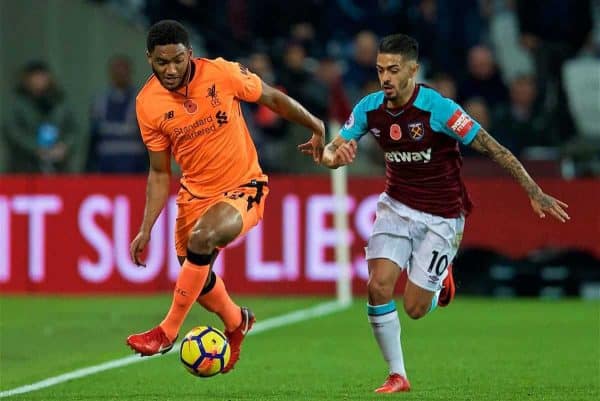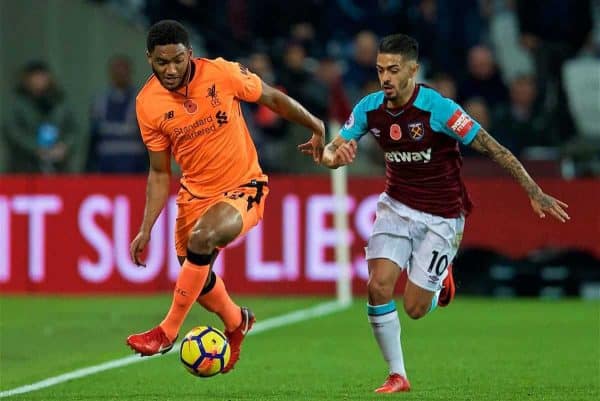 Klopp's comments in his post-match press conference suggested the plan was to stand off West Ham in an attempt to open up space in their half to counter.
He said it wasn't straightforward for his players, drilled to press high, to embrace this new tactic: "It's difficult for the boys to wait a bit more for the challenge."
But the stats say otherwise. Liverpool were more compact in their shape and did look to sit a little deeper when defending, but if anything the press was more ferocious than it has been for a number of months.
As mentioned on the latest Anfield Index podcast, the press returned with vengeance.
The lack of intensity from the Liverpool press has resulted in the opposition scoring simple goals this season.
But the new shape puts certain players in key areas and allows Liverpool to implement a structured press and it's perhaps why in the past six matches—since the match against United—Klopp's men have kept four clean sheets.
With the three lines of two, more often than not staggered, it makes it difficult for the opposition to play out from the back.
It also gives the Reds a better chance when counter-pressing because they've already got players in areas they need to be in to ensure there are no obvious areas to exploit.
Is it Sustainable?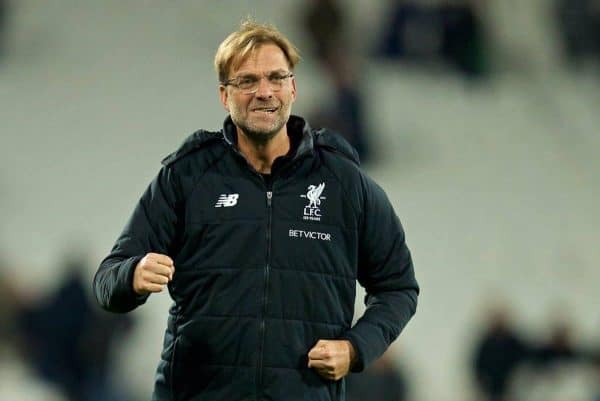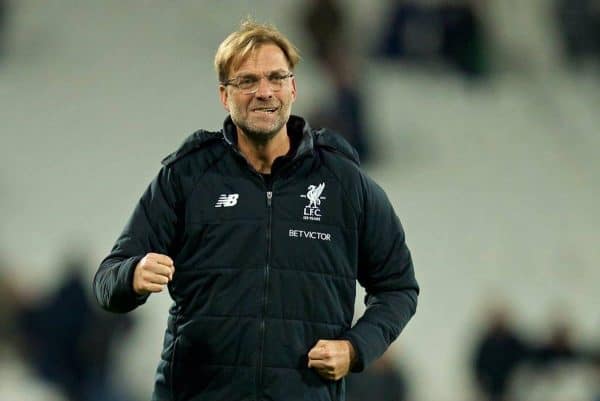 The simple answer to this is yes. Liverpool have an abundance of versatile players meaning Klopp is able to make subtle changes to this system which make it hard for the opposition to combat it.
Mane cutting in from the left offers a completely different threat to Philippe Coutinho doing it, just as Milner's strengths on the right aren't identical to those of Oxlade-Chamberlain's when deployed there.
There's also a bit of an elephant in the room which people are yet to address: has Klopp put this into practice so the players are up to speed for when Naby Keita arrives on Merseyside?
Of course, it would be naive to suggest Klopp's changing the system to accommodate one player but perhaps this was his idea all along and it's why he pushed so hard for Keita during the summer transfer window.
The 2-2-2 midfield/attack system is one the 22-year-old has impressed in playing for both Leipzig and Red Bull Salzburg.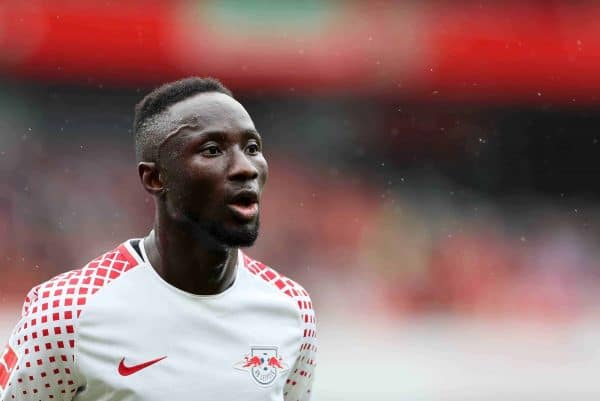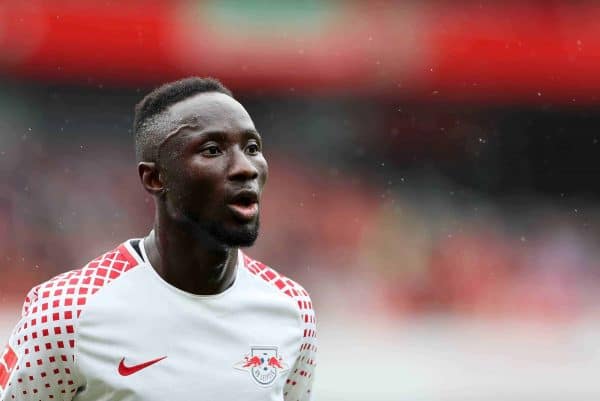 If Klopp's had this in the works for some time then he would have wanted to bring in players perfectly suited for it.
Keita ticks the box as does Salah, who operated as a second striker for Roma, and Oxlade-Chamberlain, who can play basically anywhere down the right-hand side meaning he can fill in as a third midfielder, a wing-back and a winger depending on how Liverpool need to react to in-game situations.
The re-emergence of Moreno at left-back also starts to make more sense if you buy into this theory. Being naturally left-footed, he's able to offer the width down the left when the player starting on the left of the attack cuts inside.
Has Klopp just been biding his time and slowly assembling a squad?
Unlike many others in the game he's in a position to be patient, with it being highly unlikely owners Fenway Sports Group will prematurely put an end to Klopp's time on Merseyside without his project being complete.
After all, good things come to those who wait, right?