Football Business student Rahul Tanna writes about his experience in Anfield's press box for Wednesday's Champions League tie againt Maribor.
For the first time, I was going to be sitting in the press box rather than in the Kop. Exciting, something new, but I was feeling very nervous.
I set off from London at 11:30am, with my friend Nabil who was driving. We always go together to the matches home and away, but for home games we usually go on the supporter's club coach. However, due to me having to be at Anfield earlier than usual Nabil was kind enough to drive me there and back.
On the way to Anfield, everything just felt different – I was travelling in a suit rather than what I'd normally wear on a match day. I felt overdressed for a home game, but I wanted to make sure I gave the best first impression I could possibly give.
We arrived at Liverpool nearly three and a half hours before kick-off and went to quickly say hi to a few friends who had travelled up from Plymouth.
It wasn't long before I made my walk from the Sandon to the media entrance, at this point I was feeling very excited about my first time as media at Anfield. I did not know what to expect – my mate Sachin (who works at the Guardian) told me to just enjoy every moment and network with as many people as possible.
I walked in at 6pm, collected my pass, and grabbed myself some food. I must say, the food inside the press area is absolutely incredible, I would easily rate it a 10/10. Vegetable lasagne and Pepsi? You can't go wrong!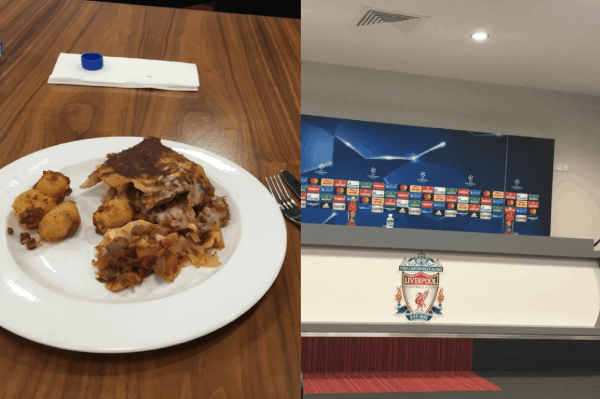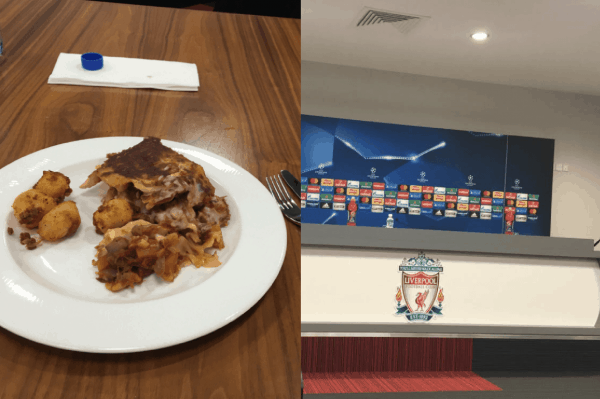 After finishing off my food I went to check out my view and set up my laptop etc. Once the teams were announced I did a live stream on my Twitter to see what my followers had to say on the starting 11. Most were very happy to see Alex Oxlade-Chamberlain start his first home game.
15 minutes before kick off I quickly grabbed myself a coffee and went back to my seat. It felt unreal being sat with so many successful journalists in the industry – all the usual Liverpool journalists were there, like James Pearce, Paul Joyce, Melissa Reddy and Andy Hunter – it made me realise how lucky I was to have got this opportunity.
Although, once the game started it wasn't long before I realised how much I missed being in the Kop. The chanting, the screaming and being with the other regulars. Being in the press box means having to be professional and it was surreal not to be able to celebrate goals or join in with the (rare) chant that did get going.
The view was really good I must say, Main stand lower – completely different to usually being sat in the Kop behind the goal. In the first half I thought Maribor played really well, they were defensively strong and made it very frustrating for Liverpool.
One thing I realised being in Maribor two weeks ago and being at Anfield for both fixtures is Maribor fans are actually really passionate about their club. 7-0 down against Liverpool at home didn't stop them from chanting, and at Anfield even before kick-off they were enjoying every second of being inside the ground.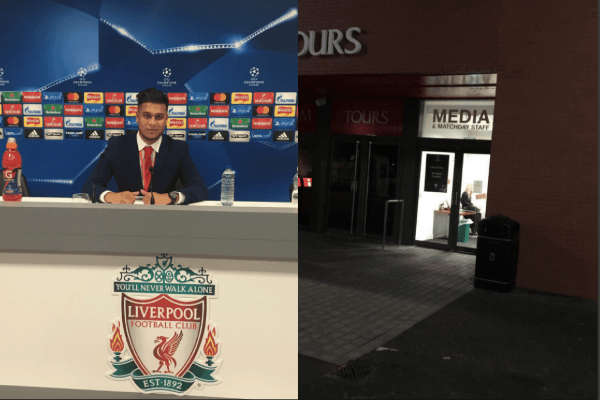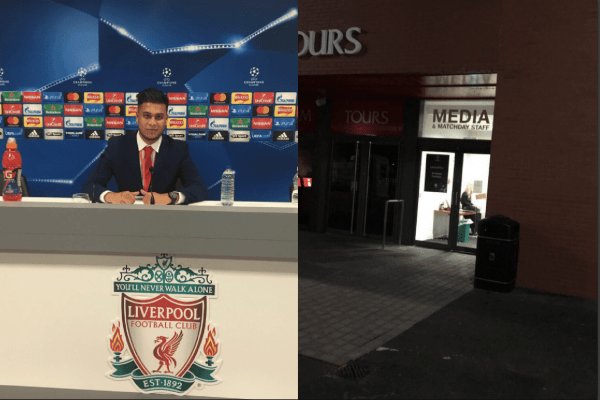 At halftime, it felt different from usually being in the concourse catching up with fellow Reds, instead grabbing another coffee in the press area where journalists gather to discuss the first 45 minutes and enjoy a drink, soup, a sandwich or even a cake!
The second half, Liverpool came out stronger and comfortably won the game. I was really impressed with Alberto Moreno, joint top for assisting the most goals so far in the Champions League – he has proved many doubters wrong about his ability and how good he actually is.
After the game, I went straight to the press conference room and was waiting to see what Jurgen Klopp had to say. The moment he walked in, it hit me I was actually in the same room as him and it was an absolute honour. He answered questions for around ten minutes and then left.
Some journalists headed to the mixed zone where they attempt to get interviews with players – this is why you often see more interviews with likes of Simon Mignolet, James Milner and Dejan Lovren; players who are kind enough to stop and answer journalists' questions post-match. Many pretend to be on the phone and walk past instead.
Overall, what an experience. What a day. What a game. Everything went perfectly and I felt privileged to have been given this great opportunity. Now we focus on West Ham – where I'll be back among the away fans rather than mixing it in the media area!