Roberto Firmino has lavished praise on Jurgen Klopp, setting his sights on silverware this season to reward his work.
Firmino arrived on Merseyside four months before Klopp, but endured a tough transition as he regularly played out of position under Brendan Rodgers.
Klopp's appointment liberated the Brazilian, who was initially restored to his natural No. 10 role, before being remoulded into Liverpool's first-choice centre-forward.
The 26-year-old is now one of the Reds' most important players, and Firmino believes it is Klopp's involvement that has inspired his excellent form.
This is particularly the case in front of goal, with Firmino scoring seven in 17 games so far this season, having netted 11 and 12 goals in 2015/16 and 2016/17 respectively.
"It's difficult to define a specific reason for a good moment," he told UOL Esporte.
"I'm entering my third season for Liverpool and with each passing year I feel more comfortable, more at home, and this is very positive for me.
"Having the opportunity to work with Klopp was very good for my development.
"He is a manager who demands a lot, has a lot of experience and understands a lot about football."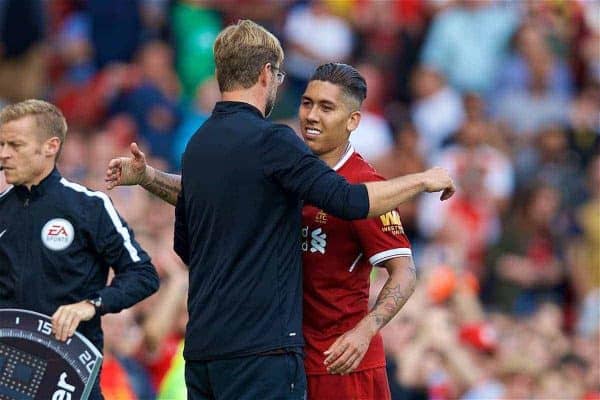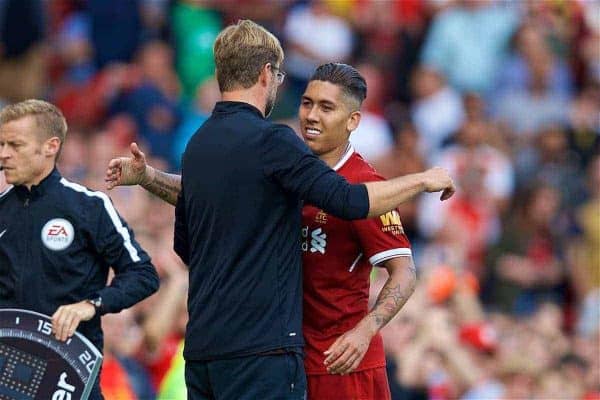 Firmino and Klopp clearly enjoy a positive relationship, with the No. 9 starting in 16 of his 17 appearances so far this term, and the manager regularly praising his star forward.
In August, the German described Firmino as "an unbelievable player," saying anyone who doubted his ability "lost my respect one-and-a-half years ago already."
The feeling is certainly mutual, with Firmino continuing to hail Liverpool's decision to bring Klopp to Anfield in 2015.
"Klopp is a fantastic guy. He has that different way of celebrating the goals, he's quite agitated, but he is an incredible person," he added.
"Liverpool got it right when they brought him here and certainly this club growth in recent seasons goes right through him.
"I hope that at the end of the season we can celebrate a title together to celebrate this excellent work developed by him."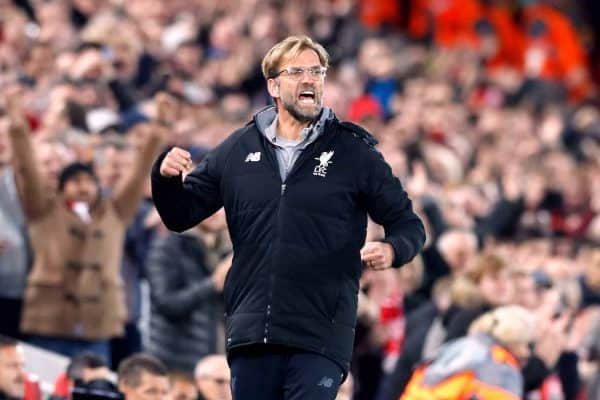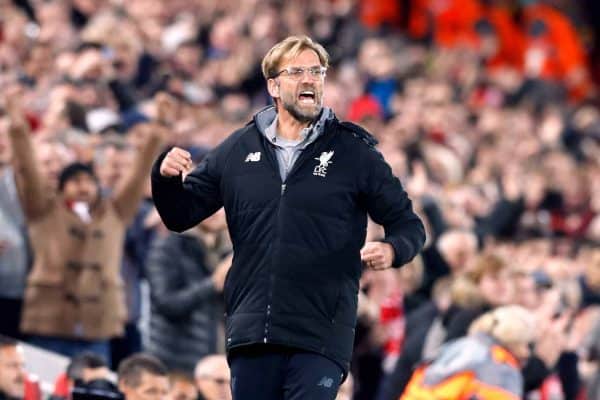 And Klopp's tactical work, shifting Firmino into his role up front and Philippe Coutinho into midfield to accommodate the arrivals of Sadio Mane and Mohamed Salah, was applauded.
"I think the manager's job is to find the best position for the athletes he has in the squad," Firmino explained.
"We have more players on the wings, like Mane and Salah, besides Philippe Coutinho, who plays a role of coming from behind.
"Klopp has been using this formation a lot and it worked. I hope the goals keep coming and Liverpool keep winning games."
If Firmino continues his excellent form for Liverpool this season, it is likely he will attract interest from elsewhere in Europe, but his devotion to the club is evident.
With Klopp at the helm, it seems that Firmino is looking to stay on Merseyside for the long term.