Jurgen Klopp quickly made Roberto Firmino a key player, and the forward's role has evolved significantly to the point where he's one of the most vital tactical components of his side.
Change is nothing new for the Brazilian attacker. Some, like his shirt number change from 11 to nine this season, are minor. Others, like moving to Germany while still a teenager, were rather more important.
Either way, Firmino is represented as a character who is adaptable and thrives off a new challenge—and that is showcased on the pitch in how he performs for Liverpool.
A big-money move from Hoffenheim placed both pressure and expectation on him, and while it took some time for the former Figueirense man to find a role to thrive in, he has gone on to become a guaranteed starter and a reliable presence.
As the Reds' centre-forward, there will always be a tendency to equate his goal tally to his success, but there's so much more to him than that.
Not least of all, being a lead tactical component in Jurgen Klopp's attack, allowing others to thrive and keep the team difficult to stop overall.
Evolution of Firmino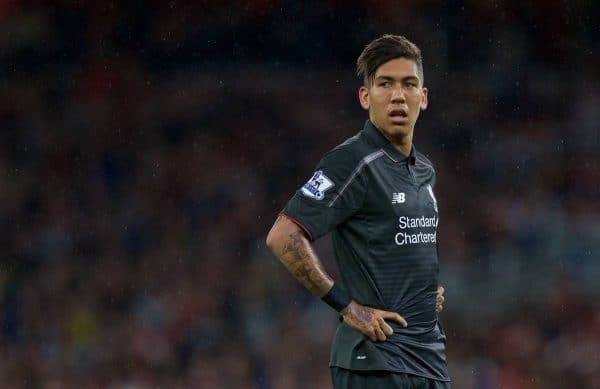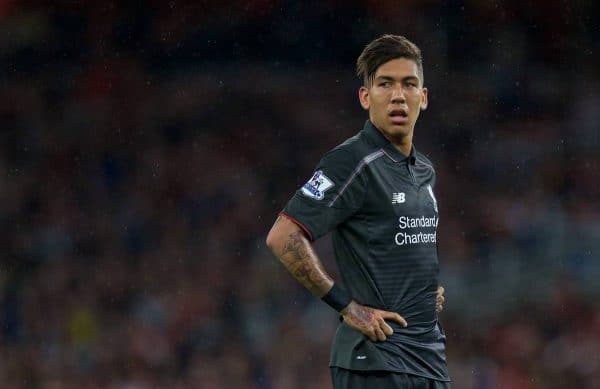 Early days saw Brendan Rodgers either not quite deem his new forward to be ready, or a little unsure as to how best use him.
It took until November for his first league goal to arrive in 15/16, and until Boxing Day for his first 90 minutes in the league—both after Rodgers had been replaced by Klopp.
The Ulsterman had featured Firmino from the flank more often than not, withdrawn after around an hour or else starting on the bench; Firmino never played more than 65 minutes in the league under Rodgers and it was only in the Europa League where he really got to play through the centre, usually as a second forward.
That had been his usual role at Hoffenheim too; not a pure 10 as such but a second striker, where his movement and work rate could see him both create and get into shooting positions.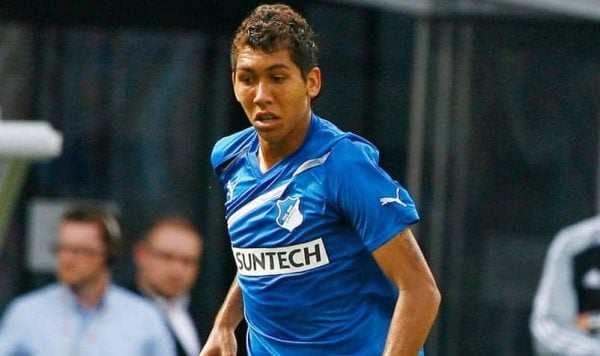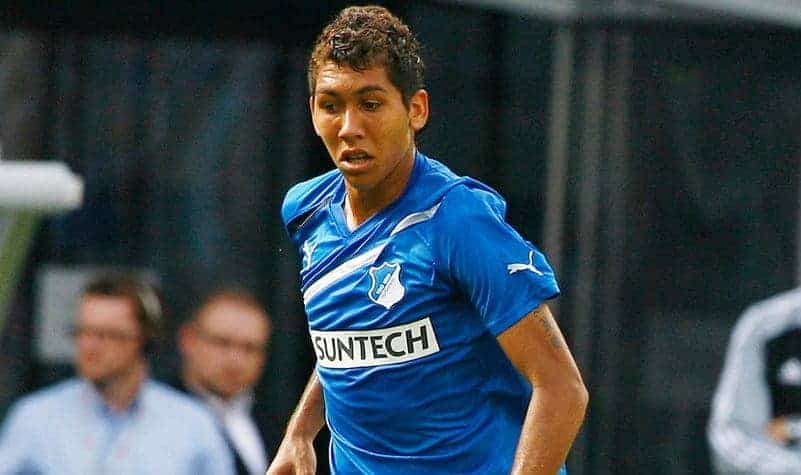 Rodgers never got anything like the best out of Firmino, but his problems at Anfield were already deep-rooted beforehand, perhaps making Firmino's integration more difficult. Tactically, Liverpool were already a mess.
In came Klopp and the system was quickly shifted to a 4-3-2-1, a precursor to the current regular lineup, with two attacking midfielders—then Adam Lallana and Philippe Coutinho—playing a narrow support role to a forward, which was Firmino.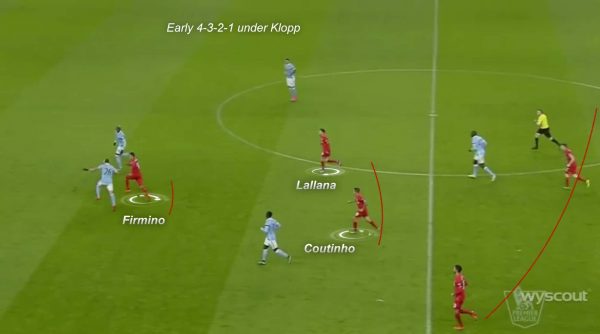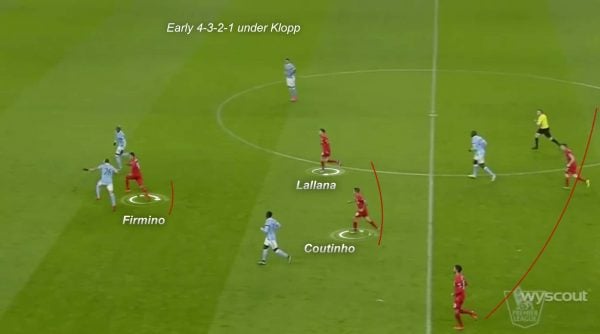 Putting Firmino further forward made use of both his technique and his work rate, with both he and Lallana frequently pressing and putting opponents under pressure in the early days under the German boss.
The addition of Sadio Mane sent the Reds to a more natural version of 4-3-3 in 16/17, albeit with narrow wide forwards rather than wingers, and Mohamed Salah has continued the trend this term.
Through it all, Firmino remains the central figure.
How he plays the position, however, has changed greatly.
Vital cog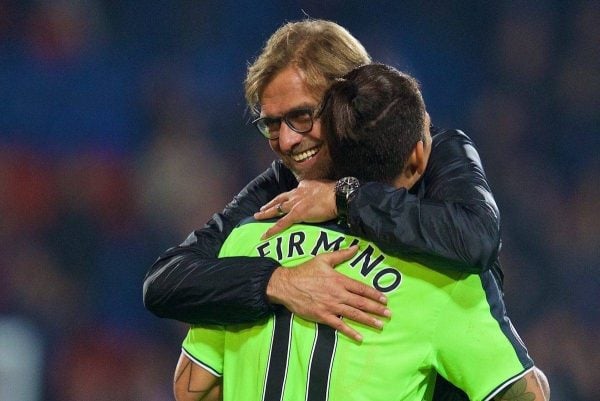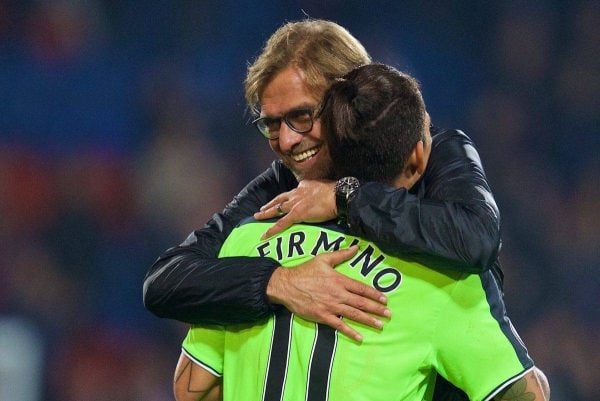 Highest upfield name though he might be, Firmino is one of those who simply won't be constrained by a designated position, knowing that he can be effective in multiple zones.
There are two main ways Firmino's movement aids Liverpool outside of him being a presence in the main goalscoring area of the pitch: quick, incisive link-up play with those already on the move, and creating spaces for others to exploit.
Speaking in terms of the attack, the channels have been both vital and a great source of success for the Reds under Klopp.
Attacking full-backs, overlapping central midfielders and the incredible pace of the wide forwards mean the team often manage to produce overloads in those areas of the pitch, and even when the numbers are equal or in the defending team's favour, speed and first touch are frequently decisive.
In the midst of it all, linking with each, is invariably Firmino.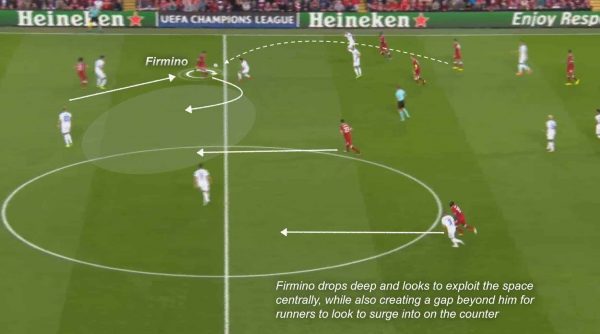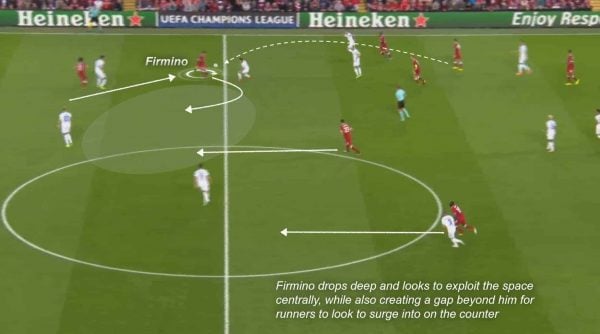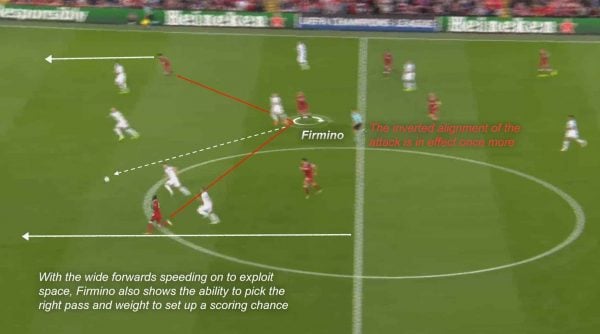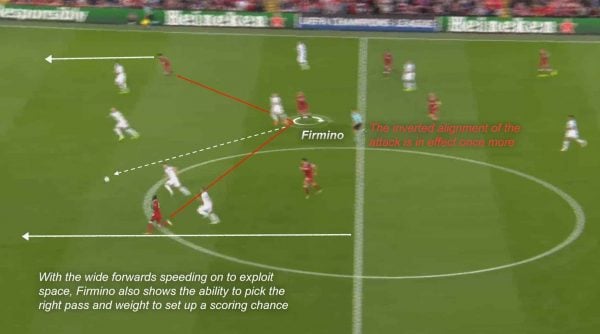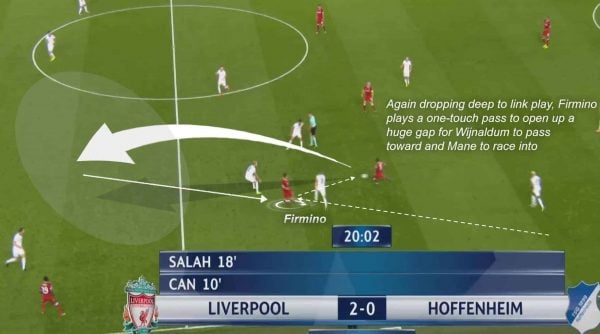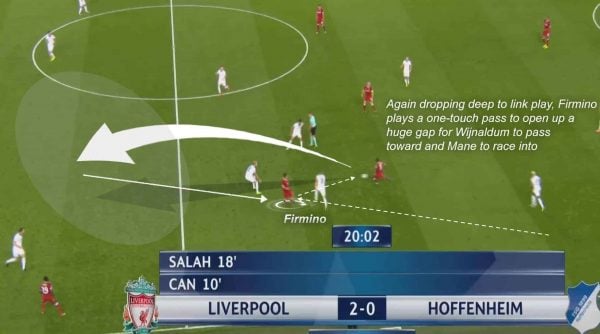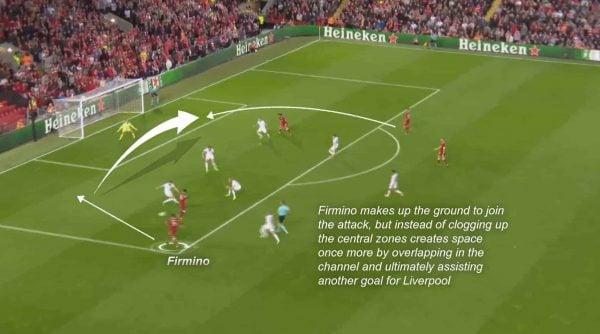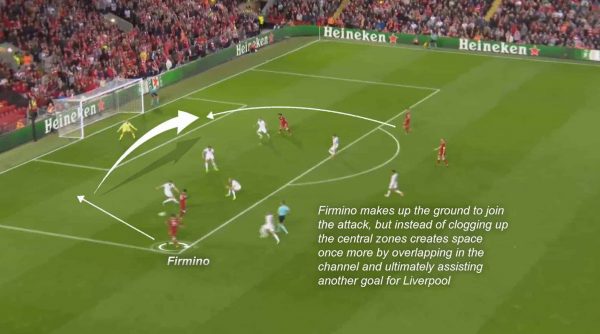 His knack of pulling wider or deeper into spaces is difficult to track for defenders; do they pass him on when team-mates are watching play unfold already? Or go with him and risk leaving a gap in the middle?
He finds space, plays it on, lets those on the move already get beyond the opposition back line.
Without that intervention from Firmino, an organised back line is difficult to break through; with him involved, fast-paced attacking play can look exquisite and intricate.
Much has been made of the success Klopp has had with his two wide signings, Mane and Salah.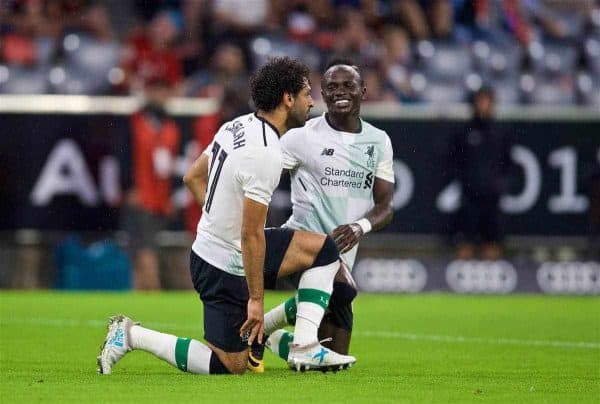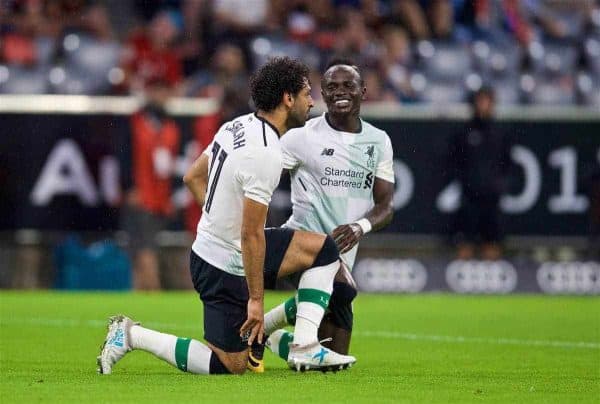 It's absolutely right that they should receive praise for the way they have settled into the team, but overlooking Firmino's contribution too their success is easy.
Pace is key for both those players, far more than for the Brazilian—but he knows how to let them exploit it.
Nominally, they start from wider and deeper areas than the centre-forward, but such is the interchangeability between them that Firmino manages to invert that offensive triangle, essentially switching Liverpool's 4-3-3 into a diamond shape in-possession at times.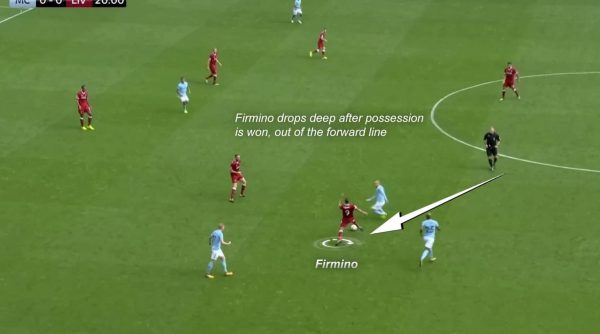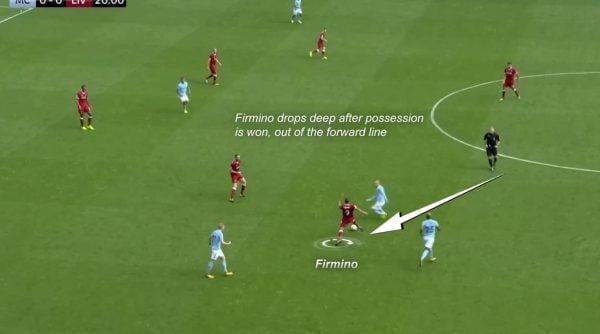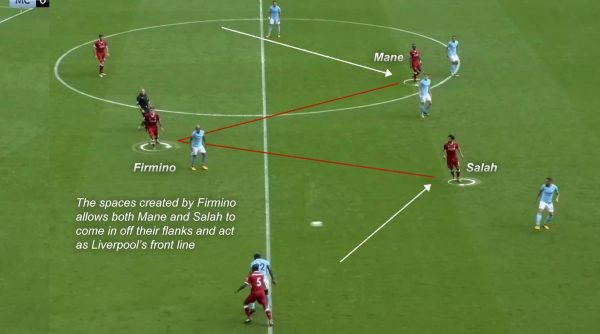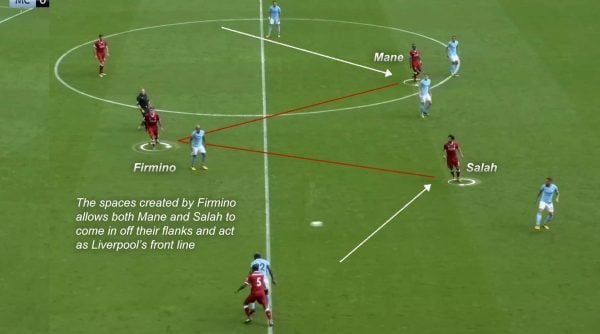 Suddenly, the Reds are attacking with two of the league's most lethal and explosive forwards in tandem, and chances come with frequency.
Speed is great, finishing is important, ruthlessness can be devastating, but for a truly elite forward, movement—anticipating, not reacting, to the game—is the greatest asset an attacker can possess.
It's one of Firmino's best traits, whether dropping deep or running in behind to exploit space himself, and others benefit from it continuously.
Arguments against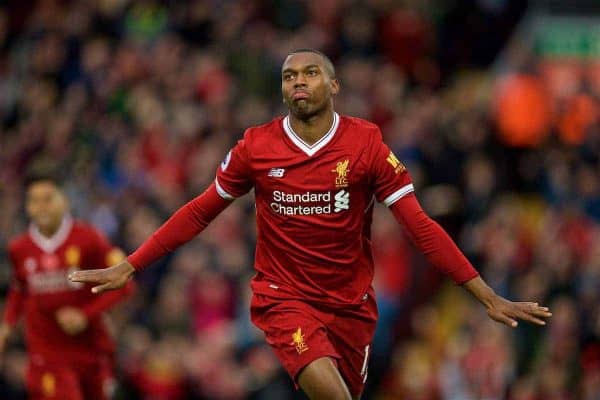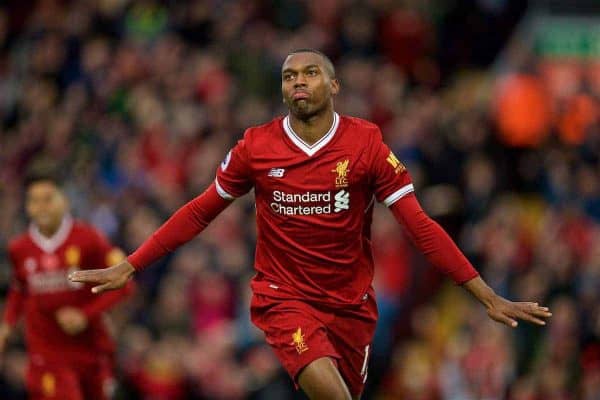 There will always be those—fans, managers—who prefer a true centre-forward to sit on the shoulder, make constant runs behind the defence to stretch play and be a killer in the box.
Those forwards are rare, expensive and incredibly important parts of the squad, and the Reds have one in Daniel Sturridge.
For Klopp, he's a secondary option, seeing plenty of game time but not a guaranteed starter.
It's not difficult to see why some would prefer him in the team more often, given it's his more natural role, his career goal tally and how he can—at his best—beat defences alone, but Firmino is so well-rounded that he can do every job…just not all at the same time, of course.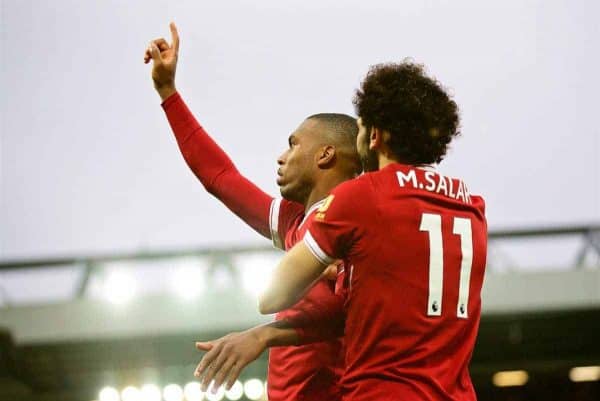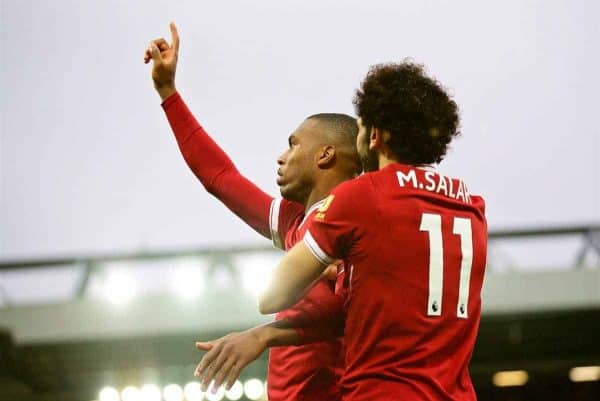 There is, however, definitely a case to play Firmino with another forward; if Klopp had opted to replicate his Dortmund system, playing one off a striker, it's likely that Firmino-Sturridge would be a regular sight at Anfield.
In a true starting diamond or in a narrow, inverted 4-4-2 as was seen against West Ham, Firmino can also be paired with another centre-forward—Salah on that occasion.
But it's always Firmino-plus-one, and it's neither coincidence nor favouritism which makes it so.
The Reds' No. 9 brings so much to the table that no matter the style, the formation, the approach or the team-mates, he is one of those who helps make everybody play their own role better.
He's critical to Klopp's plans, central in every way to the team, and the best performers at Anfield invariably have much to thank him for when they take the headlines.
MORE TACTICS: 4-2-2-2 formation is the future for Jurgen Klopp – and it may have been long in the planning