Jurgen Klopp was left baffled after his Liverpool side saw a 3-0 lead slip away to eventually draw 3-3 at Sevilla in the Champions League on Tuesday.
The Reds were riding high at half-time in Andalusia after two goals from Roberto Firmino and a Sadio Mane strike, but their luck changed after the break.
Ben Yedder nodded past Loris Karius to make it 3-1, before Alberto Moreno conceded a penalty to allow the Frenchman to complete his brace.
And with the Reds looking to hold on in the closing stages, a corner fell to Guido Pizarro to seal a dramatic draw for Sevilla.
After watching his side fail to make it to the last 16 of Europe's top tier with one game spare, Klopp lamented their drop-off in quality on the ball.
"The most obvious [explanation] is very good first half, not very good second half," he told BT Sport.
"We stopped playing football in the second half. When you're the 'winning' team you should avoid it, and we didn't. We came back and had our chances again, but we didn't use them.
"It was absolutely OK that we were confident after that first half, but in two situations we were obviously too late.
"Not only Alberto [Moreno], the formation was too late in this situation. That's obvious what we did.
"The real problem is we stopped playing football, we had to close the game; 3-0 is a wonderful result, but you have to stay in the game.
"Fifteen minutes is a long time, you can score 10 times if you want. We wanted to control it, but we got passive, a little bit too deep.
"They fought back, that's a credit to them. We have to give it to them."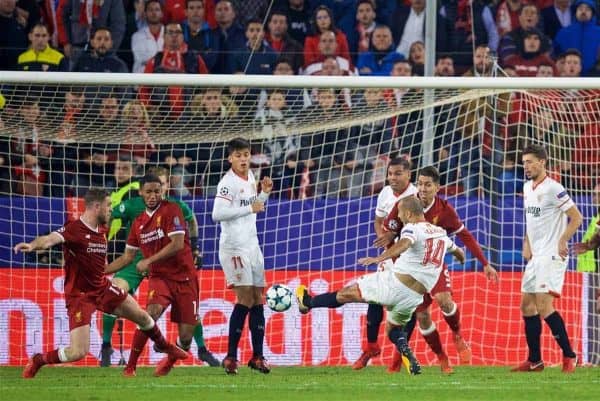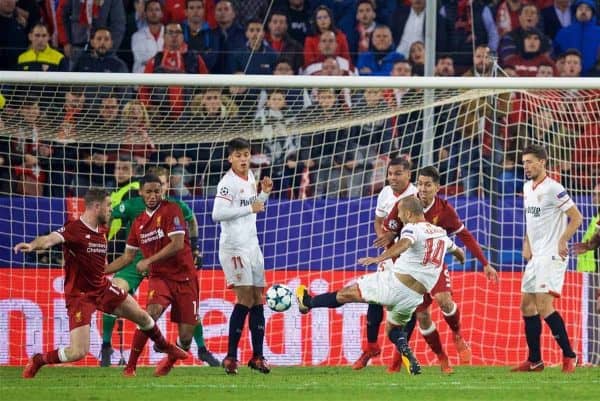 Klopp also paid tribute to the atmosphere in the Estadio Ramon Sanchez Pizjuan, with the Andalusia crowd roaring Sevilla back into the game.
"This place, it would've been the same at Anfield," he claimed.
"It feels like we lost, but we didn't lose. It's a point. There are two games to go [in the group], it's in our own hands. But in the moment it feels really bad."
The Reds' final game of Group E comes at home to Spartak Moscow on December 6, with Klopp's side now needing to take at least a point to ensure their place in the knockout stage.
After Tuesday night's capitulation, the challenge has been laid out for Liverpool.