Philippe Coutinho has named two ex-Liverpool stars in his dream 5-a-side team of players he has featured alongside in his impressive career so far.
Coutinho has enjoyed a burgeoning career with Vasco da Gama, Inter Milan, Espanyol and, most importantly, Liverpool, while he has taken up key status on the international stage with Brazil.
The 25-year-old has, therefore, played with a host of top-level talent, and sitting down with Soccer AM, Coutinho picked a 5-a-side team of the best players he has turned out with.
Closing in on the fifth anniversary of his move to Merseyside, the midfielder speaks with impressive English as he discusses his selections.
Two Brazilians make up his defensive duo, with Julio Cesar in goal and Lucio in defence, though Coutinho suggested Jamie Carragher could have also made the cut.
In midfield there was only one choice, with Coutinho opting for Steven Gerrard, who he played alongside for two-and-a-half seasons.
"I learned a lot from him, when I arrived here it was like a dream to play with a guy who I used to watch in Brazil and used to play Playstation as him," he said.
"Stevie G is the best midfielder, much better [even than I thought], he was an idol for me and for everyone who watched him play.
"When we were together in the dressing room, seeing him training, he's different, even better."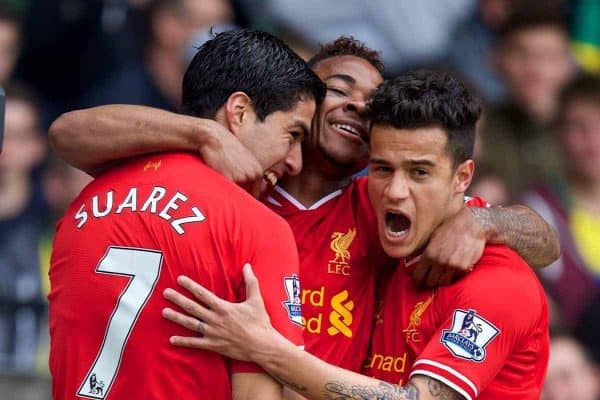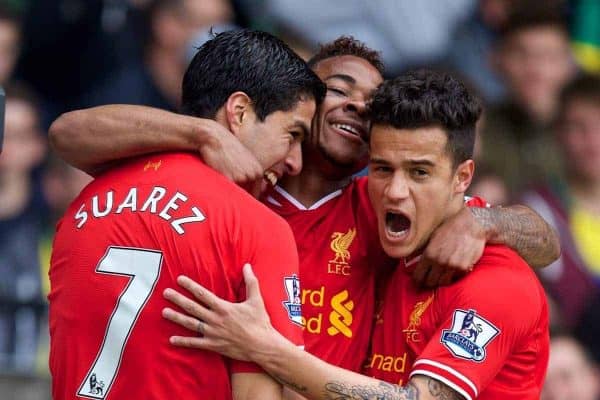 And alongside his compatriot, Neymar, in attack Coutinho chose former Liverpool team-mate Luis Suarez, saying "he's a top player, he's a killer in front of goal."
"He's really nice, a family guy. He also helped me a lot when I arrived here," he explained.
Asked who would captain his side Coutinho didn't hesitate to give Gerrard the armband.
But he overlooked Jurgen Klopp as coach, instead handing Brazil manager Tite the duties.