Liverpool produced a convincing performance as they won 3-0 at Stoke City on Wednesday, so where was the game won and how can they improve?
The Reds took headed down the M6 on the back of consecutive draws with Sevilla and Chelsea, but having gone unbeaten in their previous six games.
Jurgen Klopp made six changes at the bet365 Stadium, and was rewarded with a controlled display and three points through Sadio Mane's opener and substitute Mohamed Salah's brace.
Liverpool have not lost since their 4-1 humbling at Tottenham in October, and now look ahead to an eight-game run in December with a positive outlook.
But what can we learn from the Reds' midweek win? Where did Klopp's side shine and what went wrong?
Here, This is Anfield writers Jack Lusby (@jacklusby_), Matt Ladson (@mattladson) and Henry Jackson (@HenryJackson87) discuss the positives and negatives of the performance, as well as the merits of Klopp's rotation.
The good…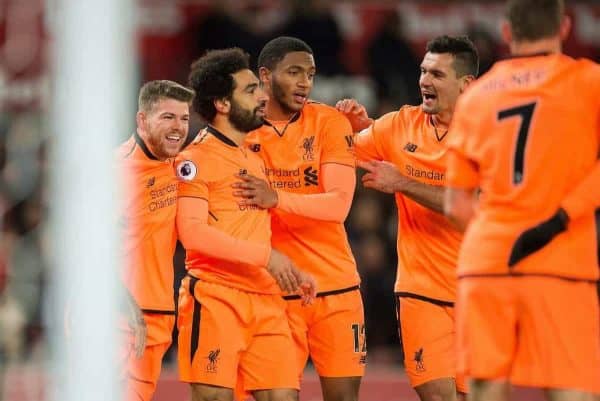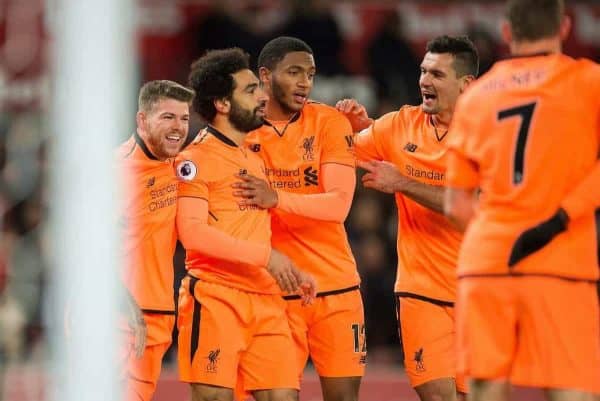 JACK: I feel like it was a very similar performance to last Saturday; Liverpool were well structured, controlled in possession and were patient in their approach in attack.
The way in which Klopp reacted, first with his team selection and then with a change of approach when Stoke came out the blocks after the break, was really impressive too.
Obviously Salah was the star, even though he played 23 minutes, but I'd like to reserve praise for Oxlade-Chamberlain and Solanke.
Oxlade-Chamberlain was bright, industrious and used the ball well throughout, and Solanke was excellent on his Premier League debut—he continues to surprise.
MATT: A 3-0 win. The jokes about winning on a cold Wednesday night at Stoke actually have a point in this case.
Maybe, just maybe, we're learning to 'beat the dross' and worry less about putting all our energy into beating the top-six sides, which then results in weakened performances against the lesser sides, creating a negative mindset of uncertainty.
I'd rather win 3-0 against Huddersfield, Stoke and Co. and draw with Chelsea, than beat Chelsea and drop points to Stoke or Huddersfield like we did last season in games against Bournemouth, Swansea, Hull and Palace.
Beating the top six means little if you don't get efficient victories elsewhere.
I like this 4-4-2/4-2-2-2 formation away from home, especially without Henderson in it. Although, the midfield continues to be an issue and Moreno was again given no cover for the first half.
At least Klopp recognised this by putting Milner on to help him later on. So there's another good: the subs, they were much better!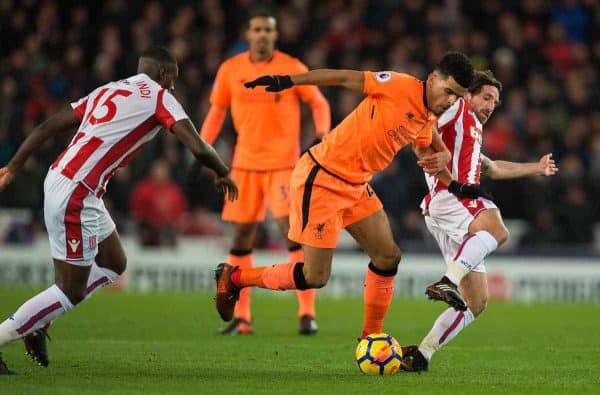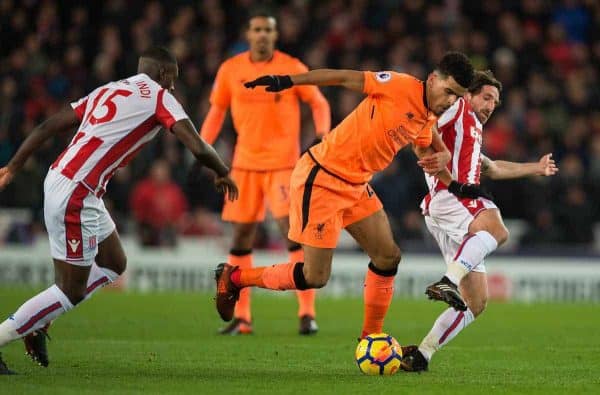 HENRY: Another solid win, simple as that. That's now four wins out of five in the league, at an aggregate of 14-2—only Willian's late fluke stopped it being five on the spin.
Liverpool generally bossed the game throughout, and there was a vibrancy to their attacking play that hasn't always been on show away from home this season.
I thought Solanke was really impressive and cut a mature figure—he looks a better option than Sturridge now, in my opinion—and Mane and Firmino were also very sharp.
Then there's Salah, of course, who is the best player in the country at the moment, along with De Bruyne. Seventeen goals already is just astonishing. One of the bargains of the century!
The bad…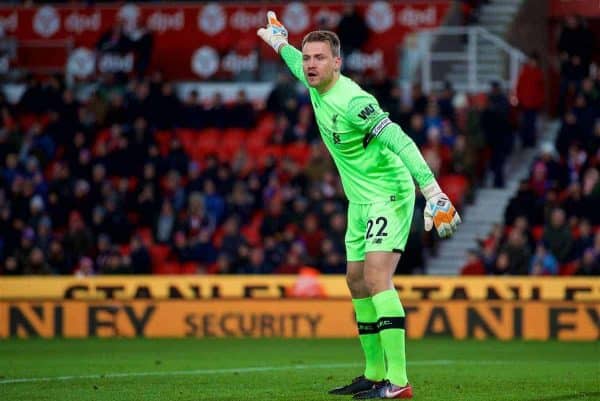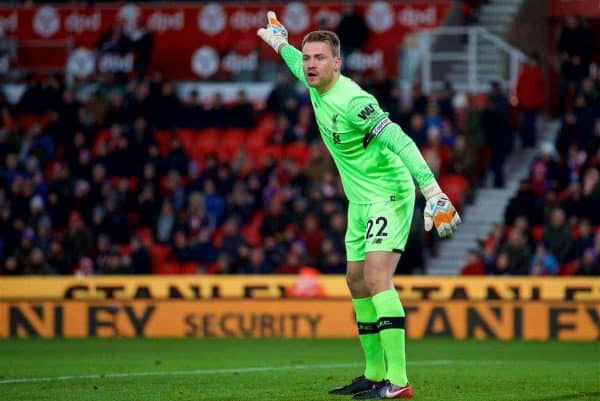 JACK: There are few negatives, really. The way in which Moreno was exploited in the first half, despite performing well, was a concern but Klopp altered his setup to sort that.
It may be pernickety, but to disagree with Henry it could be argued that Mane is still finding rhythm, and both he and Solanke should have buried their chances one-on-one with Grant in the first half.
But given it was a 3-0 win it's hard to really pick flaws in that performance, bar Mignolet's wobble, of course…
MATT: Hard to look at the negatives without mentioning Mignolet. Reckless, poorly timed and will always undermine what's in front of him.
Much like we won't win the big trophies with Henderson as our captain and holding midfielder, we won't with Mignolet in goal.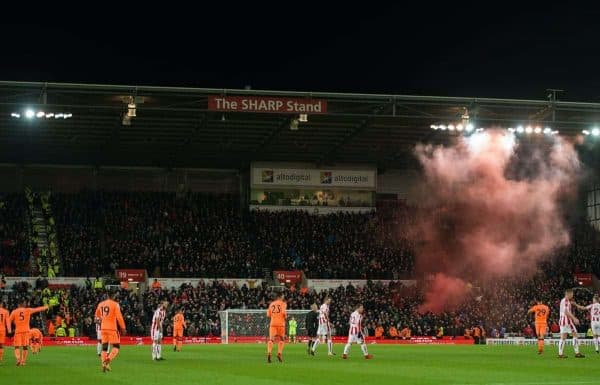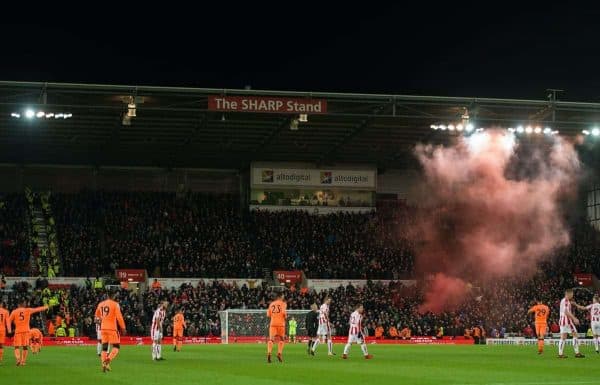 HENRY: I thought we were once again shaky at the back, and there aren't many signs of that going away any time soon.
Mignolet's foul was unbelievably reckless, and once again showed that a mistake is never too far away, and Allen should have scored twice.
The way in which Moreno was left isolated was also a worry, with Mane not always doing his share of defensive work and midfielders not coming across to help.
It's too easy to create chances against the team, and every high ball into the box seems to cause mayhem.
The positives definitely outweighed the negatives, though.
Thoughts on Klopp's rotation?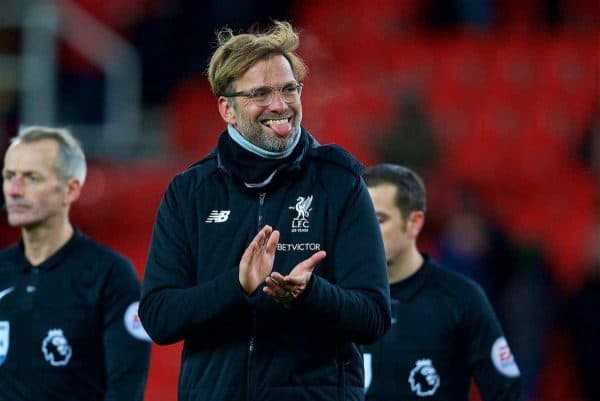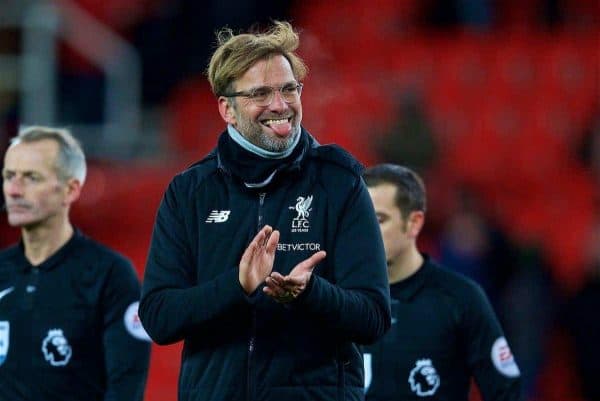 JACK: I'm really impressed with the way Liverpool have performed despite Klopp making five and six changes respectively in the past two games. There's been a consistency to their performances, showing the improved depth of the squad.
Lesser lights like Oxlade-Chamberlain and Solanke have been able to pick up the slack, while Klopp's use of substitutes on Wednesday night was encouragingly proactive.
Resting Salah was a wise move, as he's not used to playing without a winter break—and as he proved, he can still change a game in less than half an hour!
MATT: I was surprised early on in the season—Sevilla at home in particular—that he didn't use one of Mane or Salah from the bench.
Instead, we ended up with both of them looking knackered on 60 minutes and we invited pressure in the final 30 minutes and threw away points. So I'd like to see this happen a lot more.
The rotation this last two games has been good and thankfully it's paid off in results. I'd like to see Robertson start though, maybe he does on Saturday.
Big clubs do this. We have a good squad and need to rotate wisely through winter. We'll get the rewards in spring then too.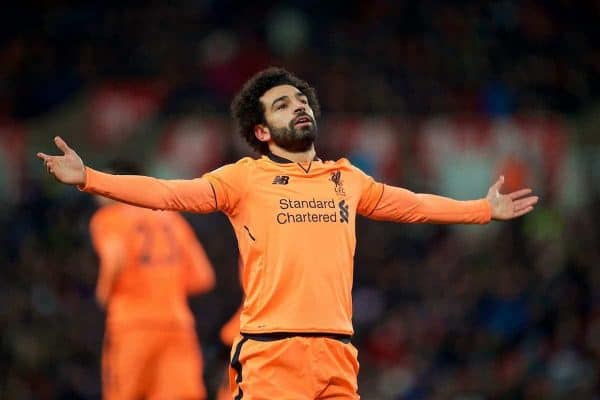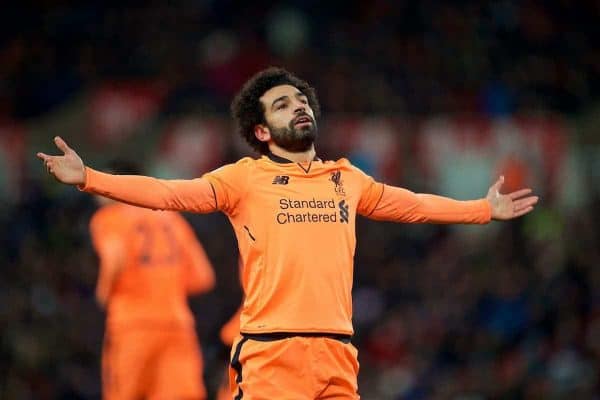 HENRY: Klopp has done really well with it in recent weeks. Every decision he has made has pretty much paid off, and it is essential Liverpool's best players stay fresh.
To be able to name a substitutes' bench that includes Salah, Coutinho, Sturridge, Milner and Henderson against Stoke, and not even use Coutinho, shows that the manager has built a really good squad, apart from at the back.
Taking out two of the much-famed front four and playing the other two has not been an issue of late, and they will all benefit from the rest come May.
Some supporters will never be happy—they lose their heads when no changes are made, then complain when key players are missing—but Klopp is utilising his squad expertly right now.
What's going on with Robertson, though? He has to be playing, both in terms of his progression and easing Moreno's workload.