Liverpool and Arsenal fought out a breathless pre-Christmas draw, with the Reds taking a point from London in a 3-3 draw which swung back and forth.
Arsenal 3-3 Liverpool
Premier League, Emirates Stadium
December 22, 2017
Goals: Sanchez 52′, Xhaka 55′, Ozil 57′; Coutinho 25′, Salah 51′, Firmino 71′.
---
Simon Mignolet – 3 (out of 10)
Had absolutely nothing to do in the first half other than collect a few back-passes, overhit crosses and deflections.
Beaten with Arsenal's first shot on target, Alexis Sanchez's header which he could do nothing about, but the second was all down to Mignolet.
Granit Xhaka's long-range strike was fierce, but central and utterly straightforward to stop.
Mignolet had no need to jump, absolutely should not have gone with a single hand, and paid the price conceding a cheap equaliser.
Worse still, he did nowhere near enough to deter Mesut Ozil moments later—three goals conceded in five minutes for the Belgian, from three shots.
Joe Gomez – 6
Made a good early block on Sanchez to set the defensive tempo for the half.
Supremely confident in possession and never fazed when closed down, even if he has to turn onto his left foot or back toward goal.
Guilty of one poor moment in the second half as he switched off from a cross, and it resulted in Sanchez heading home from close range.
That moment sparked a shambolic turnaround in the scoreline and underlines the importance of being switched on for the entirety of 90 minutes, even for young players.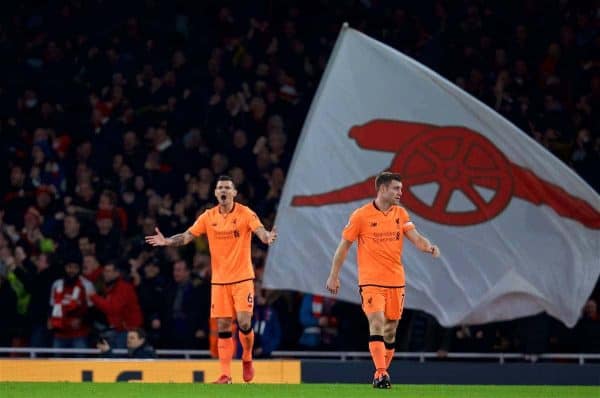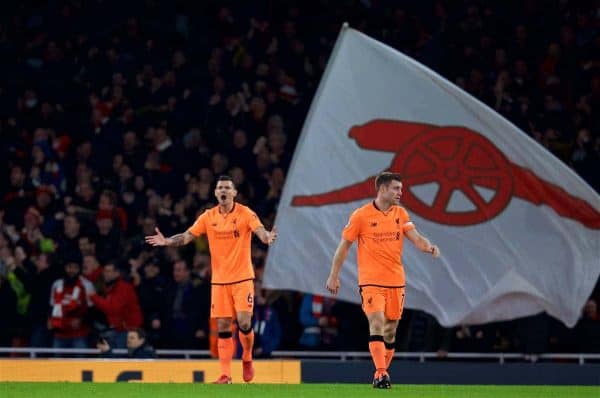 Dejan Lovren – 6
Clearly and comfortably better on the right of centre. Did the basics well in the first half-hour, but should have had an assist with an easy pass across goal.
He missed his connection though, and the chance to double the Reds' lead before the break was gone.
Two more big defensive interventions were required by Lovren before half-time though to keep the Reds ahead at the break.
While he wasn't directly at fault for any of the three goals, Lovren also didn't have himself in key positions to deflect the danger: the cross for the opener, the passing move for the third.
Ragnar Klavan – 5
Neat and tidy, not too heavily involved in the early stages. Kept it straightforward when in possession.
That changed after the break; Klavan was drawn out of position, gave the ball away trying to pass too quickly and failed to make a meaningful challenge as Arsenal turned the screw.
Did well to hold up Alexandre Lacazette in the closing moments as danger loomed.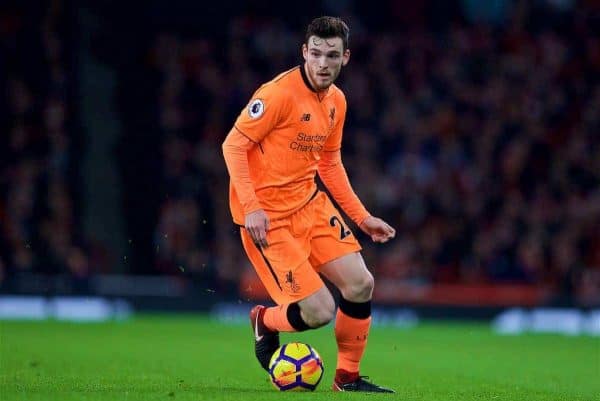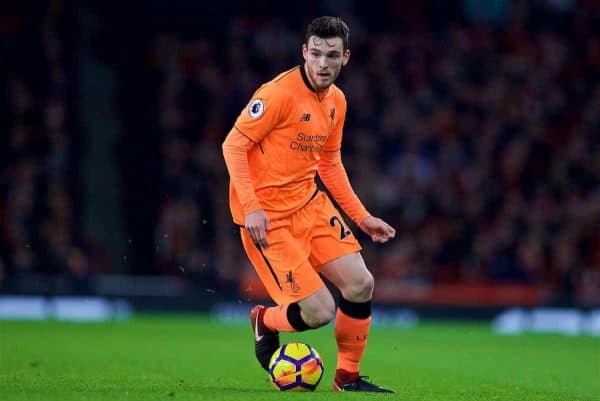 Andrew Robertson – 6
Quick on the cover defensively when called upon in the opening stages.
His early deliveries from the left were intelligent in intent, but lacking in execution—notable when he floats crosses rather than whipping them in low.
Whether it was his lack of game time this term, the culmination of recent minutes with his run in the team or just being asked to play in such a big game, he was on the periphery throughout the second half.
Beaten on the overlap and couldn't stop the cross more than once.
Jordan Henderson – 6
A hamstring injury ended his participation just 10 minutes in.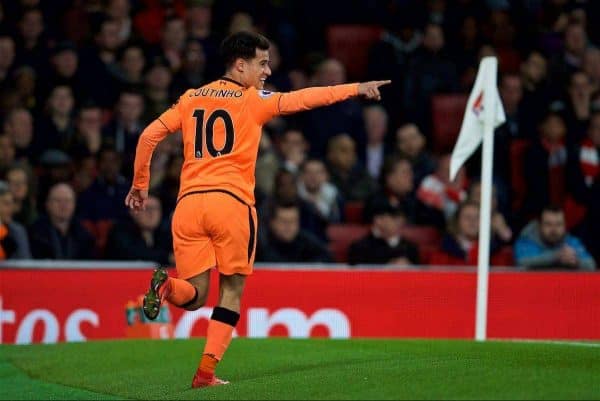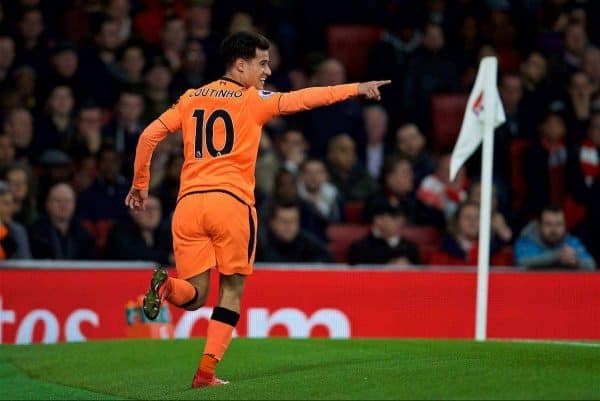 Operated from the right of the midfield three rather than the left, linking neatly with Mohamed Salah.
Found space between the Arsenal lines to free passes into the right and left channel when making darting runs toward the centre of the pitch to receive possession.
A rare headed goal opened the scoring but the really impressive aspect of it was his enduring speed and determination to stay ahead of Arsenal's back-tracking central midfield duo.
Always the one to look firstly to the forwards and try to search out a dangerous run into space.
Emre Can – 7
A busy and industrious performance; Liverpool needed someone to be something of a disciplined rock in midfield in this fixture and Emre Can gave it to them.
Not every intervention resulted in a successful tackle or pass, but he continually forced Arsenal back or wide, or at least held up the attack in the first half.
After the break though he was involved, or not involved when he should have been more to the point, on two of the goals: not closing down Xhaka, and not tracking the run of Ozil.
Still, it was a good all-round display from Can, one of the more consistent on the pitch throughout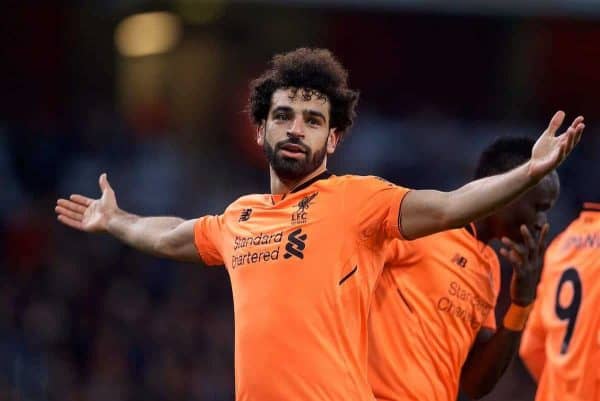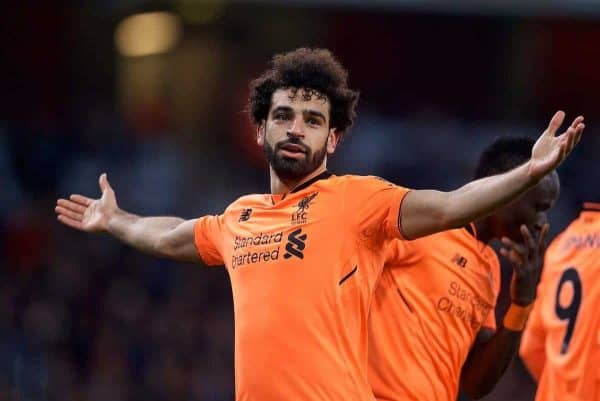 Mohamed Salah – 7
Off the boil in the opening stages, unable to beat his man or really find telling runs in behind a deep Arsenal back line.
Even so, the first time he was able to race in behind and isolate a defender, Salah conjured a goal, teasing Koscielny and passing in to Coutinho via a deflection.
The league's top scorer passed up a couple of great chances before the break, denied one-on-one by Petr Cech and then mis-kicking moments later.
Five minutes after the restart he rectified those errors with his 15th league goal of the campaign with a curled, slightly deflected, finish on the run.
Sadio Mane – 6
Lively and keen to get involved in the first half, even if he wasn't picking up the ball in incredibly dangerous areas.
His first touch was good and he turned opponents well in one-on-one situations, though Mane again missed an enormous chance to score just before the break.
A rebound falling to him with no goalkeeper should have been controlled and finished, but Mane opted for a spectacular overhead kick—and missed the target.
In the second half he missed a good volleyed chance at the far post and spurned two great counter-attacking opportunities.
A frustrating time for Mane and he perhaps needs to get his decision-making and execution right before trying his flicks and outrageous turns and shots.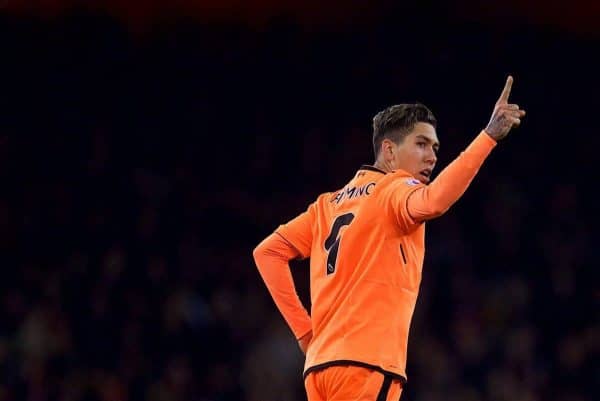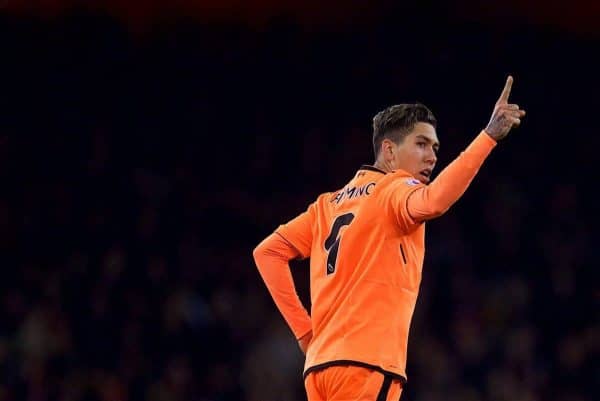 Roberto Firmino – 8 (Man of the Match)
A few early attempted passes failed to open up Arsenal's defence or find a team-mate—then he was within a combined 20 centimetres of scoring two headers, one saved at the near post and one just wide of the far.
Another curled effort went close—just over the bar—as Firmino's movement began to really cause Arsenal problems as the game wore on.
His influence as a creator is near-unstoppable and his movement, dragging two defenders away, then his pass through the centre set away Salah for the second goal.
Firmino got his rewards when a fierce struck wasn't dealt with by Cech, bouncing in to equalise at 3-3.
Starting XI Average Rating: 6.18
Substitutes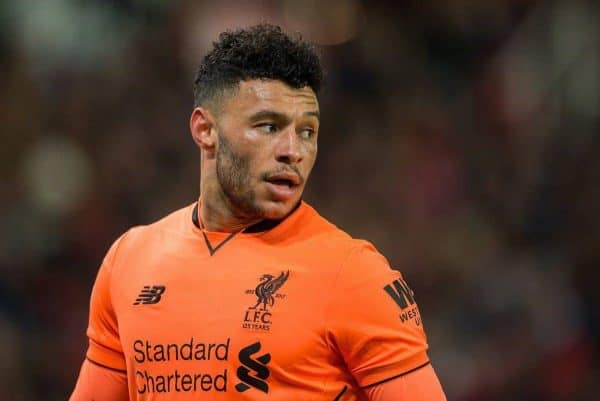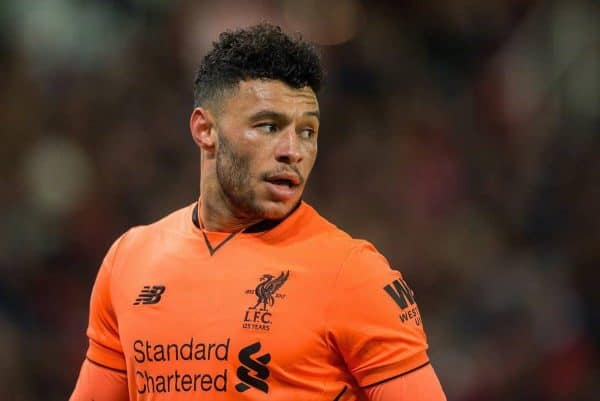 James Milner (on for Henderson, 10′) – 7
Called upon earlier than expected and went straight into central midfield.
His short-range passing was neat and one direct pass down the channel set away Salah for the opening goal, the first time any Red had really freed the Egyptian on the counter.
Worked hard as expected and kept closing down and making challenges throughout the second half.
Gini Wijnaldum (on for Mane, 79′) – N/A
Alex Oxlade-Chamberlain (on for Coutinho, 83′) – N/A
Subs not used: Karius, Alexander-Arnold, Lallana, Solanke
Manager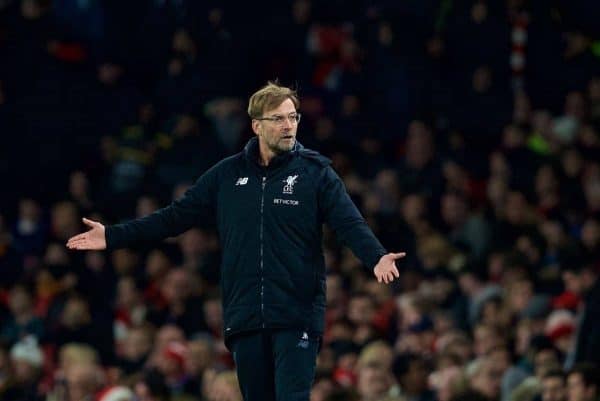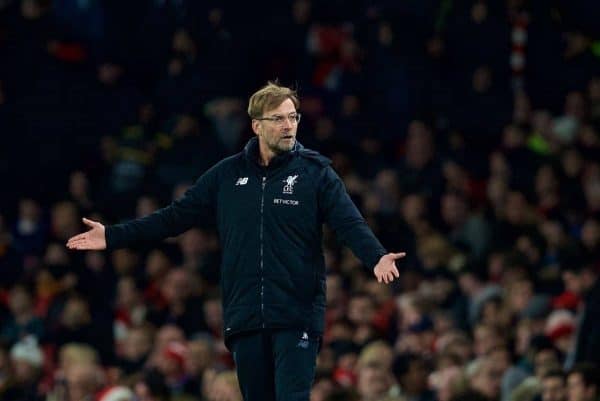 Jurgen Klopp – 7
A tough game for Klopp to watch no doubt, because he got it absolutely spot-on in terms of starting tactics.
Liverpool dominated, created chances and should have been about three or four goals up by half-time, and when the Reds went two clear that should have been the end of it.
But, the Reds have a self-destruction tendency, and Klopp has to acknowledge that when it's painfully obvious that an incoming implosion is imminent, he does very little to stem the tide.
He showed strong reactions in changing his system, however, particularly to a back three following the introduction of Wijnaldum late on, but the damage was unfortunately done.
It's a combination of not enough leaders on the pitch and Klopp perhaps not yet having convinced his players that they are as good as he believes they are.