The Merseyside derby ended in huge frustration for Liverpool after a dominant display only earned a point in a 1-1 draw with Everton.
Liverpool 1-1 Everton
Premier League, Anfield
December 10, 2017
Goals: Salah 41′; Rooney (pen) 77′
---
Jurgen Klopp continued his winter policy of rotating players and made several changes for the Anfield clash.
Alex Oxlade-Chamberlain and Dominic Solanke were among the surprise starters and the Reds utterly dominated possession in the first half, with the visitors barely venturing into Simon Mignolet's half of the pitch.
Such a packed defence meant clear chances were hard to come by though, with wayward long-range strikes a continuing theme.
Just when it looked as if the teams would head into the break all square, Mohamed Salah suddenly escaped his man in the box and pinged a beauty into the top corner for 1-0.
It could, and should, have been two before the interval, but Sadio Mane squandered a great chance to pass to a team-mate with three waiting for an open goal, instead firing wide.
Chances in the second half saw Mane's overhead kick saved, Joe Gomez head over and Philippe Coutinho go close from a free-kick, but the Reds couldn't find a second.
And out of nothing, it cost them. A long ball forward saw Wayne Rooney cross, then Dominic Calvert-Lewin get his body between Dejan Lovren and the ball.
Contact was minimal but the ref gave a penalty, which Rooney dispatched to create frustration on the red half of Merseyside.
Here are the biggest talking points from the 1-1 draw.
Milner & Oxlade-Chamberlain Impressing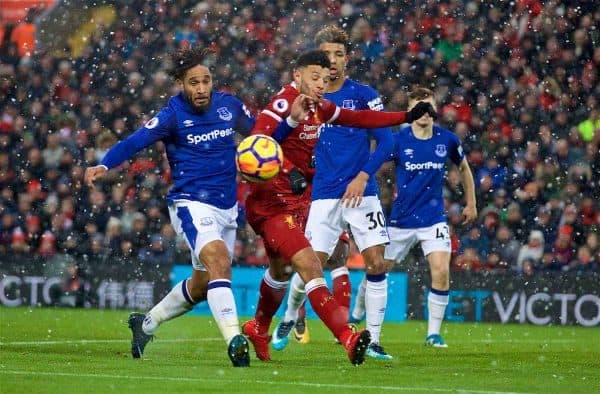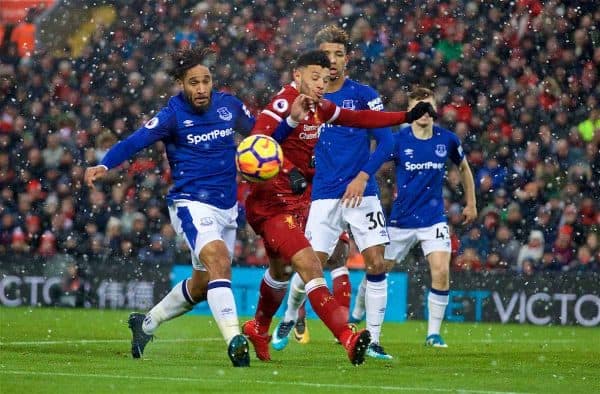 Changes once again in midfield meant new opportunities to impress, and both the vice-captain and the summer signing took theirs.
James Milner was important and effective, if not particularly incisive, in a first half that the Reds dominated thanks to his shuttle runs into the channel.
Against a packed defence, Milner widened the area to play in and he showed more movement than most to try and create quicker passing opportunities.
Oxlade-Chamberlain, meanwhile, put in one of his best displays in red so far, playing a hybrid role between central midfield and runner into the wide areas.
His closing down, delivery into the box and general approach to the tactical role was excellent, and he again served notice of his ability to be a regular player in big matches for Liverpool.
Unstoppable Salah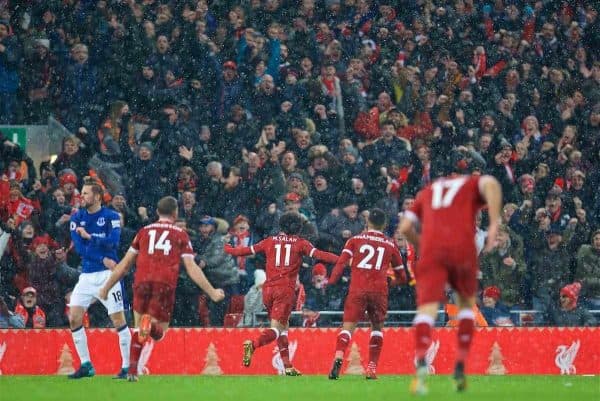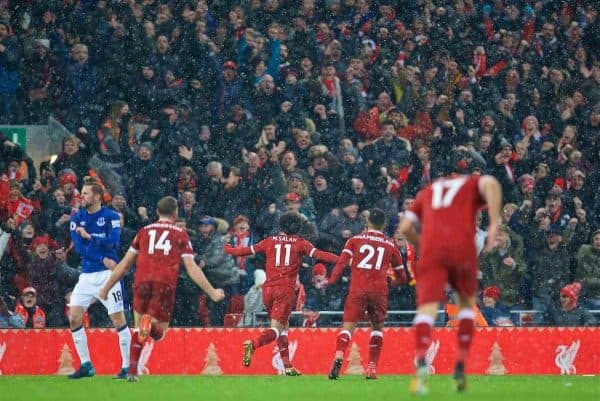 It would have been an irritating interval if not for the intervention of the Egyptian, but Salah once again came up with a moment of pure inspiration.
A 19th goal of the season came out of nowhere thanks to a combination of his aggression, skill on the ball and instinctive will to go for goal.
Two challenges were bypassed and the ball unerringly sent into the far top corner for his goal and Salah frequently looked the best chance of a second strike for Liverpool, with openings not really falling kindly for Solanke and an off-form Sadio Mane.
It should be acknowledged that Salah isn't just scoring 'icing on the cake' goals, but vital ones or opening strikes in matches, an extremely important trait.
On the flip side, it's a disappointment for the Reds that—despite all the other offensive players on the pitch across the 90 minutes—nobody else truly threatened to find the back of the net.
Salah's talent is superb, but the side the Reds are building should be able to avoid an over-reliance on him.
Risky Rotation or Time to Accept the Squad?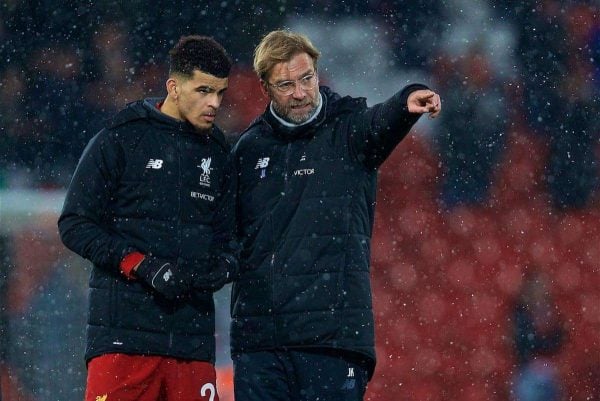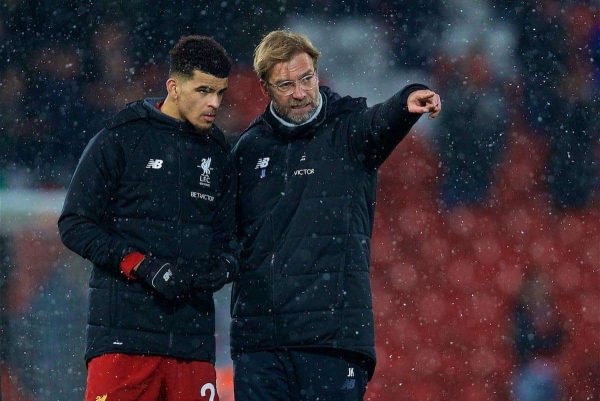 Klopp can't be criticised for the dropped points on this occasion, not in the slightest—but perhaps there can be a question over his substitutes this time.
The boss has rotated well over the last few weeks, making four, five or more changes each time to keep key players fresh and fit, and the approach has brought consistent victories.
But just one goal up in the derby, taking Salah off when Mane was underperforming and still 25 minutes remaining might not have been the best move.
Still, given the impact made in recent games by the likes of Oxlade-Chamberlain, Ragnar Klavan, Trent Alexander-Arnold and others, it should be accepted that there is far better depth available than in recent seasons.
Liverpool can't win every match, no matter what the XI, and although it's incredibly annoying to not pick up three points in the derby of all matches, the overall approach is still correct.
Changes must be made, key players are sharing minutes to ensure freshness across the months ahead, and the Reds are still not losing ground with teams around them.
Joe Gomez, Master of All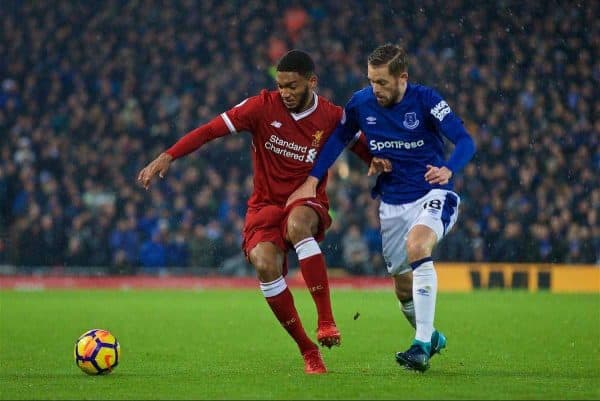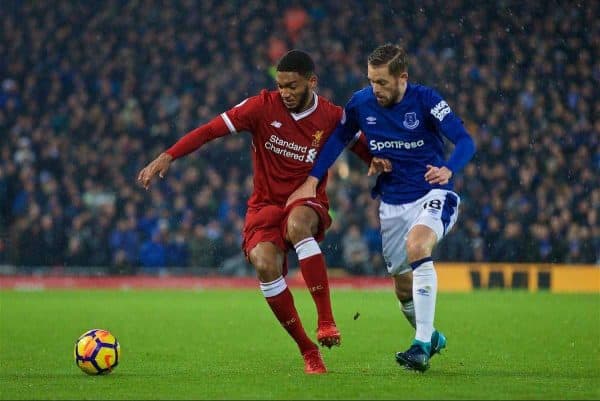 Amid the sea of frustration at full-time, context and remembering the entire 90 minutes is important.
In looking for a Man of the Match in a game Liverpool dominated possession and territory, yet failed to win, a full-back might not be the obvious choice—but Gomez was phenomenal.
Playing on the right of the back four, Gomez was so often one of the first to be aggressive in looking to regain the ball for the Reds, tackling quickly and squeezing play upfield.
Gomez was intelligent with his use down the right, overlapped at the right time and played short infield rather than crossing relentlessly and was always an outlet on the break.
One crunching early tackle showed his determination for the cause, but he also played with great maturity against the long balls from deep and counter-attacking possibilities.
An immense all-round display and he deserved far better than a sloppy moment at the back squandering the points.
Fine Margins & the Importance of Ruthlessness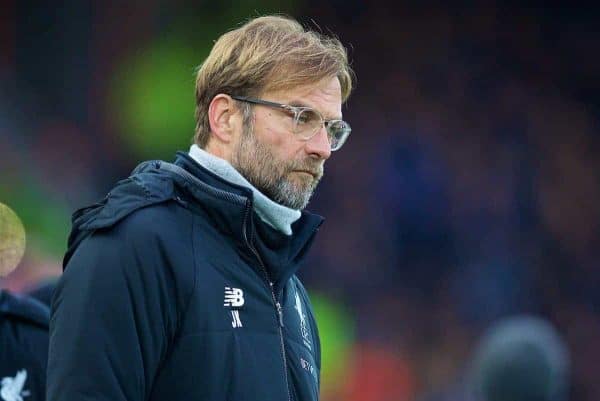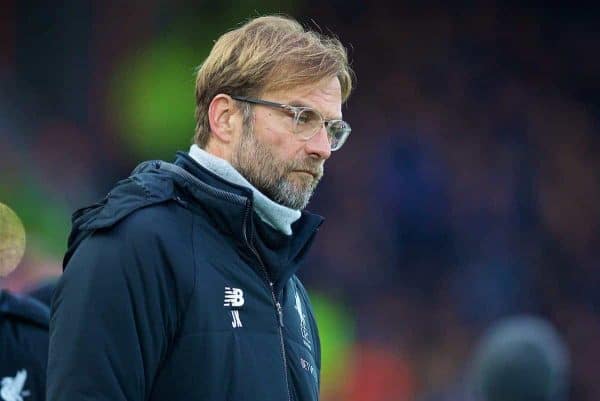 Two points dropped is the sum total of the 90 minutes and it should have been all three headed Liverpool's way, no question.
But the margins between victory and a draw are infinitesimal at times, and not always solely down to the Reds' own tactics or techniques.
The points in this match hinged on three key decisions: Mane's not to pass, Lovren's not to stand off, the referee's to award the softest of penalties.
With Liverpool three or four goals up, Mane's choice to shoot on his left foot across goal would be understandable and worthwhile.
Only one goal up in the derby and with three players waiting an easy tap-in, it was unforgivable. It was a bad day all round for Mane, but that moment was simply not acceptable.
Secure the results in selfless fashion—that's all that matters.
Even so, without scoring that second goal, Liverpool have to see out the barest hint of threat from the away side, yet Lovren failed to show the experience and know-how to do exactly that.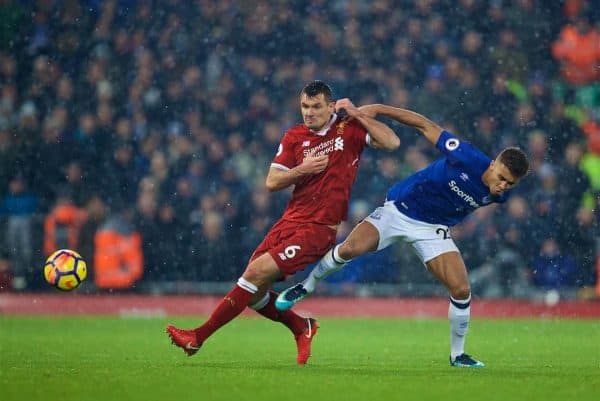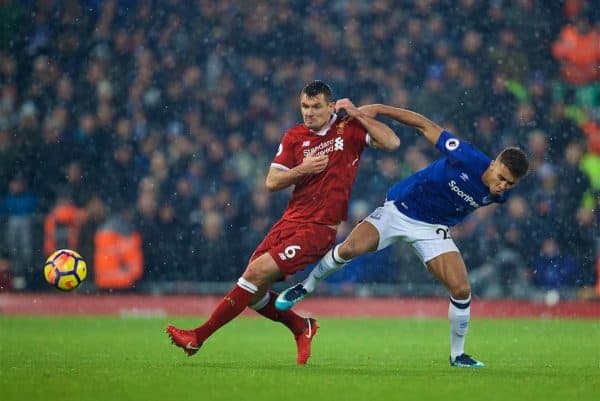 Calvert-Lewin had a bouncing ball to control, facing away from goal, in the box. There's no need to get touch tight, to even give the most minuscule opportunity for the forward to go down.
Lovren didn't really foul him, but he did make it way too easy for the attacker to gamble on winning a penalty.
Coming just days after his comments about being in his best shape and showing his best form, it's yet another disappointment against his name.
Liverpool were, and are, a million miles better than this Everton side which offered—unsurprisingly given the new boss—nothing but a hideous display of negativity start to finish.
But the margins are so fine that ability alone isn't enough, and the lessons in decision-making are still there to take on board and improve upon.