Liverpool bounced back to winning ways with a 4-0 triumph at Bournemouth on Sunday, moving up to fourth place in the Premier League.
The Reds were dominant throughout the encounter and limited the home side to just one or two chances of their own, while at the other end the attack continued to look impressive.
Mohamed Salah reached 20 for the season, Brazilian duo Roberto Firmino and Philippe Coutinho both claimed a goal and an assist on the day and Dejan Lovren bravely netted a diving header too.
It was a day of celebration all round for the Reds, but what were the biggest positives? And were there any negatives at all?
This is Anfield's Karl Matchett (@karlmatchett) discussed the Reds' triumph with Liverpool fans Henry Jackson (@henryjackson87) and Nav Kaplish (@nkaplish).
The good…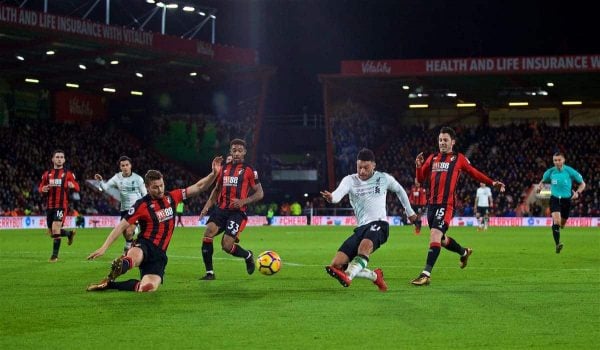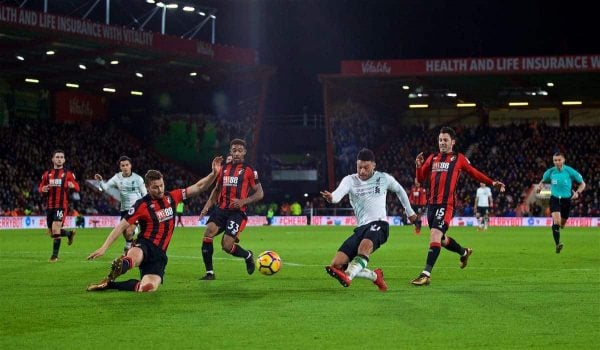 HENRY: There were many positives to take from the game, whether it be the brilliance of Mo Salah, Philippe Coutinho and Roberto Firmino, or another clean-sheet, but I'm going to go for the performance of Alex Oxlade-Chamberlain.
Sky Sports naming him Man of the Match was probably a stretch too far, but he was excellent all afternoon, and is now starting to look an exciting signing, having been welcomed in lukewarm fashion in the summer.
It was clear that he had grown stagnant at Arsenal, and although he also deserved criticism for flattering to deceive at the Emirates, there's always been a very talented footballer waiting to explode.
Used in his preferred midfield role against Bournemouth, he was positive and creative on the ball, ran at players with pace, worked his socks off and looked like someone full of confidence.
He even earned bonus points in his post-match interview, sticking up for Coutinho like a protective older brother (I know he's younger).
Where are those videos mocking Oxlade-Chamberlain now?
KARL: Aside from individuals—Coutinho, Oxlade-Chamberlain and Firmino were immense—my favoured part of the match was Klopp's set-up.
I'm a big fan of the way he's merging players to be able to switch from a 4-4-2 to a 4-3-3 in an instant, and two or three players within the system are key to that.
Four across gives much more balance behind the ball in open play, and Salah is tremendous roving from central, but it needs great energy and mobility in the centre to do so.
Everyone played a part in that yesterday and it was good to see the wider men—Salah and Coutinho—working back hard when required too.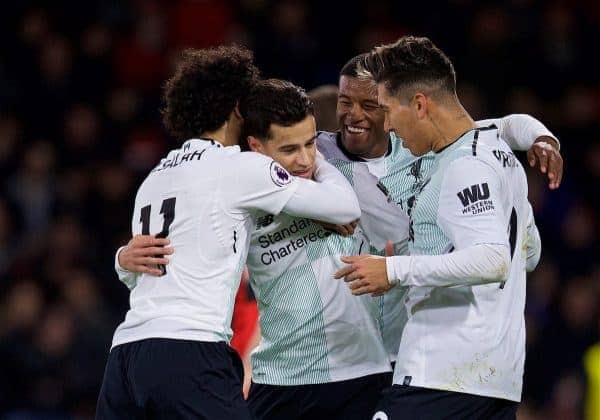 NAV: The front three are absolute genius! The skill, the quality, the fight is such a joy to watch.
We should consider ourselves lucky to have this attack and even luckier to have a manager like Klopp running the show—and this was without Sadio Mane who, is superb!
Man of the match for me was Oxlade-Chamberlain.
The Vitality is a tiny stadium and I was super impressed watching him up close. The pace and aggression he turned up with yesterday was simply amazing.
Finally, the fullbacks were outstanding. Not sure if Joe Gomez got many plaudits but he certainly deserved them. Same with Andrew Robertson. After having average left-backs for a decade, we have two good ones—the footballing gods are kind!
The bad…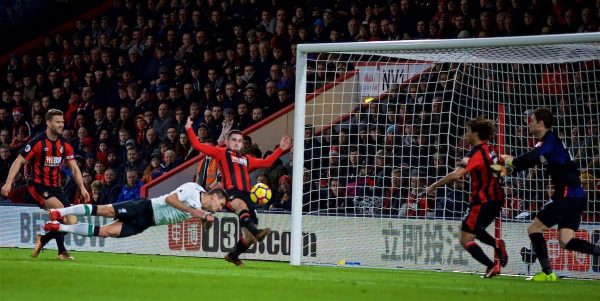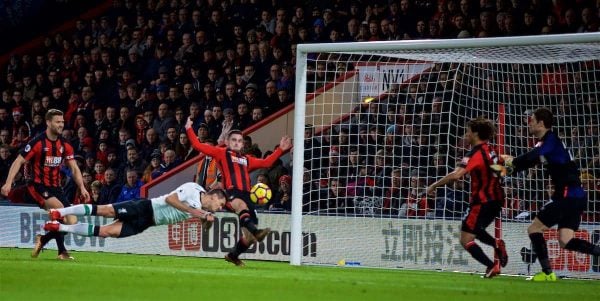 HENRY: While the Everton and West Brom draws left you tearing your hair out for various reasons, it was tough to find any negatives at all from Liverpool's performance at the Vitality Stadium.
It's being ultra-critical, but there were a few occasions when Dejan Lovren and Ragnar Klavan were too easy to get past, most notably when Jermain Defoe hit the post in the first-half.
This is harsh, though, and both centre-backs enjoyed largely solid performances.
From Simon Mignolet right through to Firmino, it was hard to fault any individual on a great day for Liverpool.
KARL: There's not too much to complain about at all.
Sure, the team can always be more clinical or there's passages of play when decisions could be smarter, the tempo could be higher…but truthfully it's near-impossible to be perfect across the entire 90 minutes.
Klopp's subs were nicely used to give game time to those needing it, too.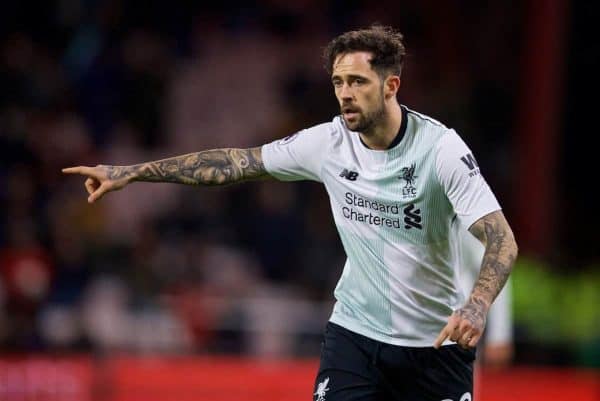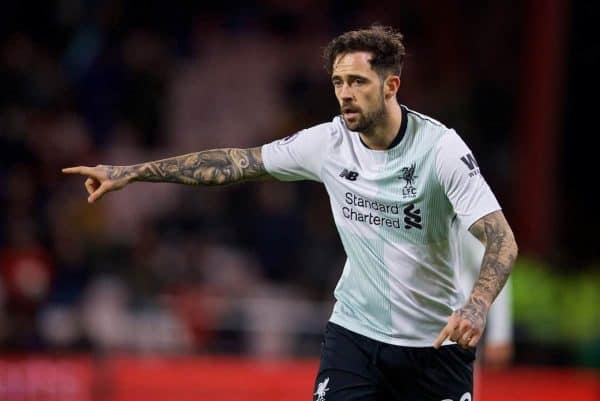 The only real issue which cropped up more than once was space in front of, and between, the centre-backs which better Bournemouth passing might have exploited more often. An ongoing issue.
NAV: Not many but I do believe this was a game where we should have scored at least four more.
I don't say this out of greed—I genuinely believe we had the chances and could have been more clinical.
There will be games when we don't get so many chances so we should aim to do even better.
Salah could have scored two more, Coutinho's free kick was exquisite, Oxlade-Chamberlain almost scored and both Dominic Solanke and Danny Ings had a good chance each at the end.
And is Jordan Henderson's form good enough for the starting XI?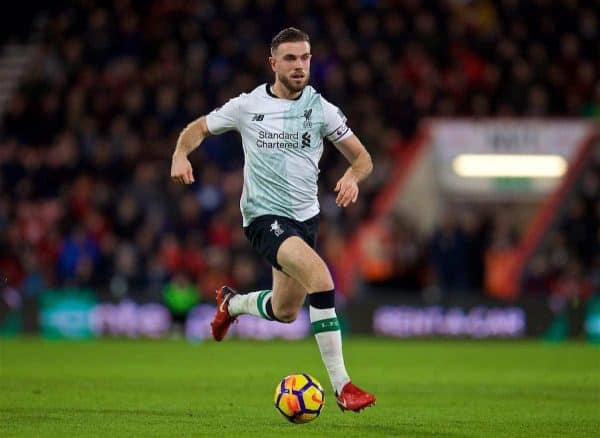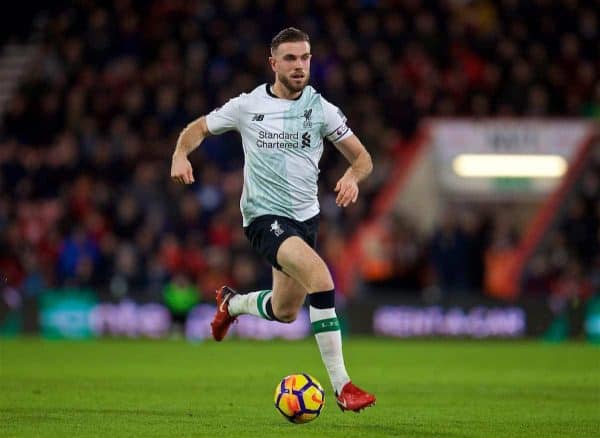 HENRY: Until yesterday, even Henderson's most ardent supporter would struggle to deny he didn't merit being in Liverpool's first-choice starting XI this season.
Since returning from injury, he has been well short of his best, with his passing generally way off the required standard and even his fitness levels not quite as impressive as they were.
That changed on Sunday, however, when Henderson was really impressive, producing his best performance of the season so far.
He looked to have been given a little more freedom by Jurgen Klopp, with one powerful surge into the penalty area displaying why he is best as a box-to-box midfielder.
The captain's use of the ball was far better, and he cut a more authoritative figure than of late, barking instructions at teammates and screaming at the referee.
Henderson is going to be someone who divides opinion until the final match of his career, but there is a middle ground with him.
The Reds can do better than him, without question, but he is also not the incapable player some people paint him as.
Supporters forget how effective he was in 2013/14 and 2014/15, and for the first four months of last season.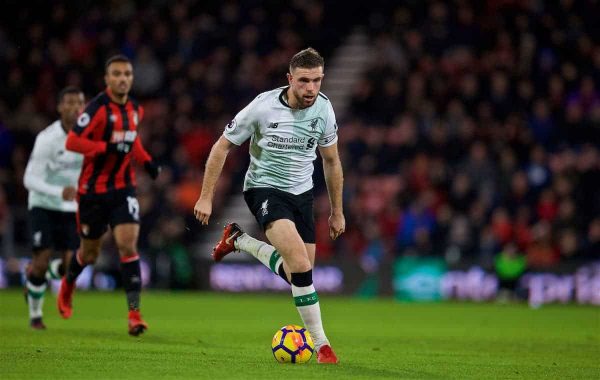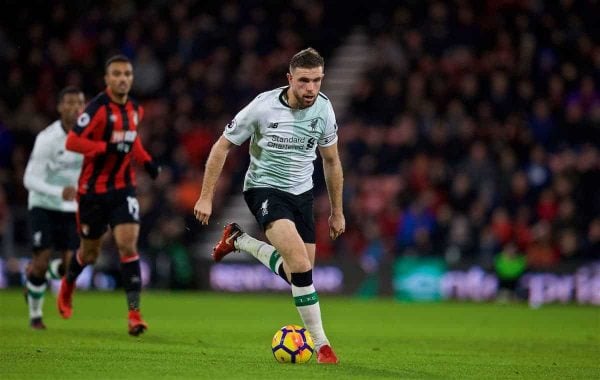 KARL: Henderson was better than he has been in recent matches, and it's not really surprising given two clear factors.
Firstly, Gini Wijnaldum sat alongside and even deeper than him at times, the central lynchpin as the team pivoted around him. Secondly, Henderson himself was allowed to surge on, showing his real strengths.
Both those factors combined to make Henderson better on the ball.
Off the ball however, he's still bypassed in open play, doesn't fill the key spot in front of the back four and doesn't track runners from deep.
It's tough to criticise him for these things given they are not his game, but they are in the role he habitually fills.
If the Reds don't play every week with Henderson as the deep-sitting anchor in a clear, structured 4-3-3, and instead have this more fluid, more mobile midfield, then obviously he has a big role to play still.
NAV: Overall I was more impressed with Henderson than I thought I would be. He showed leadership—constantly pointing to the defenders and other players on where to move and who to mark.
It's not [always] obvious on TV—I didn't appreciate this watching other games not at the ground—but he certainly tries to run the show.
Also, he tries to do those long-range passes like Stevie and Xabi used to—some come off and some don't. If he can improve his vision, it will be fantastic!
On the other hand, I am not convinced his tackling is as good as it can be. Whether it is a matter of positioning or pace, I don't know.
I think overall he is a 7/10 for the central anchor role but we need a 9/10 to take it to the next level. The defence would get more protection that way.