Jurgen Klopp hailed the improved Anfield atmosphere for helping Liverpool turn a one-goal deficit around to seal a 2-1 victory over Leicester City.
The Reds fell behind to a Jamie Vardy strike just two minutes into Saturday's end-of-year clash with the Foxes, leaving Klopp's side deflated.
But, largely buoyed by Leicester's lack of sportsmanship, the home support roused Liverpool to produce an impressive comeback after half-time.
Both goals came from the majestic Mohamed Salah, bringing the winger's tally to 23 goals in just 29 appearances this season.
And he deserved considerable plaudits when he was brought off on 82 minutes.
However, speaking after the first time the Reds had come from behind at the break to win since 2014, securing their longest unbeaten league run in his tenure, Klopp highlighted the positive effect of Anfield.
"This was a perfect game except for the situation for the first goal after two-and-a-half minutes," he said.
"This was the best reaction we ever showed. The crowd was fantastic today.
"People are not that patient at Anfield but today was one of the best atmospheres we've had so far."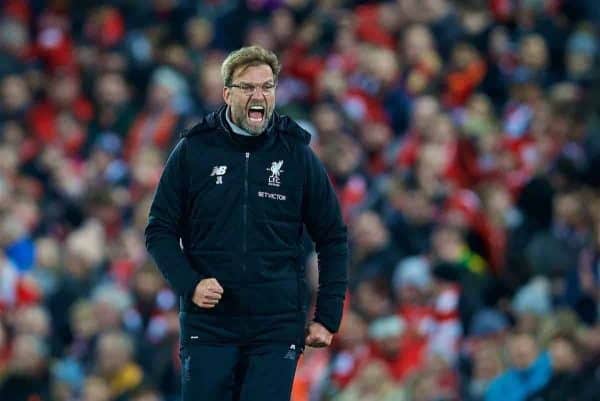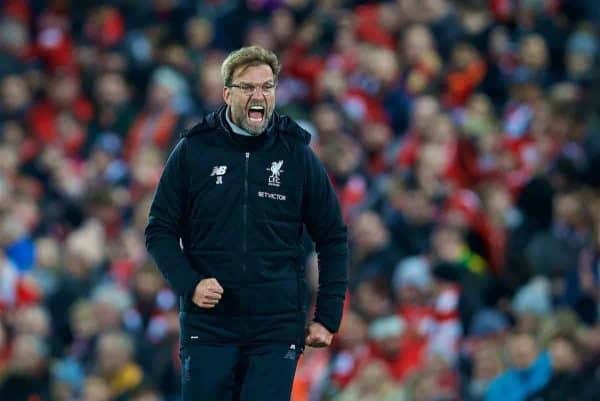 Klopp's "maximum satisfaction" was clear at the final whistle, as he fist-pumped at the roaring crowd, with his side ending 2017 with another three points.
Long has the atmosphere at Anfield served to drain the Reds' momentum, particularly when behind, but this was clearly the response the German was looking for heading into a busy three days.
"I loved how Anfield felt on Boxing Day. The noise and the energy in those final 30 minutes was amazing," he wrote in his programme notes before the game.
"With kicking off at 3pm today, against an opponent who will bring their own spark and zest, I think we can have an even better feeling inside this wonderful place if we choose to make it happen.
"We will all be working hard to finish 2017 in the right way."
Though Liverpool made things difficult for themselves directly after kickoff on Saturday, their response against a tough, bitter opponent certainly deserves praise.
Klopp identifying Anfield's influence in the turnaround is fitting, and their backing must remain.