The media praised Jurgen Klopp's invention with selection and the displays of Philippe Coutinho and Roberto Firmino in Liverpool's 5-1 thrashing of Brighton.
The Reds struck five past a Chris Hughton managed team for the fourth time to move into the top-four with a second straight away win.
Two goals in 79 seconds from Emre Can and Firmino gave Liverpool a commanding half-time lead, which the Brazilian extended with his second of the game soon after the restart.
Glenn Murray pulled one back, but a genius free-kick from Coutinho and Lewis Dunk own-goal sealed a thoroughly deserved win for Klopp's side on the south coast.
It was a fantastic result – one made even more impressive given the makeshift selection as a result of injuries – and Klopp will be thrilled with his player's efforts in tricky circumstances.
Here's how media assessed an emphatic win for the Reds.
Reporters assessed the win as important for Liverpool's confidence and position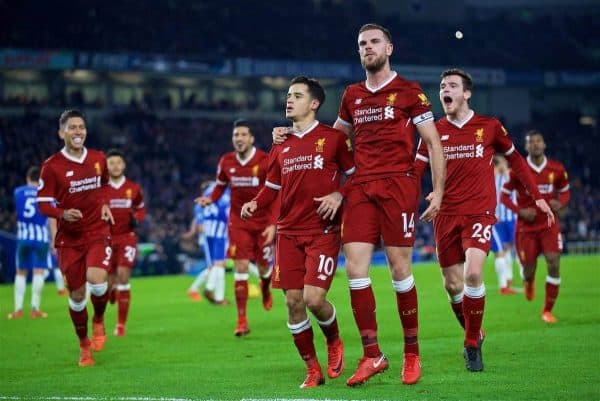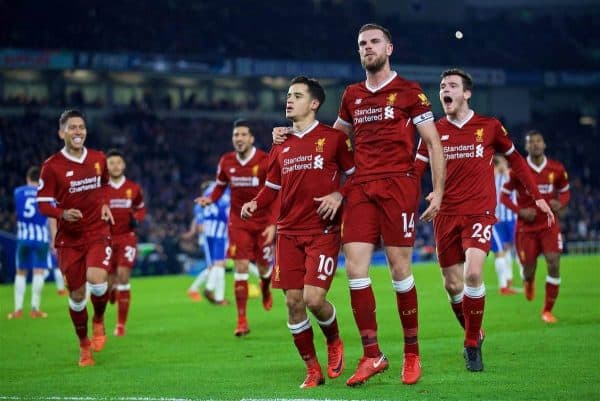 And the Liverpool Echo's Ian Doyle assessed how victory will boost to the Reds "character and mental strength":
For helping further reinforce Liverpool's character and mental strength, this was an important and timely victory.
And the Mail's Riath Al-Samarrai thinks Klopp's side are moving into a very promising position in the top-four race:
Regardless of Klopp's tone, they are close to everyone bar City and they have the benefit of momentum, despite the concerns before this game about a makeshift backline that looked desperately vulnerable.
There was plenty of praise for the Reds' attack – in particular the brilliant Brazilians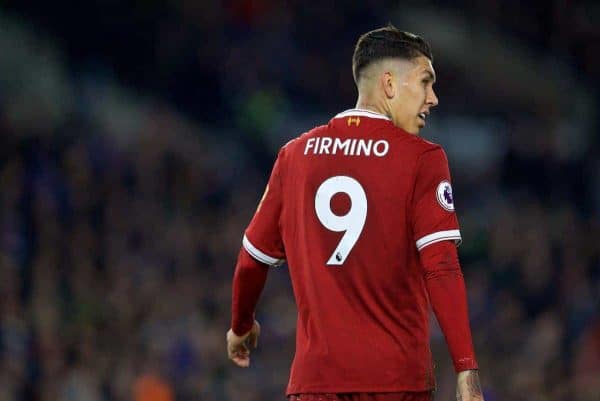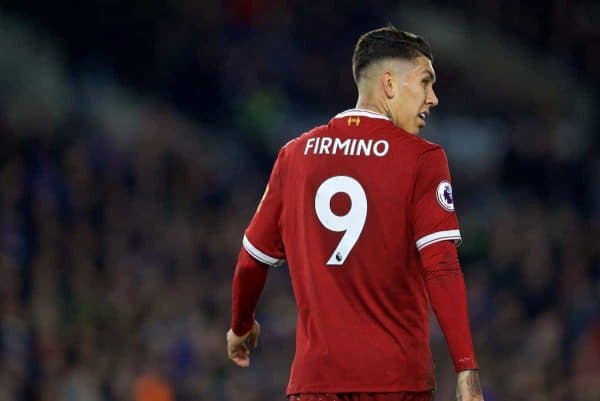 On Liverpool's attacking play, Melissa Reddy, for Goal.com, wrote:
It was just too much: the speed, the decision-making, the decisiveness.
Al-Samarrai labelled it a display of counter-attacking football that "will not be bettered anywhere this season":
They were exceptional, that trident of Philippe Coutinho, Roberto Firmino and Mo Salah, who had one of those rare days when he did not score but still ticked the box of an excellent performance.

[…]

At times, frequently in fact, those three men produced counter-attacking football that will not be bettered anywhere this season.
Coutinho produced the best performance the Amex Stadium is likely to have witnessed, said Doyle, summing up the No.10's display:
Coutinho, for this spell, was producing football of another order, far removed from anything else the Amex has surely ever seen, let alone just this season. It really was that good.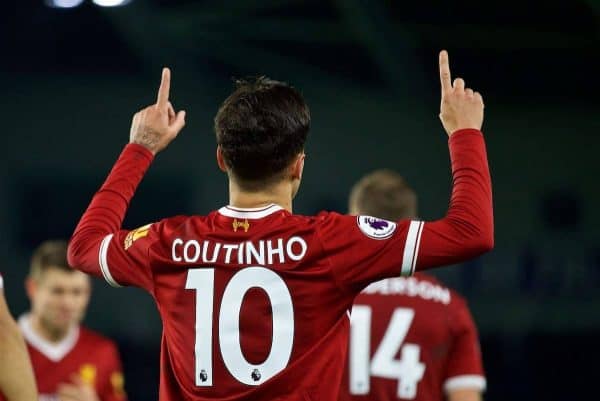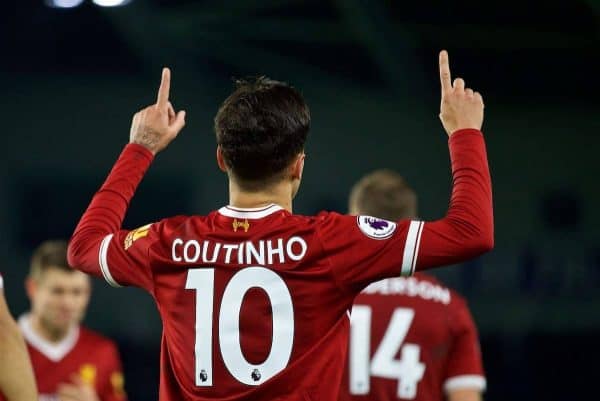 ESPN's Dave Usher waxed lyrical over Firmino's performance, labelling the striker's display "outstanding":
Scored twice but even without the goals the Brazilian's performance was terrific. So many great first time lay-offs and clever turns, while his work rate once again caught the eye as he continually robbed defenders of possession. Outstanding.
The Liverpool Echo's James Pearce thought Coutinho showed exactly why any advances from Barcelona in January must be flatly refused:
Regardless of what riches the Catalans offer in January, it would be ridiculous for Liverpool to even consider doing business midway through the season. His value is only to climb ahead of next summer's World Cup.
Away from the Brazilian duo, the Mirror's Alex Richards noted Mohamed Salah's tactical versatility and the importance of this on the attack:
That maturation continues with Salah increasingly looking more and more at home playing through central areas, making himself not only an increasing threat in transition, but also in tightly-packed central areas.
Klopp was deservedly praised for his tactical invention in bringing the best from a depleted team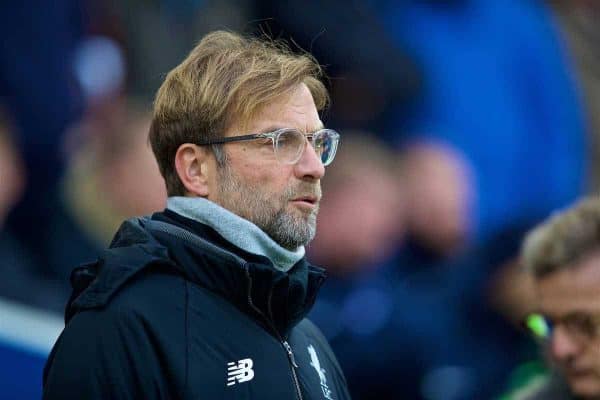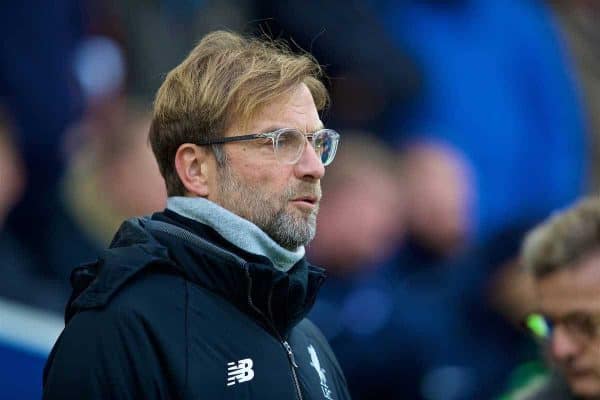 Usher praised Klopp's vision and "improvisation" with the limited defensive personnel available:
Some of the changes made were forced upon the German but he improvised with the personnel he had available and it worked.
This Is Anfield's Karl Matchett believes the German's rotation was spot on, and has been in recent games:
Starting the busiest period of the campaign so far, the Reds have come within five minutes of beating Chelsea, seen off Stoke and then thrashed Brighton, both on the road.

[…]

A brave selection policy then from Klopp, but an utterly necessary one, and he's gotten his timings absolutely right so far.
And Richards thought the freshness and energy of the Reds' display showed Klopp's changes are paying off:
And seemingly his quest to keep his players fresh for the challenges to come is working, with the Reds looking for more energetic than their hosts, who looked rather leaden-footed whenever Liverpool stepped it up a gear or two.
Spectacularly missing the point as to why Klopp set up this way, the Mail's Leo Spall bizarrely assessed it as "no solution to Liverpool's undoubted weakness":
For all that the club's moneymen will be grateful the manager and his free-scoring team kept the volume of calls for defensive reinforcements in the January transfer window low, the set up on Saturday was no solution to the team's undoubted weakness.

[…]

Liverpool's flanks looked vulnerable and will need to be worked on if this system with these personnel is used again.
Though it worked, Doyle rightly assessed it showed the desperate need for a centre-back to be signed in January:
If Klopp wasn't completely convinced he needs to sign another centre-back in January, he should be now.
Reporters discussed the key factors of the performance that inspired the victory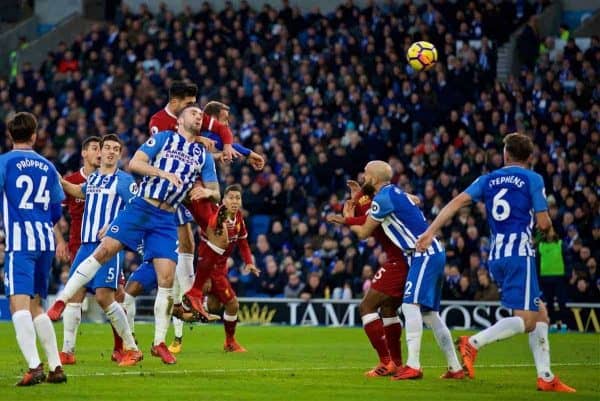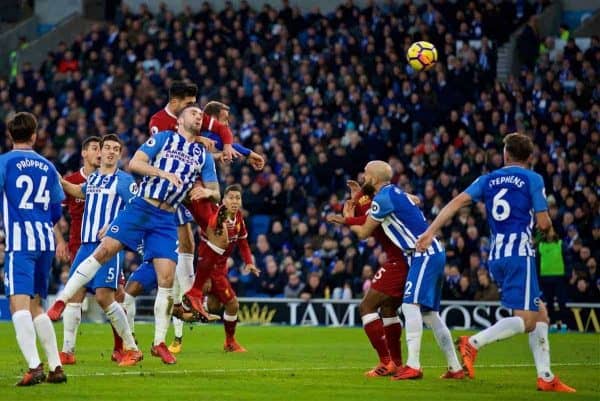 The Guardian's Paul Doyle noted how Liverpool's "bewildering fluidity" bamboozled Brighton:
That shape was mostly notional, of course, as Liverpool were bewilderingly fluid when in possession, which was most of the time. Brighton found it quite the brain-teaser, utterly stumped by the visitors' speed and movement, especially in the first half.
Matchett assessed how the Reds' hard-working midfield unit was crucial to protecting the makeshift defence:
Liverpool didn't gift too many chances to attack, with the midfield four working hard to deny Brighton counter-attacking chances, and Wijnaldum would perhaps be thankful to his team-mates for that.
Meanwhile, the Echo's Doyle praised the Reds for dealing with Brighton's second-half pressure, assessing Klopp's side showed they can now repel a fight-back:
But if Wednesday's win at Stoke City proved Klopp's side could see out a win in testing conditions, this performance underlined they could withstand a genuine fightback.

[…]

After what happened at Sevilla, though, this will have banished a few ghosts and quietened those suspicions.
As always, individual performances were discussed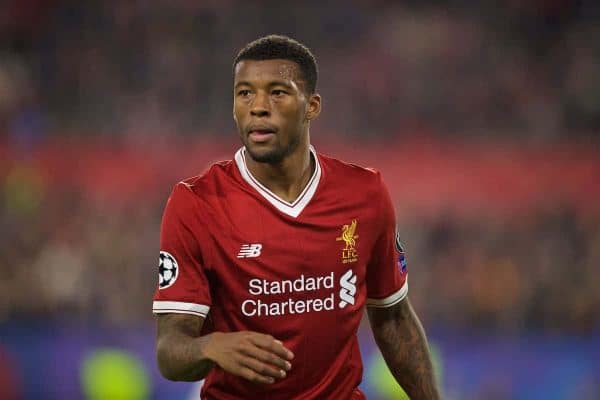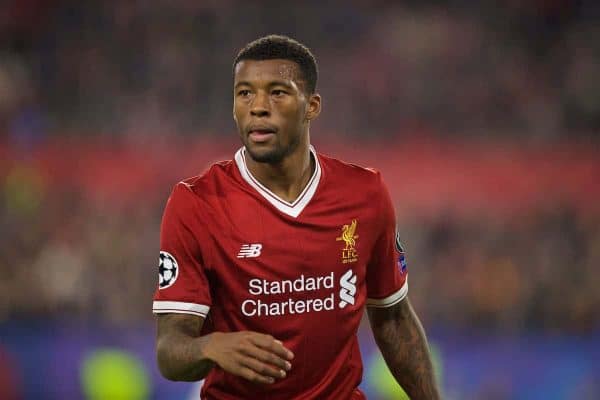 This Is Anfield's Henry Jackson thought Gini Wijnaldum did well at centre-back in difficult circumstances, citing the Dutchman's intelligence as key to his adaption:
The 27-year-old did well in an unfamiliar role, however, helping keep the dangerous Anthony Knockaert quiet and putting off Glenn Murray with a last-ditch tackle with the goal gaping.

A very intelligent player – it's not a huge surprise to see him display such versatility.
The Echo's Doyle thought Andy Robertson proved his reliability and believes the he should now be considered for more regular use:
He can be happy with this outing. Certainly, it won't be more than two months before we see him again.
Usher labelled Emre Can's performance "mightily impressive":
The German is no stranger to the role he was asked to play having excelled there on occasion under previous manager Brendan Rodgers, but it had been some time since he'd played in a back three. You'd never have known as he was mightily impressive and even managed to score the all-important opening goal with a thumping header.
Finally, Pearce reserved praise for Dejan Lovren, citing how the Croatian stepped up to lead the unfamiliar defence as was required:
Can and Wijnaldum were helped by another highly encouraging performance from Dejan Lovren, who has battled back well from his personal nightmare at Wembley.

With Liverpool down to the bare bones defensively, Klopp needed the Croatian to be a leader and he didn't disappoint.