Liverpool suffered another night of Anfield frustration as they were held to a 0-0 draw in the Premier League by West Bromwich Albion.
The Reds were looking to bounce back to winning ways after the Merseyside derby draw and Jurgen Klopp again made changes to that effect, Roberto Firmino and Philippe Coutinho among those who returned to the XI.
Firmino it was who spurned the first big chance of the match, side-footing wide from a narrow angle with Coutinho, captain once more, hoping for a squared pass inside the six-yard box.
There were few first-half moments of danger though, with West Brom sat back in numbers and the Reds lacking incision at key moments.
It was a similar story in the second 45; too often a poor first touch or bad timing in the pass let down the Liverpool attack, with Ben Foster untroubled for long spells.
Liverpool thought they had a late winner when Dominic Solanke bundled home from close range, only for the referee to absurdly claim handball and rule out the goal.
Here are five talking points from the 0-0 draw.
Brazilians aren't a fix-all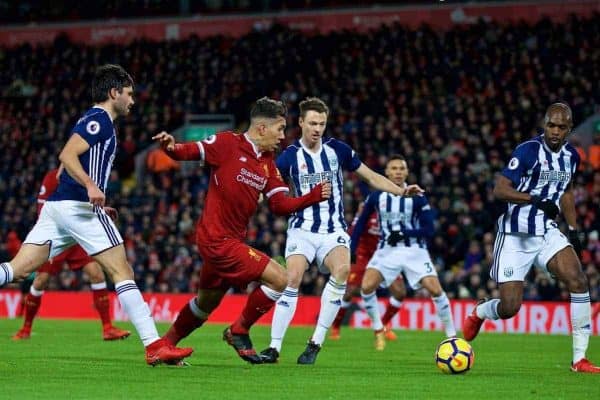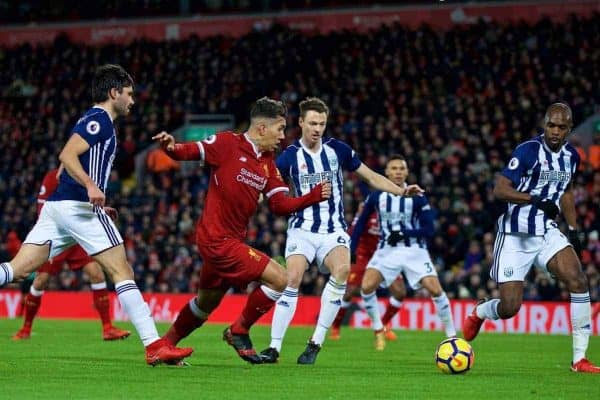 There were cries of annoyance in the derby with Coutinho and Firmino left out of the starting XI, with plenty of fans suggesting that their combined ingenuity and creativity would have made a big difference against an extremely defensive Everton unit.
Back they came against an equally unadventurous West Brom, and having seen them struggle to break the away side down, it has to be remembered that the Brazilian duo aren't a guarantee of points.
Sure, they can help the Reds, and of course they'll be in the team whenever possible—their attacking prowess is vital, their goalscoring potential obvious.
But it takes a lot more than just two players to break down the type of side who will come to Anfield and sit for a point, even if they are Selecao internationals.
Again: there was nothing wrong about the side Klopp selected for the derby, keeping the rotation going and the competition for places intense, and No.s 9 and 10 being sub for that fixture didn't cost two points.
The match where they could impact on the points tally was against the Baggies, and they failed to do so.
Mane's form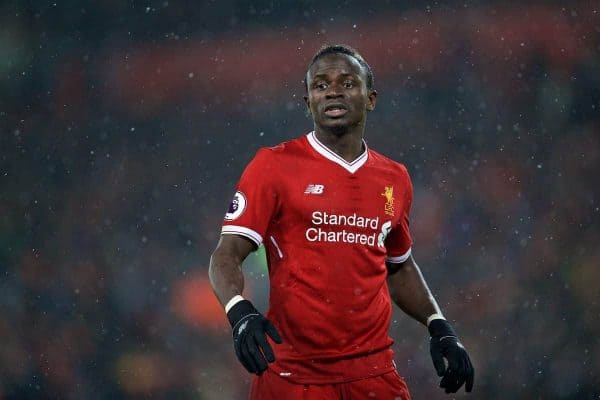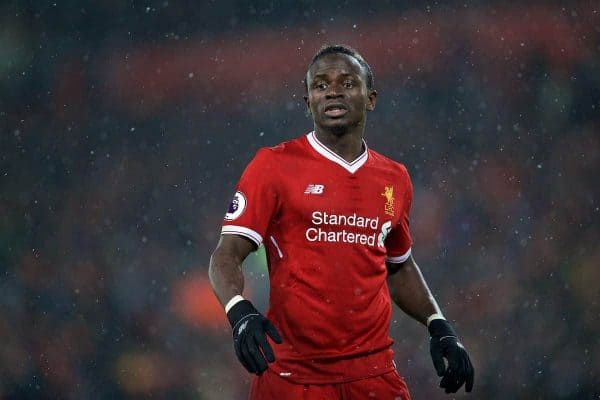 He was the most important attacker for most of 2016/17, but Sadio Mane hasn't quite hit the heights of last year yet in the current campaign and his recent performances have been disappointing.
The Senegalese forward has had chances of late to add to his goal tally which haven't been taken, but against West Brom his biggest moments came with opportunities to set up team-mates.
Unfortunately for the Reds, his first touch was all too often sloppy and mis-timed, while his direct running was negated both by his own control and West Brom's deep line.
It wasn't really a surprise when he was first off once Klopp turned to his bench in an attempt to find a late winner, especially after Mane swiped a great opportunity wide in the second half.
The positive from the situation: even not close to his best form, Mane can score great goals or cause danger for the team, so when he does eventually hit top gear the Reds should expect a massive upturn in final third productivity.
Lack of late winners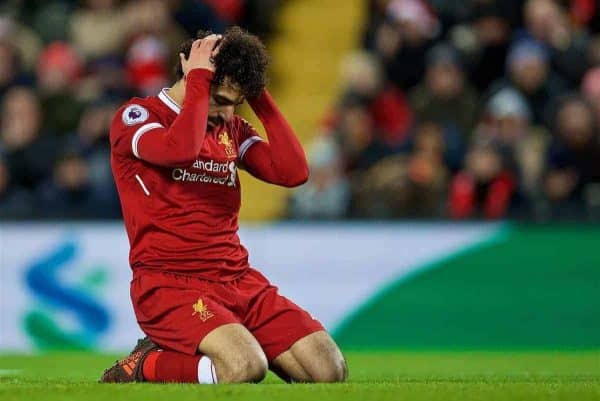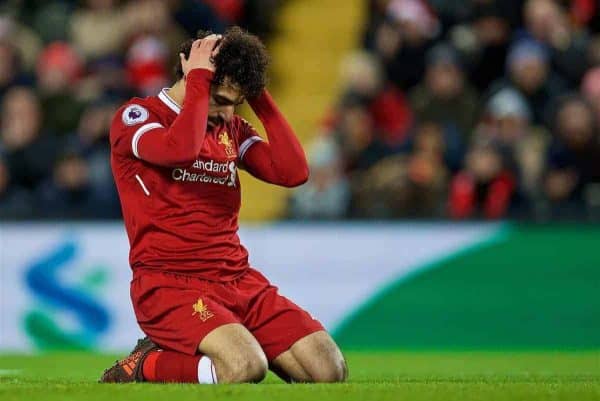 When Klopp arrived at Anfield he made a big deal out of convincing both team and fans over the need to push, attack and fight until the final whistle.
Even at 90 minutes and beyond there would always be more points available, and initially it seemed the Reds were setting a trend: West Brom, Norwich and Borussia Dortmund were among the teams who conceded late strikes to the Reds.
But this season, pivotal strikes are in short supply.
From the 80th minute onward, the Reds have scored precisely zero goals this season which directly affect the overall match result.
By contrast, they've conceded on three such occasions: Watford on the opening day, Sevilla in Europe and Chelsea most recently.
It's a trait the team needs to rediscover, how to push that extra yard, commit the extra body forward or try something different to the preceding 89 minutes.
Theres no science to it but even a scrappy own goal, a dodgy penalty or a speculative strike from distance would be welcome at this point after four draws in the last seven matches.
Loris Karius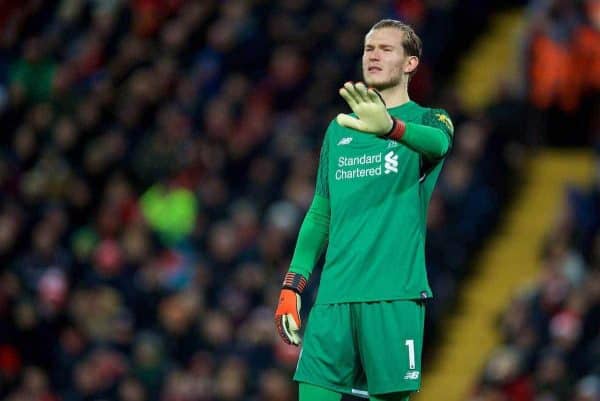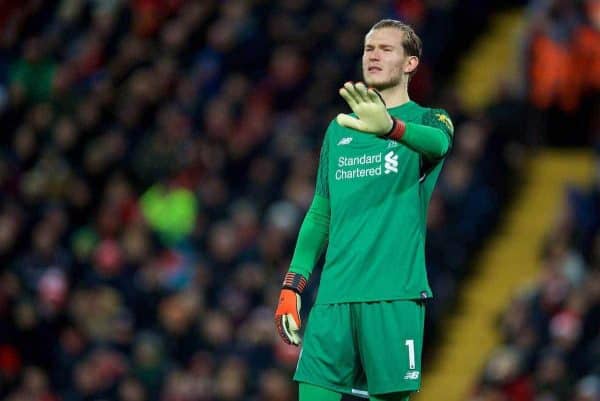 Credit where it's due: Karius stepped in for Simon Mignolet and performed well on the night, proving his manager right for throwing him in for another league appearance.
The German stopper made two extremely good reflex saves, but perhaps more pertinently, he was excellent with his footwork and confident in dealing with aerial balls.
It can't have been easy for either goalkeeper at times this term—all three including Danny Ward—knowing that they only have certain matches to impress in, but all Karius can do is the same as Mignolet: take his chance when given the opportunity, perform well and keep a clean sheet.
Two league games this season for Karius and two clean sheets, and four clean sheets in his last five appearances.
Confidence should be starting to creep back in for the 24-year-old.
Atrocious officiating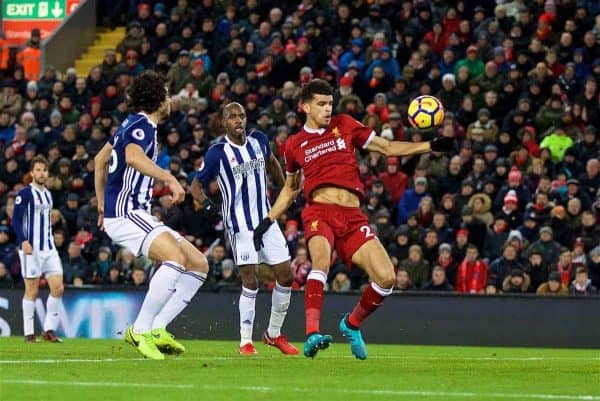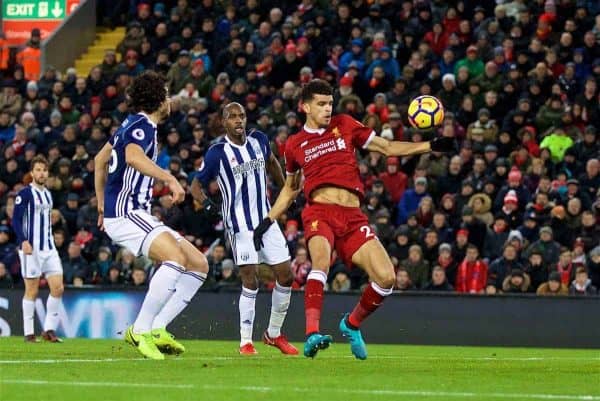 Poor offside calls are frustrating, but weak refereeing is infuriating.
There's simply no room for it in the high-stakes environment of the Premier League, but what other excuse can Paul Tierney have?
The referee's decision to rule out Solanke's late strike was utterly absurd, by any metric. Deliberate handball was called—but how could the striker do so in a split-second reaction after a ricochet off both the defender and his own body?
It wasn't a handball, and the goal should have stood.
Even then there was more to complain about afterwards: three minutes added on was embarrassing given the time-wasting tactics employed by the away side—rightly so, given their approach and status.
And once into injury time, a yellow card for a substitute holding onto the ball on the side of the field ate into the Reds' time, yet nothing further was added on. It was absurd, weak and shocking officiating, and was the final straw on a frustrating night at Anfield.