Jurgen Klopp has defended the rotational approach he has utilised with Liverpool, stressing he would have done the same last season if possible.
Klopp has led his squad into a busy winter schedule informing them that they will need to remain on their toes as he shuffles his pack between games.
The German has regularly made five or six changes to his starting lineup since November's 3-3 draw with Sevilla in the Champions League, leading to some bold selections.
In fact, the last manager to have made more alterations to his starting lineup after 16 games in the Premier League than Klopp (59) is Alex Ferguson with Man United in 2001/02 (68).
And speaking ahead of Liverpool's midweek clash with West Brom at Anfield, Klopp vowed to continue to rotate, saying "if you have the quality in the squad you have to use it."
"If we had this squad last year we would have done it last year," he told reporters.
"[When] you get injuries early November like we had last year then you cannot rotate in December because the players aren't there. Then you suffer in January.
"Then the players coming back in January, who got injured in November, are not in the same shape. That's the only thing.
"For all these games I really think if you have the quality in the squad you have to use it.
"You cannot play the same 11 players all the time until four of them are injured, then hope the other four who come in have quality, with no rhythm.
"We expect that, I know, but it's not really likely. So we've done it, so far, how we've done it, so far."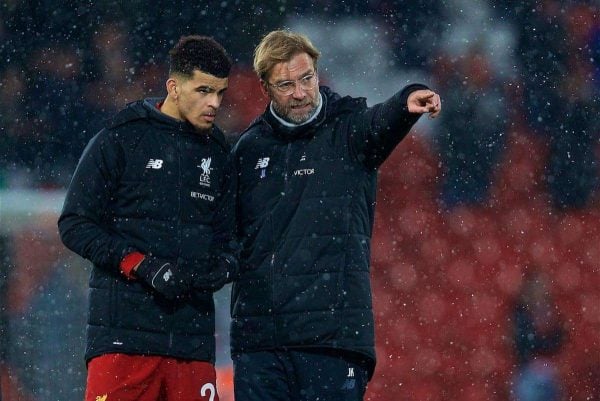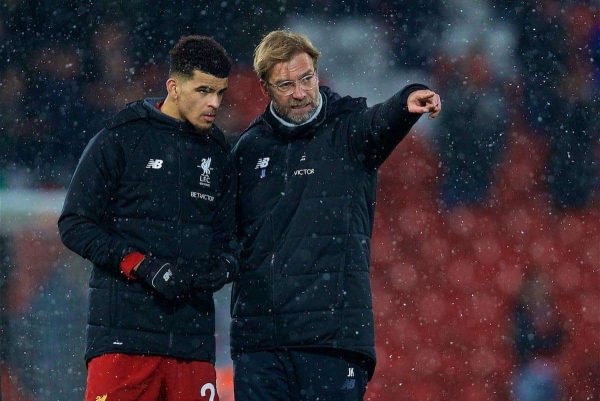 One player who is benefiting from Klopp's new approach is summer signing Dominic Solanke, who made his first two Premier League starts against Stoke City and Everton.
Solanke performed selflessly in the Merseyside derby on Sunday, but struggled to craft any meaningful openings operating alongside Sadio Mane and Mohamed Salah.
Despite this, Klopp was impressed with Solanke's display, explaining how this congested period is aiding his transition into senior football.
"He's on a fantastic way, that's the main message," he said.
"He should have played a little bit more confidently, but he's a young boy [in] a new situation.
"I saw him doing different [things] than he would have done in training, but we all have to learn to deal with expectations, crowds, atmosphere, [the] importance of the game.
"I'm really happy he did what he did and this will help him a lot, 100 percent.
"He's a smart player, he can play better but that was good, a second step if you want."
Solanke is likely to drop back to the substitutes' bench against West Brom, with Roberto Firmino poised to reclaim his starting role at Anfield, likely among a host of other changes.