With Christmas fast approaching, Jurgen Klopp and the Liverpool squad visited the Alder Hey Children's Hospital in the city on Monday bearing gifts.
Alder Hey is a specialist children's facility which treats over 270,000 children and families every year, with many required to stay in the hospital over Christmas.
Twenty minutes away from their training ground at Melwood, Klopp and his players made the trip to the hospital to visit some of those spending their festive period in care.
"As football professionals you have to do a lot of stuff during the week, not a lot of them you really enjoy, but when you come here it's really easy to enjoy it," Klopp said.
"It's just a little lift, a little push that we want to give to them, that they have this special moment."
Alex Oxlade-Chamberlain joined the Reds at the end of August but has quickly settled among his new team-mates, and it's clear he is aware of the importance of Alder Hey to Liverpool.
"Liverpool is all about community in the city, and it's a massive part of the city," he explained.
"So it's important we give back, and the kids are a massive part of that.
"It's really enjoyable for us to come and see the kids as well, they're very positive in a quite negative situation which is always really inspirational to see."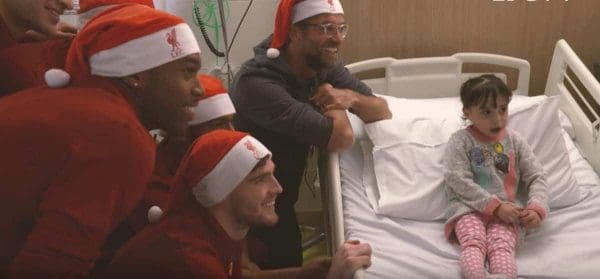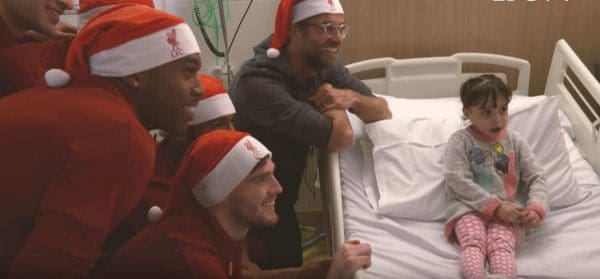 Among those they visited, Klopp met an 11-week-old boy who needed stomach surgery, while Jordan Henderson, Danny Ings and Philippe Coutinho spoke to Jack, an Everton fan with autism.
And Andrew Robertson, who became a parent for the first time shortly after arriving at Liverpool in the summer, summed up the situation for those in care.
"My first Christmas I was in hospital, luckily I got home late Christmas Day," he said.
"But my mum and dad say to this day it was the worst Christmas ever. So you feel for the parents and you feel for the kids."
* You can make a donation to the Alder Hey Children's Charity here.