Jurgen Klopp questioned the officials' decision to disallow a late Dominic Solanke effort for handball following Liverpool's 0-0 draw with West Brom.
The hosts thought their frustration against an organised Albion outfit was finally over when substitute Solanke put the ball in with around eight minutes of normal time to go.
But after a few moments of confusion, referee Paul Tierney, having consulted with his assistant, ruled the effort should not stand.
Replays indicated the ball had struck Solanke on his chest and then arm before going in.
When asked afterwards for his thoughts on the incident, Klopp said: "Difficult.
"For me it's twice deflected and I'm still not sure if the hand was with the ball or not, and for me it looks like chest. In the game it looked 100 percent like chest.
"Afterwards, when I had a few replays, there's an arm but I'm not sure if he touches the ball with his arm.
"Is it a penalty in the other box? I'm not sure. It's not on purpose, for sure not.
"Must be a really good assistant—I think the assistant made the decision. He will be happy probably if there was a hand involved.
"That's another moment where we had no luck, for sure, because if he doesn't see it or is not sure, or as sure as he obviously was, then it's a goal and that's it."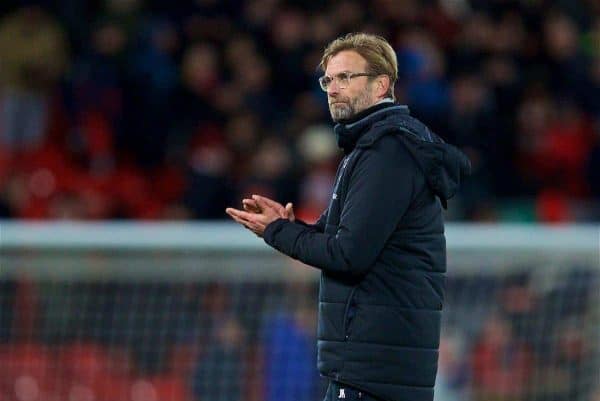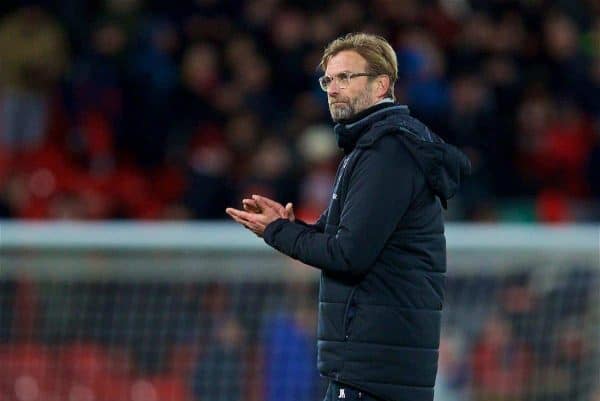 Klopp, who was left fuming on Sunday by the award of a penalty that secured Everton a 1-1 draw against his side, looked annoyed as he went over to speak to Tierney at the final whistle.
And he revealed he had asked the referee about the amount of time that was added on in a contest where there were jeers from Liverpool fans over perceived time-wasting by West Brom.
Klopp said: "I told the ref afterwards about three minutes [at the end] in a game like this and he said 'yeah, it was right'. So I have nothing, I cannot say anything about that.
"They can obviously do what they think is right in all the different moments and we have to accept it."
Klopp made six changes, as he had for Sunday's game, and reunited his 'Fab Four' of attackers in the starting line-up, bringing back Philippe Coutinho and Roberto Firmino to join Sadio Mane and Mohamed Salah.
Having seen them fail to sparkle, he said when asked about his selection: "I made a decision already and if we don't win, for me, it's like it didn't work, but that happens quite a lot in the life of a manager.
"If I would now be too frustrated about that it would not make sense.
"I was 100 percent convinced about this lineup, like I was 100 percent convinced about the last one.
"But this time at least you cannot blame me for it—or probably you will, I'm not sure."