Alex Malone reacts to Philippe Coutinho's move to Barcelona. He isn't happy.
So the inevitable has happened, and Liverpool's best player for the last three seasons has done a 'Suarez' and forced his move to Barcelona.
So much for Klopp's assurances that we are no longer a selling club. So much for the assurances that we wouldn't be funding the Van Dijk transfer with the dosh from a Coutinho move.
This goes much deeper than simply the sale of an excellent player. It is yet another 'admission' by the club's top brass that we are a second-tier club versus the two Spanish clubs. Make no mistake, whoever we bring in to replace him, Liverpool are now weakened, while Barcelona – already ahead of us in their development/recruitment over the last decade – are inherently stronger.
This is a nonsensical move. Liverpool are flying right now, largely due to the sensational impact of the 'fab four'. After early season struggles, we have clawed our way back to within three points of second place. We are in the knockout stages of the Champions League. We had, with Coutinho an essential cog, one of the most potent attacks across Europe.
What does this move do for our ambitions of a top four finish? What does it do for our chances of going deep in the Champions League? Clearly, it weakens our chances of both.
At the same time, it really does nothing for Barcelona right now. They've already pretty much wrapped up the La Liga title, and Coutinho will now be watching the Champions League from the stands.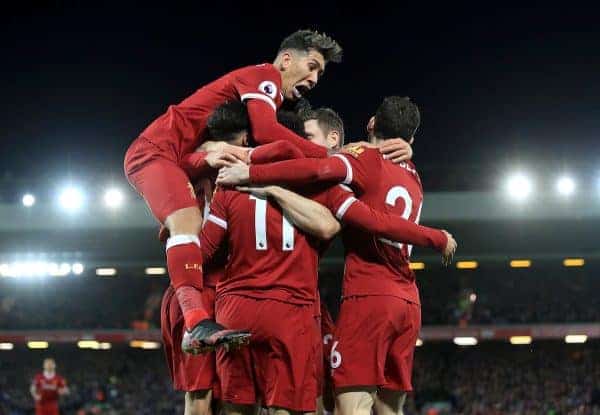 Yes, it's an unbelievable amount of money, but how much will it be worth if we fail to make top four? With Coutinho, I was convinced we would, without him, I'm not so sure.
United, Chelsea, Spurs and Arsenal must be rubbing their collective hands with glee. This move weakens us, which by definition means their own chances of top four just improved without spending a penny.
Can anyone look at this and offer one single rational explanation as to why Liverpool would sell their star player to a major European rival halfway through the season? I am not naive enough to believe we could hold on to him forever once his head had been turned.
But there is absolutely no reason we could not have kept him through the end of the season, probably achieve our top four and European ambitions, use the time to identify his replacement, then sell him for the same amount of money in the summer.
If he's worth over 100 million now, he'll be worth over 100 million then. The four and a half years left on his contract put us in a position of real strength, but we blew it.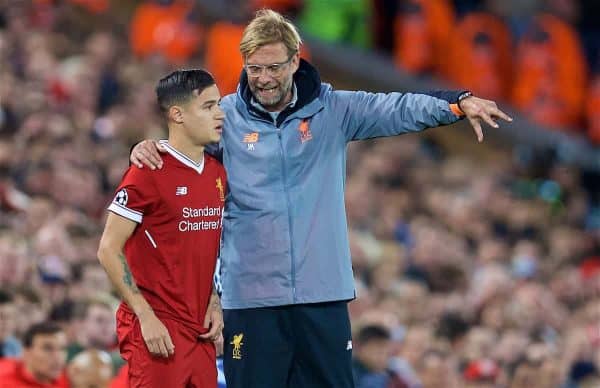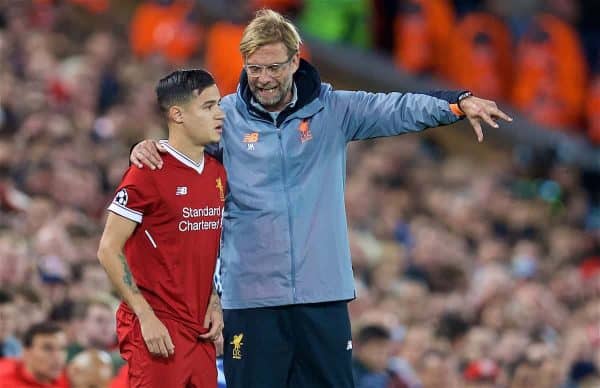 I'm also incredibly disappointed by the player himself. He could have left with dignity and his head held high at the end of the season. He could have made this happen had he wanted to, to help the club achieve its goals, and as a thank you to the fans. But he put personal selfish ambitions ahead of the good of the club that helped make him the player he is today.
Klopp, FSG and the club officials have gotten this one badly wrong. The 'big club' from Spain came after one of our best players once again, and we folded. Coutinho joins Alonso, Mascherano and Suarez on the list of world class players pilfered by Real and Barca. And we make it all too easy for them to keep doing it.
It sends out so many wrong messages about the direction and ambition of the club. I wonder what Firmino, Salah, Mane etc. make of it? I wonder are they thinking, 'hey, if the club is happy to sell its best players rather than try to achieve its ambitions, how about I go too?' I wonder what other potential 'world class' targets think when we once again act as Barca's feeder club?
From the euphoria of signing the world's most expensive defenders only days ago, we now see how and why the deal was sanctioned and funded. FSG have yet again made a profit to the detriment of the team and squad depth.
So goodbye Phil, and thank you for lighting up Anfield for the last few seasons. I'd like to say I wish you well at Barcelona, but my mother always told me to tell the truth.