Swansea City manager Carlos Carvalhal provided an in-depth explanation of how his side secured a 1-0 victory over Liverpool on Monday night.
The Reds were left stunned as Alfie Mawson's first-half goal sealed the Premier League's bottom-placed side a deserved victory at the Liberty Stadium.
While Jurgen Klopp saw his players dominate possession throughout, the German was left "more frustrated with the performance than the result," as they limped to defeat.
It left a familiar feeling for supporters, who have witnessed Liverpool collapse against 'lesser' sides in recent years, and particularly so after their 4-3 win over Man City last time out.
City arguably played into the Reds' hands, but speaking to Sky Sports after the game, Carvalhal detailed how Swansea stymied their "Formula One" visitors.
"I made an analogy with my players about this game," he revealed.
"I said to them that Liverpool is a really top team, and they are really, really very strong, but they are Formula One.
"If you put Formula One into London at four o'clock, the Formula One will not run very fast, absolutely sure.
"And it is exactly what we must do to play against Liverpool: make them play the way they don't like."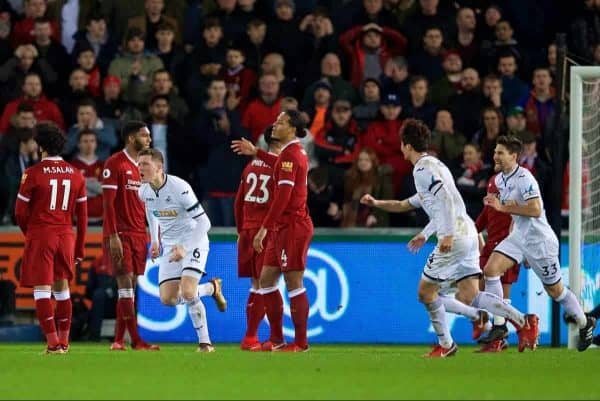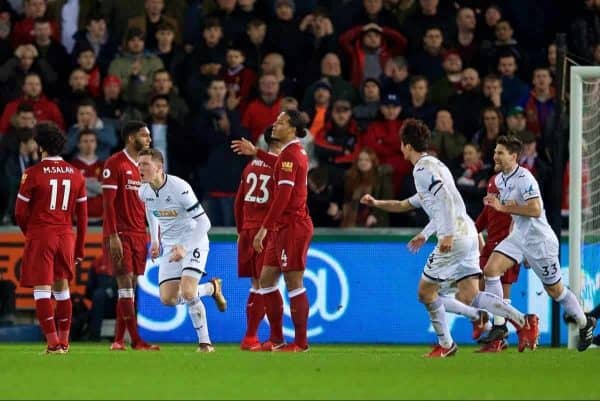 Last Sunday's performance against City was hallmarked by a lung-busting run by Andrew Robertson from the left wing to the right-hand side of the visitors' penalty area.
For Carvalhal, this high-intensity pressing game was a key aspect Swansea needed to avoid, and the Portuguese explained his approach to doing so.
"Another thing that was very important in this game was that they have a principle of [their] game," he added.
"When they lose the ball or the opponent plays inside the pitch they are very strong, [with] very strong pressing.
"We made this mistake when we played Liverpool [on Boxing Day], I saw the game and we made these kinds of mistakes.
"But today my players were ready for that, so all the time we played one inside the pitch they played one- or two-touch, always with support.
"And after the support they played to the sides, to be out of the pressure.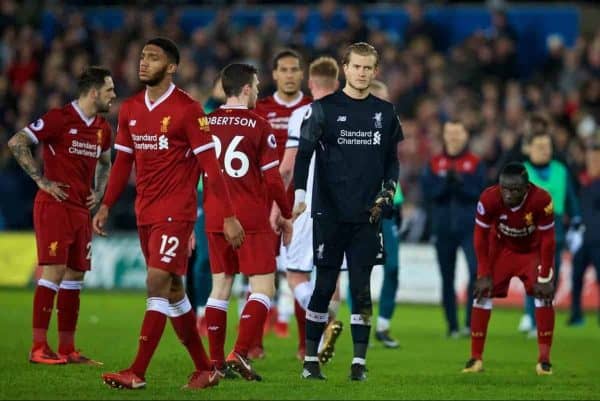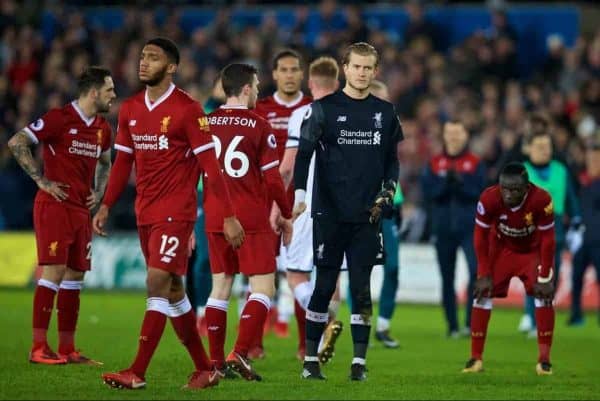 "When Liverpool put pressure on the sides we tried to switch to the other side to put them in these kinds of problems.
"It's why, especially in the first half, there were some moments where it was nearer the goal.
"We had the fortune to [score] a goal, we were winning 1-0, and afterwards, playing against a strong team, my team needs points.
"It's not exactly the way we wish to play, but my players were brave, real gladiators at the end."
It can be argued that Carvalhal simply followed the blueprint laid out by the likes of Newcastle United, Leicester City and Watford this season already.
For Klopp, this insight should be useful, as Liverpool clearly still need to work on their ability to break sides down when faced with a more cynical outlook.