Liverpool beat Southampton 2-0 in the Premier League on Sunday in comfortable fashion ahead of a return to European action in midweek.
A fast start by the Reds saw Roberto Firmino teed up by Mohamed Salah for the opening goal early on.
Saints improved thereafter but a combination of Loris Karius and Virgil van Dijk kept the Reds ahead, before the same two forwards combined in reverse fashion: Firmino backheeling to Salah, who scored his 29th of the season.
Those goals were enough to see Liverpool to the three points and Jurgen Klopp will have plenty to ponder with regards to his team selection on Wednesday.
This is Anfield's Karl Matchett (@karlmatchett) spoke to Scott Taylor (@ScottTaylorUK) and Ste Davies (@StevenD1977) to discuss the best and worst of Liverpool's south coast victory.
The Good…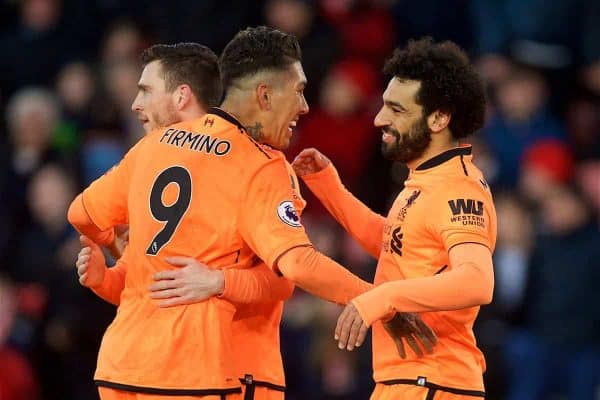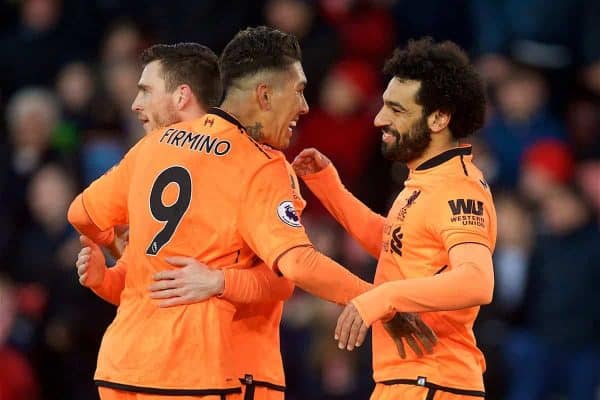 KARL: There were two really pleasing aspects.
First was the way the team closed out the game in the second half, in control of territory and without panicking and giving up chances.
And secondly was volume of scoring opportunities the Reds fashioned themselves.
Sure, it would have been better to have seen one or two more buried—by full time, 4-0 wouldn't have flattered Saints—but creating that many away from home is impressive.
It's not that long ago Liverpool failed to beat the bottom club, so any away win against a struggling outfit is still a big positive, especially given other results this weekend.
An opportunity was presented to the Reds and they didn't let it slide this time.
SCOTT: Liverpool were brilliant today and delivered a truly professional performance in what could have been a tricky tie at St Mary's.
Klopp's men were effective in front of goal and disciplined at the back, which was the most pleasing aspect especially given the story surrounding the game itself with a whole host of former Southampton players returning.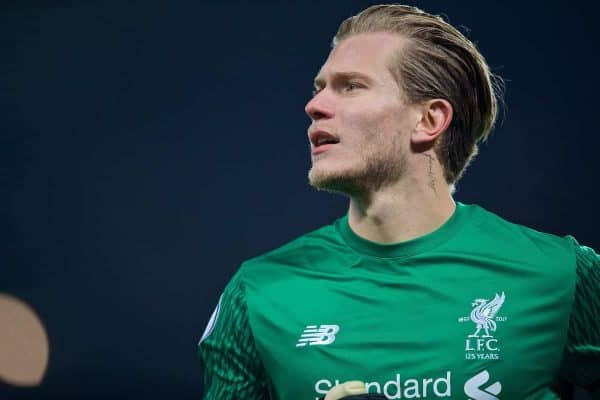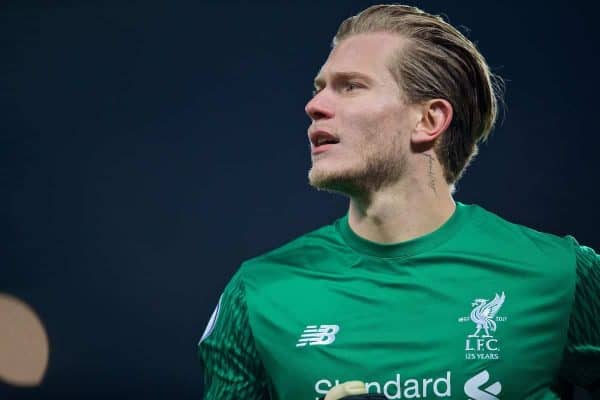 Karius was solid in goal and he seems to have cemented that No.1 jersey at the club after months of rotation.
Finally, a deserved mention for Mo Salah's goal, the definition of world class. Goal machine.
STE: The 'un-Liverpool' way in which we managed the second half.
Composed, controlled and never looked likely to concede. We could also have had two or three more goals without getting past third gear.
Klopp's been accused in the past of only having Plan A, but last week and Sunday showed he's trying to develop a method in which we sacrifice possession and territory, confident in our defence in order to create the space to break.
Work in progress, but it could be vital Plan B in time.
The Bad…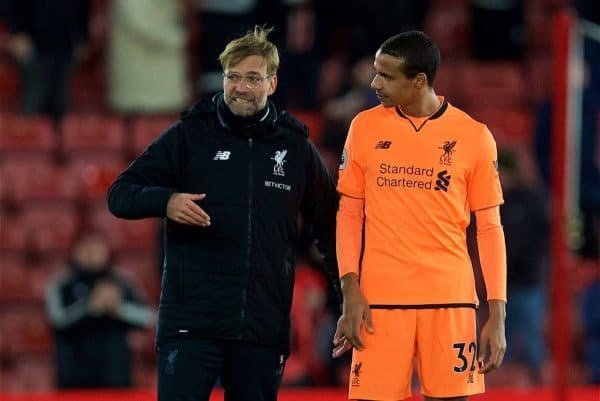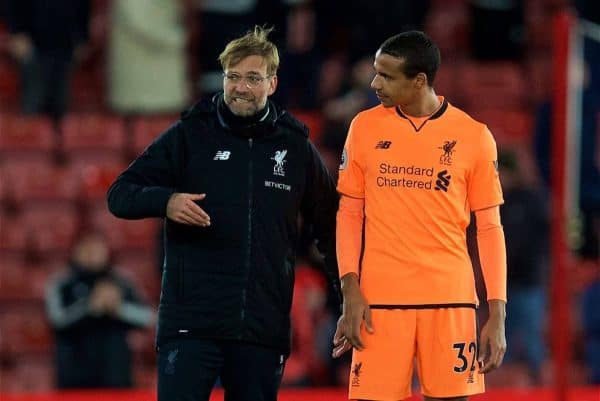 KARL: Neither full-back were great in the first half, either on stopping the crosses or defending them once they came in.
Likewise, Joel Matip was far from his best in one or two individual moments.
But it's a small matter to pick at, especially considering the upturn in the team block after the break.
No other issue with the match, which is nice!
SCOTT: Some could have argued that Liverpool weren't at their fluid best in terms of not securing a thrashing today, but they didn't need to be against what was a very poor opposition.
Southampton are bang average and if they don't change things soon, then they'll be playing in the Championship next season, the fact that they've won just 1 in 14 games says it all.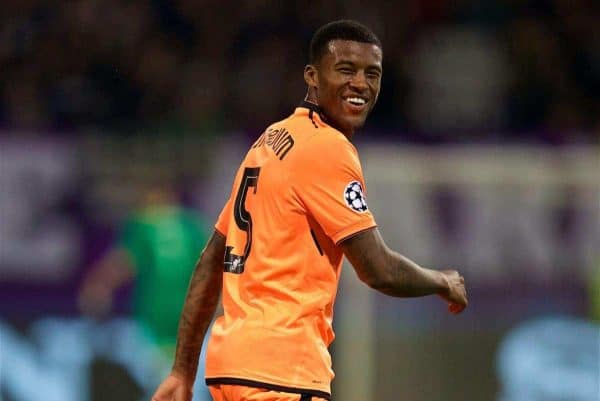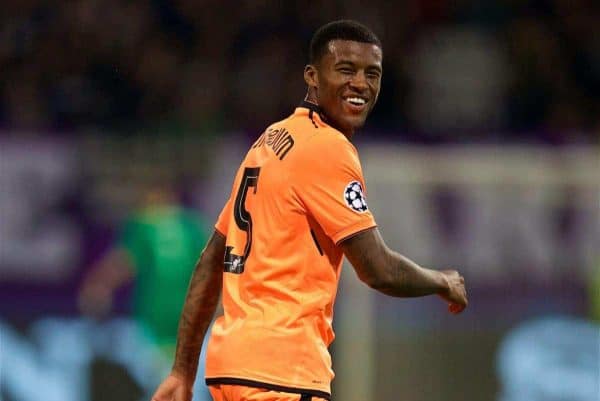 STE: The lack of real drive and leadership in midfield, with the exception of Emre Can.
Alex Oxlade-Chamberlain and Gini Wijnaldum were tidy, but much as when Jordan Henderson or James Milner start, you don't sense any have the attributes to step up and dominate a game.
Today was mainly about solid shape and the attack; it's very rare our central midfield area provides the decisive contribution to a game.
We need at least one more in alongside Naby Keita in summer.
And who keeps their place vs. Porto? Does Sadio Mane play?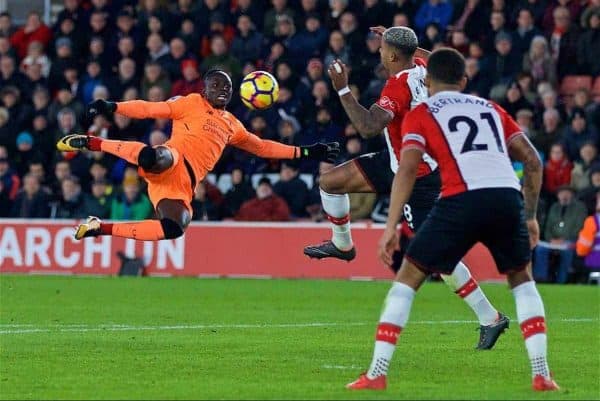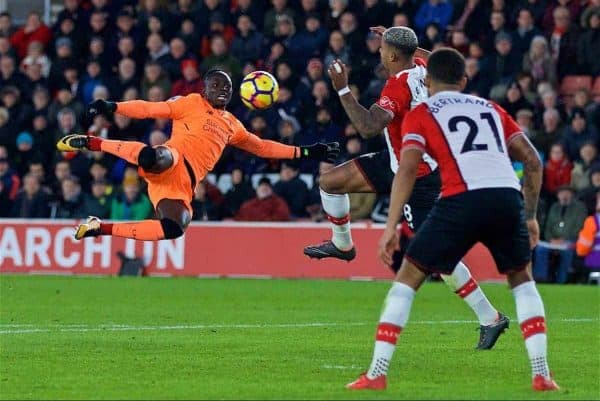 KARL: Dejan Lovren should return for Matip, who just hasn't looked comfortable recently.
Given it's away from home in the first leg, I'd expect Joe Gomez (if fit) and Henderson to both return.
Yes, Mane must absolutely play—counter-attacking opportunities will be vital and even without being on top form, he's still a massive outlet for the team.
The only question mark I'd have is whether Oxlade-Chamberlain or Milner starts as Klopp's third midfielder, with Wijnaldum a near-certain starter.
SCOTT: Klopp will be forced into one change on Wednesday night, with Emre Can suspended, meaning that Henderson will more than likely return in his place.
Despite the heavy criticism he has received this season, his last outing was promising.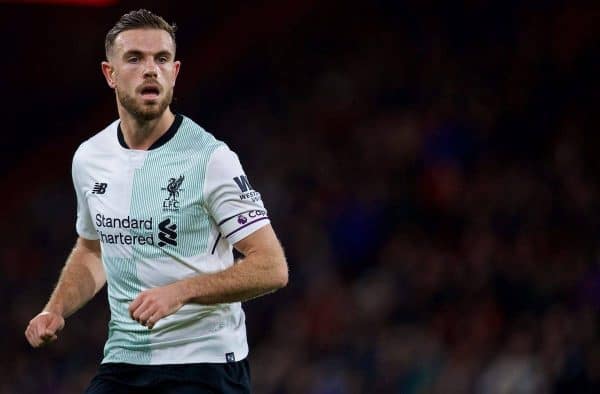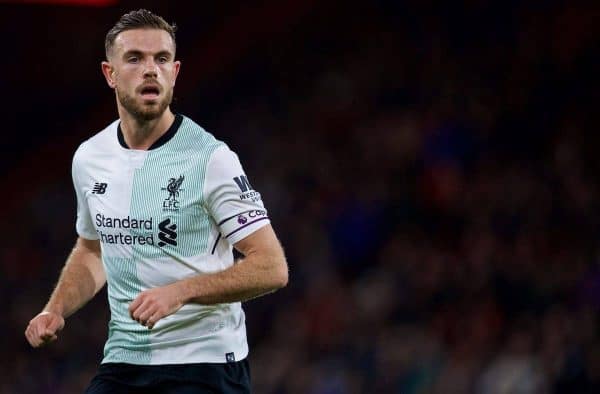 Karius should retain his place in goal given how big the game is for Liverpool, and the Matip and Van Dijk partnership in defence looked calm and composed today.
Even though Mane is going through a rough patch, he should start.
There's only one way to play yourself in form and that's by getting minutes, and to do it on the big stage would be a huge confidence boost that he truly needs.
STE: The back five and front three would remain unchanged if I was selecting, though I suspect Gomez and Lovren will return.
Mane is not in good form but working hard, tracking back and linking up for the team.
He's also still getting into good areas and trying to brave option, the quality is there, it will click soon.
Centre midfield is the tricky call.
Henderson seems certain to return so it would be straight two from three between Gini, Milner and Ox. I'd include Gini in the hope his composure can help us control the game.