Jurgen Klopp says he wants more from his Liverpool side between now and the end of the season, despite a strong campaign to date.
The Reds have enjoyed a productive 2017/18, with Klopp guiding them to third in the Premier League and on the cusp of Champions League quarter-final qualification.
They have scored 99 goals in just 39 games, playing a rich brand of attacking football, and there are signs of improvements defensively too.
Despite what has to be considered a positive campaign so far, Klopp insists he remains unsatisfied for the time being.
Speaking in his pre-West Ham press conference on Friday afternoon, the manager outlined the reasons behind this, with a short-term outlook never healthy.
"I am absolutely not happy. I want to be happy at the end of the season," Klopp told reporters.
"Happy is not the word I have in my mind, to be honest; I am sometimes fine with it (our form), sometimes more, sometimes less.
"We are in a good position, but a good position only gives you a basis for the next few games and now we need to use it.
"Immediately after the game against Porto, it is not good for me as a human being, but I thought about West Ham – that is our life, to deal with that.
"What I want is that we are really ready for this game tomorrow."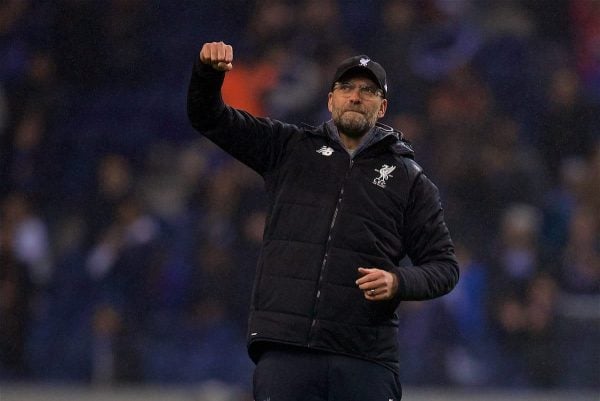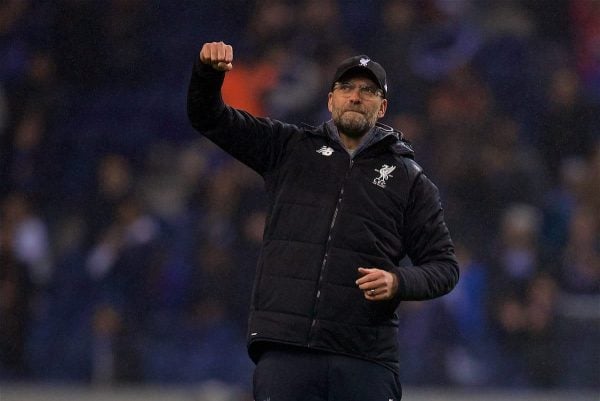 It is vital that Liverpool continue on an upwards trajectory under Klopp, and keeping hold of key players, as well as signing new ones, is vital.
Discussing Sadio Mane's future, following reports of a new contract for the Senegalese attacker, the manager says retaining his services is a no-brainer.
"That we want to keep the players together is not a secret," he added.
"We want to keep Sadio here. We want to keep this team and strengthen it."
Saturday's visit of West Ham will be an interesting test for Liverpool, having thumped Porto 5-0 in stunning fashion 10 days ago.
These are the games that supporters can get twitchy about – matches at home to teams who essentially park the bus – and the Reds need to pass with flying colours.