Johnny Wheeler was born in Crosby, Liverpool, in 1928 and would grow up to captain the Reds during the 1958-59 season.
Wheeler is the cousin of Ronnie Moran, who would take the armband from him the following year, and who would go on to become a member of the famed Boot Room that plotted Liverpool's conquest of Europe.
Wheeler's journey to the captaincy was a long one. He arrived at Liverpool in 1956 from Bolton Wanderers, at the age of 28. He had started his career at Tranmere Rovers in 1944 and was snapped up by Bolton in 1951, who reportedly paid £15,000 for him.
Johnny was a right-sided midfielder who Liverpool had actually scouted while he was playing at Prenton Park. However, Bolton's manager, Bill Ridding, an ex-Reds trainer, was well aware of his talent and swooped before the Anfield outfit could make their move.
He played 200 first division games at Burnden Park, but the highlight of his spell at Wanderers was his appearance in the 1953 FA Cup Final against Blackpool. This game became known as the Matthews final, after the famous Stanley Matthews inspired an incredible fightback by Blackpool to snatch the cup from Bolton's grasp.
Wheeler must have thought all his birthdays had come at once, as Wanderers raced into a 3-1 lead with 35 minutes left on the clock. Then the game turned on its head, and the Wembley crowd of 100,000 watched in amazement as Matthews took the game by the scruff of the neck and inspired an astonishing turnaround.
Blackpool drew the tie level in the 89th minute, thanks to Stan Mortensen hat-trick. Then, with Wheeler and his teammates out on their feet, Bill Perry hit the winner in injury time. Despite this crushing blow, his performances for Wanderers continued to catch the eye of the Reds scouts.
The following year Johnny received his one an only England cap, playing in a British Home Championship game against Northern Ireland at Windsor Park. England won the game 2-0, thanks to goals from Johnnie Haynes and Don Revie.
Around this time, Phil Taylor took over the Anfield hot-seat from Don Welsh, and soon earmarked Wheeler to reinforce a Liverpool side fighting to get out of the second division. Taylor was a big admirer and saw Johnny as a utility player, telling the Daily Mail, after he had signed him,
"I played against Johnny a number of times, and was always impressed by his forceful personality and fine club spirit. He is a man who will play anywhere."
The transfer came about in interesting circumstances. Wheeler had suddenly decided to move back to Liverpool, while still a Bolton player, and sought permission from his manager to look at houses in the city. The Reds got wind of this, or maybe they were tipped off, and immediately inquired about his availability.
In 1956 a deal was struck to bring him home to Merseyside and he became Phil Taylor's first big signing. The fee is often quoted as £9,000, but some sources state it was £12,000. Given his big game experience and the fact that Bolton had paid £15,000 to get him from Tranmere, the Reds thought they'd picked up a bargain.
The Coventry Evening Telegraph reported, on the 8th September, 1956,
"Liverpool took a big step towards strengthening their defence yesterday when they paid Bolton Wanderers a 'very substantial' sum for Johnny Wheeler, the England right-half. Wheler joined Bolton from Tranmere Rovers in February 1951, and thus returns to Merseyside where he is now living. The transfer fee is understood to be about £12,000. This is £3,000 less that Bolton paid to Tranmere."
In truth it was something of a gamble, as Johnny had been out all season with an ankle injury. However, he would be cleared to play in the Reds next game, just seven days later, a 2-0 home defeat to Stoke City.
He scored his first goal for the Reds, an equaliser against Bristol City in a 2-2 draw, on the 13th October 1956. However, the best was yet to come.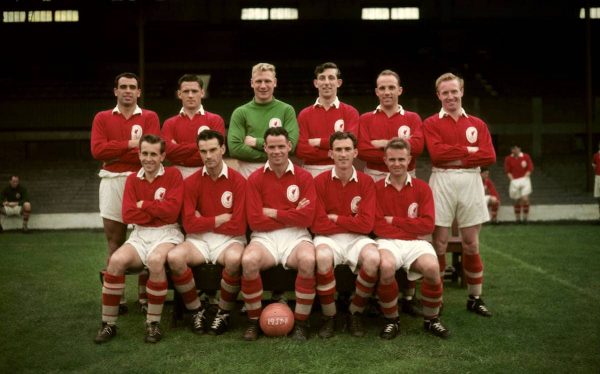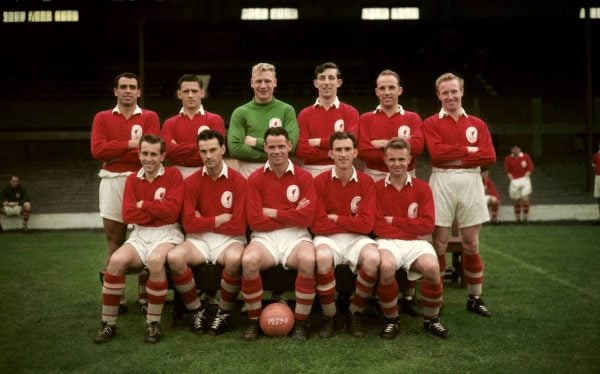 In the November, Wheeler enjoyed the most remarkable game of his Liverpool career. Playing as an inside-forward he lined up at Anfield against a Port Vale side famed for their rock-solid defensive line. The game would end with an unlikely Liverpool victory and Johnny Wheeler entering the record books.
The final score was 4-1 to Liverpool, but the gentleman of the press felt it flattered the Reds. Only one man had made this scoreline possible, Johnny Wheeler. This is how Leslie Edwards, writing for the Liverpool Daily Post saw it,
"Liverpool's win was nothing like as emphatic as it sounds and the visitors must have left Anfield wondering how they lost by such a margin. The answer is contained largely in two words – Johnny Wheeler."
Port Vale had weathered Liverpool's early storm and had gone a goal up in the first half. At halftime, Anfield and the Kop was a brooding and sullen place. The attendance was far from impressive, with just 33,000 turning out, but somehow the supporters rallied themselves for the second half.
The Daily Post noted how the Kop's performance transformed the Reds intensity.
"The Spion Kop roar must take much of the credit for the improvement in Liverpool's front line in the second half. Although there were plenty of open spaces in its mighty terrace, there was no appreciable difference in its usual volume of sound."
The noise must have terrified Vale, because there usually reliable defence crumbled. It took just eight minutes for Billy Liddell to level, then something truly magical took place.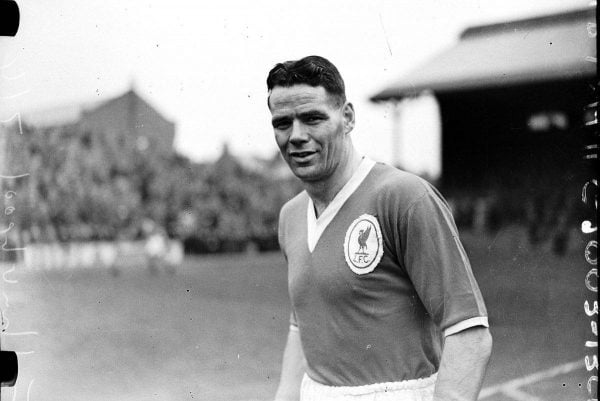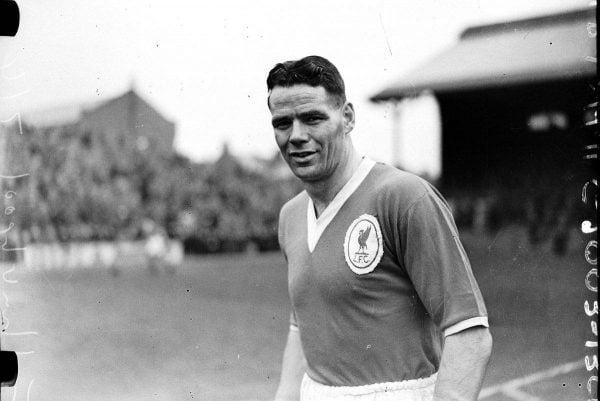 With the game heading for a draw, and just ten minutes left on the clock, up stepped Johnny Wheeler, with the then-fastest hat-trick in English football history. His goals came in the 81st, 82nd and 85th minutes.
In the space of just five minutes, a breathless Anfield could only look on in amazement, as Wheeler plundered three goals to win the game 4-1 for the Reds. According to the Post, it left Port Vale "gasping with its speed and devastating efficiency."
In 1959 Phil Taylor made way for Bill Shankly, and although Johnny stayed on a couple more years, he would leave for New Brighton in 1961, where he played as an amateur. In 1963 he was offered the post of player-manager but left to take up an assistant trainer role at Bury, where he stayed until 1969.
Johnny Wheeler played 177 times for Liverpool, scoring 23 times. Sadly, his career didn't produce any silverware, but he gave Kopites of the fifties many happy memories and in one unbelievable five minute spell, he single-handedly dragged the Reds to victory against one of the toughest defenses in the country, just as he had watched Stanley Matthews do to his Bolton side back in 1953.
---
Jeff Goulding is the author of the forthcoming book, Red Odyssey: Liverpool FC 1892-2017 – available to pre-order now.